FRP is a built-in data security feature for Android smartphones that run on Lollipop, Marshmallow, Nougat, Pie, Oreo, and 10 Q versions.
FRP, which stands for Factory Reset Protection, essentially safeguards the privacy and personal information of Android users in case of theft.
Every new Android version and phone has a different method for removing the FRP security.
If you forgot the last active Google account that was used on your phone after doing a factory reset, you will need to find a way to unlock it.
This guide is made specifically for Samsung G532F. If you own this device and it got FRP-locked, read below on the different ways how to bypass FRP.
Bypassing Samsung G532F FRP In 1 Click Using Unlockit Android
If you want to skip the Google account verification process as quickly as possible, you may do it without downloading the Samsung G532F FRP bypass file.
Introducing, Unlockit Android. An effective Android FRP bypass tool that enables you to bypass FRP locks on Samsung smartphones.
This app is safe and easy to use so that even beginners will not have a hard time navigating the app.
Additionally, after removing the FRP lock with Unlockit, you can create a new Google account and password on your device.
Furthermore, the tool is compatible with the majority of Samsung devices running Android 6-12. To unlock your Samsung G532F using Unlockit Android, follow the steps below:
If you'd rather watch a video than read words:
Step 1. Download and install Unlockit Android
To begin, download Unlockit Android FRP bypass tool and install it on your Windows computer.
After installation, start the program and click Start.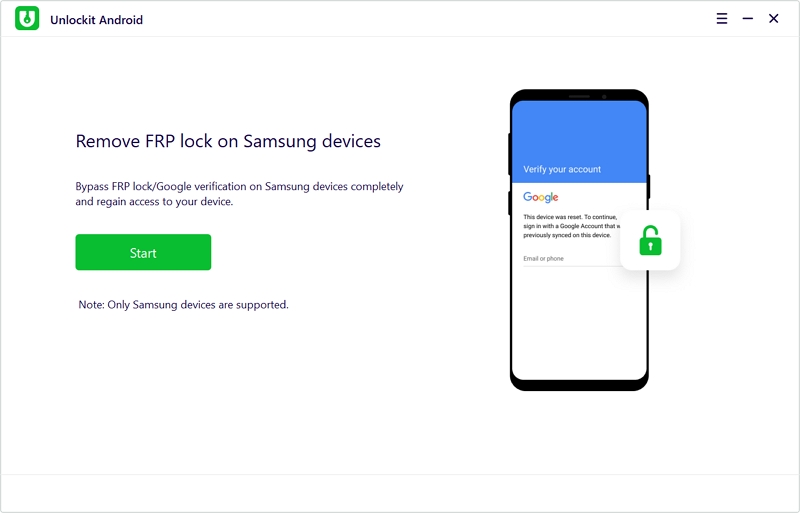 Step 2: Choose the one-click FRP bypass technique
Now connect your smartphone to your computer with a USB cable. Then choose the "All Android Verions" from the given options to remove the FRP lock in one click.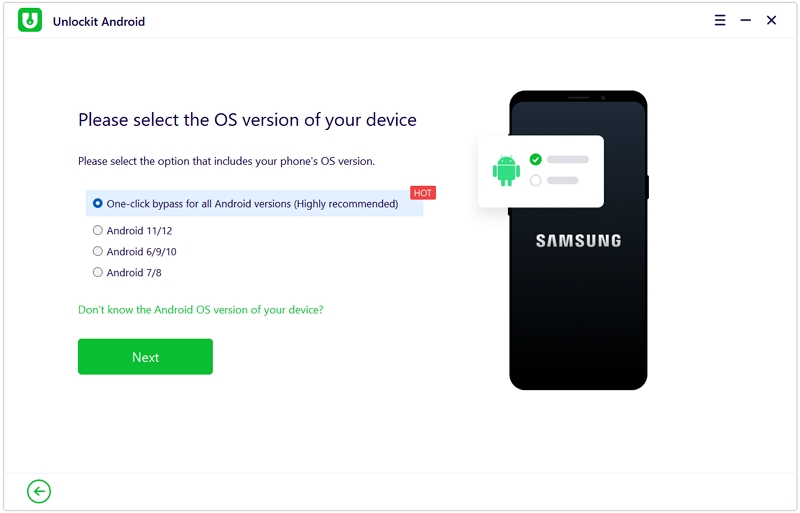 Step 3: Starting the FRP bypass
Unlockit will then let you know the device is bypassing FRP. Wait for a few minutes to finish the process.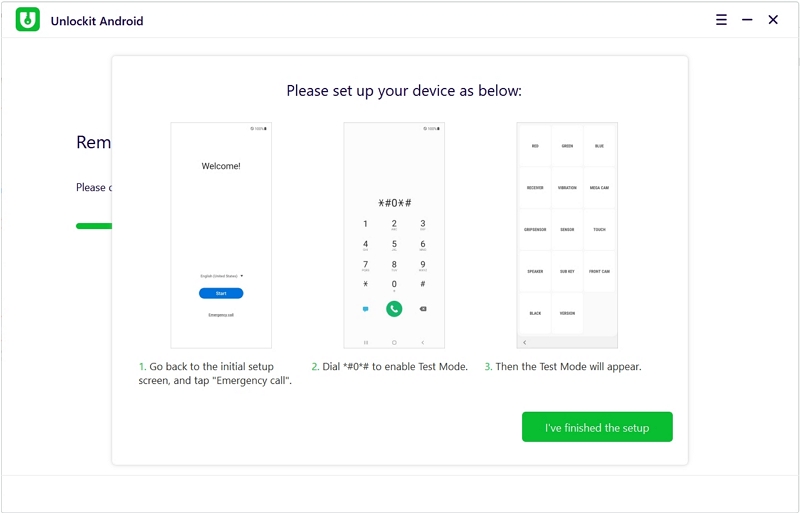 Step 4: FRP lock is removed
And voila. The FRP on your Samsung G532F has now been successfully bypassed. Your device will restart automatically and you may start setting your smartphone up and use it without any restriction.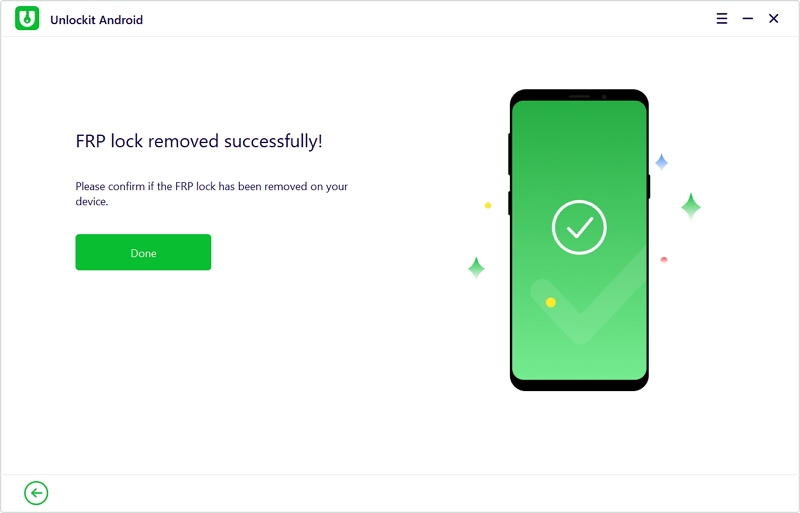 Bypassing Samsung G532F FRP without PC
If you do not have a PC, you can also bypass FRP on your Samsung G532F. However, the steps are more complicated than the previous method.
Carefully follow the steps below to get started:
First, turn on your Samsung G532F.
Click on the Start button and connect your smartphone to a WiFi network.
Return to the main Welcome page.
Tap the Home button three times to enable the TalkBack feature.
Draw the letter "L" on the screen when the TalkBack tutorial has been enabled.
Select and double tap the TalkBack Setting.
Scroll down and turn on Single-tap Activation.
Double-tap to select Text to speech Settings.
Select Samsung text-to-speech and double-tap on the Settings icon on the upper right side of the screen.
Find Settings for Samsung Text-to-speech and tap on it.
Tap on the Version Number twice.
Agree to Terms and Conditions.
Find the Version number and tap on it again.
Tap Update Samsung Galaxy Apps twice.
Next, repeatedly tap the Version number and immediately tap on the Search icon after it appears.
Now, you will have to disable the TalkBack feature. Press the home button 3 times to do this.
Open your Browser, find and download the required Samsung G532F FRP bypass APK from the list below: Google Account Manager 6, Google Account Manager 5, FRP_Bypass.apk.
To see your downloaded files, Go to Bookmarks > History > Download History
Now install Google Account Manager 6. If a pop-up screen with an installation blocked message occurs; go to Settings > Security and turn on the Unknown Sources switch.
Note: Install Google Account Manager 5 if you're having trouble installing Google Account Manager 6.
Now install and open FRP_Bypass.apk.
Tap the 3 dots icon in the upper right corner and then select Browser Sign-in.
Now you can Sign In with any Gmail Account.
Lastly, Restart your Samsung G532F.
There you have it. After boot, your Samsung G532F FRP lock is now removed.
Unlockit Android vs TalkBack Method
As the details above suggest, Using Unlockit to bypass FRP is much simpler and fast compared to the complex and long method of using TalkBack.
However, Unlockit Android does not come for free. Users may only use the free version to see if the software is compatible with their device.
To access all the amazing features of Unlockit, you must have the premium version. Unlockit Android offers yearly, monthly, and lifetime plans for $29.95, $39.95, and $49.95, respectively.
Having said all of this, Unlockit is still worth it for its price because, without a doubt, it is one of the greatest Android unlocker tools on the market.
You can rely on Unlockit to resolve a variety of Android lock problems. It is safe, quick, and effective in unlocking your Android in just a few minutes.
Plus, the user interface is simple and straightforward and supports various Android devices.
Wrapping Up
Your phone is protected by an Android feature called FRP in a number of ways. You'll need to find a means to regain access to your Google account if you do a factory reset on your smartphone and lose it.
There are several ways to get around FRP, but using Unlockit Android is our top pick, so there is no need for you to go through several steps just to bypass FRP.
If you need to go around the FRP, using Unlockit is a practical solution because it's secure and simple to use.
We hope that this information has helped you in regaining access to your device after FRP has locked it. Please feel free to comment below if you have any thoughts.