With each passing year, Android devices get more secure, and the Samsung Galaxy J2 Core is no different.
It contains a feature called Factory Reset Protection Lock, or FRP lock, which prohibits users from using their devices after a reset.
Basically, the smartphone will not be unlocked unless users sign in using the Google account that was originally associated with it.
It is a useful feature, but it has its downsides. Users who have forgotten their Google account credentials may find themselves locked out of their own devices if they cannot log in.
If you find yourself in this situation, then this article is for you. We will tackle how you can bypass the FRP lock on your Samsung Galaxy J2 Core with or without a PC.
Without further ado, let's get started.
Samsung Galaxy J2 Core Overview
Before we head into the in-depth details on how to bypass the FRP lock on your device, let's get to know the device itself first.
The Samsung Galaxy J2 Core was released in 2018 and runs on Android 8.1 Oreo.
Its display is measured at 5" with a clear resolution of 540x960 pixels. It has a built-in PLS TFT capacitive touchscreen with 16M colors.
A quad-core 1.4 GHz Cortex-A53 CPU powers the Galaxy J2 Core. It has an internal memory of 8 GB and 1 GB of RAM.
It is powered by a removable Li-Ion 2600 mAh battery and has an 8 MP camera on the back and a 5 MP camera on the front.
WiFi, GPS, FM radio, 3G, and 4G are among the Galaxy J2 Core's connectivity choices with built-in sensors such as accelerometer and proximity sensors.
Bypass FRP Locks on Samsung Galaxy J2 Core in Minutes
If you are looking for an easy way to bypass FRP locks on your Samsung device, it is recommended to use third-party software such as Unlockit Android to do it for you.
However, it costs $29.95 a month for Windows for you to use the app to bypass FRP locks, which is something that you have to consider.
The steps are simple but lengthy. Here they are:
Step 1. First, download and install Unlockit Android.
Step 2. After that, launch the app and click on Start.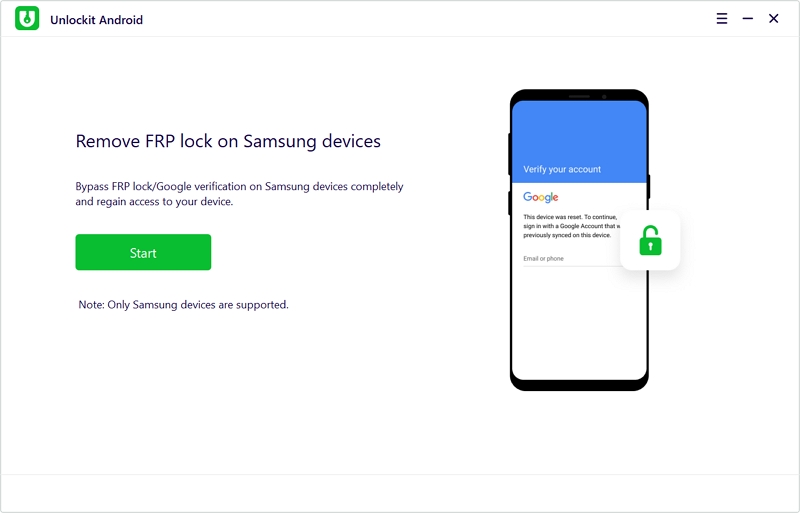 Step 3. Now, connect your device to your PC.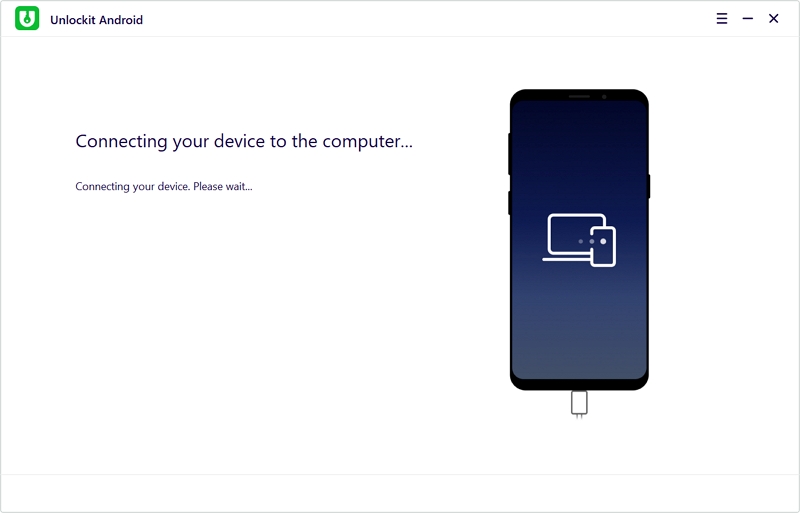 Step 4. Here, choose your device's Android version and click on Next.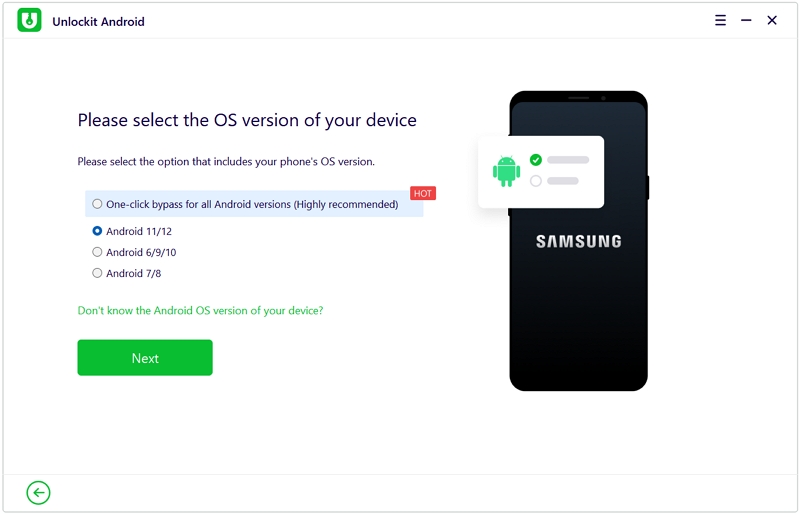 Step 5. At this point, a notification should be sent to your device. Note that this step takes time, and you might have to wait a while. Once you have received the notification, tap on View on your device.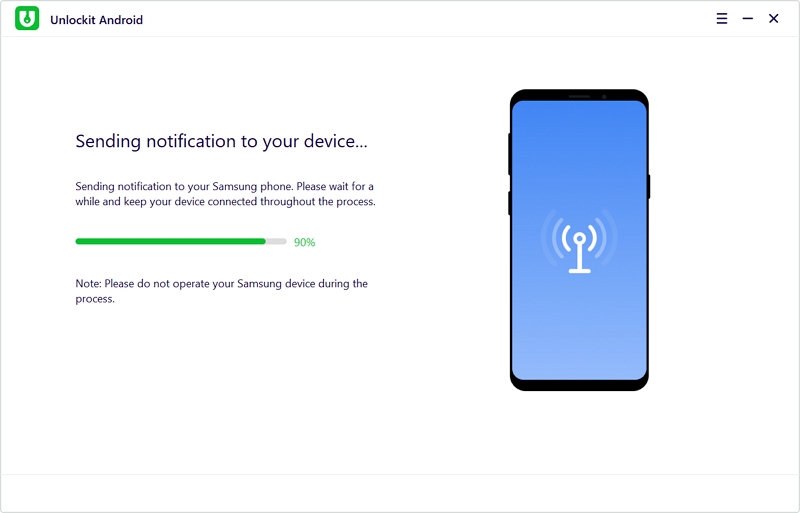 Step 6. Instructions will be shown on-screen. Follow them to complete the whole setup process. Once this is done, wait a couple of minutes for the process to finish.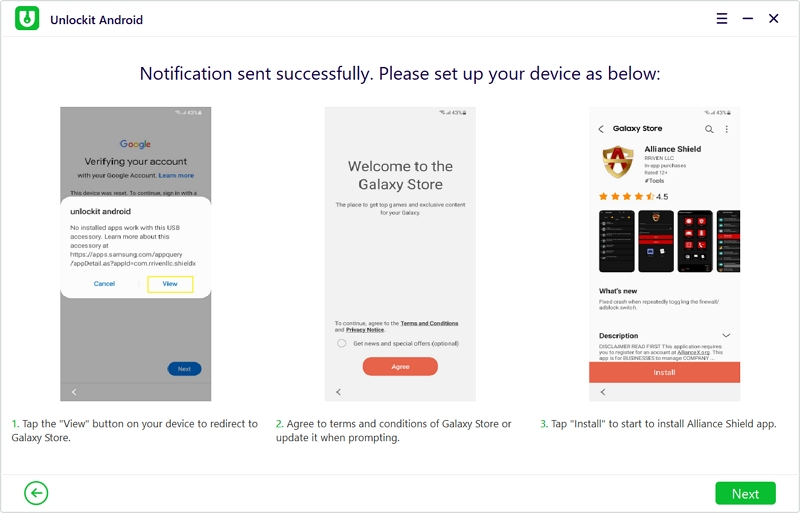 Finally, the FRP lock should be removed from your device.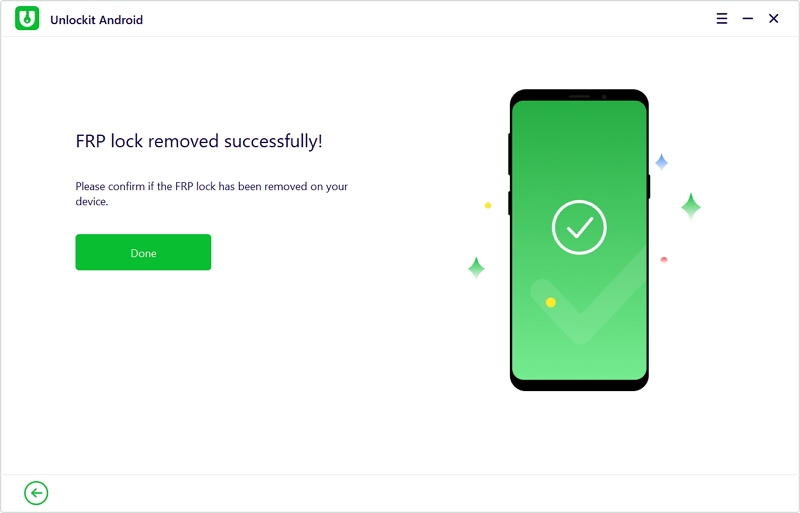 If you just follow the steps as shown, the process should be easy and over in a few minutes.
Samsung Galaxy J2 Core FRP Bypass Without a PC
If you don't have access to a computer to do the previous method, there is a more time-consuming method to bypass FRP.
First, reset your device and ensure that it is in the setup mode before proceeding with this method.
Here are the steps on how to bypass FRP lock without a PC:
First, turn on your device. Perform the necessary set-up procedures.
Connect your device to a reliable Wi-Fi connection.
After that, insert a sim card with a pin code. Enter the pin code when prompted, then tap on OK.
Now, quickly press the power button to put your device in sleep mode.
After doing so, press the power button again to wake your device. There should be a notification indicating that you cannot use the phone unless you sign in.
Swipe from right to left on that notification and tap on the bell logo. The snooze notification tab should appear on the top portion of the screen.
Here, tap on Notification Settings. A list of various apps should appear.
From the list, scroll down until you find the Youtube app. Tap on Youtube > In-app notification settings.
Next, tap on History & privacy, then look for Youtube Terms of Service. Open it to be redirected to a Google Chrome page.
After doing so, navigate to the search bar and enter this link: https://bit.ly/2TUQPF8
Once you're there, download the following apps: Android_8-9-10_GAM.apk and FRP_Bypassfrp.apk
After downloading, a pop-up window should appear asking you to install Google Account Manager. Install but do NOT open the app.
Another pop-up should appear asking you to install the FRP Bypass app. Tap on Install and open the app.
You should see three dots located at the upper right corner of your screen, tap on them and choose Browser sign-in.
Next, sign in with any Gmail account.
Finally, restart your Samsung Galaxy J2 Core to finish the process.
After doing these steps, you should be able to use your device again. It is a long and tedious process that can get tricky in some parts. But if you don't have a PC, this is your only option.
Wrapping Up
Using a PC to bypass FRP locks on your phone is definitely the easier and quicker way to do so.
Unfortunately, this method will cost you some money. There is an alternate way of doing it without the use of a computer, but the process is lengthy and complicated.
This is why the cost of third-party software such as Unlockit Android FRP bypass is worth it, as it saves time and effort on your part.
If you have any questions or comments about bypassing FRP on a Samsung Galaxy J2 Core, shoot us a comment down below.