Google's Factory Reset Protection is a feature built into most recently released Android smartphones. It gives its users the ability to lock their phones after a factory reset is done.
Although it's typically an anti-theft feature that protects your data from unwanted access, FRP can also be hard to deal with when you have forgotten all the login credentials to your phone's synced Google accounts.
In this guide, we'll show you how you can bypass FRP on a Samsung J250F or the Samsung J2 Pro (2018) using Unlockit Android, a trusted third-party unlock software, and an FRP bypass method without a computer.
Read this guide to learn more.
Samsung J250F Specs Overview
Released in 2018, the Samsung J250F is a budget smartphone that has a five-inch touchscreen display with a resolution of 540x690 pixels. Its display is protected by Gorilla glass and has a 5MP front camera, a decent resolution for taking selfies.
The base model of the Samsung J250F comes with a 1.4 GHz, quad-core processor, 16 GB internal storage, and runs Android version 7.0 OS.
It's powered by a 2600mAh built-in battery and has expandable storage of up to 256 GB via its micro SD card slot. Lastly, it is a dual-sim smartphone that only supports Micro-SIM cards.
2022 New Method for Samsung J250F FRP Bypass
Whether your phone's new or not, you are required to enter a Google account during setup. This will serve as your phone's default account and will be the one that's logged in to every Google service, including FRP.
It's critical to remember your phone's main Google account as this will be used to log in once you do a factory reset of your phone.
But the reality is, Google accounts that are not used often are forgotten by most users. This limits you from factory-resetting your phone, especially if you're planning to sell it or give it to someone else.
In these situations, you can use Unlockit for Android to bypass FRP on your Samsung smartphone in steps.
Unlockit Android is an unlocking tool that's trusted by many users. It supports various Android versions, including Android 7, 8, 9, 10, 11, and 12.
Even if you don't have the Google Account login details you need, you can very easily access the device after Unlockit Android removes the FRP on your device.
The process of bypassing FRP on Android device can be very complicated, but Unlockit Android simplifies it so much that you can unlock it in a few minutes.
To use Unlockit Android, follow these steps:
Step 1. Download Unlockit Android. Install it on your computer by following the installation steps shown on your screen.
Step 2. Next, connect your Samsung J250F via USB and launch Unlockit on your computer. Click Start from the main screen to get started.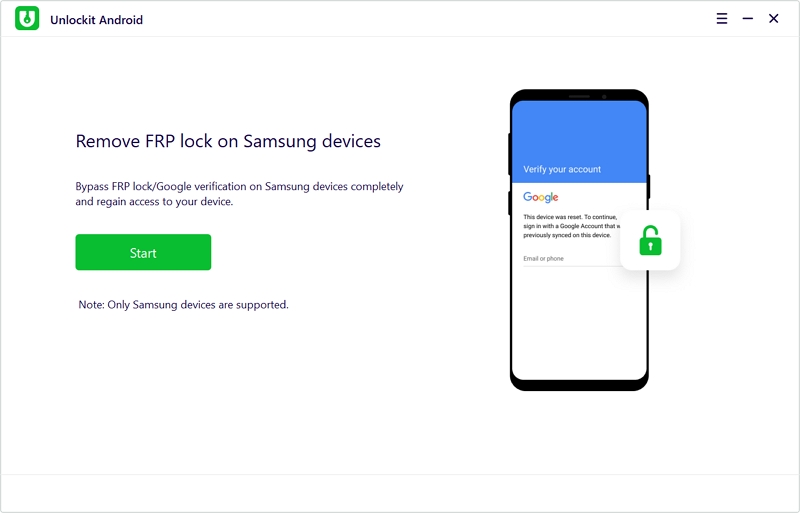 Step 3. Then, choose Android 7/8 as your phone's Android OS version. Once chosen, click the Start button. If you have upgraded the OS, please choose the corresponding option.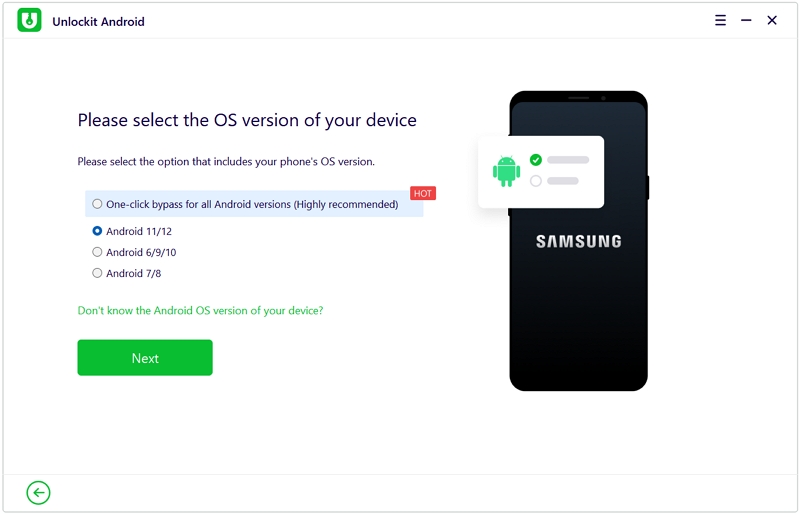 Step 4. The software will now send a notification to your phone. Tap the View button on your device and you will now be redirected to the browser.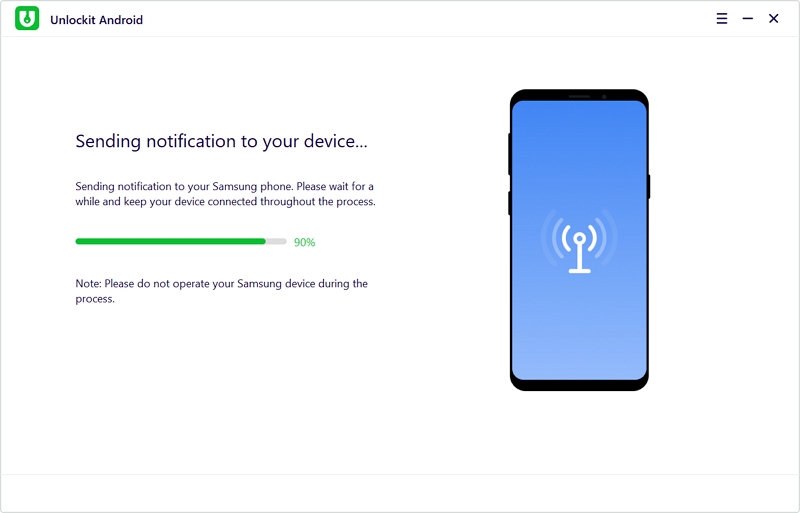 Step 5. Then type in foneazy.com/frpsettings/ in the browser's search bar and hit Go to access it..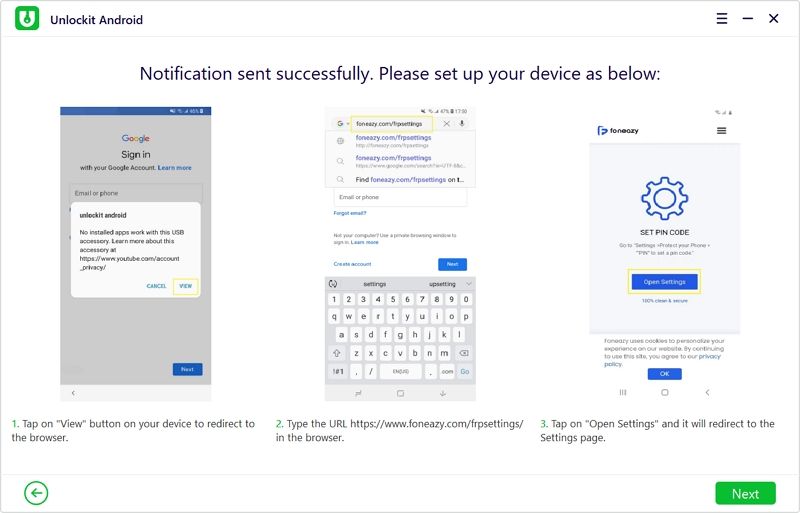 Step 6. Then follow the on-screen guideline to finish the setup on your device.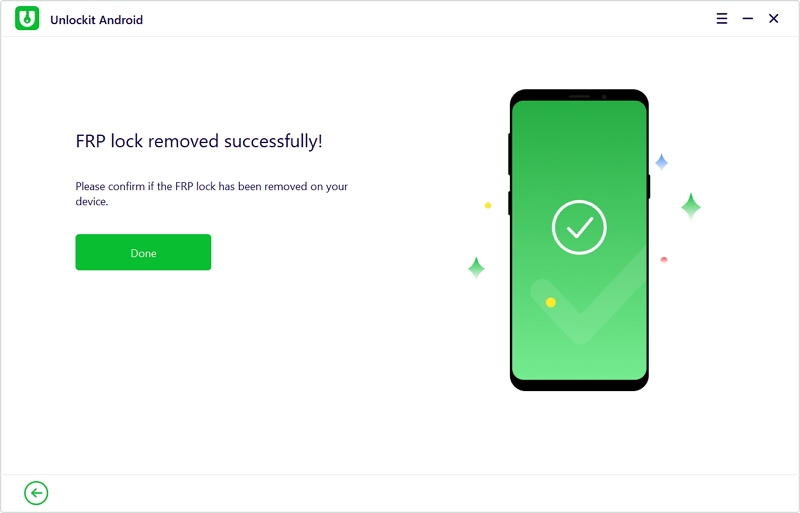 Once done, your phone should now be unlocked from Google's FRP.
Bypass FRP for Samsung J250F Without PC
Bypassing FRP without a PC is doable, but the process is longer and more complex than doing it with a third-party software.
You need your phone to be fully charged and connected to a stable Wi-Fi network, plus a Bluetooth device such as wireless Bluetooth headphones.
To bypass FRP in Samsung J2 Pro without a PC, follow these steps:
Turn on your Samsung J2 Pro and connect it to your local Wi-Fi network.
Next, remove its SIM card and press the Power key afterward.
Press the Power key again to wake the screen, then swipe the notification to the right. Click on the bell icon.
Swipe down to access the notification bar and tap Bluetooth to enable it.
Put your Bluetooth device to pairing mode and connect it to your phone.
Tap the Call button on your bluetooth wireless headphone. A new window will pop up.
Select Google to open Google Assistant. Type in open Google and search for chrome browser. Tap the Chrome icon to open it.
On the search bar, type in tiny.cc/frptools and download these two applications: Gadgets Doctor APK and Apex Launcher APK
Once all are downloaded, tap the More options icon (three dots on the top-right corner) and select Downloads.
Install Apex Launcher APK and tap Open.
Go to Settings > Security and Privacy > Other Admin Apps and deactivate the Android Device Manager.
Next, go to Apps > Google Play Services and tap Disable.
Then, go back to Google Chrome's Downloads section and install Gadgets Doctor APK.
Once it's installed, go to Settings > Cloud and Accounts > Accounts. Tap Add account and sign in with your new Google account details.
When done, go back to Apps > Google Play Services and tap Enable.
Restart your phone and finish the setup process. It should now be free from Google's FRP lock.
Final Thoughts
Google's FRP feature is automatically enabled upon setup and login of your default Google account.
This is a great feature to avoid unwanted individuals from accessing your Samsung J250F's confidential information in case it gets lost or missing.
However, if you ever need to bypass FRP, there are two ways to do this. One is with Unlockit Android and another is through your smartphone's features.
Of the two options, we highly recommend you use Unlockit since the app guides you through an easier and more straightforward process.
All you'll need to do is to follow all the app's on-screen steps, and you'll be able to bypass FRP without losing data.
For any comments about bypassing FRP from your Android devices, leave us a comment below.