With the introduction of the Factory Reset Protection (FRP) feature, Android devices, including the Samsung M11, have become more secure from unauthorized access.
Once this security feature is activated, it provides an extra layer of protection to your phone after a factory data reset.
As a result, you will not be able to unlock your phone unless you sign in with the Google account associated with it.
This is a great feature as it prevents suspicious users from using your phone. However, this might backfire on you if you realized you've forgotten your Google account credentials after performing a factory reset.
If you are caught up in this situation, don't worry because you can still get around it. Today, you will learn how to bypass the FRP lock of your Samsung M11!
What Is Samsung M11
Let's start with a brief overview of your device before getting into our solutions on bypassing its FRP lock.
This is to make sure that your device is authentic. Otherwise, you may not be able to resolve the problem using the solutions that follow.
The Samsung Galaxy M11, simply called Samsung M11, was released in 2020. It runs on the Android 10 operating system (OS) and is upgradeable to Android 12.
Samsung M11 is known to have a plane-to-line switching (PLS) type of display panel, with a size of 6.4 inches. It has an impressive resolution of 720x1560 pixels and an aspect ratio of 19.5:9.
In terms of processors, the Samsung M11 is powered by an octa-core 1.8 GHz Cortex-A53 with a graphics processing unit (GPU) of Adreno 506.
The main camera of the Samsung M11 features 13 MP, 5 MP, and 2 MP modules, respectively. As for the selfie camera, it features a single 8 MP module.
A non-removable Li-Ion battery with an energy capacity of 5000 mAh powers the Samsung M11.
This device comes in two variants—a 32GB unit with a 3GB RAM, and a 64GB running on 4GB RAM.
Bypass FRP locks on Samsung M11 Using Unlockit Android (Easier Than You Think)
An easy way to bypass the FRP lock on your Samsung M11 is to use a third-party solution called Unlockit Android.
Developed by Foneazy, Unlockit Android is a lightweight tool that can help you unlock your FRP-activated device using your computer.
To use Unlockit Android, just follow these steps:
Step 1. First, download Unlockit Android and install it on your computer.
Step 2. Once installed, launch the Unlockit Android application and on the home screen of Unlockit Android, click on the Start button.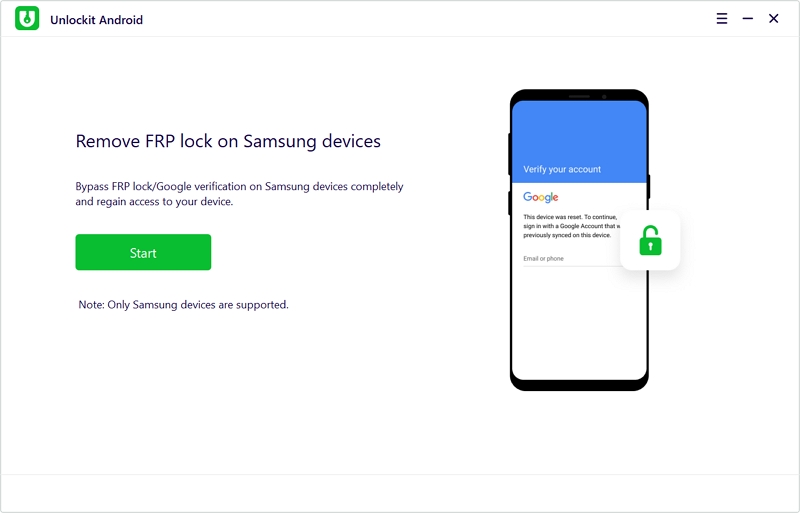 Step 3. Next, connect your Samsung M11 to your computer using its USB cable.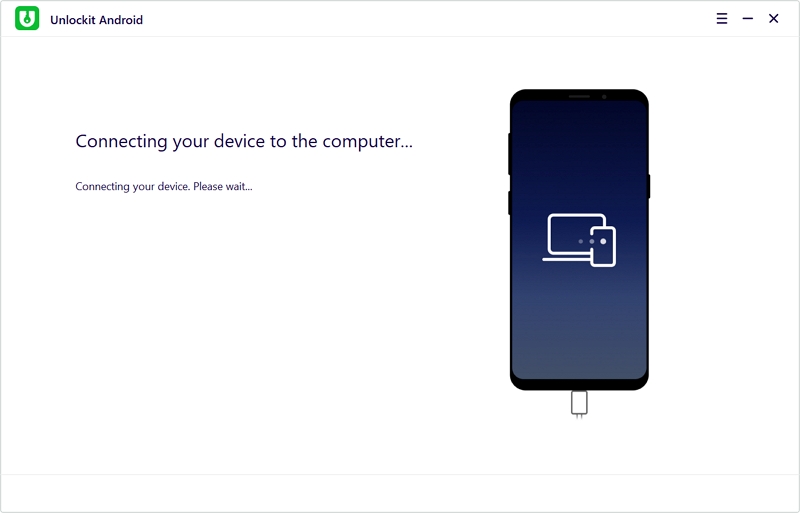 Step 4. At this point, select the current Android version of your FRP-locked device. Afterward, click the Next button.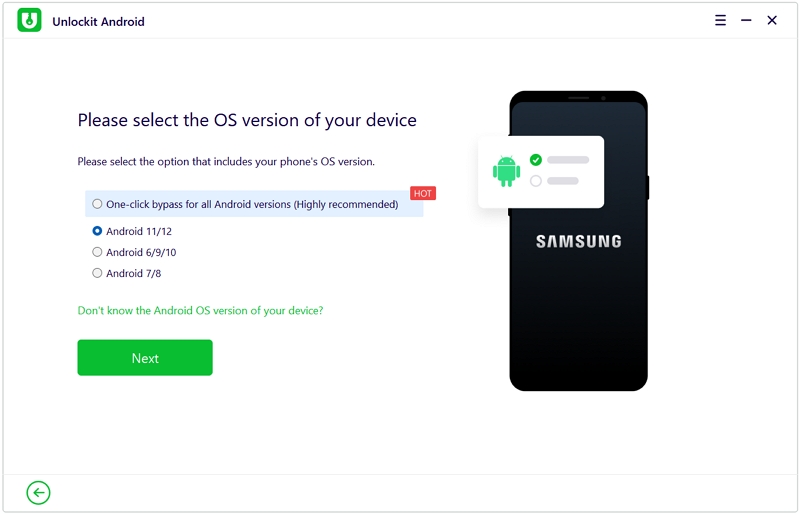 Step 5. The FRP bypass process will begin shortly after you click the Next button.
This may take some time to finish. Throughout the duration, refrain from using your device. Once the process is completed, you should be able to use your Samsung Galaxy M11 again.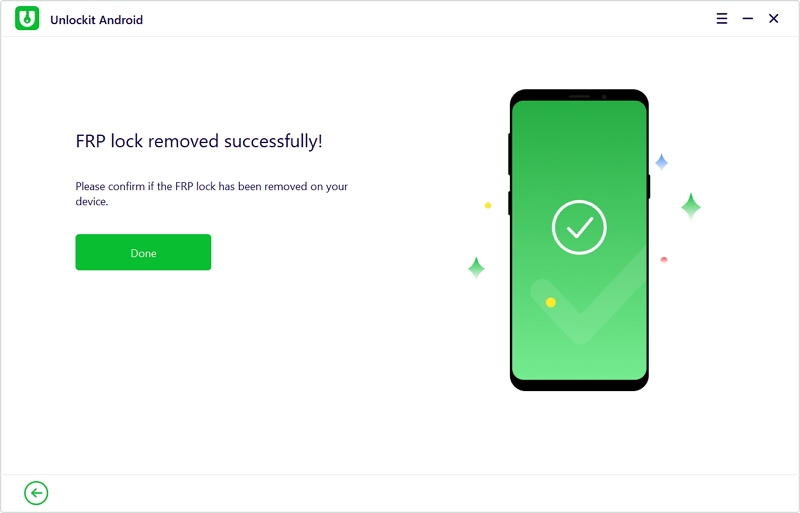 Unlockit Android's starter plan is priced at $29.95 and is valid only for one month. You can always opt for a longer subscription but at a higher price.
Check out Unlockit Android's pricing page to learn more about its available plans.
Bypass FRP Locks on Samsung M11 Without a PC
If you don't have a computer, you can use this next solution instead. The process is quite lengthy, so make sure to read and follow each step accurately to avoid going off track.
Also, ensure your device has enough battery and is connected to a stable Wi-Fi connection because you'll need to download some tools along the process.
Here's what you should do to bypass your phone's FRP lock without a PC:
First, turn on your Samsung M11 device.
On the welcome screen, tap the Start button.
Next, agree to the terms and conditions and tap Next.
Then, connect your device to your preferred Wi-Fi network.
Once connected, press the power key and volume up button simultaneously.
At this point, your phone should display a message that says "Use Side and Volume up keys for TalkBack?". Proceed to the next step by tapping Use.
After that, tap the power key and volume up button again to enable TalkBack.
This time, draw a "⅃" sign (reverse L) on your screen.
Now, choose the Use voice commands option.
With voice commands now enabled, say "Open Google Assistance".
Afterward, disable TalkBack by pressing the volume up and down buttons simultaneously.
This time, display the keyboard tool by tapping its icon on your screen. Then, type "YouTube".
From the search results, find and open the YouTube app.
Within the YouTube app, tap on the user icon and navigate to Settings, and then choose About.
After which, select YouTube Terms of Service.
At this point, the Google Chrome welcome screen should appear on your screen.
Just tap on Accept & continue, and you'll be immediately redirected to the Google Chrome app.
Now, type in any of the following URLs in the search bar of Google Chrome: https://tiny.cc/frptools or https://bit.ly/2NKxXYs.
Download the FRP Bypass tool in any of the links above and install it on your Samsung M11.
Upon installing, open the FRP Bypass app and sign in with any Google account.
Finally, restart your Samsung M11 to finish the bypass process.
You should be able to unlock and use your Samsung M11 device again once you have completed all the steps above.
Obviously, it is a very long process, but it is your only choice if you don't have a computer.
Wrapping Up
You've seen how convenient it is to simply use Unlockit Android to bypass your FRP-locked Samsung M11, rather than having to do it manually without a computer.
While Unlockit's price may raise some eyebrows, it is fairly worth it, as it can save you a great deal of time and effort. Plus, you may be able to utilize it on other Android devices as well.
Leave us a comment below if you have further questions or comments about bypassing FRP on the Samsung Galaxy M11.