Factory Reset Protection (FRP) is a security feature designed to ensure that an unauthorized person will not be able to access your Android phone once they perform a factory data reset.
By protecting the phone's data and adding more security, FRP has made lost or stolen phones harder to use.
This guide will show you how to bypass FRP on a Samsung S8 using a software called Unlockit Android and without a PC. Continue scrolling to learn more.
Samsung S8 FRP Bypass In One Click Using Unlockit Android
There are different ways available to bypass FRP on a Samsung S8, one of which is by using Unlockit Android.
Unlockit Android is an all-in-one toolkit with features that could save you from any phone disaster, including being locked out by FRP. It's easy to process without having technical complications to deal with.
So, if you are a non-tech person, this tool will guide you through all the steps to remove the FRP lock in just fifteen minutes.
Listed below are the steps to bypass FRP using Unlockit Android:
Step 1. Download Unlockit Android on your computer and install it on your computer.
Step 2. Open the Unlockit Android app and click Start on the landing page.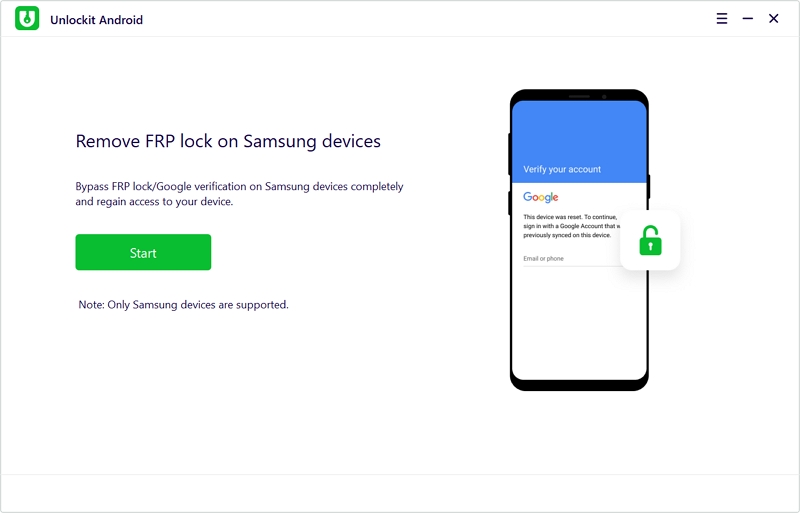 Step 3. Next, connect your Samsung S8 to your computer using a USB cable and wait for the device configuration to be completed.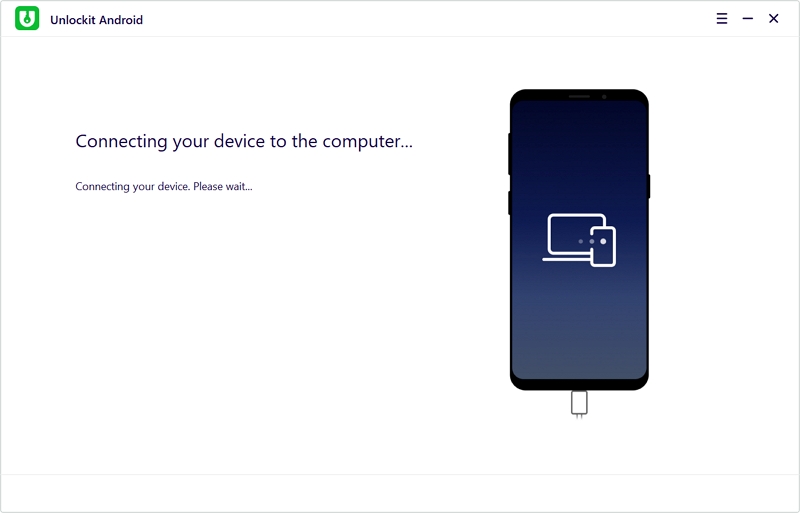 Step 4. Select the Android OS version of your phone on the Unlockit Android app and click Next.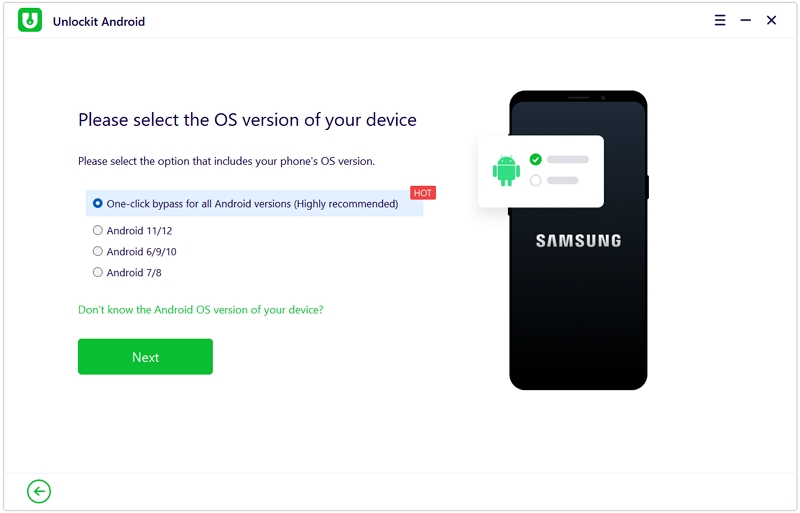 Step 5. Follow a few on-screen instructions to set up your phone and complete the FRP bypass.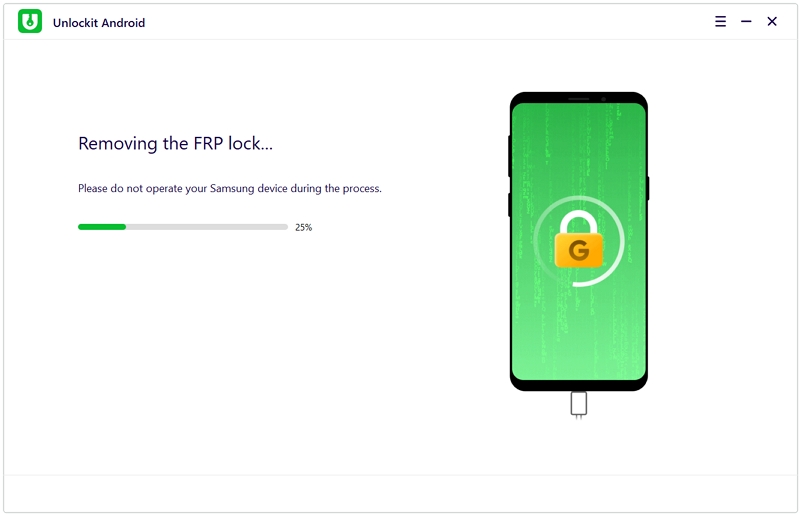 Wait until the bypass procedure has been executed and the phone restarted. After the restart, your Samsung S8 has now bypassed FRP.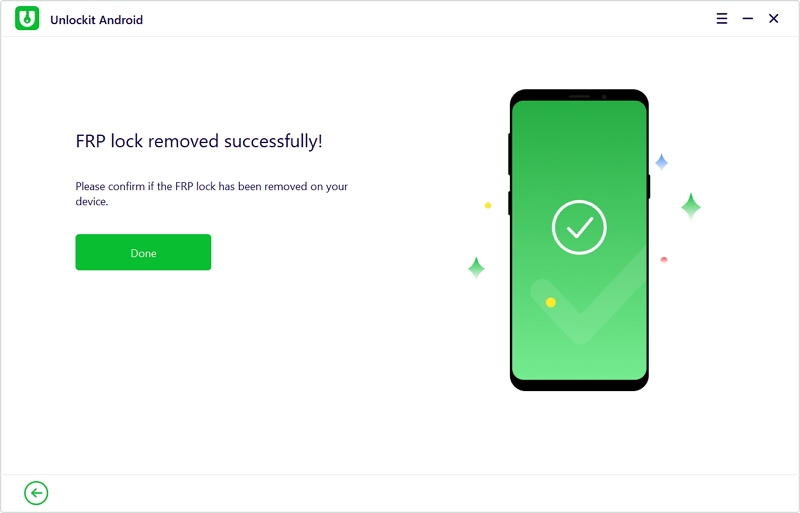 Unlockit Android enables a reliable method to access a locked Samsung S8 without using the corresponding Google account to unlock the FRP.
Samsung S8 FRP Bypass Without Using a PC
Another route available to bypass FRP is through this Samsung Galaxy S6 FRP Bypass method. This method requires you to follow numerous steps, so be sure to do exactly the steps listed below and leave no room for mistakes.
Before we start, here are some of the things you need to perform this method:
An FRP unlocked Samsung Phone
A SIM Card with Data
A Samsung Account
Notification Bar.apk
Package Disabler Pro.apk
Here are the steps to bypass FRP without using a PC:
Using your FRP unlocked Samsung Phone, login to your Samsung Account.
Then download and install Notification bar.apk and Package Disabler Pro.apk.
After installing, backup these two apps to your Samsung account.
Go to Settings > Accounts and Backup > Back Up Data. Then, deselect all except the Apps. Then, click Back up now.
On your FRP-locked Samsung S8, insert the SIM Card with Data, and make sure not to connect the phone to any WiFi network.
Press and hold the Power Key and Volume Up Key for 3 seconds, then tap on Use.
Next, press and hold the Power Key and Volume Up Key again for 3 seconds to enable Talkback.
Draw a "⅃" (reverse L)and tap while using the app, then double-click.
Now, select Use voice commands and say out loud "Google Assistant". If this process does not work the first time, try again.
Once the Google assistant has been opened, disable Talkback by pressing and holding the Power Key and Volume Up Key again for 3 seconds.
Say out loud, "Hey Google, Open Settings.". If the Settings did not open, click on the Google icon located at the bottom-left corner of the screen.
Now click on the Mic icon and say loudly, "Hey Google, Open Chrome.".
Click Accept & continue and then No, thanks.
Open the Settings and sign in to the Samsung account that you used earlier on your FRP unlocked Samsung.
On the search bar, type bit.ly/frpunlocktools.
Inside the website, select Open Settings App. Now, login to your Samsung Account and click Cancel on the prompt "want a faster way to sign in?"
Go back to the settings by tapping the back icon. Then, go to Accessibility > Interaction and dexterity > Universal switch. Keep pressing Next and then click Done.
Enable the Universal switch shortcut, then select Allow.
Enable the Accessibility button and return back to Settings.
Now from Settings, go to Accounts and Backup and tap on the Restore Data and Accessibility icon at the same time. Select all and click Restore.
Install Backup and then click Done.
Go to Samsung Account > Samsung Apps and services > Galaxy Store. Then, update the Samsung Galaxy.
Once the update is done and is showing "installing", click on the back icon. If the app requires another update, repeat the previous step.
Go back to the Samsung Galaxy Store > Agree > Continue > Skip. Now tap on the search bar and type S7, S8, S9 Launcher for Galaxy and install it. Once installed, click Open.
Go to Settings > Privacy > Permission Manager > Files and Media. Click the kebab menu (3 dots) on the upper right corner, then click Show system. Now find the Package Disabler Pro and give the app permission by clicking allow management of all files. Then, click Allow.
Return to the home screen and open the Notification Bar application.
Click on Accessibility > Installed Service > Notification Bar. Then, enable the notification bar.
Now return again and click on Notification. Then allow the Notification Bar.
Turn off the WiFi and Data on your phone.
Go to the installed app list and open Package Disabler Pro.
Click I agree and select the Enable Admin. Then tap on the Activate button.
Reconnect your phone to either a WiFi or Data connection.
Mark the I have read the agreement and then click on the Confirm button.
And then, if it shows "Retry", just click on it to retry again.
After that, you'll see a message, "Knox license validation completed successfully."
A "Please wait" message will pop up on the screen.
The next step is to tap on the search icon and type Setup.
Click on the Android Setup > Disable > now tap on the back icon.
The last step is to click on the Samsung Setup wizard, then select Clear Data.
When you see time on the notification bar, that means you have successfully bypassed FRP on your Samsung S8 without using a PC. Hopefully, by following this meticulous process, you have been able to unlock your Samsung S8.
Final Thoughts
With the added security on Samsung S8, bypassing the FRP has become harder. With this guide, we hope to clarify how to bypass the FRP with the two options provided above.
Using Unlockit Android on either your Windows or Mac PC will save you time with its easy and quick bypass process.
However, if you prefer not to use a pc, you can still proceed with the second method. Do proceed with caution as this entails following numerous specific steps with no room for error.