Losing access to your device can be a frustrating experience. Losing access means you lose access to the online world, your contacts, even your work messages, and much more simply because you can't remember your Gmail account's password.
To solve this problem, one of the solutions is to perform a YouTube FRP Bypass, and I'll be guiding you along the way through short and simple steps.
Guides on YouTube FRP Bypass
When you reset your device without removing your Google Account or passcode, factory reset protection (FRP) activates on your device.
Moreover, you cannot use it further until you manually enter your Google Account details. Also, this feature started from Android Lollipop and has been on every Android OS version since then.
There is a way to disable FRP using YouTube, which can benefit those who still have access to their phone and want to ensure they don't face this problem in the future.
If you own a Samsung device and have forgotten your account's Gmail credentials, follow this YouTube FRP bypass guide to unlock your device step by step.
Steps
Start up your device, agree to the terms and conditions, and click "Next."
Connect your device through the WiFi and then press the "Volume Up and Power" Key at the same time.
Tap "Use" and then select "TapTalk."
Draw a Reverse "L" on the screen and select "Use Voice Command."
Say "Open Google Assistant" in clear, understandable words.
Now "Disable TalkBack" by pressing "Vol Up + Vol Down."
After getting TalkBack disabled, select "Keyboard" and then type YouTube and open YouTube's Terms of Service from the About Page.
This will open Chrome for you; from here, you need to download FRP tools.
Download FRP tools from your preferred source.
Open the downloaded APK, tap the "FRP Apps" section and select "Open Galaxy Store App."
The Galaxy Store app will open before you install "Alliance Shield" from here.
Sign in with your "Samsung Account" to install the App
Now open the "Alliance Shield" app and either register for a new account or sign in if you already have one.
Give a name to your device, and then follow through the steps to make your device admin and grant "Knox" access.
When both have been completed successfully, navigate to "App Manager."
Locate "Android Setup," and from there, select "Actions," and then "Force Stop & Wipe App Data."
Do the same for the Samsung Setup wizard, locate and then Force Stop & Wipe App Data.
Do the same for Google Play services, locate and then Force Stop & Wipe App Data.
Locate the Samsung Setup Wizard once again and then go to Activities.
Then Search and Open Samsung Setup Wizard =>>
Select com.sec.android.app.SecSetupWizard.SecSetupWizardActivity, which will most probably be the first activity.
Open the activity, and your FRP has been successfully bypassed.
Looking for an Easier Way to Bypass FRP Lock?
The above-mentioned Youtube FRP bypass method works, but the procedures are complicated and make you follow an absurd number of steps. What's more, it only works for limited Samsung devices.
Instead of following long procedures where the chance of error is maximized, simply try Unlockit Android to remove the FRP lock.
Bypassing the frp lock has been made more easier with the latest version of Unlockit Android.Through it, the FRP lock can now be unlocked in just 1 click and in a matter of minutes.
It is a one-in-one FRP bypass tool that can remove FRP locks on all Samsung models running Android 6-12.
Once the device has been unlocked with the Unlockit, you can regain access to it and add a new Google account.
Following are the steps to usre Unlockit Android to bypass the FRP lock:
Step 1: Download and install Unlockit Android and then connect your Samsung smartphone to your PC.
Step 2: Click the "Start" button and then choose the "All Android Versions" option.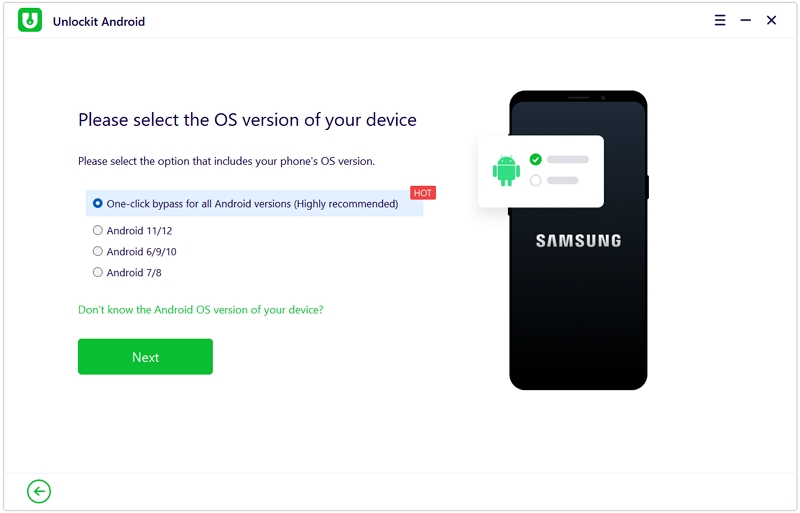 Step 3: Follow through with the onscreen steps to enter test mode and enable "USB debugging" on your device.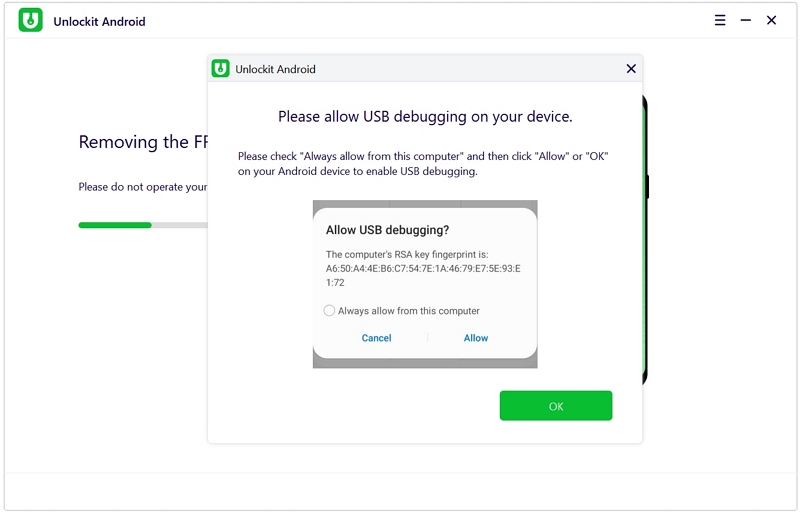 Step 4: The FRP Bypass tool Unlockit Android will then reboot your device at the end of the process. When your phone reboots, the FRP lock will be gone, and you can freely use your phone again.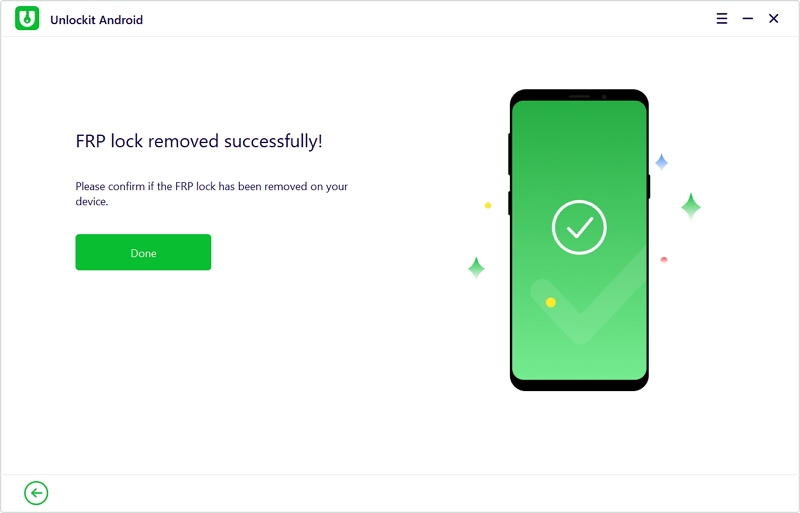 YouTube FRP Bypass Stuck on YouTube Update Screen?
There is a pretty common problem that often plagues incorrectly bypassed phones. Whenever they open YouTube, they get stuck on the YouTube update screen, unable to proceed further.
To solve this problem, you can try bypassing your phone from the method mentioned below:
On a freshly formatted phone, tap "Get Started" and enter your WiFi details.
Navigate back to the Welcome Screen and then tap "Vision Settings."
Draw an "L" on the TalkBack tutorial screen.
Now you can disable Talkback features by pressing and holding "Volume Up and Down."
From the TalkBack settings, navigate until you find "Help & Feedback."
Search for "Get Started with Voice Access. "
Scroll until you find the "Google App Settings" highlighted in Blue.
From there, select "Location."
Then scroll down till you find "Google App Location" Settings highlighted in Blue, and tap it.
From here, select "Delete Your Location History" and then "Location History."
The Google Maps app will open before you; tap on the "Settings (Hamburger icon)" menu on the left-hand side.
Tap on "Start Driving," then on "Voice search," and then open "Chrome."
Download These applications from Google Chrome Gadgets, Doctor.apk, and Apex Laucher.apk."
From here, tap on the "Settings" menu, and then install the Apex Launcher APK.
Now navigate to "Settings," then "Security," and from there, "Device Administrators."
Disable the "Android Device Manager."
Navigate back to the Settings App and then select "Apps."
Disable "Google Account Manager & Google Play Services."
Now select "Open My Files."
Install gadgets "doctor.apk."
Navigate back to the Settings menu and, from there, Accounts, and then add a Google Gmail account.
Navigate back to Apps and re-enable "Google Play Services & Google Account Manager."
Navigate back to Settings, then Security, then "Device Admin Apps," and enable both device managers.
Give your phone a restart and proceed through the setup as you normally would.
Your phone has now been successfully bypassed.
To Conclude
Upon a single Google search, you will find out that there are several ways to perform a YouTube FRP Bypass.
However, not all of these methods are easy to follow, and not all work. This is because Google keeps updating its OS; if something worked now, it might be patched later in a newer Android version.
If you don't like these long methods, you can simply choose a 3-5 clicks solution such as Unlockit Android and get your device unlocked in minutes.