If you have a device that is FRP locked, then you may be looking for a good FRP bypass tool to help you out of this predicament.
There are numerous tools in the market that claim to be able to help you bypass FRP without the Google account password.
One such tool is FRP Hijacker. If you have come across this tool and you're wondering if it is the most ideal solution for you, you've come to the right place.
Here, we will talk about FRP Hijacker to help you decide if it is a suitable solution for you and your device to bypass the FRP lock.
What is FRP Hijacker?
FRP Hijacker is a tool to help Samsung device owners bypass FRP on their devices. It is free to download; since it is a desktop tool, you will need to install it on your computer to use it.
FRP Hijacker has been tested extensively and is safe to use. Used in combination with Samsung Download Mode, you don't need additional programs to bypass FRP.
Key Features
The following are some of the main features you can expect if you choose FRP Hijacker as your solution:
It is free to download and use. It can also be very simple to use with an easy-to-navigate user-friendly interface.
You can unlock FRP on any Samsung device ins a single click.
It is also one of the best ways to fix soft bricks on Samsung devices.
You can use it to enable ADB and even remove ADB factory reset to protect the device
It supports all versions of the Windows OS.
It is also fully compatible with all Samsung device models, running all versions of Android.
It can also be used to fix common system errors that may affect the Samsung device.
Download the FRP Hijack Tool
You can download FRP Hijack Tool by clicking the link. The FRP Hijacker tool is password-protected, and you will need the password to unlock the file before beginning the installation process.
The password is www.gsmhagard.com. Just copy and paste the password into the password field to unlock the file.
How to Use the FRP Hijack Tool
The following is how you can use the FRP Hijack tool to bypass FRP on your Samsung device:
Step 1: Download the FRP Hijacker tool on your PC.
Step 2: Click the setup file. When prompted, enter the password, which will be provided with the setup files.
Step 3: Wait for the installation process to be completed and then open the app.
Step 4: In the main menu, select your device model from the drop-down list.
Step 5: Connect the Samsung device to the computer using a USB cable and put it in Download Mode.
Step 6: Select "Remove FRP" and then click on "Hijack It" and wait while the program unlocks the device.
FRP Hijacker Review
FRP Hijacker is certainly easier to use than most other tools that you may find in the market, but is it useful? Well, some users say that it was unable to unlock their devices.
What's more, FRP Hijacker's website can be hard to navigate and there is little in terms of customer support to help users who may find that they have a hard time using the program. For these reasons, you may want to choose a different solution.
Direct FRP Bypass Tool: Unlockit Android as Alternative
The other solution that can help you bypass FRP on Android devices directly is Unlockit Android. This is an effective Android unlocking tool that allows you to bypass FRP lock in just one click.
The following are its features:
It can bypass Samsung FRP Lock on all devices running Android 6-12.
It will unlock your Samsung device without causing data loss.
Get control of your device and add a new Google account after unlocking.
It is very easy to use, you don't need technical expertise to unlock your device.
Here's how to use Unlockit Android to bypass FRP on your Samsung device:
Step 1: Download and install the program on your computer.
Step 2: Launch it and in the main window, click the "Start" button.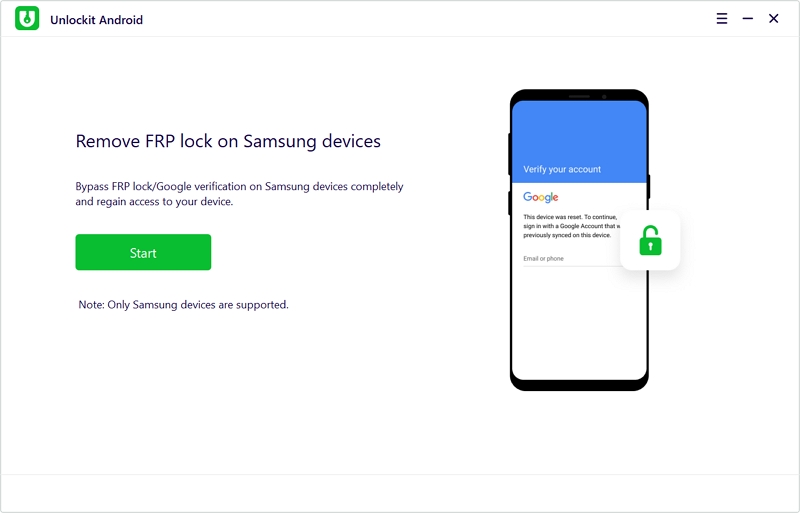 Step 3: Use a USB cable to connect the Samsung device to the computer.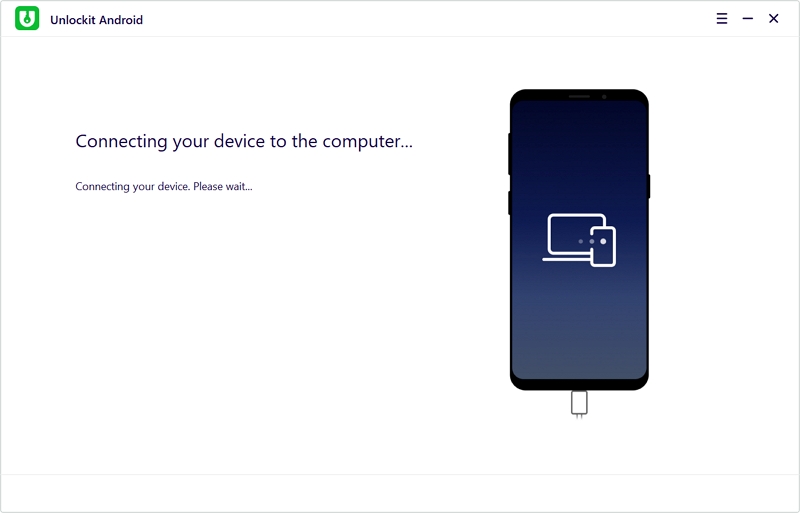 Step 4: In the next screen, select All Android Versions to use the one-click bypass technology from the list and then click "Next."
Confirm the Android OS running on your device, make sure that the device is connected to Wi-Fi and it is on the FRP lock screen.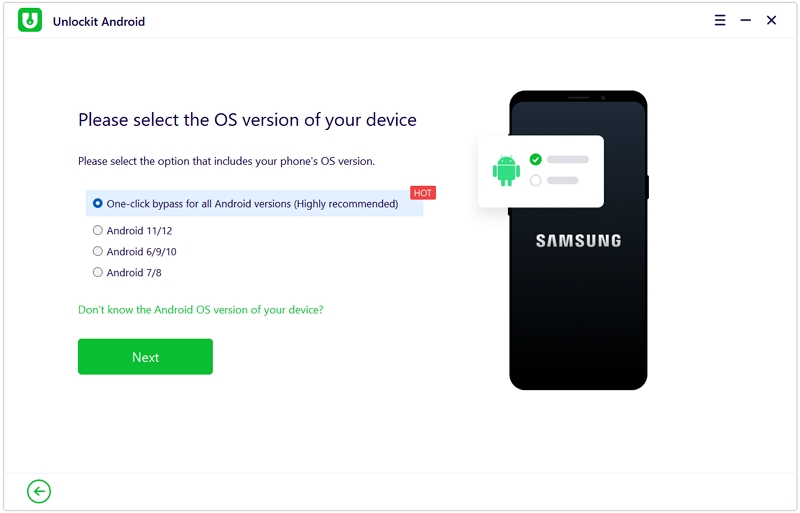 Step 5: Then Unlockit will start unlocking. Follow the onscreen instructions to set your device up during the process.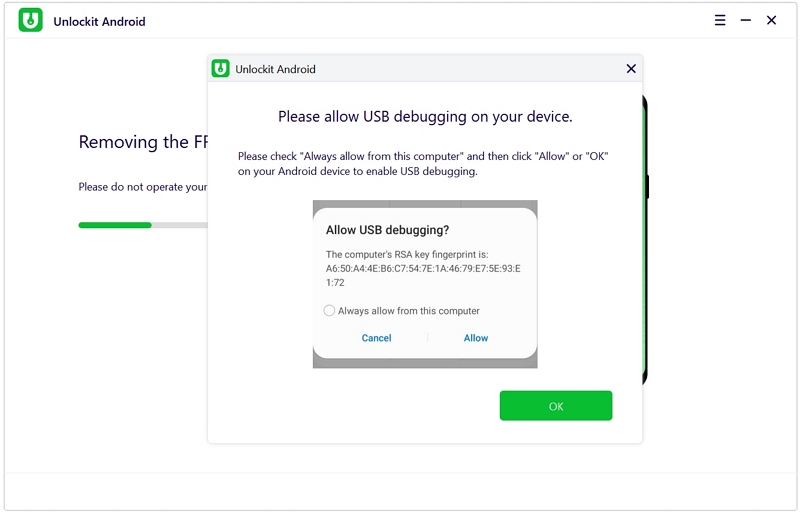 In a few minutes, Unlockit will remove the FRP Lock from the device and you can go ahead and set up the device.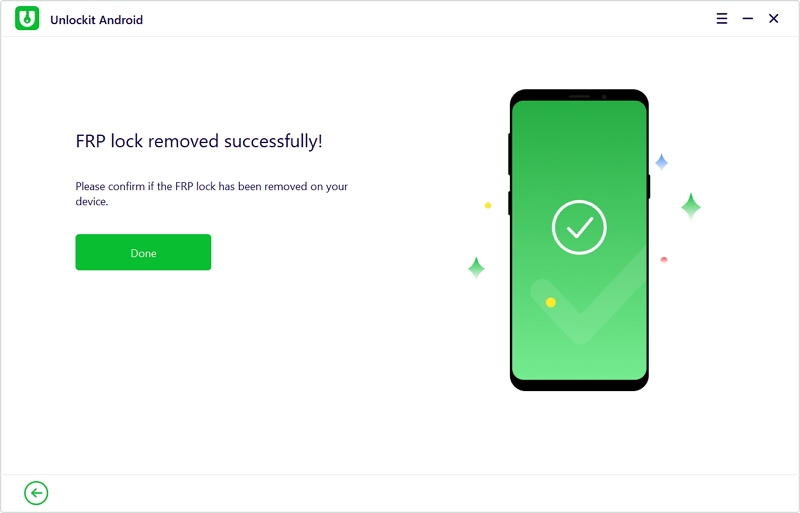 To Conclude
FRP Hijacker is just one of the many tools that you can use to remove FRP locks from any Samsung device. And while it may be effective, you may find that it is difficult to use and may not work all the time.
Unlockit Android on the other hand is a complete, effective, and easy-to-use solution that guarantees you will unlock your device.