When using Android, your device will lock itself if you enter your PIN, password, or pattern incorrectly a certain number of times. You could get around the lock by conducting a factory reset.
But as of late, Android's Factory Reset Protection (FRP) will require providing your Google password in order to finish the reset procedure. There are a few things you can try if you don't know your Google password, but they might not be compatible with every device.
If you have caught yourself in a situation where you need to bypass FRP, you have come to the right place. We'll be discussing a few direct ways to solve getting FRP locked.
Can FRP Be Bypassed Directly?
Every Android version since 5.1 provides its smartphone and tablet customers with FRP, or Factory Reset Protection, as a security safeguard.
Only when the user wants to completely erase the data on the phone and restore it to how it was when it was brand new, with no data saved, would the user factory reset the phone.
Android has an FRP lock to stop thieves from using or erasing personal data and information via the factory reset option.
Because a Google account is necessary to do a factory reset on a device, the device will temporarily stop working if the correct credentials are not entered.
If you forget your Google account information or need to factory reset an old smartphone you purchased from someone, the primary concern is whether or not its FRP can be bypassed directly without complicated steps.
But rest assured that with the following methods listed here, it can be done directly and easily.
Direct Google Account FRP Bypass In 1 Click with Unlockit
You can directly get past the Google verification on Samsung smartphones and tablets by using Unlockit Android.
It is an expert tool for bypassing Google verification and Samsung FRP in just one click.
It is a trustworthy software with a simple interface that doesn't require you to master any technological abilities.
Why You Should Choose Unlockit Android
Since Samsung is a popular choice for Android phones, there are several popular methods to bypass FRP from the internet.
After testing, here are the results organized in the table below for your convenience:
| | | | |
| --- | --- | --- | --- |
| Method | Time Required | Additional Tools Required | Shortages |
| Using Unlockit Android | 3-5 minutes | None | It's not free |
| | 0.5-1 hour | SideSync, Account Login APK, Google Account Manager APK | Complicated to use and works for limited Android versions |
| | 0.5-1 hour | TalkBack, FRP bypass APK, Alliance Shield | May not evoke YouTube with TapTalk |
| | 0.5-1 hour | Odin, Samsung firmware, Samsung USB Drivers | Difficult to use |
Given this, you can perform the following simple actions after downloading and installing Unlockit Android:
Step 1. Open the Unlockit Android first, then connect your smartphone to your computer.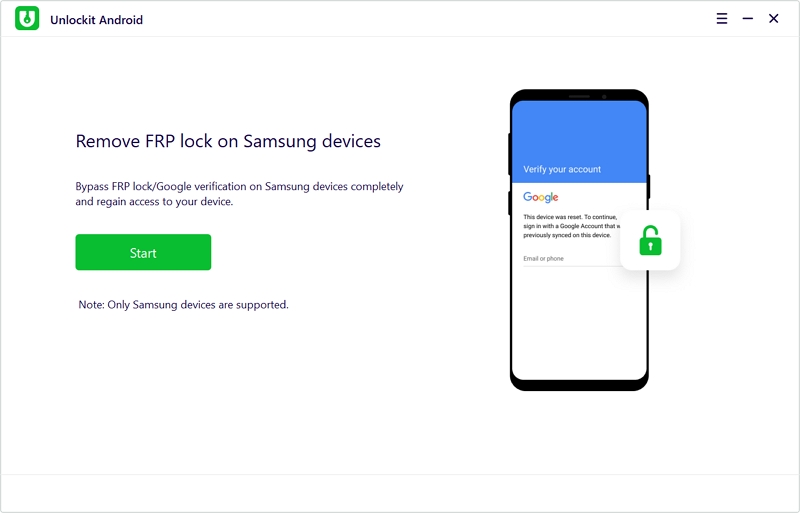 Step 2. Unlockit will then prompt you to select the OS version of your smartphone. Click next after selecting the first option, One-Click bypass for All Android versions.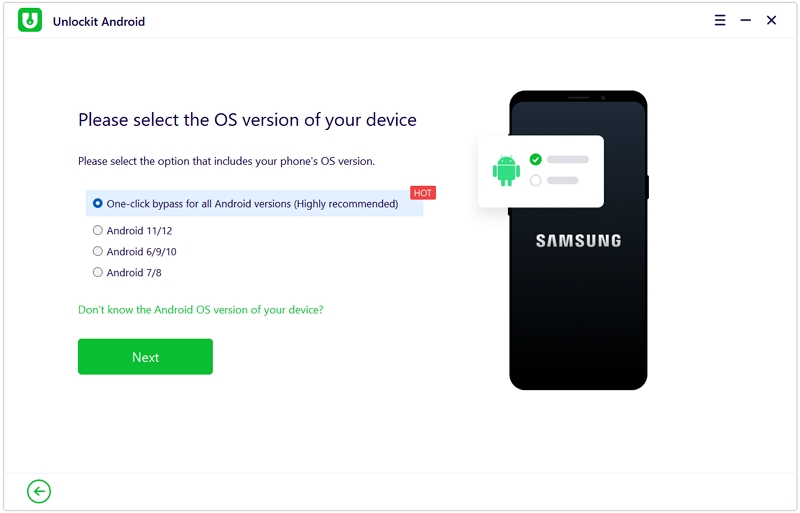 Step 3. When the interface displays a master code, USB debugging is enabled. Maintain the connection with your device throughout this process.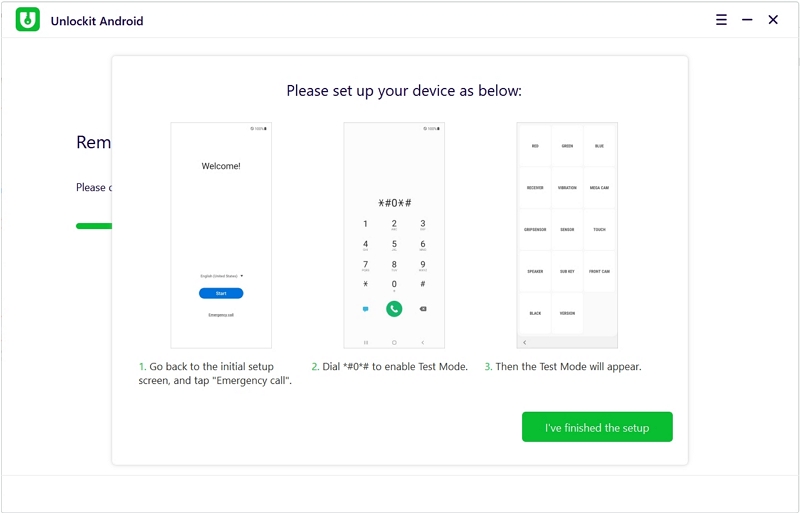 As soon as the process is complete, your device will restart and your phone's Google lock should already be gone after this step.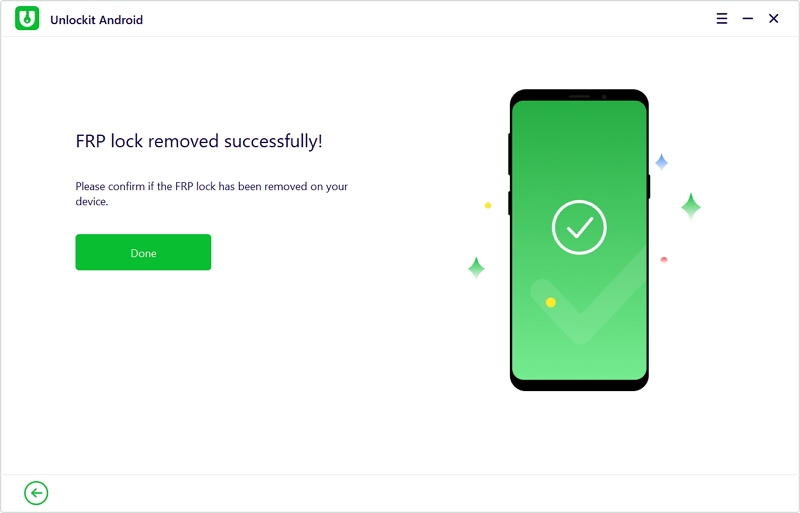 Contact the Original Owner
When setting up a pre-owned phone or tablet, if you're asked for a Google password, it may be because the previous owner didn't deactivate their account before doing a factory reset.
Then, your initial course of action should be to get in touch with the original owner and ask for the account details.
This way, you may unlock the smartphone without having to go through Google verification.
Once it has been unlocked, you can set the phone with the necessary information.
How to Turn Off Factory Reset Protection
If you intend to sell an Android device, it is critical that you erase all Google accounts before executing a factory reset.
After which, when you've deactivated all Google accounts, you can factory reset the device without triggering factory reset protection.
Here's how to turn off the Factory Reset Protection:
Open the Settings app on your Android device.
Select the Accounts or Accounts Backup option.
Select the Account Removal option. By doing this, your Google account and Factory Reset Protection will be removed from your Android phone.
If you have already reset the device, turn it on and go through the setup procedure. Then go ahead and log out of your Google account after entering your account and password.
Wrap Up
The good news is that if your account is removed before the reset, the Google account verification may be simply avoided, even though a factory reset won't be able to unlock it.
Furthermore, if you intend to hand over your device to someone else, be it to sell or as a gift, ensure that your own account information is safeguarded and gone.
Please feel free to comment below with any other questions or concerns you may have regarding a Google-locked phone.