The market for Android devices is extremely competitive, and phone manufacturers are constantly striving to create the perfect devices with the best features for their consumers.
And to create such devices, adding robust security features such Factory Reset Protection or FRP is a must. The FRP feature prevents any unauthorized users from accessing your device, but it can also be the reason why you can't use your own device.
With the increasing intricacies of today's security features, it is no wonder that some users unfortunately find themselves locked out of their own devices, especially after performing a factory reset.
If you're currently facing a similar issue, and want to know more about DroidKit FRP bypass tool, fret not. In this article, we will be talking about this 3rd party software. Continue reading to learn more.
What is DroidKit?
DroidKit is a multipurpose tool that was developed by iMobie Inc. as a licensed data recovery program for Android devices.
It helps you resolve two of the most common problems with Android devices, which are data loss and system issues. DroidKit runs on a freemium model, with the more complicated tools available for use at different prices.
Users can explore the functionalities of the software with the free option. If, however, you want full access to all its capabilities, you will need to spend up to $269.92 for a 1-year plan.
Don't worry if you think the price is too steep. iMobie often offers discounts for their 1-year plan and offers it for as low as $80 for the full suite of tools.
You can also lessen your cost by purchasing only the specific tools that you need. Tools individually cost around $15 to $36. So you can easily save by only purchasing licenses for the tools you're looking for.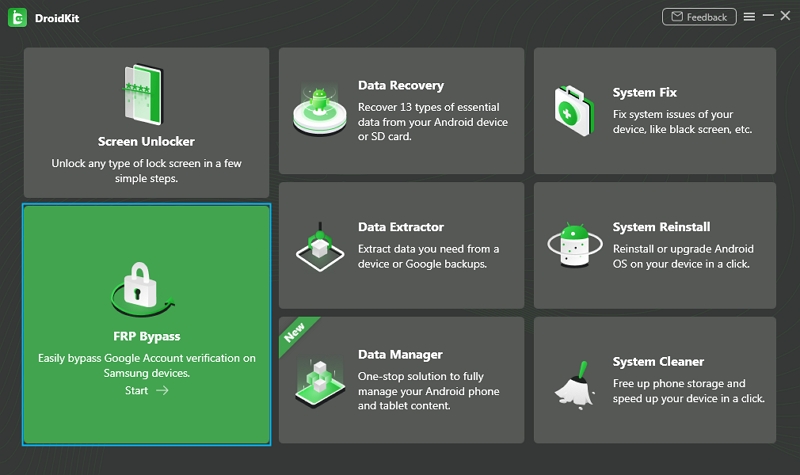 DroidKit Feature: Lock Screen Removal and FRP Lock Bypass
Though the lock screen and FRP features are two of the most useful and effective security features for smartphones nowadays, it is quite troublesome if you find yourself unable to access your own device because of them.
Luckily, amongst the plethora of tools that DroidKit offers, two of the most commonly used ones are lock screen removal and FRP lock bypass.
DroidKit's lock screen removal tool can help you regain access to your device by removing any passwords, PINs, fingerprints, and even facial recognition locks. This feature can be used on multiple Android phone brands such as Samsung, Huawei, and Sony.
Meanwhile, the FRP lock bypass feature allows you to bypass the Factory Reset Protection security feature on Android devices.
However, do note that even though DroidKit can unlock the screen of most Android devices, it can only bypass the FRP lock of Samsung devices.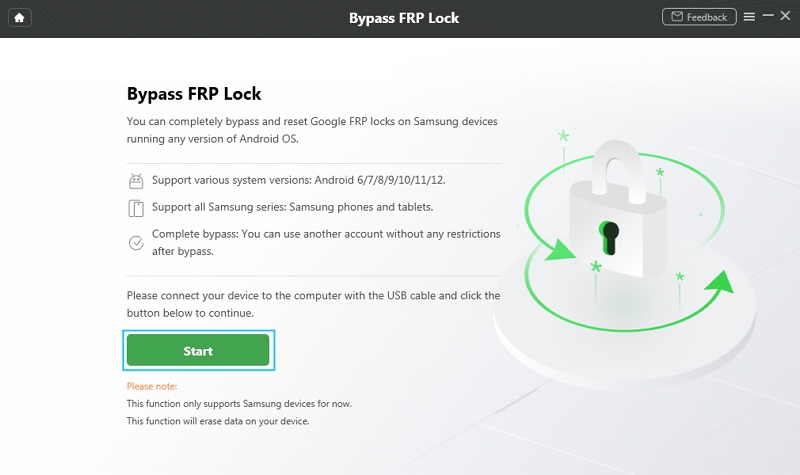 How to Bypass FRP using DroidKit
Here's how you use DroidKit to bypass FRP on your Samsung device:
First, download and install DroidKit on your Windows or Mac PC.
Connect your Samsung device to your computer via USB cable.
Now, open the application, and on the landing screen, click FRP Bypass.
Click Start to begin the download of configuration process. If you're using a Window's computer, press the Start button 3 times.
Once the configuration file preparation is done, click Start to Bypass to initiate the bypassing process.
Next, you need to put your device in Recovery Mode. To do so, follow the instructions below: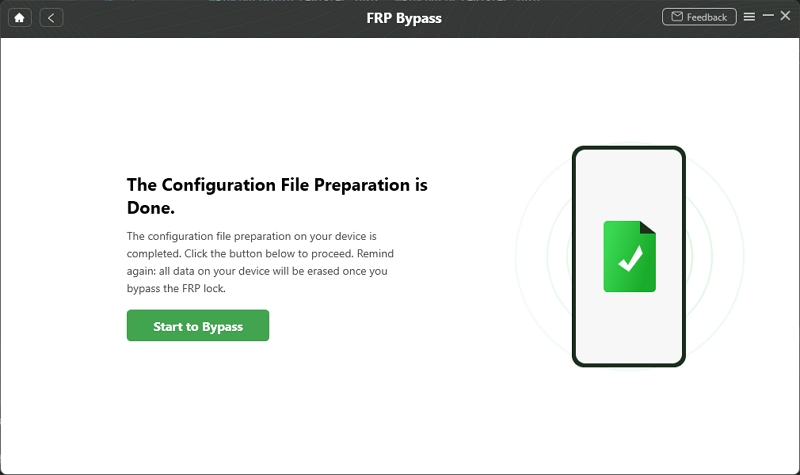 For Samsung devices without Home buttons:
Press and hold the Volume Down + Power button until the screen turns off.
After that, press and hold again the Volume Up + Power button for a few seconds.
Release your hold once the Samsung logo appears on the screen. Now, wait until the recovery mode menu appears.
Use the Volume Up/Down button to navigate. Select Wipe data/factory reset and confirm with the Power button.
For Samsung devices with Home buttons:
Press and hold the Volume Down + Power button + Home button until the screen turns off.
After that, press and hold again the Volume Up + Power button + Home button for a few seconds.
Release your hold once the Samsung logo appears on the screen. Now wait until the recovery mode menu appears.
Use the Volume Up/Down button to find and select Wipe data/factory reset. Confirm with the Power button.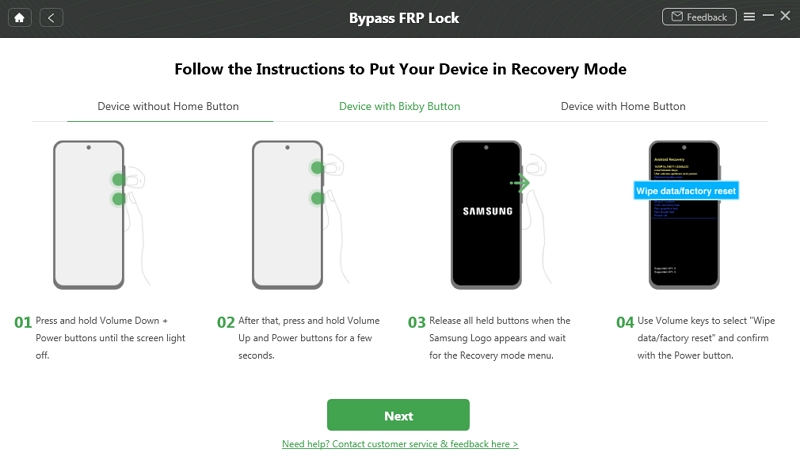 Under recovery mode, you can see the system version of your Android device. Select your Android system version and click Download Now.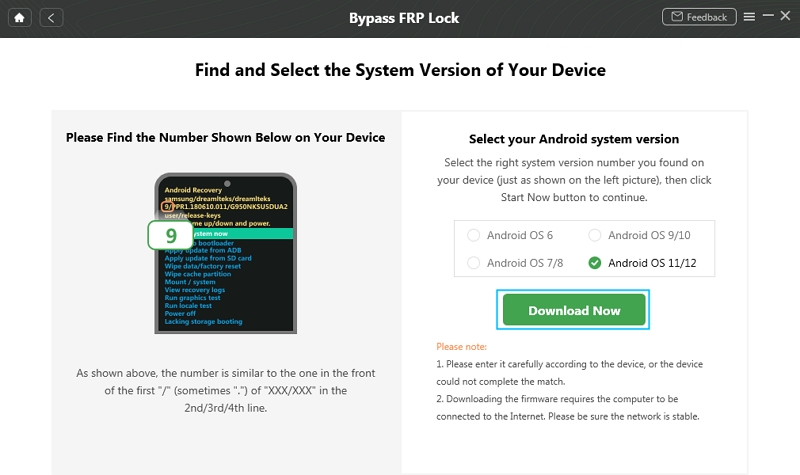 And finally, on-screen instructions will be provided by the tool for you to follow.
Your device will be restarted. FRP should be unlocked once it turns back on.
Review of DroidKit FRP Bypass
DroidKit FRP works, but you have to follow a great number of steps that are complicated to use. You also need to download a configuration file and put your device in recovery mode to get the job done.
It is easy for non-tech-savvy consumers to get lost under the numerous steps to follow.
Moreover, this tool doesn't support the latest one-click FRP bypass technique, which simplifies the process of FRP bypass quite a lot.
Unlockit Android as Alternative
Another example of a great 3rd-party software that you can use to solve Android related issues is Foneazy's Unlockit Android. This tool allows you to bypass screen and FRP locks with a few simple steps.
One advantage that this tool has is that its FRP unlocking feature is easier to use, as it allows you to bypass the FRP lock in just 1 click, and doesn't require to put your device in Recovery mode or download configuration file additionaly.
Unlockit Android is also priced comparatively cheaper at $39.95 for a 1-year plan, supporting up to five devices and one PC, inclusive of all its functionalities.
Here's how to use Foneazy's Unlockit Android to bypass FRP on your device:
Step 1. Download and install Unlockit Android on your Windows computer.
Step 2. Launch the Unlockit Android app, then click Start on the landing screen.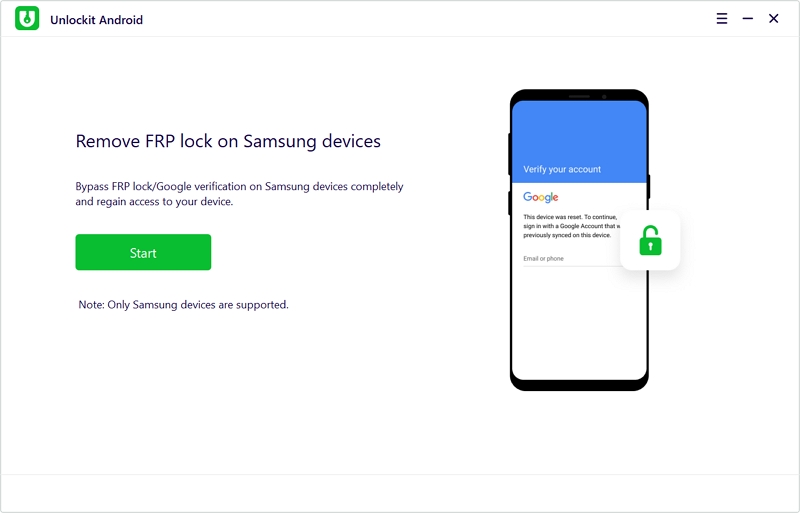 Step 3. Connect your phone to the computer via USB cable.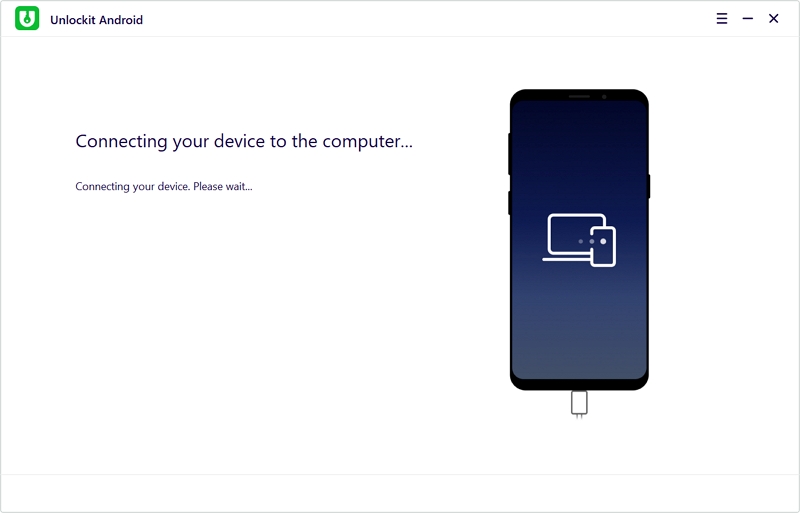 Step 4. Next, select the device OS version of your phone. We suggest to try "One-click bypass solution for all Android versions" first. Then press Next on the Unlockit Android app on your computer.
Note: If you choose other versions, the steps will differ between Android 6/9/10 and Android 11/12.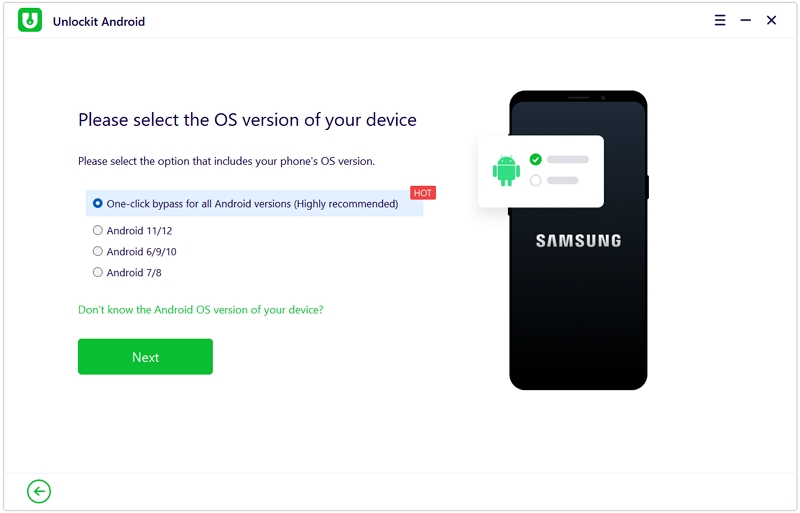 Step 5. Then, follow the on-screen instructions to unlock your device step by step.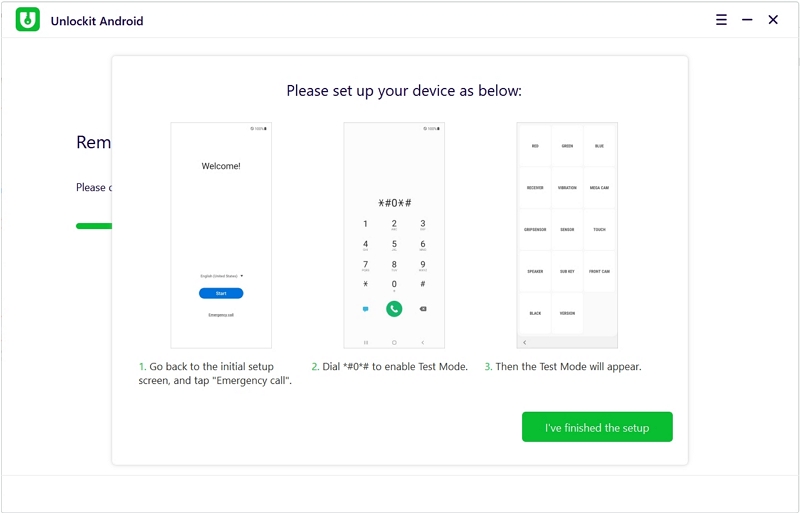 To finish, allow USB debugging on your device and your device will reboot in seconds. Now, your device is FRP unlocked.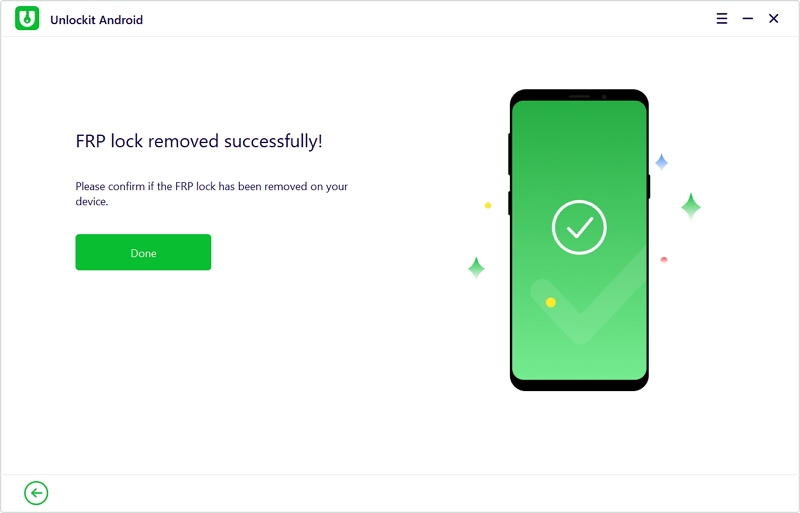 Conclusion
It is an unlucky situation to be locked out of your phone. But because of technology, every problem has a solution nowadays. There are several software that were specifically designed to address certain problems.
DroidKit and Foneazy Unlockit Android can both bypass FRP and locked screens on your Android devices, but Unlockit Android is cheaper and compatible with more Android brands. Its process is also a lot less complicated to do.
We hope you were able to bypass your lock screen and FRP issue using this guide. For any questions or concerns, let us know in a comment below.