There's nothing more inconvenient than being stuck in Google's Factory Reset Protection loop, which usually happens when you buy a second-hand phone or do a factory reset but forget your login details during the verification.
Though there are various methods to solve this problem, many users have asked if it's possible to use a QR code to bypass the Google Account Verification feature.
In this article, we will share important information on bypassing Google accounts using a QR code, as well as another useful method you might consider.
Interested? Read on to learn more.
Can You Use a QR Code To Bypass Google Account?
QR code is an acronym for "Quick Response" and it refers to an image consisting of a series of black square patterns that can be translated into readable information when scanned using a smartphone camera.
QR codes were first introduced by Denso Wave in 1994, and are now widely used by different establishments, including Google.
You can use QR codes to sign in to your Google Account. This helps keep your login details and other personal information private since you don't have to manually enter your password when signing in.
However, you cannot use a QR code to sign in if your device is stuck in the Account Verification screen or is currently locked by the Factory Reset Protection (FRP).
Though QR codes are not the solution, there is still a way to bypass Google Account Verification, which will be discussed later in this article.
How Does Google Account Verification Work?
Android versions before Lollipop 5.1 are vulnerable to hacks and data privacy leakage. Fortunately, Google's latest Google Account Verification or Factory Reset Protection (FRP) ensures that your data is secured even if it gets stolen.
This is because even if the thief is able to do a factory reset on your device, he still cannot use your device unless he enters the correct email and password during the account verification.
Moreover, whenever you do a factory reset on your device, the FRP feature is activated. This means that you will encounter a prompt telling you to sign in using the owner's account.
This is not a problem if you know your correct email and password. But this is why problems do arise if, for example, you just bought a secondhand phone from a random merchant and realized that the previous owner failed to remove his/her Google account from the device.
You will end up trapped in the Google Account Verification loop even if you did a factory reset. It also becomes problematic when you forget the email and password you previously used on your device before doing a factory reset.
Best Way To Bypass Google Account In One Click
The best way to bypass Google Account Verification without breaking a sweat is through Unlockit Android by Foneazy.
This program is a user-friendly tool that can bypass Google Account Verification without needing a password.
It's very easy to use because you just have to follow a few easy steps to finally use and enjoy your device.
If you download and install Unlockit Android, you will be able to enjoy these amazing features:
Bypass Google lock in just one click
User-friendly interface
Compatible with all Samsung devices running all Android versions
After downloading and installing the Unlockit Android software onto your computer, follow the steps below to bypass Google Account Verification:
The first step is to connect your Android device to the PC or laptop using a USB connector.
Once connected, launch Unlockit Android and click the Start button.
On the next screen, you'll be asked to choose the correct Android version of your device. The most recommended option is the All Android Versions (one-click removal, it is highly recommended).
On the next screen, Unlockit Android will also ask you to enter test mode and activate USB debugging on your device. Just follow the instructions given.
After successfully following the instructions, your phone will then automatically restart and the program will prompt saying that bypassing is complete. Click Done to finish.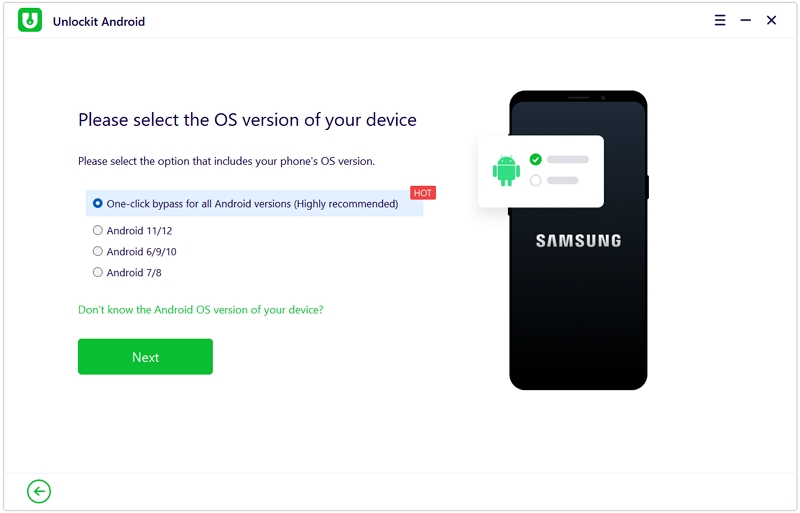 Now you can sign in or create your new Google Account and enjoy your device like it's new.
Conclusion
Google Account Verification is a good security feature. However, it comes with a few inconveniences which happen when you buy a second hand phone or if you perform a factory reset and don't remember your login details. Normally, you can use QR codes to sign into your Google account, but you cannot use them to bypass FRP.
Unlockit Android is a more convenient and effective way to bypass Google Account Verification. It involves just a few easy-to-do steps and a single software to download. We hope this article helped you bypass Google Account Verification or FRP, even without using a QR code.
Have any questions? Feel free to leave your comments below and we'll get back to you as soon as possible.