Nowadays Android has introduced security measures to protect the data of the user. However, these security measures can sometimes become an annoyance for the user. One such security measure is the FRP or Google Account lock on Android.
If you just purchased a pre-owned smartphone and get locked out of the Google account lock, you might want to know how to bypass it. So, let's see what is the Google account lock exactly and how to get around it.
What is Google Account Lock?
Android is now offering Google account lock (people also call is as Factory Reset Protection) to the owners of Android smartphones and tablets after updating the 5.1 version.
What exactly is it? To understand its functioning, we first need to understand the basics of factory reset.
Factory reset is when you restore your smartphone to its original state, meaning the default settings it was configured to when it came out from the factory.
A Factory Reset will delete all the data files, including images, documents, videos, saved passwords, and installed apps. Your device didn't have photos, documents, or videos originally and only had pre-installed apps.
Factory Reset Protection helps the user by preventing them from accidentally factory resetting their Android devices. Because to initiate a Factory Reset, now you would need to enter your Google account credentials.
Additionally, it deters thieves from deleting your data and information by using the factory reset option. So, if your device gets lost or stolen, the Google Account lock will safeguard all your data and files.
Bypass Google Account Lock on Samsung in Steps
You can bypass the Google account lock on Samsung devices easily by using our third-party unlock tool Unlockit Android. This tool can unlock FRP for your Samsung smartphone and tablet.
Check the prerequisite before using Unlockit Android to unlock FRP. P.S. If you see FRP lock referred to as Google account Lock, it's the same thing.
Prerequisites:
Android Phone with versions 6 or later
A Computer
An Android Type A or Type C USB cable (depends on your smartphone model)
Unlockit Android is a professional tool used by many technicians to bypass and unlock Samsung smartphone locks. You can use it to easily bypass the FRP lock of your Samsung phone.
Follow the instructions below:
Step 1. Download the Unlockit Android Unlocker and install it on your computer.
Step 2. Open the Unlockit Android tool and click on Start button to get started.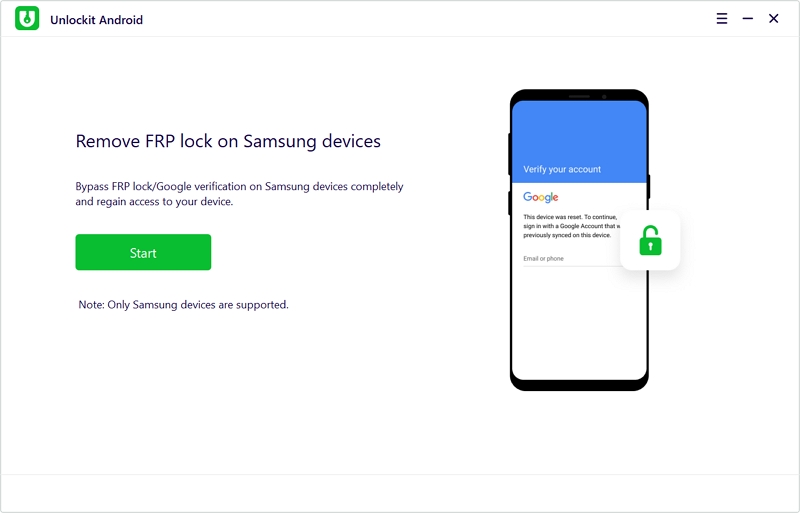 Step 3. Use the USB cable to connect your Samsung smartphone to the computer.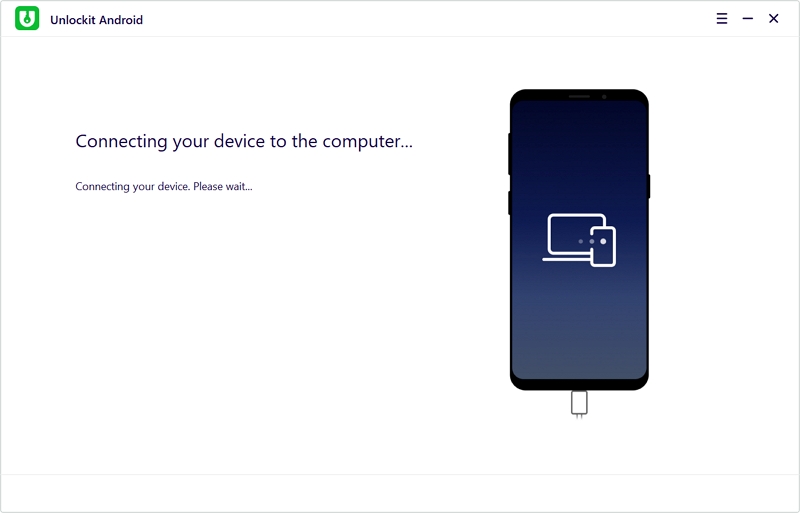 Step 4. Choose the Android version of your smartphone and click on the Next button.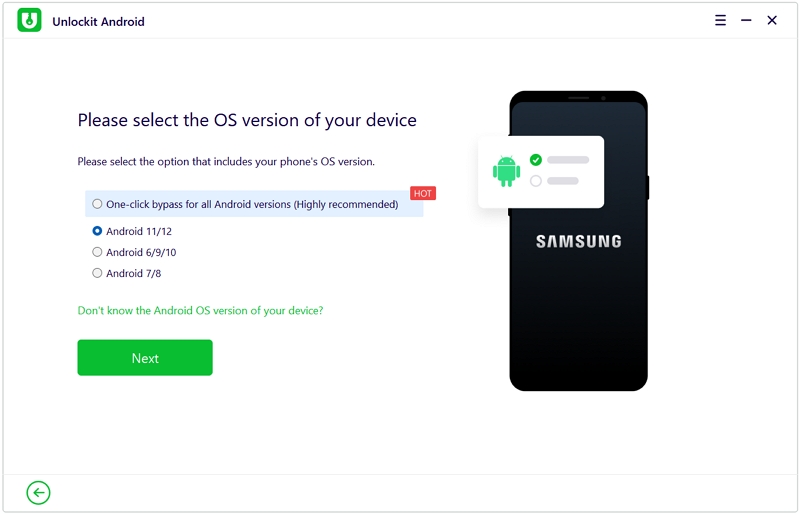 Step 5. Ensure that the smartphone and the computer are connected to the internet. Then Unlockit Android will then send a notification to your smartphone device.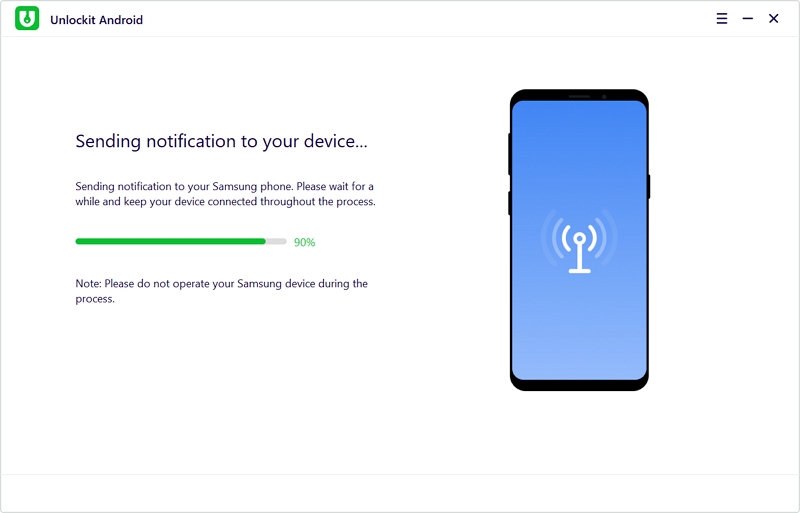 Step 6. Each Android version will have its own on-screen instructions. Follow the instructions displayed, and in a few minutes, Unlockit will bypass the FRP lock.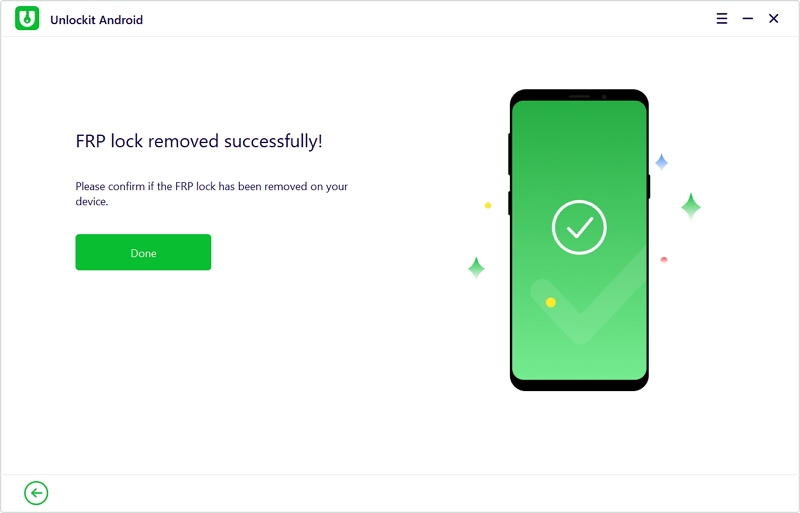 You can start using your Samsung smartphone without worrying about having an FRP lock.
Google Account Lock bypass for LG
The instructions to unlock LG might sound complex and look lengthy. But this is the only way you can bypass the FRP lock without using a third-party tool or a computer.
Criteria:
Any LG phone with Android version 6 and above
An active and stable internet connection over WiFi (preferably your Home network)
Follow the below instructions on how to bypass the FRP lock on LG:
Step 1. Start by connecting your LG smartphone to a WiFi network. Now go back to the Home welcome screen and Tap on Accessibility. A new menu will pop up, where you should tap on Vision > Talkback, then scroll down and tap on Text-to-speech Output.
Step 2. Tap on the Google Text-to-speech Engine settings icon (gear shape) > Setting for Google Text-to-speech Engine > Feedback. In the new Feedback screen, scroll down and select Terms of Service.
You're halfway to your goal of bypassing FRP lock on LG smartphones. Just keep on following the steps:
Step 3. When asked to sign in, tap the No, Thanks button and you'll be taken to the page of Terms of Service. Here, tap the Google logo and search for Test by typing it in the search field.
Step 4. Next, long-press the description of the search result and from the menu Copy and Share. Now tap on the three vertical dots > Assist from the new menu and it will open the LG search bar.
Step 5. Tap on No, Thanks type Settings in the search bar. Scroll down and tap on Apps > three dots and choose the Show System. Scroll down the page and tap on Setup Wizard.
Step 6. Tap on Force Stop > OK > Storage > Clear Cache. Turn heat back to the Apps list by tapping twice on the back key. Now tap Google Play Services > Force Stop > Disable > OK.
Step 7. Go back to the settings menu and restart your device. It will now bypass the Google account verification. Complete the setup of your LG phone without connecting to the internet.
Step 8. Skip to the part where it shows the Protect this Device option, uncheck it, and skip all the following screens until you're at the Google Terms and Conditions page. Now check I agree and tap Done.
Go to Settings > General > Backup & Reset. Scroll down to Factory data reset option and tap Reset Phone > Delete all option > Reset.
And that's it. You've successfully bypassed the FRP lock on your LG smartphone.
Google Account Lock Bypass for Alcatel
To bypass the FRP lock on your Alcatel device, follow the instructions below:
Step 1. Reset your smartphone and turn it back on and select your language.
Step 2. Tap Start > Connect to WiFi and skip screens until you're at Verify Account Screen. Tap Email Field and enter Test Alcatel.
Step 3. Now long press on the text and tap on the three dots > Assist option. If it does not show up, then tap the @ symbol > Settings gear icon > Android Keyboard.
Step 4. Tap Text Correction > Personal Dictionary > English (US) > + icon. Now enter text Test Alcatel 2 and long press on it until options appear. Tap the three dots and search from Chrome.
Step 5. Tap on Chrome > Accept and Continue > No, Thanks when asked to sign in. In the search field, enter the text test DPC and open the first link to download the APK.
Step 6. Tap OK to all the warnings and install the Test DPC app.
Step 7. Tap Accept on the popup message, open the app, and tap Set up device owner > Set up > OK and wait for the process to be finished.
Step 8. Reboot your Alcatel device, unlock your device, and tap on Skip > Next > Finish. It will take you to set up your device.
Step 8. Open phone Settings and tap on Backup and Reset > Factory Data Reset > Reset Phone > Reset Everything.
Step 9. Once the phone restarts, do not connect it to the internet. Finish your setup and your LG smartphone will not ask you to enter your Google credentials.
Google Account Lock Bypass for HTC
To bypass the FRP lock for HTC, follow the instructions below:
Step 1. Power on your HTC smartphone after resetting it. Select a language and tap Start > Connect to a WiFi > Email/Phone.
Step 2. When asked for verification, long-press the Settings key and tap on Personal Dictionary > HTCVR > Share.
Step 3. Long-press on Gmail to open App info. Now tap Notification > App Settings. Select the three dots > Manage Accounts > Continue.
Step 4. From the Settings menu, scroll down to Google and select it. Tap on Search and Now > Now Cards > Show Cards to enable them.
Step 5. Now choose No, Thanks and you'll be redirected to the Google search bar. Type in Google, then tap on the first link > No, Thanks. You'll be redirected to Google Search.
Step 6. Type Google and tap on the first result. Tap No, Thank you when prompted to add Chrome. Look up Quick ShortcutMaker and open the second search result.
Step 7. The next step is to download the APK from APK 2.0. Once done, go back until you can see Show Cards and enable them.
Step 8. Tap No, Thanks, then type Download in the search bar. Tap on the downloaded .apk file to install it (if it asks to install from unknown sources).
Step 9. Tap on Settings, check the Unknown Sources, and Tap OK. Go back to the download folder and tap the .apk file again to start installing.
Step 10. Once the installation is completed, open it and search for Google Account Manager which has Type Email and Password written under it. Tap it and choose Try > three dots > Browser Sign-in. Now tap OK to continue.
Step 11. Enter a new Google Account and Restart your HTC smartphone. Complete the setup, open Settings, and tap Backup & Reset.
Wrap Up
Now you know how to bypass the FRP lock for Samsung, LG, Alcatel, and HTC. Though you can use Unlockit for Samsung smartphones, other brands have a process for unlocking FRP that you'll need to follow.
If you follow the instructions exactly as mentioned, then you would not have any problems bypassing FRP. Don't forget if you want to complete the FRP lock, you would need to Factory Reset your smartphone after completing all the steps.