One of the most frequent questions consumers have asked us is, what is IMEI iCloud unlock, and how do you unlock the iCloud with the IMEI number? The questions have been pouring in so much that I decided to make a comprehensive guide on the topic to help out everyone stumped by this age-old problem.
So without further ado, grab your laptop, phones, and coffee, and let's jump right into it.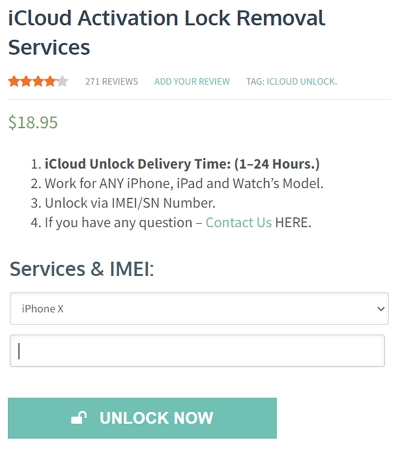 Thing To Know Before Buying IMEI iCloud Unlock Service
Before we get started on how to remove the iCloud lock using IMEI, let me tell you what to be aware of before purchasing such service.
An iCloud bypass is an hacktivation way that allows you to unlock an iOS device with a locked iCloud. In most situations, you must have your phone jailbroken before you get started with the unlock. Or you need to make use of bug exploits present in the cloud to bypass the lock, but this approach is more difficult.
This is an overview of how the iCloud bypass works, and now that we have covered all the basics, let me tell you how to tell if an IMEI iCloud unlock service is legit or a scam!
Now there are quite a few tools present over the internet that promise you an unlocked iCloud with a simple IMEI code, but beware, as most of these are just plain scams.
Most of these tools will take your money and then claim that your device cannot be unlocked for some reason, relinquishing all responsibility for the job they undertook.
Any IMEI iCloud bypass tool that promises to support A12 and newer devices (devices after iPhone X) is most likely a scam. There is presently no known exploit for these devices.
Most working tools to remove iCloud lock will require an A11 or older device to be jailbroken or in DFU mode prior to use.
Any tool that claims to be able to COMPLETELY remove iCloud lock is also most likely a scam. The most working methods as far as we know coudn't be able to completely remove iCloud lock without affecting features such as calls, cellular data, and so on.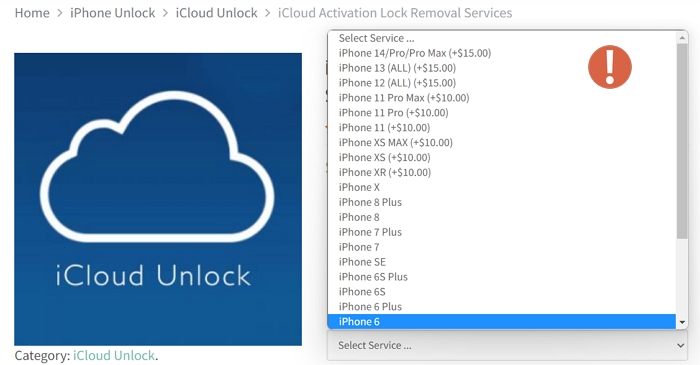 How To Use IMEI iCloud Unlock
Unike most iOS unlocking tools, the IMEI iCloud unlocking process is completely out of your hands. All you have to do is get your hands on the service and wait 72 hours before the existing iCloud account is removed from the device indefinitely. Additionally, do note that you would need access to your IMEI number to avail of this service.
If you are someone who still wants to get rid of the Activation Lock using IMEI iCloud unlock, the following are the steps you have to complete to initiate the unlocking process:
Step 1: Go to the online IMEI iCloud unlock websites to access the unlocking tool.
Step 2: Enter the information requested on the page including the IMEI number and the device model. Click "Remove Activation Lock"
Step 3: Complete the purchase for the service from $18 to $200 and wait for it to unlock your device. The removal process will take from 24 to 72 hours.
Here is a quick guide on how to get access to your IMEI number.
How to Look Up Your Phone's IMEI Number
Bottom of Your iPhone 6 or Older Devices
For iPhone 6 and older devices, the IMEI number is printed at the bottom of your phone when turned around.
Via Phone App
You can also access the IMEI by dialing *#06# on your phone app and ringing the number. The IMEI will pop up on your screen immediately.
Via iTunes
If you have your device synced to an iTunes account, you can get your IMEI by checking out your account summary.
Via Settings
Possibly, the easiest method is to just navigate to your device settings, select General, and click on About to find the IMEI
Check What Real IMEI iCloud Unlock Users Said
According to scamadvisor, one of IMEI iCloud unlock service providers is a complete scam with a trustscore of only 1 from 100, which in my opinion, is an achievement on its own as I've seen a service labeled as a scam so unanimously.
Some person who has used their services wrote,
"Hi to let all know who is reseller or common person trying to unlock their apple id locked phone. The people are completely fraud. I have paid for iphone 8 plus unlocking service to about $30 usd and the system was claiming 3 days to process. The money transaction went and this is a 6 th week. Nothing happened at all. There is a customer support email and they dont reply to any messages. Thats a scam website. Its better to stay away from this website. Or if possible report it to take it down."
"They claim to be able to unlock icloud locked iphone but they took my money and nothing so far. 3months and still nothing. no refund and no unlock."
"Fraud. Fake. I made the payment to unlock an ipad from icloud more than a month ago, and still no news from them. I write to them by email and from their website and they never answer. Do not spend your money on this website, they do nothing!"
These are actual reviews from actual users, which says a lot about the service and whether you should be using it or not, so trust me and do a fair amount of research before opting for an unlock service.
The Only Working Way: Bypass iCloud Lock With Unlockit
However, as I value the time of my readers, I've done all the heavy lifting for you and put in the research to find the most effective way of bypassing the iCloud lock and found out that nothing works as well as the Unlockit iCloud remover.
This straightforward computer program lets you unlock the Activation lock or Locked to Owner screen on your iPhone, iPad, and iPod touch with a few simple clicks.
Unlockit runs smoothly on Mac OS computer and is compatible with iPhone 5s to iPhone X running iOS 12.0-16.
And although it comes with an entire set of instructions to make the job as easy as possible, I'm here to spare you even the trouble of finding them as I present a step-by-step guide on how to use it.
How to Bypass iCloud with Unlockit iCloud remover
Step 1. Download Unlockit onto your computer, connect your phone to your computer, and launch it by pressing Start.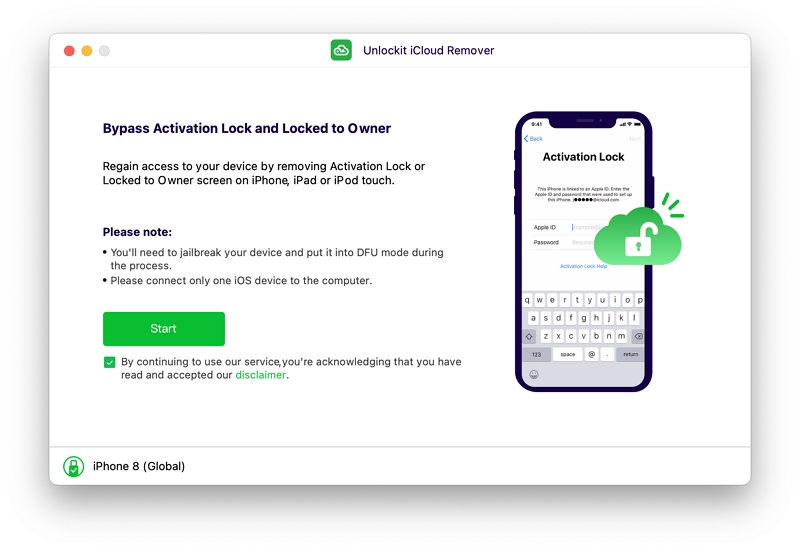 Step 2. Follow the guidelines as it guides you through the jailbreaking process.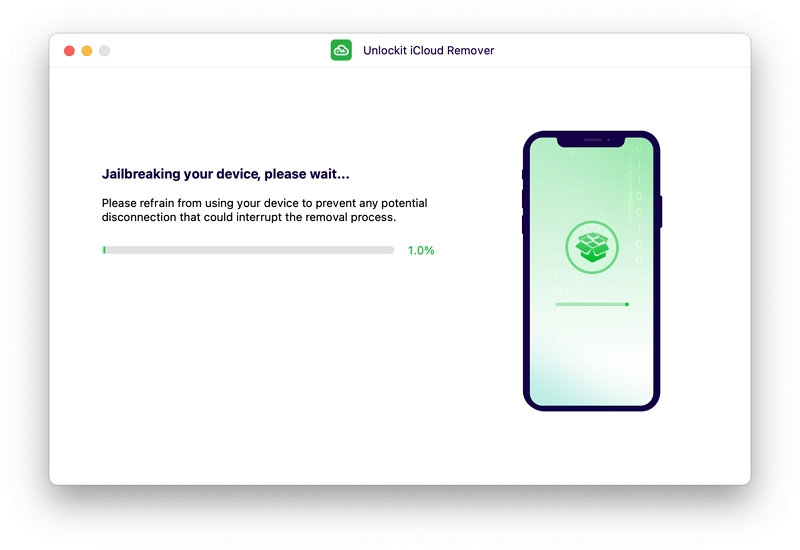 Step 3. Once the process is complete, the program will automatically detect your device and present you with a dialog asking to commence the bypass. Click on the "Start to remove" to start the process.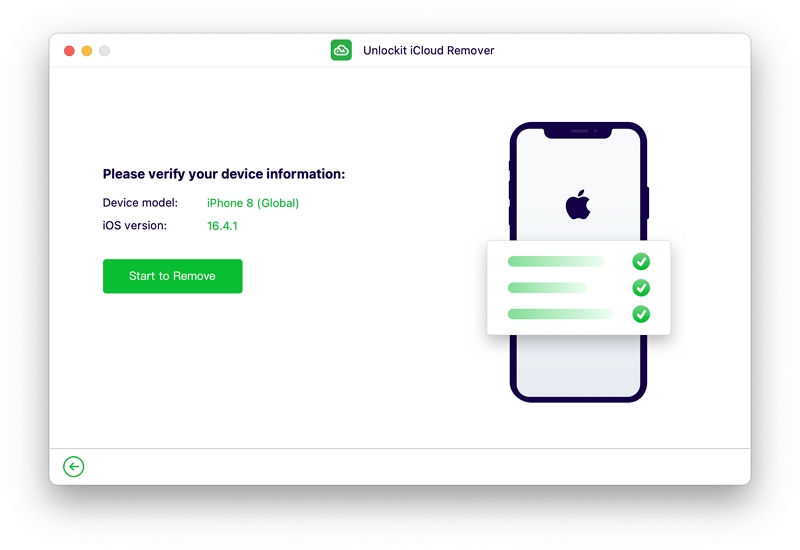 Now sit back, relax, and watch the magic happen as the program gets you through all the locks and into your iCloud.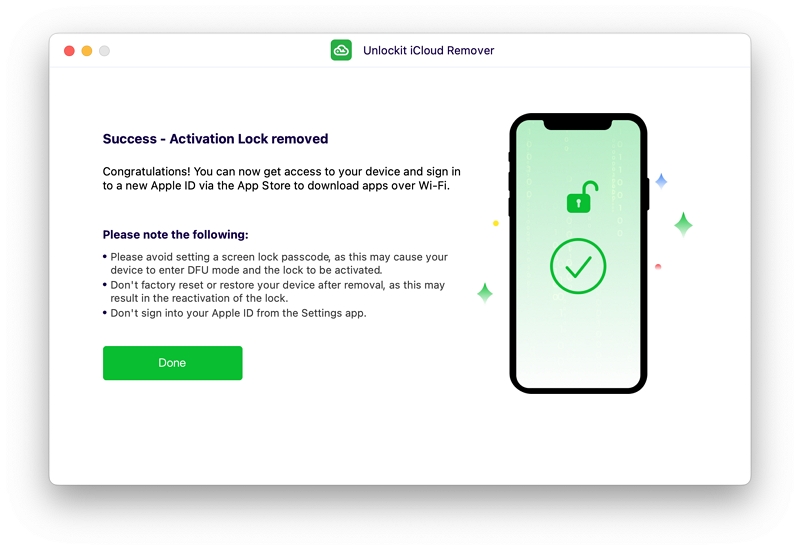 How to Avoid IMEI iCloud Unlock Traps
As with everything in life, if something is in demand, there will be way too many "services" trying to provide a solution. And more often than naught, most of these services would be a scam trying to make some quick bucks. The same is the case with iCloud Activation unlock. Fortunately, you guys have me to help you avoid this ordeal.
Here are some of the traps you should be on the lookout for when trying to get your iCloud unlocked with your IMEI.
Free Service
There are no free meals in the world. The same is the case with free unlock methods, which is why you should always be aware of them, especially when they require you to add sensitive information, such as your IMEI, to avail of the service.
Not only will you be providing your information to the service, but you are also at the risk of having your device be permanently bricked in the process. Trying to save a few bucks can lead to you losing all your investment on your device, so yeahhhh, let's not do that.
Fake Reviews
Fake reviews are like a dime a dozen, everyone uses them, and they are easy to spot. Firstly they aren't very creative and are just copy-pasted from other products. Just go to actual, dependable websites if you are looking for consumer reviews, and be sure to visit multiple sources before making a decision.
Fake Money-Back Guarantees
Money-back guarantees on a service that either works or doesn't just sound like a way of urging consumers to go through with the purchase with a false sense of security. Getting your money back, however, is a story that seldom has good endings.
Conclusion
In conclusion, when it comes to IMEI iCloud unlocks, it's crucial to tread carefully and avoid falling into the traps set by scams and unreliable services. While many claim to offer a quick and easy solution, the reality is often quite different. The feedback from actual users highlights the prevalence of fraudulent services that take your money without delivering the promised results.