Apple has a strict security mechanism in place. This means that your privacy will always be protected, and your iPhone will never be stolen, thanks to the Apple ID and Find My iPhone feature.
However, it might occasionally cause you trouble since you cannot use the iCloud service or make any in-app purchases if your iPhone is paired with someone else's Apple ID, or if you simply cannot remember your Apple ID password.
Although there is normally no reason to remove your Apple ID, if you intend to resell or pass your iPhone, it's a good idea to prepare the device by removing your account, both to wipe your personal data and to avoid inconvenience for others.
In this article, we'll be introducing a few best Apple ID removal tools for you to use. Interested? Read on.
Unlockit iPhone
First up is a handy Apple ID remover that can quickly remove the Apple ID and iCloud accounts in your device.
Unlockit iPhone has simple instructions and an easy-to-use interface. You won't have any trouble using it.
It is a highly-rated unlocking software with a success rate of 99%. In addition to removing Apple IDs, it can also remove MDM lock, Screen Time passcode on your iPhone without password.
To utilize Unlockit iPhone, follow these steps below:
Step 1. Download Unlockit iPhone then launch it on your computer.
Step 2. After that, choose the Unlock Apple ID option.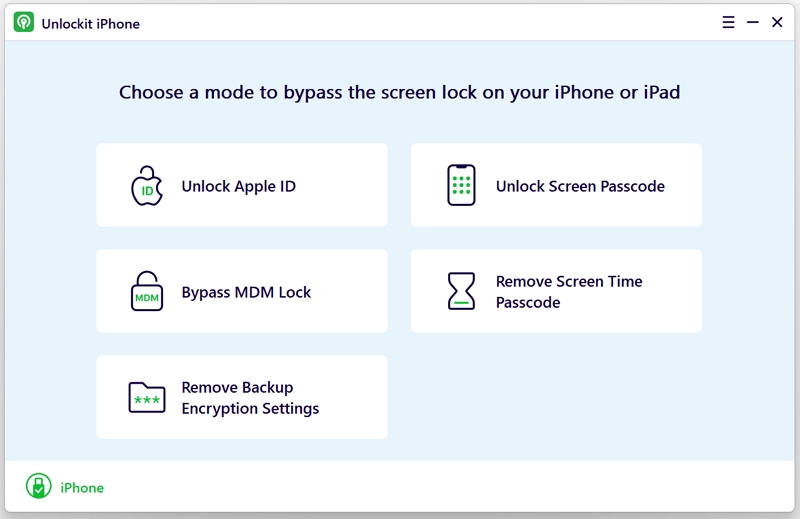 Step 3. Connect your device to your PC via a USB cable.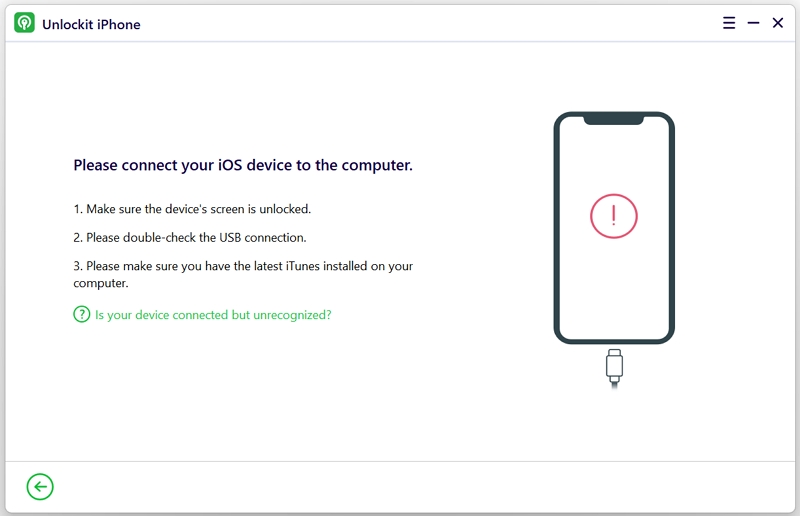 Step 4. Then select Start and wait for the software to remove the Apple ID and iCloud account from your Device.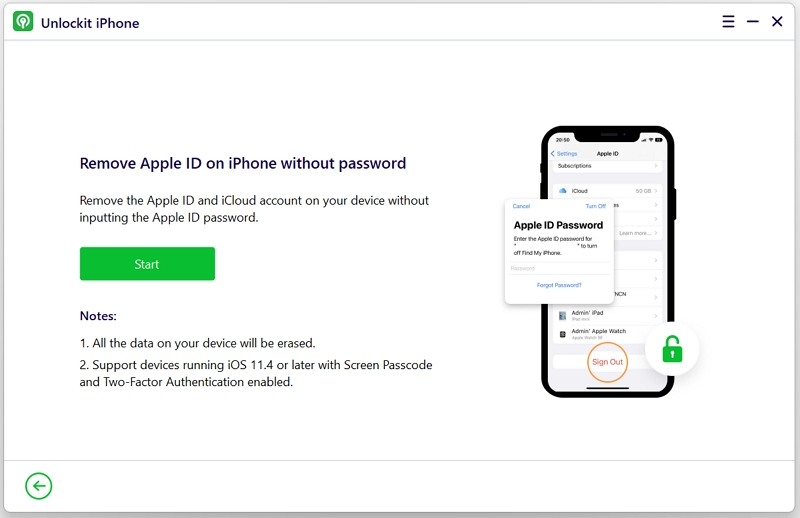 Step 5. Unlockit iPhone will completely remove the Apple ID and iCloud account associated with your iDevice within 15 minutes.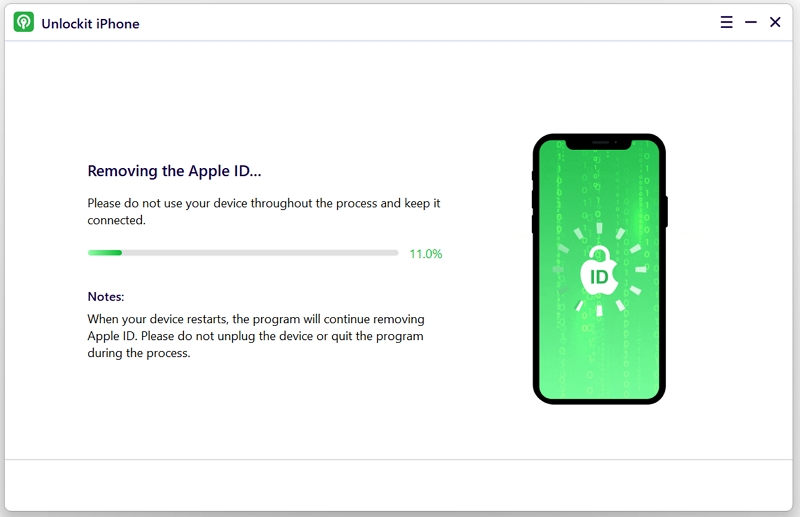 Listed below are a few advantages and disadvantages for you to consider:
Pros
Has very simple instructions that allow you to delete your Apple ID in just a few clicks and five minutes
It has the ability to bypass MDM lock, screen time lock, and iTunes backup encryption
It works with all iPhone, iPad, and iPod touch devices and all iOS versions, including iOS 17
It offers a free trial
The most affordable price
Cons
It cannot bypass an iCloud activation lock
Price:
1-Month subscription: 29.95
1 Year subscription: $39.95
Lifetime License: $49.99
iRemove Tools
Another software is iRemove Tools, which unlocks your iPhone or iPad permanently and deletes Apple ID from iCloud Settings.
Its user-friendly software will disable the Find My function without needing the prior owner's password. You can fix everything with just one click with the iRemove Apple ID Removal Tool.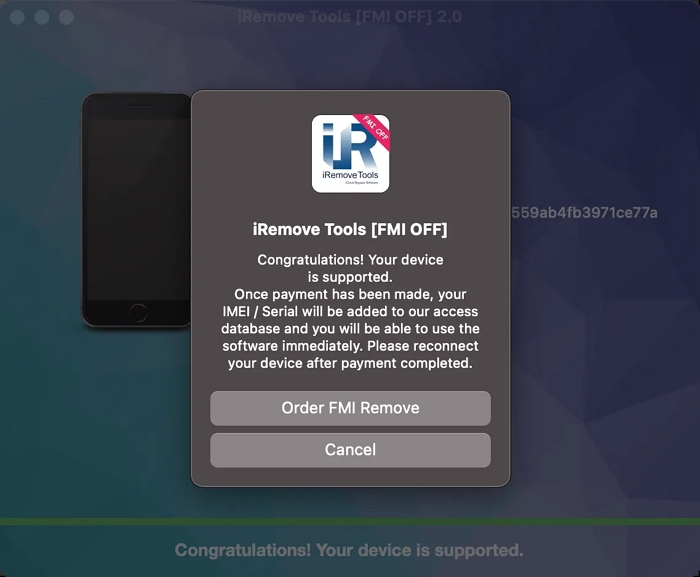 To utilize iRemove Tools, just follow the steps below:
Install the software and jailbreak your iPhone or iPad device. You can use the Checkra1n Jailbreak, which is a part of the iRemove tool and is a perfect solution for macOS users. But for Windows, please follow the iOS Jailbreak Guide for Windows.
Verify & Pay. The iRemove software checks every device as you connect it and verifies whether your iPhone or iPad has been jailbroken.
Once that's done, you can either enable Airplane Mode, remove your Sim card, or disconnect the device from the internet.
Then select Start to begin the process.
The tool will notify you about the successful Apple ID removal. Then, you should wait for your iPhone or iPad to reset to the factory settings and set it up as new.
Listed below are a few advantages and disadvantages for you to consider:
Pros
Fast and easy process
Support for iPhone (5S through X) or iPad (Pro, Mini, Air; A7 - A12 CPU) running iOS up to 14.8.1
Cons
Doesn't support the latest iOS 15 and iOS 17
Needs a jailbroken iPhone or iPad
Locked behind a paywall
The price for unlocking Apple ID for iPhone or iPad is aroung $65.99, which is more expensive than other tools.
Price:
iMobie AnyUnlock
With the help of the software iMobie AnyUnlock, you can unlock any device you're using regardless of whether you've forgotten the password, the phone is inactive, the screen is cracked, the phone has an MDM (Mobile Device Management) lock, or any other case, this might be the only master key you will ever need.
Then, even without the MDM login and password or having jailbroken your device, the MDM lock can be removed in a few steps. It's noteworthy to notice that you will not inform or alert the administrator to the fact that the lock has been removed.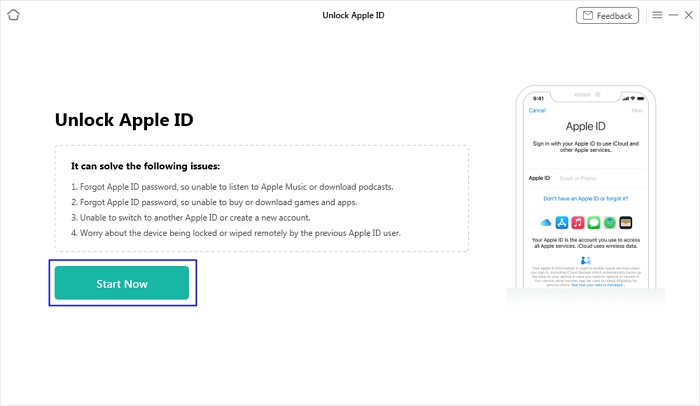 Listed below are a few advantages and disadvantages for you to consider:
Pros
All features are supported in iOS 17
Require no additional effort to use
Secure and free of any malware or viruses
Remove the Apple ID from your iPhone, iPad, and iPod touch
Cons
Not all the features are available in the free version
Price:
3-Month subscription: $35.99
1 Year subscription: $39.99
Lifetime License: $59.99
Wondershare Dr.Fone
Apple iOS device unlocking software Wondershare Dr. Fone can also be used to unlock locked iPads and iPhones.
This software lets you avoid Mobile Device Management, unlike the majority of other activation methods for iCloud bypass that are available.
Wondershare Dr.Fone works with both current and older models, including some that are incompatible with standard utilities.
The user only needs to click once to remove their Apple ID from supported devices that must be running iOS 14 or earlier.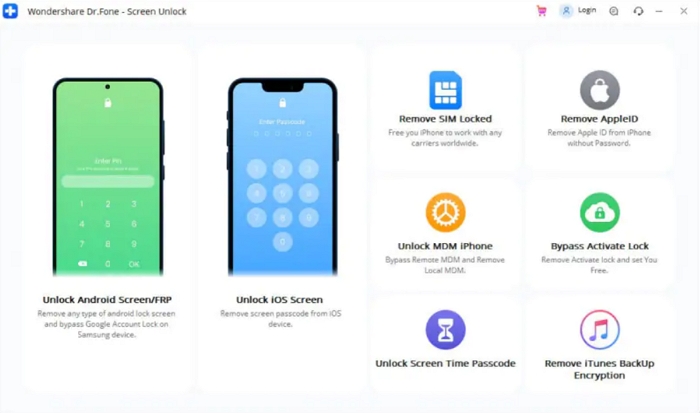 Listed below are a few advantages and disadvantages for you to consider:
Pros
Excellent for unlocking screens
Have the data-sharing options available
Support for iOS 17 and iPad OS 16
Cons
The entire package is quite large. The program takes a long time to load. The application freezes when connecting to the device during our testing.
Bypassing Apple ID takes too long
Price:
1 Year License: $49.95
Lifetime License: $59.95
Joyoshare iPasscode Unlocker
iPasscode Unlocker by Joyoshare is a well-known program that can remove Apple ID from iPhone, iPad, and iPod touch devices without requiring a password or risking data loss.
The software promises that users don't need any prior technical knowledge to use it and that the task will be completed in a few minutes.
Therefore if you're having issues with Apple ID and require a workaround, this software should be the first thing that comes to mind.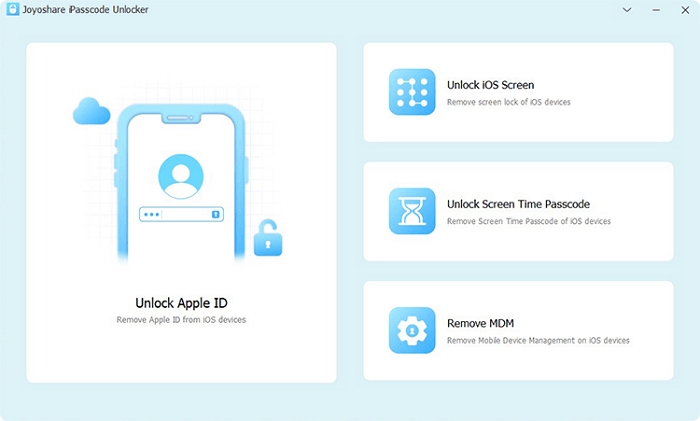 To use Joyoshare iPasscode Unlocker, just follow the steps below:
After installing and launching the software, Select Unlock Apple ID on Joyoshare and click Start.
Next, if you have the Find My iPhone feature turned on for your iPhone, you need to check to ensure that the screen passcode is set up and that two-factor authentication is turned on for the device.
Continue by clicking the Yes button to validate the current condition of your device.
If you have the Find My iPhone function turned off on your device, you can skip this step, but after reviewing and validating your device information, choose the option to download the appropriate firmware package by clicking the Download button.
Lastly, click on the Start button to start removing Apple ID from your iPhone.
After that, wait until Joyoshare iPasscode Unlocker deletes the Apple ID on your device.
Listed below are a few advantages and disadvantages for you to consider:
Pros
Delete all kinds of screen locks like Face ID and Touch ID on iDevice
Compatible with the latest version of iPadOS and iOS, as well as, iPod touch
Cons
Not all the features are available in the free version
Price:
1-Month subscription: $21.95
1 Year subscription: $35.95
Lifetime License: $49.95
Wrap Up
We are fortunate to live in a time when technology has advanced to the point where most issues can be solved.
If you find yourself in the position of needing to find a reliable Apple ID removal tool to remove an Apple ID, hopefully, this article has been of assistance.
Please feel free to leave a comment below if you have any additional questions or concerns about how to delete an Apple ID.