The Apple ID from iPhone and Mac devices sits at the heart of your Apple experience. Signing in to your Apple ID grants you access to every service Apple provides on the iPhone, including your iCloud, Apple Music, Find My iPhone, the App Store, and many more.
There isn't usually no reason to remove your Apple ID. Still, if you plan to resell or pass your iPhone, it's better to prep the device by removing your account both to delete your sensitive data and to avoid inconvenience for others.
Interested? Read on.
Consequences of Removing iCloud or Apple ID
Whatever the reason, you must be aware of what happens when you remove iCloud or Apple ID. But don't worry because these consequences are only limited to the associated device.
iCloud services logged in your other accounts will continue to function like normal. The missing data will sync again if you sign back in.
Direct consequences of signing out include:
You will be unable to use iCloud services. (A list of services will be provided below).
You cannot use the iCloud Drive. This means that any third-party app that syncs data utilizing the iCloud Drive (i.e. WhatsApp Backups) will be affected.
Any updates made to your contacts, reminders, calendar events, etc. won't be synced across your other Apple devices.
History for Safari tabs, bookmarks, and reading lists won't be synced either.
Continuity features like Handoff, Universal Clipboard, and Auto Unlock your iPhone or Mac with your Apple Watch won't work.
If you have a remaining Apple ID Balance, Apple Cash or credits, it cannot be moved or passed should the motive for removing the Apple ID be to stop using the current account. Note that this is because Apple ID Balance, Apple Cash or credits are linked to the Apple ID, not the device. You cannot access these credits from another account.
You cannot use iCloud Private Relay, Hide My Email, HomeKit Secure Video support, and custom email domain.
Some features that require a cellular phone number will not work when you're signed out of iCloud.
Here is the list of services tied to the iCloud storage:
Apple Pay
Find My
Game Center
iCloud Photos
iCloud Backup
iCloud Keychain
iCloud Drive
iCloud Mail (Gmail, Hotmail, Yahoo are excellent alternatives.)
iCloud Shortcuts
Voice Memos in iCloud
iCloud Contacts, Calendars, Reminders (you may still save these locally)
iCloud Notes
Messages in iCloud
Home app to control your HomeKit devices (
Shared Notes
Shared Photo Albums
Shared Pages, Numbers, and Keynote documents
Remove Apple ID from Your iPhone
Before you remove your Apple ID, it is recommended to create a backup first to keep your data safe. If you wish to remove your Apple ID from your iPhone, you can follow these steps:
Open Settings on your iPhone.
Tap on your Apple ID located at the top of your screen.
Then select iTunes & App Store.
Tap on the Apple ID at the top of the screen.
Select View Apple ID on the pop-up message and confirm.
After that, click on Remove this Device.
Go back to the Apple ID page and scroll to the very bottom to click on Sign Out.
Apple will ask for your password to confirm, provide your credentials as requested, then select Turn Off.
Finally, click on Sign Out at the top right corner of the screen.
Then click Sign Out again in the pop-up window to confirm.
Your account should be signed out after the process, but if you don't have your iPhone with you, you can also remove the account from your browser.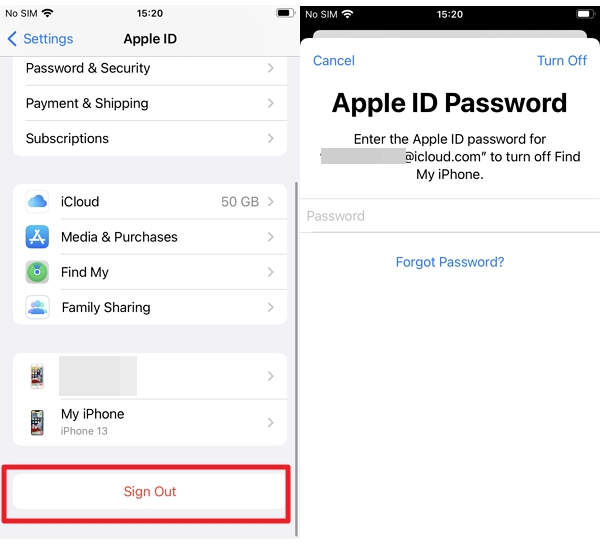 Remove Apple ID from a Browser
You can also remove Apple ID using a browser. All you need to do is follow these few steps:
Open your browser and go to the Apple ID website.
Sign in using the Apple ID and password you wish to remove from your phone, then click the arrow pointing to the right.
You will be given a verification code to confirm your identity. Enter the code as requested.
After that, go to the Devices from the left tab.
Then look for the device you want to remove your Apple ID and click Remove from account.
Once you confirm by selecting Remove this iPhone, your Apple ID will be removed.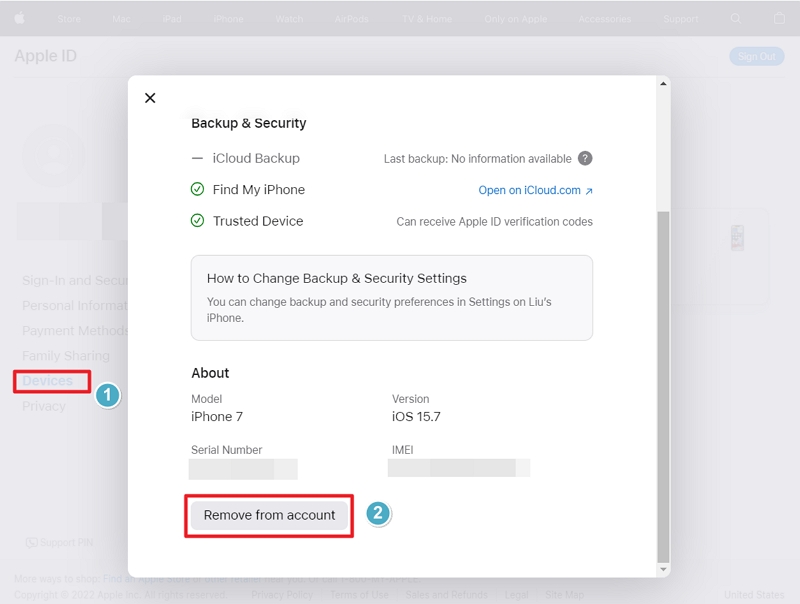 Remove Apple ID from iPhone Without Password
The previous methods, however, only work if you know or remember the password of the Apple ID in question. If you are seeking for a way to remove Apple ID without password, here are a few methods you try.
Seek Help from the Previous Owner
If you are receiving or have bought a secondhand phone and the previous owner still has their account signed in, getting in touch with the previous owner will make things easier.
Simply ask them to sign out their IDs using the methods we've discussed above.
Via a Third-Party Apple ID Remover: Unlockit iPhone
If, unfortunately, you do not know the last owner and it will be a bit difficult to ask them for help, a third-party Apple ID remover like Unlockit iPhone will be your best bet.
No need for technical knowledge, you'll be able to remove a signed Apple ID without password in less than 10 minutes. Here's how to do it:
Download and install the Unlockit iPhone tool on your Windows or Mac computer.
Launch the software and select the Unlock Apple ID option.
Using a USB cable, connect your device to your computer. A pop-up will appear, then click on Trust.
Next, Unlockit iPhone will download firmware. Check on the download path and click on Download to proceed.
Once that process is finished, Unlockit iPhone will start removing the Apple ID.
After a few minutes, your device will restart. When this happens, follow the tutorial on the software's interface.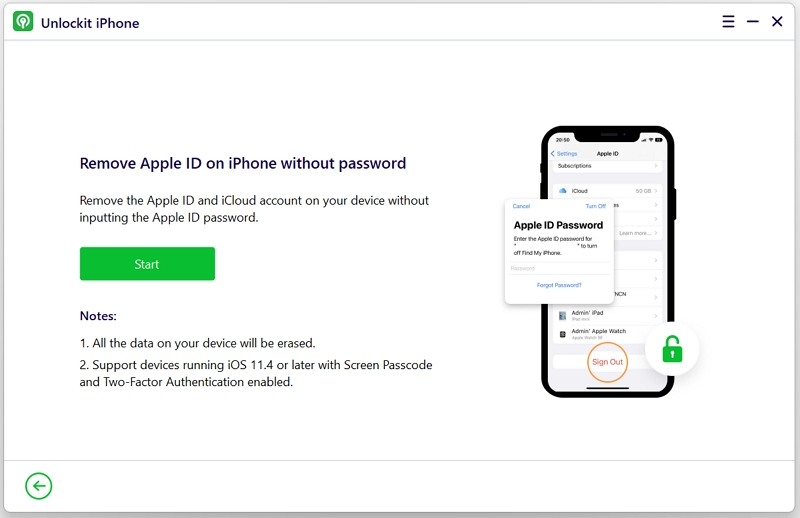 Wrapping Up
It's our luck that we live in a progressing age where technological solutions exist for most problems. If you are in the position of needing to remove an Apple ID, hopefully this has been a helpful experience.
If you have any other questions or queries about how to remove an Apple ID, feel free to share your thoughts below.