What is the Remote Management Screen on iPhone after Retore
The Remote Management Lock on iPhone's setup process is one of the features of Mobile Device Management (MDM).
MDM is a tool that businesses use to securely configure all company-owned devices (tablets, mobiles, etc.) through administrator accounts.
If your device has an MDM profile installed, it will be locked on the Remote management screen and will prompt you to provide the usename and password when you restore it to prevent unauthorized access.
Remote management in MDM is based on a client-server architecture. This is when a central server delivers and manages most of the resources and services that the client consumes.
Even though MDM offers a simple and secure way to manage devices, there might be times when you want to bypass the remote management screen from your iPhone.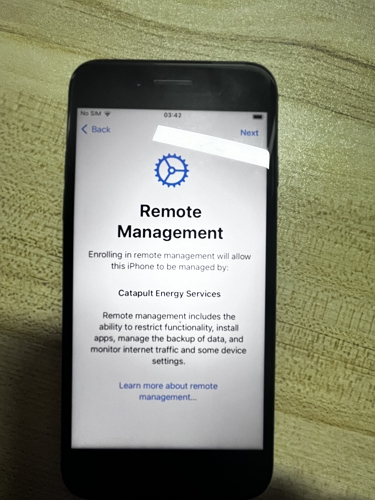 Why Removing Remote Management?
If your device was a part of your work or company's domain and you have decided to transfer to a new company;
If you bought a pre-owned or second-hand iPhone and the MDM feature is still active;
If you are a former student and your phone is still enrolled in your school's domain;
If you have forgotten the login credentials to the MDM setting.
Another set of reasons to remove MDM is due to its invasive capabilities. Although it is endorsed as a feature for data security, it can also invade your data.
What Can MDM See?
Although they say otherwise, MDMs may potentially give administrators access to these information:
Your phone's real-time location using GPS;
Check your browsing history;
See all apps, photos, videos, and other related media;
Restrict backups;
Has access to your banking details, internet traffic, confidential emails, and much more using a man-in-the-middle attack (MITM).
Remove Remote Management With Admin's Help
There are various methods to bypass Remote Management on iPhones. If you have the necessary credentials, you can manually remove MDM directly without paying for anything.
This is an ideal option if you work in the administration department or have a contact who can provide the information.
Here's how you do it:
Begin by opening your iPhone and going to Settings. Open it and then select General.
From the list, go to the VPN and Device Management and find the MDM profile. If your device is registered under the MDM software, this option will be visible; otherwise, it won't be present.
Tap on the Remove Management choice and enter your login information when prompted.
By doing this, you will have successfully removed the MDM control from your device.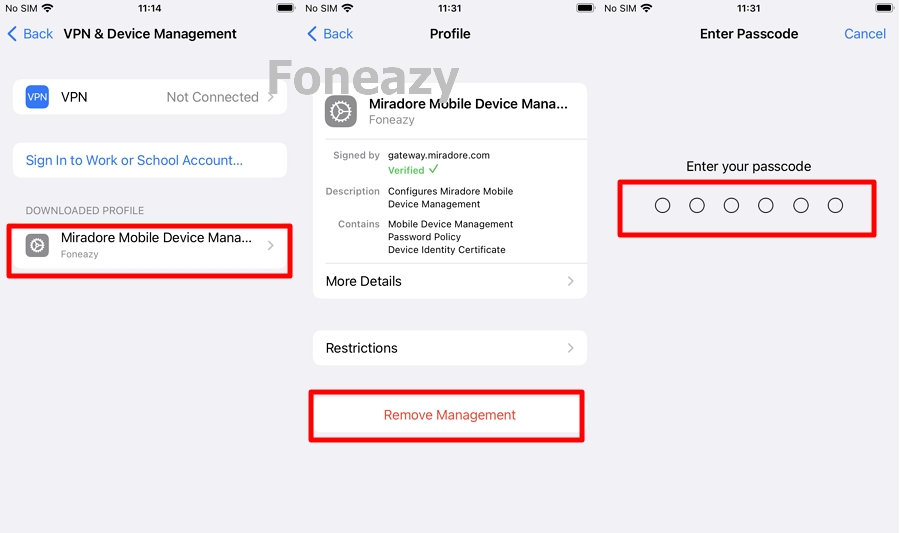 Via Unlocking Software
Unlockit iPhone is the finest MDM removal tool that you can use to bypass the remote management on your iOS device if you don't have the credentials or can't get in touch with the administrator.
It's user-friendly and doesn't require professional knowledge to bypass the MDM, allowing you to access all features on your iPhone immediately.
The tool will effectively get past remote managament screen with ease, making it suitable for various situations and supporting a range of MDM types.
Why Choosing Unlockit iPhone
It is easy to use.
Doesn't require password to remove remote management.
It is compatible with all iOS versions and iPhone models ranging from iPhone 5s to iPhone 15.
Here's how to remove Remote Management on your iPhone using Unlockit iPhone:
Step 1. Download and install Unlockit on your computer.
Step 2. Open Unlockit and select Bypass MDM Lock on the set of options.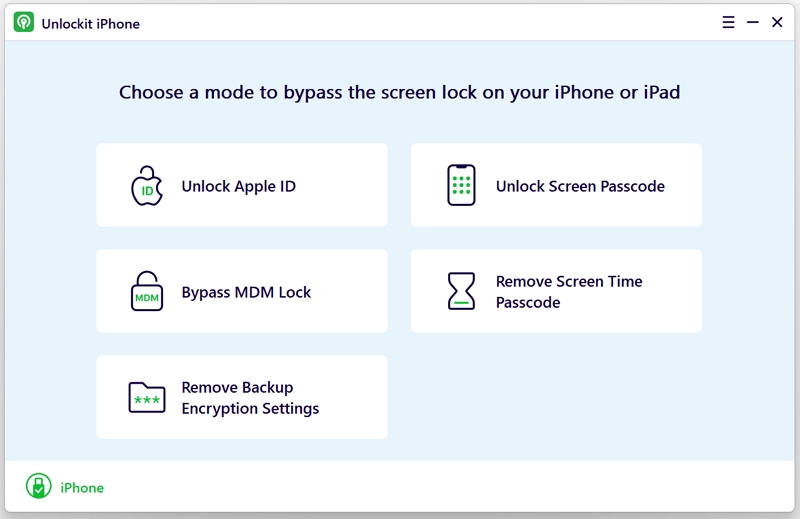 Step 3. Connect your iPhone to your computer using a Lightning USB cable. Make sure your device is on the MDM Remote Management lock screen.
Step 4. Next, click the Start button to start the MDM bypass process.
The MDM bypass will only take a few minutes. Also, keep your device connected throughout the bypass process to avoid errors.
Once it is done, you can now use your iPhone without any MDMs and Remote Management settings.
By Jailbreaking Your iPhone
Jailbreaking refers to the removal of restrictions on iOS devices, which can also be used to bypass MDM on iPhones.
However, this method carries the risk of malware and potentially bricking your device, and the process is quite complex.
If you're looking to jailbreak your iPhone and remove the Mobile Device Management (MDM) restrictions, you'll need a few things: Secure Shell Protocol (SSH), the Checkra1 software, and a computer.
Here's how to get started:
Download and install the Checkra1n software on your computer.
Once the download is complete, you should be able to find the Checkra1n app on the home screen of your device. If you can't find it, search for it.
Use iProxy to expose the port of your iPhone. This will allow you to SSH into the device.
SSH into the device.
Run cd ../../ to access the root directory of the device.
Then run cd/private/var/containers/Shared/SystemGroup/ to access the folder where the MDM files are stored.
Finally, run rm -rf systemgroup.com.apple.configurationprofiles/ to delete all MDM profiles on your device.
Reboot your iPhone, and it should return to the Welcome screen.
Once the update is finished, go to Remote Management and install a new profile without any restrictions.
Jailbreaking your iPhone is a common method to remove MDM profiles, but it's not recommended.
This is because jailbreaking your device puts it at risk of bricking, which is a type of software problem requiring expensive hardware replacement.
Additionally, jailbreaking makes your device vulnerable to malware, viruses, and other malicious content that hackers often use.
It is also important to note that jailbreaking also voids the official warranty of your device.
Comparison of the 3 Methods
Here is a direct comparison of the three methods:
Via Administrator's help
This method directly removes the MDM profiles from your device through its settings.
Pros: It is the simplest method, does not involve jailbreaking, and does not void your device's warranty.
Cons: It may only work for some MDM solutions, and you will need to have the necessary credentials and knowledge to perform the steps.
Using Unlockit iPhone
This method involves using a specialized tool, Unlockit iPhone, to remove the MDM profiles from your device.
Pros: It is a relatively straightforward method, does not involve jailbreaking, and does not void your device's warranty.
Cons: It is a paid service, and you will need to have access to a computer to use the tool.
By Jailbreaking
This method involves jailbreaking your device to bypass the MDM profiles.
Pros: It is the most common method and can be done using readily available software.
Cons: It involves jailbreaking your device, which puts it at risk of bricking and other software problems, makes it susceptible to malware and viruses, and voids your device's warranty.
Final Thoughts
Whether you are using your iPhone for work or school, you will need to enroll your device using MDMs.
Although this feature is a great tool to keep your iPhone updated and synced to your domain, it enables features such as Remote Management, a privacy threat to your device.
There are different methods for removing the remote management from an iPhone, including removing it directly, using Unlockit iPhone, or jailbreaking the device.
Each method has its pros and cons, and it is important to carefully consider the potential risks and consequences before choosing a method.
The most recommended method to use is via Unlockit iPhone. Not only is it a user-friendly unlocking tool, but it is also a trusted software and is maybe the best choice for removing Remote Management on your iPhone.