Because Life360 is primarily a location tracking app, you may wonder if the app may be able to notify you if someone checks your location.
Here, we will answer this question in the most comprehensive and satisfactory way.
Does Life360 Tell You When Someone Checks Your Location?
No, Life360 does not notify the users when someone is checking their location.
Through Life360 circle, you can see real-time location information on each other on a private map and even set up automated alerts when someone arrives or leaves a destination.
Inside the iOS or Android app, you can also communicate with each other in a group chat based on your Circle.
However, when someone checks your location, both Android and iOS versions of Life360 do not notify you or give you any indication.
Want to Get Around Life360?
But sometimes you may need to keep even your location private and if you don't want to leave the circle or delete Life360 from your device, the best way to do it is to spoof your location.
By temporarily changing your location to somewhere else, you can do what you want to do without the members of your circle knowing.
The following are the best ways to spoof your location on iOS and Android devices:
1. Using iOS GPS Changer Tool
To easily spoof the location on your iOS device, we recommend using MockGo. This is a desktop iOS GPS changer that will allow you to change the GPS on your iOS device without having to jailbreak the device.
It allows you to easily and very quickly teleport the location of your iOS device to any location in the world or even use the simulating walking feature to fake GPS moving.
As you can probably guess, this makes it a very useful solution with very many different applications.
The following are the simple steps to change GPS of iPhone devices using MockGo:
Step 1: Download and Install MockGo
Since this is a desktop solution, the first thing you want to do is install it on your computer.
To do this, click on the "Download" button to download the setup file. Open this setup file and follow the instructions to install the program onto your computer.
Step 2: Connect the iOS Device
Once it is installed, open MockGo. Now use a USB or lightning cable to connect the iOS device whose location you would like to change.
Once the device has been properly connected, click on the "Start" button to begin spoofing your location.
Step 3: Change the Location of the Device
To change the location of the device, click on the "Teleport icon" (the first icon on the top right of the screen).
In the search bar, enter the new location that you would like to use and then click "Go."
A popup box will appear with the location that you have selected and the distance from your current location.
Confirm that this is the accurate location that you would like to use and then click "Move Here."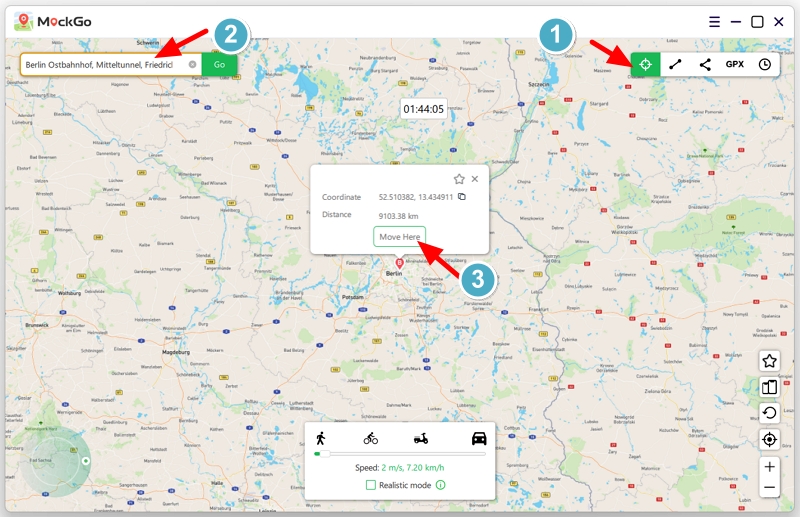 The location on your device and in Life360 app will be changed instantly.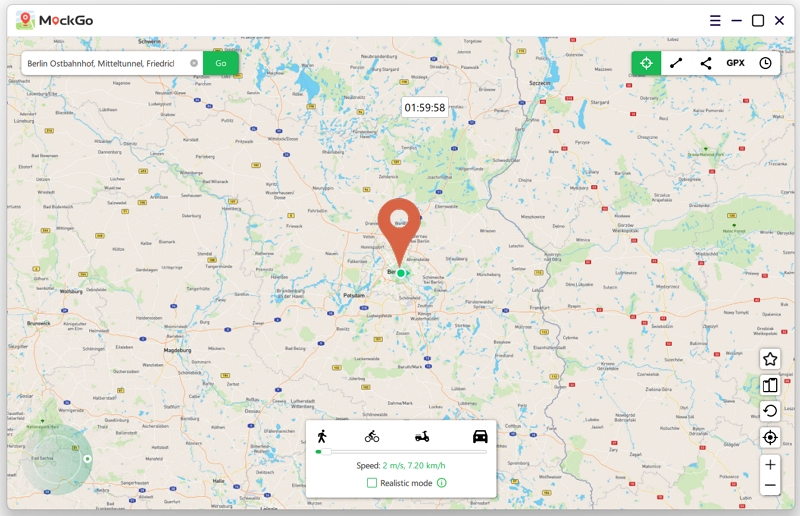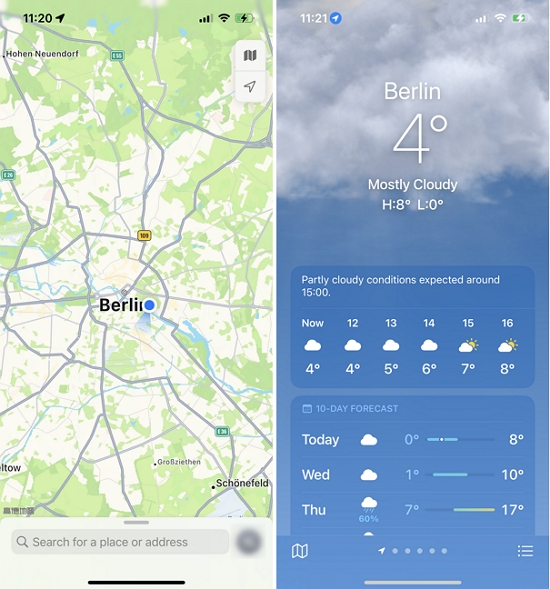 2. Using Android Fake GPS App
For Android devices, you can spoof the location on the device using one of the many location spoofing apps available on the Google Play Store.
But before you can use any location spoofing app to change the location on your device, you need to enable the developer options on your Android device.
Here's how to do that:
Step 1: Open the Settings app on your device and then tap on "System."
Step 2: Tap on "About Phone" and then select "Software info."
Step 3: You should see "Build Number" as one of the options. Tap on this option at least 7 times.
You may be prompted to enter the device's passcode to complete the process.
With Developer Options enabled, you can now go ahead and download a location spoofing app to use and follow these steps to use it to change the location on your device.
Step 4: Go to the Google Play Store and look for the Fake GPS Location app. Install the app on your device.
Step 5: With the app installed on your device, go to Settings > System > Developer Options and tap "Select Mock Locations app".
Step 6: Choose the Fake GPS app that you installed.
Step 7: Now open the Fake GPS app and use the map to choose the location that you want to use.
Step 8: Confirm the location that you have selected and then tap on the "Play" button to change the location of the Android device. This will be the location that Life360 will detect.
3. Use Another Phone
Using another device's location is another simple method can be employed to get around the Life360 app.
To accomplish this, follow these steps:
Step 1. You can utilize the same login credentials when installing the Life360 app on one of your another phone.
Step 2. Upon reaching your destination, connect the phone to a Wi-Fi network.
Step 3. Refrain from using the Life360 app on your regular phone from this point onward.
4. Turn Off the GPS on your Phone
Disabling GPS location settings is another way to protect your privacy when you don't want others to know your current location.
Here are the steps to turn off GPS on iOS:
Step 1: On your iPhone, go to "Settings".
Step 2: Look for the "Privacy" category and select "Location Services".
Step 3: Within the Location Services option, turn off the GPS location services.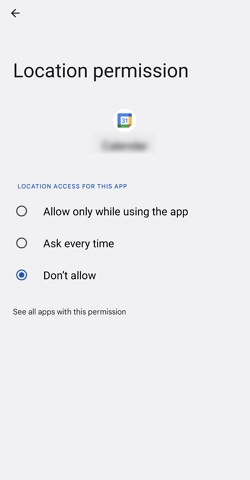 To disable GPS on an Android device, follow these steps:
Step 1: Open the "Settings" app on your Android device.
Step 2: Scroll down and select "Privacy".
Step 3: Look for the Life360, then the "Location" option and turn it off to disable location tracking for Life360.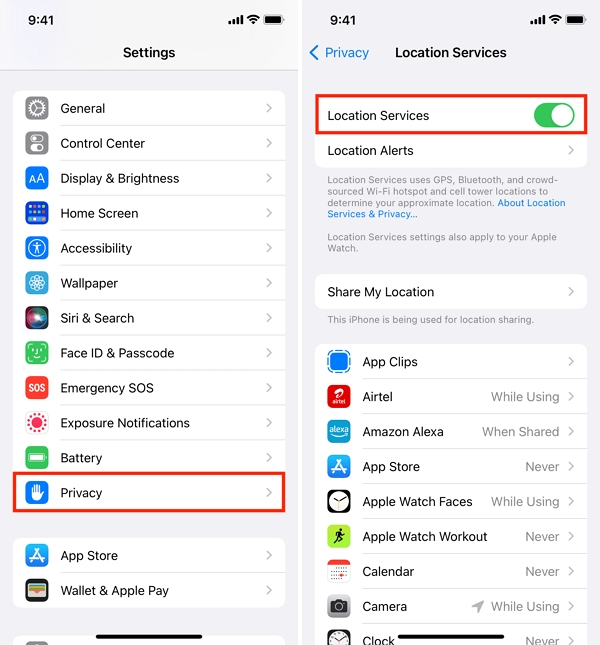 5. Disable Wi-Fi and Cellular Network
Another way to falsify your location is to limit your device's ability to interact with Wi-Fi and cellular networks. Follow these steps:
Step 1. Use the battery-saving option to prevent apps from running in the background and renewing themselves.
Step 2. If you have an active internet connection through Wi-Fi or cellular data, disconnect from it. For instance, you can disable the Life360 app instead of disabling the whole Android system or an iPhone.
Step 3. Go to the settings menu, select the Life360 option, and turn off cellular data, background refresh, and the Motion & Fitness feature.
By disabling these services, your device's location data will no longer update.
FAQs
1. Is it possible to track someone on Life360 without them knowing?
It is impossible because Life360 is not a spy app. The app requires that you voluntarily share your location with the other members of your circle and you can choose to revoke this permission at any time.
In fact, Life360 may not be able to work properly without all the permissions that every member of the circle must provide it.
For you to use the app to track someone else, they need to be a member of your circle, which means that they have given you their consent to track them.
Therefore, Life30 will not track anyone without them knowing.
2. What can parents see from Life360?
Parents using the app will see what all other members of the circle see, except the Life360 account settings.
Each member of the circle can view or share their location and get alerts such as driving safety and other alerts.
Any member of the circle can also choose to turn off their location at any given time.
It is also worth pointing out that the members of the circle, including parents, will only be able to see what the app was intended for.
The app will not show you the texts and calls that any member sends or receives. It is only meant to share information about the location of the device and not any other type of data.
To Sum Up
It is important to point out that Life360 is a location-sharing app and therefore, it will not provide additional information about the device to your circle members.
But if you don't want them to know where you are, without having to delete the app, we have provided you with a simple way to get around Life360, at least temporarily.