If you have been looking for ways to spoof your location in Pokémon Go, you may have come across a location spoofing tool known as Dr. Fone- Virtual Location (iOS).
Ordinarily, this tool is a great way to spoof your location with fantastic features, particularly when you need to change the location on your device or simulate GPS movement.
However, sometimes, it might not work as well as it's supposed to, and you might even find that Dr. Fone Virtual Location is not working.
In this guide, we will examines the common issues you may face when using Dr. Fone -Virtual Location (iOS) and how you can solve them.
What is Dr. Fone – Virtual Location?
Dr. Fone - Virtual Location is an application designed to help you change the location on your iOS device, granting access to services and content typically confined to specific areas.
It is also a great way to simulate GPS movement along a pre-determined path at a customized speed. This functionality proves particularly handy for engaging in location-based games like Pokémon Go, Minecraft Earth, and Augmented Reality experiences effortlessly.
Its key features include the following:
Teleports your iOS device's GPS to any location in the world in a single click
Simulate GPS movement along any street in the world at a customized speed
Take control of your GPS location using the joystick, and use keyboard keys W, A, S, and D to manage your movement
Save GPS locations entered on the map for future use, ensuring easy access to your preferred spots
It supports location management for up to 5 devices
Common Dr.Fone Virtual Location Not Working Issues
The following are some of the common problems that users of Dr. Fone have reported:
1. Dr. Fone Windows Version Doesn't Support iOS 17
Dr.Fone Windows version doesn't support iOS 17 for now and you may get a "Failed to enter developer mode" error from it, even if the developer mode on your device is turned on. To solve the issue, you have a few options to consider:
Opt for the Mac Version:
If you have access to a Mac, you can choose the Mac version of Dr.Fone. It is already compatible with iOS 17, offering you the functionality you need.
Wait for Dr.Fone Update:
Alternatively, you can wait for Dr.Fone to release an update that supports iOS 17. Developers often work on updates to ensure compatibility with the latest operating systems.
Explore Alternative Software - MockGo:
Another option is to explore alternative software like MockGo, which is already fully compatible with iOS 17. This allows you to proceed with your desired actions without delay.
Consider your preferences and urgency in accessing the features you need, and choose the option that aligns best with your situation.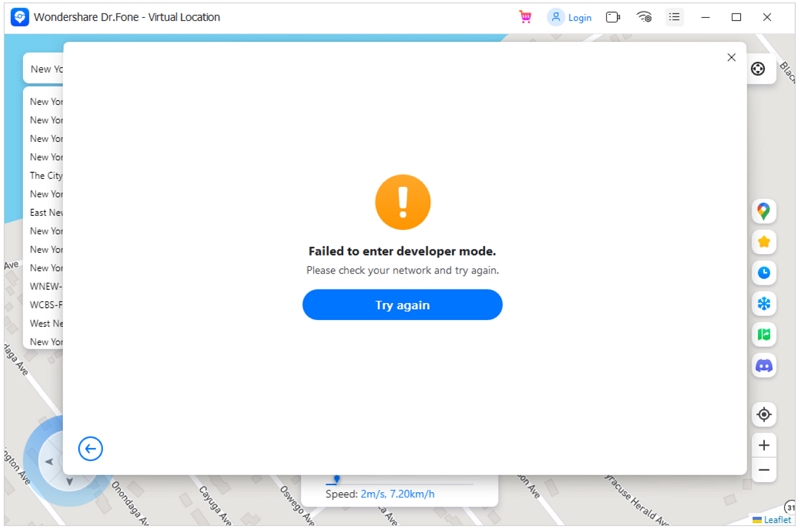 2. I Have Clicked on the Virtual Location Feature and Nothing Really Happens
Dr. Fone- Virtual Location is part of the Dr. Fone Toolkit and some people report that when they try to select the specific "Virtual Location" tool, nothing happens.
When this happens, make sure that your computer is connected to the internet. Then, close and restart the program. If the problem persists, update Dr. Fone before trying again.
3. Dr.Fone Virtual Location Map Crash or Load Failed
Plenty of users have also reported that the Map can sometimes crash. The program gets stuck on loading the map but it fails to display the map. This can prevent you from choosing the location.
If the map crashes, it could be due to a bug in the map API or an interruption in communication with the drfone virtual location. To reconnect with the map API, try restarting the program.
Also, make sure your internet connection is up and running. If it doesn't work, try refreshing your internet connection and making sure it's working.
4. Location Won't Move from Dr.Fone Virtual Location
Once you have selected the location that you would like to use, you need to click "Move Here" and then "March" before the location can change.
But several users have complained that when they click "March" the location fails to move to the new selected location.
The problem may go away if you restart your device and try again.
5. Got Detected While Using Dr. Fone- Virtual Location
There are some users who have also reported that Niantic can detect their spoofing activities when they use Dr. Fone- Virtual Location. This problem can occur soon after you start using the program or after you have been using it for a while without any incidences.
The following are some of the things you can try when faced with this detection problem:
Cooldown time is the specific period of time you gave to wait before taking action in the game once your location has changed. The following is a breakdown of the duration you have to wait after covering a specific distance in Pokémon Go:
900 to 1300km – 1 ½ hours to 2 hours
500 to 900km – 1 hour to 1 ½ hours
250 to 500km – 45 minutes to 1 hour
100 to 250km- 30 minutes to 45 minutes
11 to 100 km – 10 minutes to 30 minutes
6 to 10km – 3 minutes to minutes
1to 5 km- 1 minute to 2 minutes
Turn On and then off Airplane Mode Before Teleporting
Step 1: Enable Airplane mode on your device.
Step 2: Close the Pokémon Go app if it is running in the background and make sure that you are signed in to your account.
Step 3: Wait a few minutes and then turn off Airplane mode. If you encounter a problem wait a few minutes for the issue to resolve itself rather than logging out of your account.
Step 4: When the app loads, try to change the location.
Log out of Pokémon Go Before Teleporting
Before attempting to teleport the device to a new location, sign out of your account. To do that, tap on the Pokéball in the middle of the screen and scroll down to tap "Sign out."
Lastly, please note that these solutions may not work for everyone. There is no guarantee that you will be able to successfully spoof the location on your device. It all depends on the type of device you are using and the version of Pokémon Go you are using.
If you have already had a temporary or soft ban on your account, it may be a good idea to try a different spoofing tool or refrain from changing your location to avoid a permanent ban.
Is There Any Worthwhile Alternative to Consider?
If you are still having issues with Dr.Fone, you can try using MockGo. This tool is an easy-to-use Dr.Fone virtual location alternative and comes with various GPS spoofing features.
Here're the key features of MockGo:
Spoof to anywhere in the world, so you can play location-based games without walking
Easily simulate GPS movement along real roads
Create routes with random spots and speeds such as walking, cycling, or driving
Import GPX files, making it easy to view and fake walking based on the GPX track
Switch to a full-screen map view for an immersive experience
Ideal for apps like Pokémon Go, Life360, Bumble, Tinder and more
Compatible with the latest iPhone 15 and iOS 17
More special features such as realistic mode, adding routes or place to favorite list, and more make it a good choice.
Here's how to use MockGo to change the location on your iOS device:
Step 1: Download and install MockGo on to your computer. Open the program after installation.
Step 2: Connect the iOS device to the computer using USB cable. If you connect more than one device, you may need to select the devices one by one.
Step 3: To change the location on the device, click on the "Teleport" icon and then enter the location in the search bar. Select the location from the search results and click on "Go."
Step 4: Click on "Move Here" in the popup that appears and the GPS location on the device will change to the new location.
Final Words
That's all there was to finding out about Dr. Fone Virtual Location and why it may not be working sometimes. The best thing is that you have a lot of similar and equally trusted tools to choose from, and if not then we've already identified every other reason it's not working. Good luck!