If you are looking for a good quality GPS location spoofing solution, you may have come across Tenorshare iAnyGo at some point.
This is a desktop tool available for both Windows and Mac that allows you to easily change the location on your iOS device, by simply connecting the device to the computer.
As you can probably guess, this function has numerous applications, from accessing Geo-restricted content to playing location-based AR games like Pokémon Go.
But if iAnyGo is not an ideal solution for you, we have listed some of the best iAnyGo alternatives that you can choose from.
Best Alternative: MockGo iOS GPS Changer
MockGo is a location spoofing tool that can come in handy when you want to change the GPS location on your iOS device to anywhere in the world.
It is easy enough to use that you can change the location to any selected location in a single click. You also don't need to jailbreak the iOS device to use MockGo to change the location.
You can also use the One-Stop Movement and the Multi-Stop Movement options to simulate GPS movement. If you choose to simulate movement, the app also gives you the option to select a custom speed.
What's more, you can also use the joystick feature to set automatic or manual movement, or choose to faking the moving by importing the GPX file.
Furthermore, MockGo's price (lifetime $59.95, 1-year $39.95, 3 months $19.95, and 1 month $9.95 ) is more affordable when compared to iAnyGo's price (lifetime $69.95, 1-year $39.95, 3 months $19.95, and 1 month $9.95 )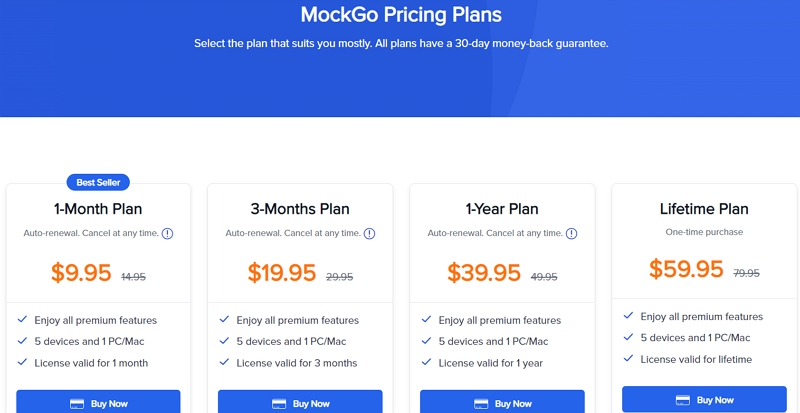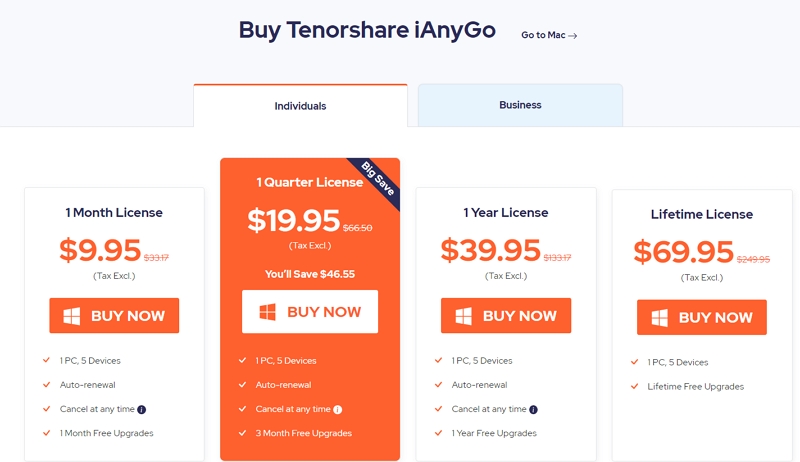 Follow these simple steps to use MockGo to change the location on your iOS device:
Step 1: Start by installing MockGo on to your computer. You can download a free version of the program on its main website.
Step 2: Connect the iOS device to the computer using the device's original USB/lightning cable and make sure that the device is unlocked.
MockGo work well with most iPhone devices and iOS versions including the latest iPhone 15 and iOS 17.
Step 3: Open MockGo and it should be able to detect the connected iOS device.
Step 4: You will see some different operational modes in the upper right corner. If you choose the teleport mode, just use the address bar at the top to search for the location that you would like to use.
Step 5: Then click the "Move Here" button to change the location to your selected place.
The GPS of your device will then be teleported to the selected place.
Step 5: If you want to fake moving, then choose the One-Stop Movement or the Multi-Stop Movement modes to simulate movement. Select a start-point and an end-point to customize the route.
Step 6: Then select the custom speed that you want to move at and then click "Move Here" to begin the location simulation.
2. iTools Virtual Location
iTools virtual locationis a part of the iTools suite of tools, designed to help you manage numerous aspects of the iOS device. It is very useful when you want to change the GPS location on your device or even simulate GPS movement.
The following are its most notable features:
It is desktop application, meaning that you don't need to install any apps on the device or even jailbreak the device to use it. You just need to connect the device to the computer.
Once the device is connected, you will see a map appear on the screen. This map will allow you to very easily search for and select the location you want to change to.
You can also very easily adjust the location on the map at any time during the simulation
It also gives you the option to use a customized speed to simulate movement
Although you can simulate the location on most iOS devices, you may need to jailbreak newer iPhone models to use iTools.
3. Dr. Fone - Virtual Location (iOS)
You can also change the location on any iOS device using Dr. Fone-Virtual Location (iOS) by Wondershare.
One of the main benefits of using this tool over the others on this list is that it is very simple to use, allowing you to change the location or simulate GPS movement in a matter of minutes.
The change in location is also less likely to be detected by any apps on your device, making it the ideal solution for playing location-based games like Pokémon Go without worrying that your activities will be detected.
This desktop tool also doesn't require a jailbroken device to change or simulate GPS movement: you just need to connect the device to the computer. If you choose the One-Stop or Multi-Stop Mode to simulate GPS movement on your device.
Dr. Fone-Virtual Location allows you to choose a custom speed to use and select how many times you would like to move along the specified path. It also comes with a GPS Joystick that can help simplify the GPS movement.
4. GFaker (Hardware)
If you don't want to use a software solution to change the GPS location on your iOS device, then consider the GFaker hardware dongle.
It works very well for all iOS device models, although at $279, it is certainly more expensive than any other solution on this list.
To use it, you will need to install a companion app that allows you to select the fake location that you want to use.
GFaker also comes with additional features that can allow users to simulate GPS movement along a specified route at a customized speed.
It supports all iOS devices running iOS 9 to iOS 14.
Final Words
Tenorshare iAnyGo is a good way to fake the GPS location on your device, but as you can see from the options above, there are a lot of other options to choose from.
Select your most preferred tool, one that will work best for your situation and share your thoughts with us in the comments section below.
If you have any questions on how all the tools we have outlined above work, post them below and we'll do our best to help.