Pokémon GO: The game that changed the face of mobile gaming forever! Coming in as one of the first of its kind, the game urged players to go out and face the world's challenges to catch all kinds of Pokemon via Augmented Reality.
However, as there needed to be some goal in the game, it quickly limited quite a bit of the player base from enjoying it. One such limitation was gyms and region-specific Pokemons, which could be a hassle for people living in regions without much traffic.
Thus, using a joystick to simulate GPS movement is becoming one of the easiest ways to catch Pokémon or hatch eggs without having to walk long distances. This is where this article comes in, as we will teach you:
What is Pokemon Go GPS joystick
How to fake GPS with joystick for Pokémon Go using the latest and safest methods.
What is Pokémon GO GPS Joystick
As most of you might be aware, Pokémon GO is a game that requires you to move about the real world as the game simulates your trainer's movement in the game based on your real GPS location. However, it's not every day that we get to go outside; for example, what if there was a Mewtwo raid going on a snow day?
Now, I don't want you to miss out on a Mewtwo, and that is why I'm introducing you to Pokemon Go GPS joystick tools that allow you to move around in the world from within the comforts of your house.
The joystick lets you control your in-game character's movements from your phone screen. So, even when you can't leave home or don't have time for a walk, you can still enjoy playing Pokémon GO and catching all those amazing Pokémon.
How to Fake GPS with Joystick in Pokémon GO for iPhone
Now, if you are troubled by circumstances and cannot be the very best like no one ever was, you'll need to get your hands on a GPS joystick tool that will allow you to simulate movement without getting you banned.
One such tool for iPhone devices is MockGo iOS GPS changer, which runs on the computer and enable Pokémon GO players to change the GPS location of their iPhones without any restrictions.
One of the best features of MockGo is the Joystick mode, which allows every player to automatically move around and flexibly change directions in 360 degrees. So, you have more control and can explore the Pokémon GO world the way you want!
Here are the key features of this tool that make it a good choice for iOS users above anything else:
Features:
Use the joystick to make a automatic GPS movement
Use the joystick to make a manual GPS movement
Customize the speed while moving
Teleport the GPS to any location in the world
Use the two-stop or multi-stop mode to simulate movement along a specified route
It's not just for Pokémon GO; it also works well with apps like Life 360, Tinder, Spotify, and more
Compatible with the latest iPhone 15 and iOS 17
How to use MockGo to fake GPS using the joystick
Step 1: Download and install the MockGo onto your computer. Open it.
Step 2: Connect the iOS device to the computer and click on "Start."
Step 3: You will see a map on the screen that you can use to set the desired location. Just use the Search bar to find any location you would like to use.
Step 4: Once the location has been selected, click the Move Here button to change the GPS of your device to that place.
After that you can use the joystick feature to move as you want. The joystick will be located at the bottom left of the screen. There are two ways to use the joystick:
Step 5: Set Automatic Movement
Click on the start button in the middle to begin the automatic movement, then change the direction in one of the following ways:
Click on the left or right arrow
Drag the point on the circle
Press A and D keys on the keyboard
Press the left or right arrow keys on the keyboard
Step 6: Set Manual GPS Movement
Keep clicking on the up arrow in the program or long-press the W or Up key on the keyboard to move forward.
For reverse movements, keep clicking on the down arrow or press the S or down key in the keyboard.
You can also use the methods above to change direction before moving forward or backwards.
How to Fake GPS Using Joystick for Pokémon GO on Android
Before Getting Started
We used to install the Fake GPS tool and turn on the Select Mock location App option to start spoofing on Android device earlier 2021. But Niantic now detects spoofing anytime the mock locations checkbox is enabled.
To avoid this, you must either downgrade your phone or root it and convert the app to a system app, or you do not need to do anything at all, depending on the Android version of your device.
For Android 6.0 to 8.0 (Not 8.1): Downgrade your Google Play Store to a 12.6.85 version or lower.
For Android 8.1 to 9: Root your device using Magisk, hide the root.
For Android 10, 11, and above: Use Smali Patcher.
Below we have listed the steps on how to fake gps with joystick for Android 6.0 to 8.0 without rooting the device.
How to Fake GPS Using Joystick for Android 6.0 to 8.0 without Root
Step 1. Download an Old Version of Google Play Services
To begin, you must downgrade your Android device's Google Play Services to a certain version that permits you to launch the mock location app through Developer settings without Pokemon GO discovering that you are using an GPS spoofing app.
Currently, we don't know which version of Google Play Services will work on your phone. However, there are few versions that you can try:
12.5.29
12.6.85
12.6.87
12.6.88
Step 2. Download Fake GPS App
There is a wide selection of these location spoofing apps on the Google Play Store that you can try and some of them are even completely free to use. Here, we recommend Fake GPS Joystick & Routes Go app by Incorporate.
It doesn't require root access and runs perfectly without any issues and offers a range of advanced features and operating modes.
These include a joystick for easy and precise manual flight control, an option for automatic movement within a set distance, and the flexibility to adjust speeds and update intervals to your liking.
Step 3. Disable Find My Device
Go to Settings and tap on Device Administrator, then uncheck Find My Device from the menu. Now you can install any of the above Android versions and restart your device. Check if you can spoof the location or not.
Step 4. Uninstall the Current Google Play Services Update
Open the Settings and under the Apps menu, tap on All Apps -> Google Play Service, which is going to open a screen.
Tap the menu button in the top-right corner and select Uninstall updates . After successfully uninstalling Google Play Services, proceed to the next step.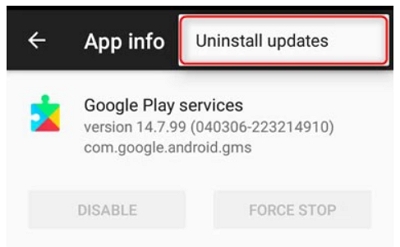 Step 5. Install the Old Version of Google Play Services
Now it's time to install the older version of Google Play Services you downloaded in step 1.
Navigate to the Downloads folder and tap on the APK file for Google Play Services that you downloaded.
A popup window may appear; tap the Install button to start the installation process. Once installed, tap the Done button to continue.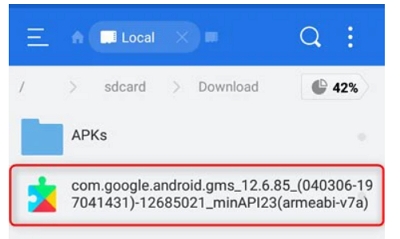 Step 6. Disable the Background Data Permissions
Google Play Store will update itself in the background because you've downgraded it. So you'll need to to disable the background data permissions and Google Play Store so that you don't need to downgrade your Google Play version again and again. Follow the guide to disable the background data permissions and Google Play auto-update:
1. Open Settings menu, tap on Apps -> Google Play Service.
2. Tap on Mobile Data (In other models, it can be labeled as Data Usage).
3. Disable the background data permissions.
4. Next, disable the Google Play Services storage permissions.
Step 7. Disable Google Play Store
Now go back to the Settings menu, and from Apps -> All Apps, tap on Google Play Store and press the Disable button. You have now successfully disabled the Google Play auto-update service.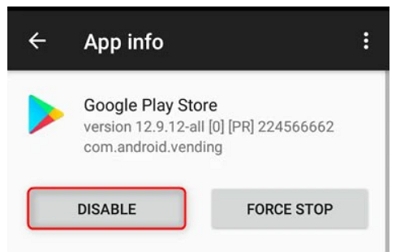 Step 8. Run the GPS Fake App
After you have finished the preparations, follow the steps below to set up the Fake GPS app.
1. First, launch the application you have downloaded and installed on your device.
2. Next, you can proceed to enable developer options if you haven't done so yet. To do this, head to settings by tapping on the gear icon. From there, scroll through to the bottom and choose the system option.
3. From there, select 'About phone' and then quickly tap on the 'Build number'. You'll be required to verify the lock screen security, after which the developer mode is enabled.
4. After you've got in the developer options menu, ensure that the toggle option is turned on. Proceed to choose the 'Mock location app'. Select 'Fake GPS location'.
5. After you've taken care of the above steps, open the app and search for a specific address or place your pin in a general location. Hit the 'Start' button to start spoofing your location.
6. Then you can tap the Joystick option from the menu to enable it for you to set auto walk of your GPS.
If everything works out as planned, you can play Pokémon GO from the comfort of your room and without being noticed.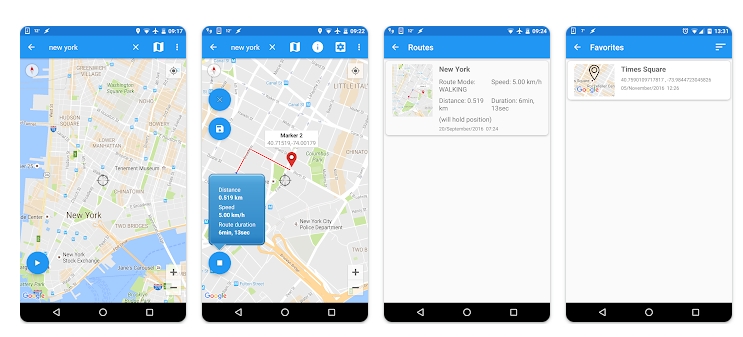 Tips to Use GPS Joystick in Pokémon GO Safely
If you're not familiar with the joystick hack that's very popular in Pokémon GO, you should know that it can get you banned from the game if you don't use it carefully.
1. Must-know risks of Pokémon Joystick
It is worth pointing out that Niantic is not exactly in the dark about some of the strategies that users employ to make the game easier.
In fact, Niantic is so aware of these strategies that they have developed a three-strike policy to address the problem and penalize users who seek to manipulate the game.
Here's the policy and how it can affect the way you play the game:
When Niantic first notices that you are manipulating your GPS to play the game, you will get a 7-day shadow ban. This initial penalty doesn't prevent you from playing the game, but you will not be able to catch any rare Pokémon until the ban is complete.
If Niantic catches you a second time, your account will remain inactive for a period of 30 days. This second-strike penalty means that you will not be able to access your account in any way for 30 days. You will not be able to play the game at all until the ban is complete.
The third strike bans your account permanently. This time Niantic bans your account completely and you will not be able to play the game. All your progress will be lost and you may need to create another account to play the game.
But these penalties can be avoided if you use GPS faking tools responsibly. For example, it is possible to avoid all these penalties if you just avoid faking your GPS for longer periods of time.
The following are the useful tips you should keep in mind while using the joystick:
2. Avoid using the modified Pokémon GO apps
Modified Pokémon GO apps used to be the easiest way to spoof your GPS and play Pokémon GO from the comfort of your home.
But Niantic has developed a new anti-cheat mechanism that recognizes modified Pokémon Go apps like iSpoofer and iPogo as of January 2020.
It is recommended that you do not use modified or jailbroken Pokémon Go apps to prevent detection, or use a secondary account that you don't mind losing in case you get detected.
3. Spoof your location carefully
As soon as you have set up the GPS-spoofing app to change the location, exit the app and clear both the app and Pokémon GO app from the recently used apps.
Niantic will notice if you move to quickly from one location to another and this may trigger a soft ban on your account.
So, avoid changing your location to a place that is too far away from your current location. Moving the location just a few miles at a time will help you avoid a ban.
Additionally, you should never change your locations frequently, such as jumping from Asia to Europe to America in a single day.
4. Log out of Pokémon GO before changing GPS
If Pokémon GO continued to run in background while you using the GPS spoofing tools, it would be easy for you to get detection. This may result in a soft ban of your account. So, log out of your account before attempting the GPS faking.
5. Respect the cooldown time
To prevent getting banned for using a joystick hack, you should carefully respect the cooldown time, and you should never use bots.
Pokémon GO has a system where it flags players who play the game in unusual behavior and that's what tips them off and gets them banned.
Therefore, you should try to play the game as naturally as possible even though you have a little help on the side.
Conclusion
When done correctly, the joystick feature can allow you to play Pokémon Go without needing to walk long distances. All the solutions outlined above can help you get a joystick to fake GPS on Pokémon Go more easily.
For people who cannot get out of the house due to their circumstances, I suggest opting for MockGo, as it is one of the quickest and most bug free tool currently working on the internet. So what're you waiting for? The next gym is awaiting your worthy challenge!
If you have any questions on the processes described above, let us know in the comments section below and we'll do our best to help.