One of the best ways to enjoy playing Pokémon GO is to have a location-spoofing app that allows you to teleport. Not only does it make the game more productive but you also don't have to get out of bed for it.
If you're looking for the best Pokémon GO teleport app, then you're at the right place. In this guide, you will:
Learn the best Pokémon GO teleport apps
Find the pros and cons of these popular apps
So, let's jump right in.
About Pokémon GO Teleporting
Teleport hack refers to the ability to move from one place to another without physically traveling there. In Pokémon GO, players must physically travel to different locations to catch Pokemon. But for those who don't have the time or resources to travel, teleportation offers an alternative.
By using this technique, players can explore the game's virtual world and catch Pokemon without leaving their homes. It's important to note, however, that using teleportation to gain an unfair advantage over other players violates the game's rules and can result in a ban.
If players still choose to use this method, it's recommended to use a reliable and secure third-party service, such as MockGo and PGSharp, to avoid the risk of being caught and banned.
Can You Still Use Pokémon GO Teleport Apps in 2023?
In 2023, there are still numerous methods available for players to teleport in Pokémon GO for iOS and Android. By using this technique, players can explore different areas and catch more Pokémon from the comfort of their own home. However, they must carefully follow the correct procedure to avoid being banned from the game for cheating.
3 Best Pokémon GO Teleport Apps for iOS
There are countless applications that you can use to teleport in the game. However, some of these apps have the potential to carry a few risks, such as getting banned from Pokémon GO once they detect that your account has been using a location spoofer.
Therefore, we have chosen 3 applications which are safe to use for your iOS devic.
MockGo iOS GPS Changer (iOS 17 Compatible)
The best way to teleport in Pokemon GO is to use a location spoofer. But most location spoofers make you download a modded version of Pokemon Go that works with their spoofer. That can be quite risky to get your account banned and annoying to those who want the real game experience.
MockGo iOS location spoofer is one such tool that works with the original game app and easily lets you teleport your location for iPhone using the computer. Here's why it's so popular:
Teleport location with a simple click
Built-in cooldown timer
Joystick control
Simulate movement along predetermined routes with customized speed
Spoof location on up to 5 devices
Works with almost all location-based apps
Supports all iOS devices, including the latest iPhone 15 running iOS 17
Here is how you can use MockGo to teleport the GPS:
Step 1. First, download the application and launch it afterward.
Step 2. Now, connect your device to your computer and sync it to the application.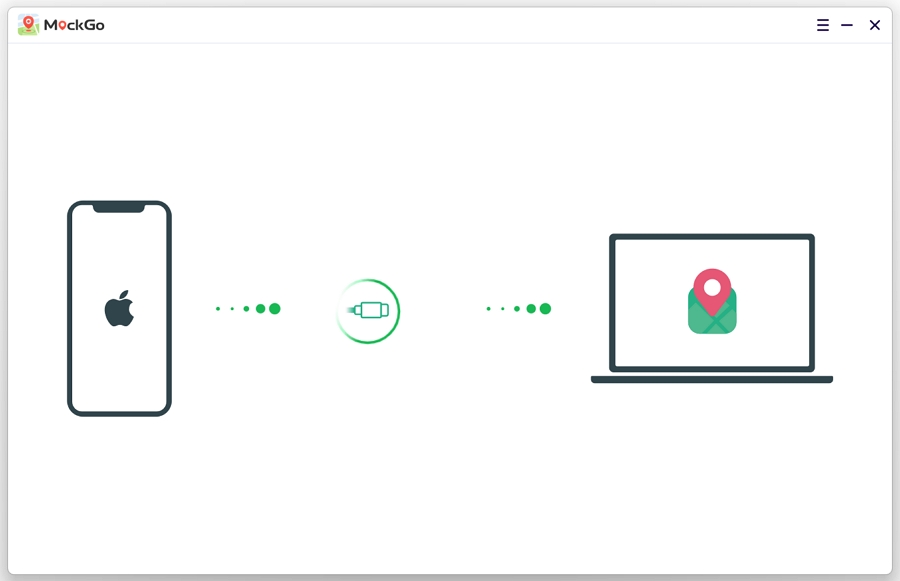 Step 3. Once your device has been detected, go to the first option located at the top-right corner of the screen to teleport the GPS.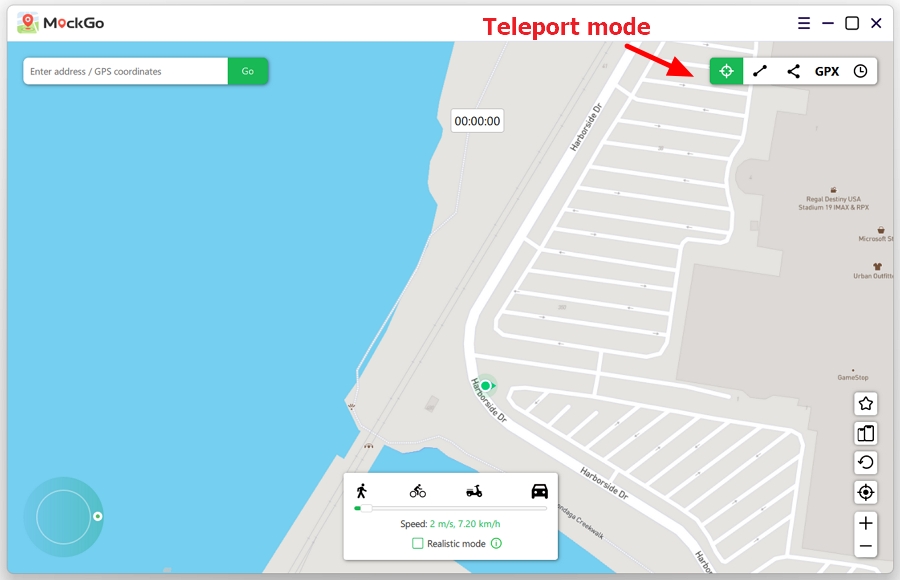 Step 4. After that, input your desired location on the search bar and adjust the pin on the screen.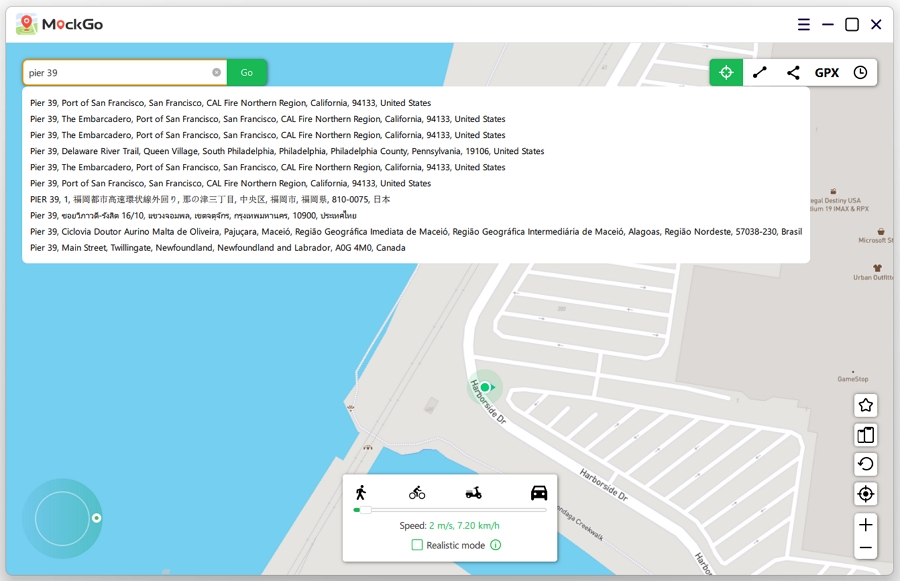 Step 5. Finally, click on the Move Here button.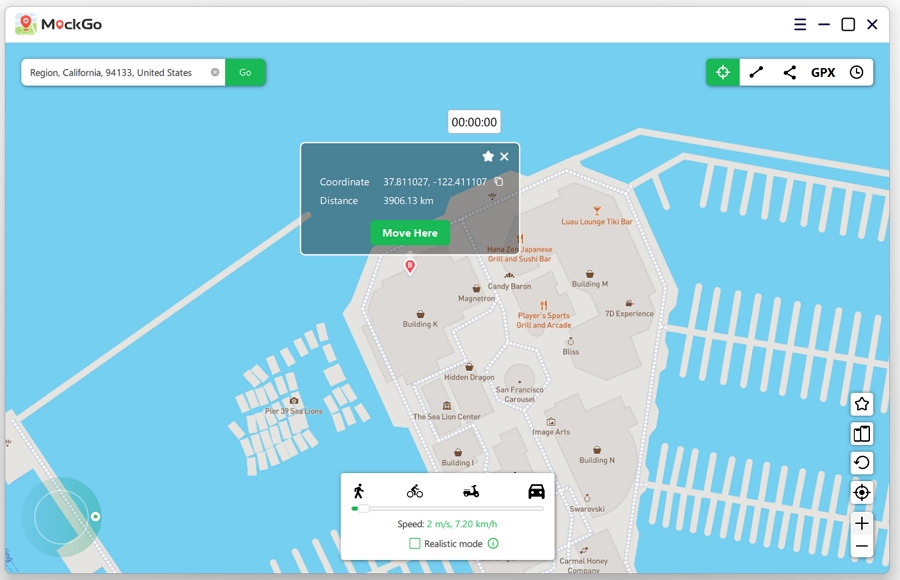 The GPS on your device will be changed instantly.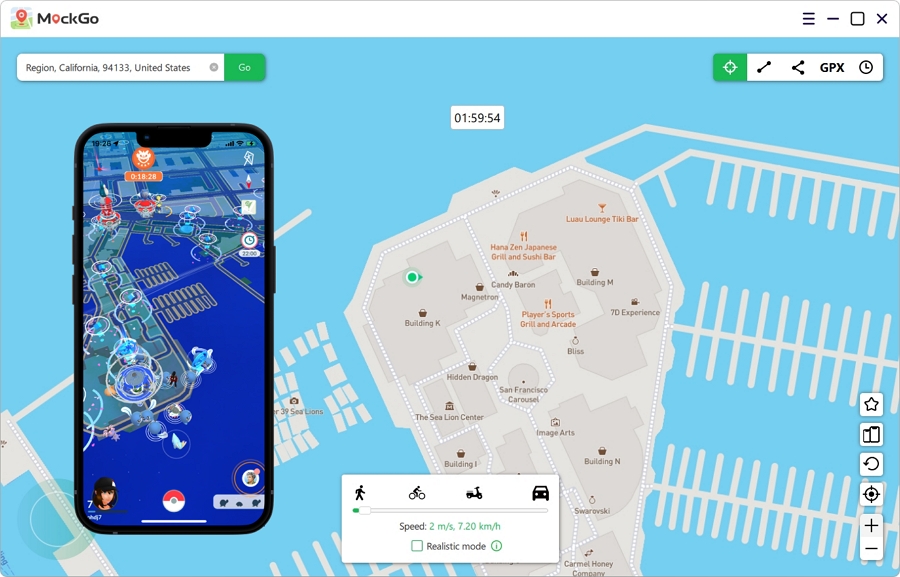 You can also fake walking in Pokémon GO by using the one-stop or multi-stop mode of MockGo. During the moving, you can adjust your walking speed by using the slider found at the bottom of the screen.
Pros
Doesn't require jailbreaking
Provide the best price with full features
Let's you set custom movement paths
Has a built-in cooldown timer
Has realistic speed mode
Cons
After the free trial runs out, you'll need to pay for the premium features
iTools
Another good spoofing application is iTools virtual location by ThinkSky. It allows you to configure your iPhone and change its location manually. Here are the steps:
First, install iTools by ThinkSky on your PC.
Next, connect your device to your computer and launch the application.
Select the "Virtual Location" feature, which will launch a map-like interface on the screen.
Here, you can search for a location or drop the pin wherever you want to go.
Finally, click on the "Move Here" button to teleport.
If you want to revert back to your original location, just visit the same interface and select the "Stop Simulation" button this time.
Pros
Doesn't require jailbreaking
Easily detectable by iOS devices
Works on every iOS version
Lets you manage your device or restore your data
Cons
Limited features in trial version
Expensive price
Hard-to-use interface
iPogo
iPogo gives a more unique experience to location spoofing. It does not merely change the location of your device, it also provides a customized version of the original game.
The app lets you operate at a separate interface that allows you to utilize added features to the original game, such as teleporting, enhanced Pokéball throw, and auto spins. It is basically Pokémon GO with a cheat engine.
Here are the steps to install iPogo:
First, head to the Sideloadly website and download the Sideloadly app for Windows and Mac.
Then, head over to https://ipogo.app/ and download the app's IPA to your PC.
Next, connect your device to your PC.
After connecting, launch Sideloadly and enter your Apple ID credentials.
Drag and drop the IPA towards the Sideloadly window.
Now, click Start to start the installation.
Once installed, you should see the iPogo logo on your device.
Finally, head to Settings > General > Device Management > Trust the App.
To enjoy the full features of the app, you need to pay $4.99 per month. Don't worry, if you aren't willing to spend, you can use the free version of the application, but it will only allow you to teleport and nothing more.
Pros
Helps you catch shiny Pokemon
Works on both iOS and Android
Very easy to use and play
Doesn't require a secondary app
Cons
There is no direct way to install
A high risk of getting banned
Note: As of January 2020, Niantic has implemented a new anti-cheat code that is stricter than before. It can detect apps such as iPogo which uses a joystick overlay and configures features in the game.
This gives this method a high risk of getting banned. So, if you're the cautious type, then maybe you should avoid this method and start exploring other options.
3 Best Pokémon GO Teleport Apps for Android
PGSharp
One of the most popular Android apps for teleporting in Pokémon GO is PGSharp. This app allows players to spoof their GPS location and move around the game's virtual world without physically traveling to different locations.
PGSharp offers features such as Auto Walk and Auto Catch, which can help players catch more Pokemon and level up faster. It has a free subscription and a paid subscription that offers a lot more functionalities for only $5 a month.
Using PGSharp for teleportation is relatively easy. Here's how to use it:
First, download and install PGSharp on your Android device.
Then, log in to your Pokémon GO account through PGSharp.
Once logged in, you can select a location on the map where you want to teleport and use the app's features to walk around and catch Pokemon.
Now you can freely travel to any location and catch all pokemon available.
Pros
Doesn't get banned by Niantic
Lets you cool down after spoofs
Unlimited spoofing options
Doesn't require device rooting
Cons
Only for Android users
Tends to glitch sometimes
Fake GPS Location - GPS Joystick
Another methods suitable for Android devices is to use the Fake GPS Location - GPS Joystick app, which allows you to move within the game using an on-screen joystick.
Here is what you need to do to install the app:
First, open Google Play Store and download the Fake GPS Location - GPS Joystick application.
Next, open the Developer options tab on your device's settings and click the Allow mock locations setting. Enable it once you find the setting.
Now, set the GPS Joystick app as the Mock Location App of your device.
Finally, open the app and head to your desired location.
Since it doesn't necessarily tamper with the game features directly, using this isn't too risky. However, suspicious activity such as teleporting to far away places in a few seconds will catch the attention of the anti-cheat software, which will ban you once it verifies the suspicious activity, so be careful.
Pros
One of the most polular apps for Android GPS spoofing
Unlimited spoofing options such as teleport, joystick, auto walk and more
Cons
Fly GPS for Pokémon GO
This is another application that is made for Android devices. Fly GPS provides an easy method of teleporting in the game. Here are the steps:
First, download the APK.
Now, head to Settings > Security > Unknown Sources. Enable the Unknown Sources settings by ticking the box.
After that, you can now install the APK you downloaded earlier.
Once installed, enable Developer Mode by going to Settings > About Phone > Build Number.
Tap the number seven times until you see the prompt that says, "Developer mode has been enabled."
Now, head to the Developer Options menu in your Settings. Select Fly GPS as the Mock location app.
Next, head to Settings > Location. Set the location method to "Low Accuracy" or "Only GPS" mode.
After that, ensure that "Location History" is turned on.
Finally, launch the Fly GPS app and change your location on the map.
It follows a similar process to the previous method and brings the same results.
Pros
Easy to use and free
Supports many location-based apps
Does not need rooting
Cons
You have to downgrade Google Play
It is full of ads
Takes forever to install
Does not have route modes
Doesn't work for iOS
Stops working out of the blue
Tips to Use Pokémon GO Teleport Apps Safely
There are a few rules you must follow when teleporting in the game. This is not to restrict you from having fun, but to keep you safe from getting banned permanently.
Just follow these simple rules, and you'll be fine.
Follow the Cooldown Time in Teleporting
To counter the risk of getting tagged for suspicious activity, teleporting in realistic intervals will do the trick.
Teleporting too fast and abruptly will make you suspicious and can get you banned immediately. Here is the cooldown chart you can refer to in teleporting:
| | |
| --- | --- |
| Previous Distance Teleported | Cooldown Time |
| 1 to 5 km | 1 to 2 mins. |
| 6 to 10 km | 3 to 8 mins. |
| 11 to 100 km | 10 to 30 mins. |
| 100 to 250 km | 30 to 45 mins. |
| 250 to 500 km | 45 to 65 mins. |
| 500 to 900 km | 65 to 90 mins. |
| 900 to 13000 km | 90 to 120 mins. |
| 13000+ km | More than 120 mins. |
Log Out of Pokémon GO Before Teleporting
This will help avoid being tracked once you switch locations. When you log back into the game, it will register your current location and not the sudden change in distance. To log out, simply head to the game's settings and scroll down until you find the log out option.
Enabling Airplane Mode Before Teleporting
This follows the same concept as logging out, but this time you will be using the Airplane Mode feature. Simply enable Airplane Mode after closing the Pokémon GO app, then wait a while. After a few seconds, disable Airplane Mode and use the location spoofer right away.
Wrapping Up
There are lots of ways to teleport in Pokémon GO. It could involve third-party apps like MockGo or iTools.
While teleporting in Pokémon GO may seem like an attractive way to gain an advantage in the game, they come with significant risks. So use these methods at your own risk.
As of 2023, the effectiveness of teleport hacks stands. It is an unending debate whether it is worth using a teleportation hack on Pokémon GO.
However, at the end of the day, what matters is your enjoyment in Pokémon GO. If you have any questions about using Pokemon GO teleport apps, hit us up with a comment down below.