Are you a Bumble user looking to take a break from the dating app? Or are you going on vacation or simply too busy to use the app for a while?
Learn how to hide your location on Bumble using the following methods.
Turn on Snooze Mode
Bumble's Snooze mode is a free Bumble feature which allows you to pause your profile for up to 24 hours or longer, depending on your preference.
This feature is handy if you are on vacation, busy with work, or just need a break from dating.
Here's how to turn on Snooze mode on Bumble:
Open the Bumble app and tap your profile icon in the top left corner.
Tap on Settings and scroll down to find the Snooze mode option.
Choose the duration you want to Snooze your profile and confirm your choice. You can select 24 hours, 72 hours, one week, or permanently.
You can set an away message to inform your established matches of your impending return.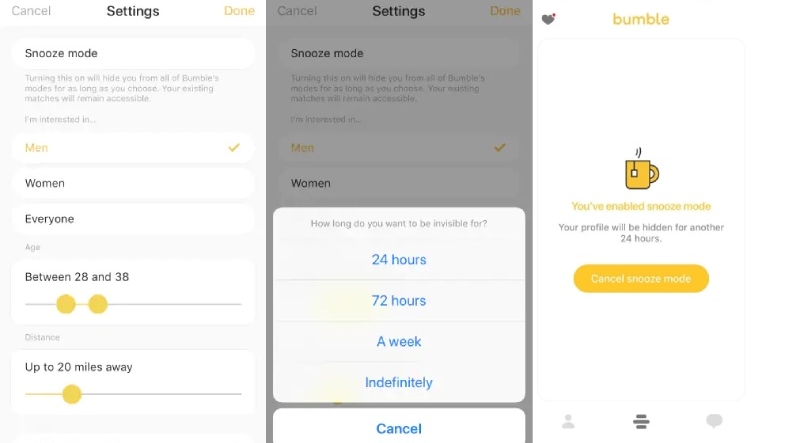 While your profile is in Snooze mode, you won't appear in the app's swipe queue or receive any new matches or messages.
However, any existing matches or conversations you have will remain intact. You can return to the app at any time and resume using it as usual.
By Spoofing Your Location (iOS 17 Supported)
If you're still concerned about your privacy and want to hide your current location on Bumble, or experience new matches from a new place, you can also try to spoof the GPS location of your device.
MockGo is a effective iOS GPS spoofing tool to help you change the GPS location of your iPhone to anywhere you choose in just one click.
Find how MockGo can be helpful:
Simulate GPS walking
Favorite list, historical records, Wi-Fi or USB device connection, and more features
Compatible with all location-based apps such as Bumble, Tinder, Pof, and more
Support all iPhone models and iOS versions running from iOS 9 to iOS 17
Here are the steps to help you spoof location with MockGo:
Step 1. Download MockGo
Download and install MockGo on your desktop computer. Launch the application and click on Start.
Step 2. Connect your device
Connect your iPhone to the computer through USB cable and confirm the connection.
Step 3. Choose the location
Choose Teleport Mode from the map interface.
Search for your preferred coordinates or location and the pin will drop on that new location.
Confirm the new location by clicking on Move Here.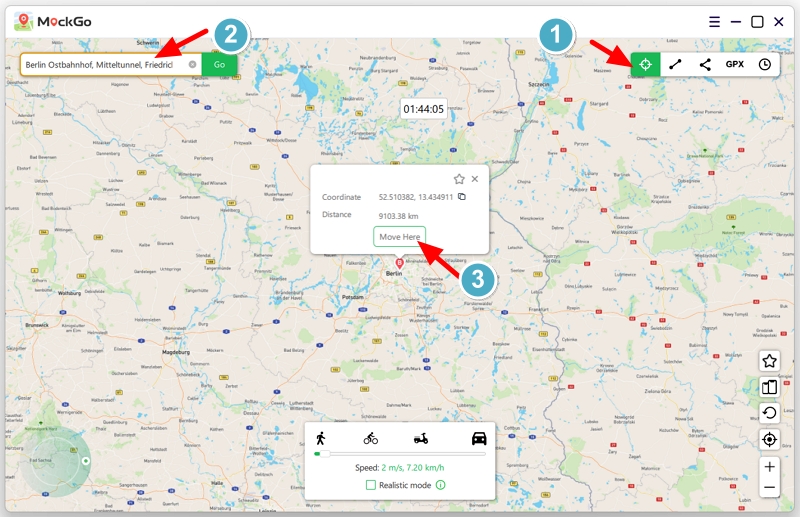 Step 4. Location is changed
After that, all the apps on your iPhone will now shift to the new location. You can open Google Maps to check if the phone shows the new location.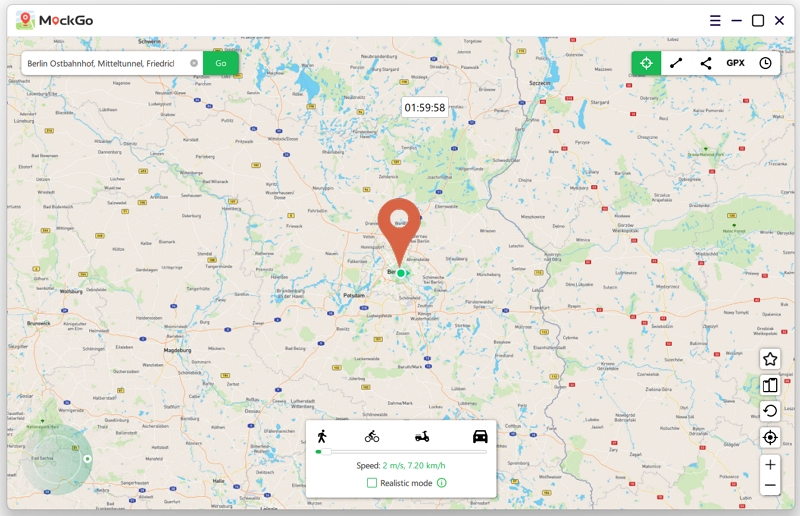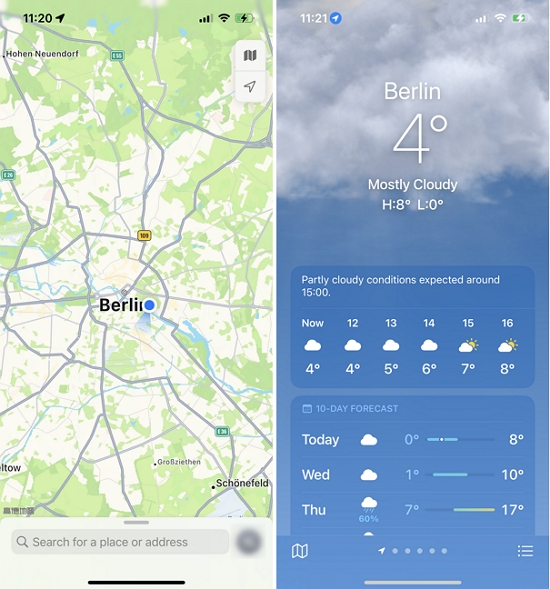 By Turning off the Location Permission on Device
You can hide your Bumble location by turning off the GPS location from your phone. However, with location turned off you will not be able to look for new matches.
If you're using an Android device and want to hide your location on Bumble, follow these steps:
Open the Bumble app and tap on your profile icon in the top left corner.
Tap on Settings and scroll down to find the App Permissions option.
Tap on Location and select Don't allow to block the app from accessing your location.
Alternatively, you can choose Allow only while using the App to limit the app's location access when you're actively using it.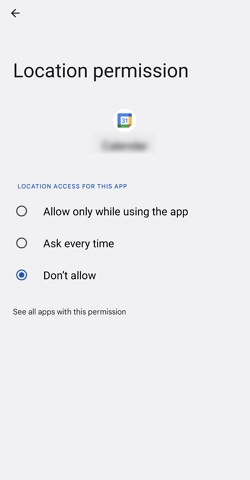 This is how you can do it on iOS:
Open Settings and go to Bumble settings.
Choose Location Settings in the Bumble settings.
Tap on Never or Ask Next Time which means it will not have access to your location without your permission.
By blocking the app's location access, you'll appear to be browsing from an unknown location.
However, this method may affect the app's performance and may also limit some of its features, such as the ability to filter matches by distance.
With a VPN
Using a VPN (Virtual Private Network) is another option available. A VPN encrypts your internet traffic and routes it through a server located in a different country, making it appear as if you're browsing from that location.
This can help you avoid geo-restrictions and protect your online identity.
Here's how to install a VPN on your device:>
Choose a reputable VPN provider and subscribe to a plan.
Download and install the VPN app on your device. You can download it on your phone, or tablet.
Open the app and log in using your account details.
Choose a server location from the list of available options (preferably in a different country) and connect to it.
Once connected, open the Bumble app and start using it with the new country you choose from VPN.
It's worth noting that some VPNs may affect the app's performance, so it's recommended to test it out first and see how it works for you.
FAQs
What is Bumble snooze mode?
Bumble Snooze Mode lets you do just that by temporarily concealing your profile from potential matches. It's the digital equivalent of taking a timeout without the fear of losing the connections you've made. Activating Snooze Mode is as simple as navigating to your settings and tapping 'Snooze.'
From there, you get to choose the duration of your break – be it 24 hours, 72 hours, a week, or an indefinite hiatus. The power is in your hands to tailor it according to your needs.
When you're ready to jump back into the Bumble game, a smooth return awaits you. Simply let your connections know you're back, and you can pick up right where you left off. No lost opportunities, no missed connections – just a refreshed and recharged you, ready to engage.
Is snooze mode free?
Luckily for people who are just hoping to take a break from the quest for love, the snooze mode on Bumble comes absolutely free and does not require any premium subscriptions.
Can you tell if someone turns on Bumble snooze mode?
Bumble makes sure you have a private experience with Snooze Mode. If you use this feature, don't worry – none of your matches will know you're taking a break unless you decide to tell them. This careful setup lets you step back from the platform without affecting your relationships or connections.
This way of handling privacy shows that Bumble is committed to giving users control over their online dating experience. Snooze Mode isn't just a break from using the app; it's a private break that fits with Bumble's focus on keeping your information private.
Does Bumble show your location?
Bumble uses the GPS feature of your phone to know your exact location. When GPS is disabled, it uses the router and ISP to pinpoint the location.
The safety concerns are always there when you give away your location details to a dating application.
However, Bumble won't show your exact location on it.
Can I use Bumble without giving location permissions?
Right now, you have to provide Bumble location permissions while using the app. You can choose from the following options:
While Using the App: Your location will be used when the app is open and in use and not when app is running in the background
Always: your location will load when Bumble is open or running in the background.
If you choose Never, you will never be able to show a new location and find new matches.
Can Bumble track the location even if you are not active?
No, Bumble will not be able to track your location if you are not using the app. No app uses your location when it is running in the background, and it is illegal to do it anyway. So you can shrug this worry off your mind.
Why can't I see someone's location on their profile?
Dont worry if you cannot see someone's location on their profile. The location will not show if the user sets their profile on Snooze Mode. It also happens when someone has not opened their profile in several days.
To Conclude
Bumble is a popular dating app that offers various features to help you find potential matches. If you want to take a break from the app or hide your location for privacy reasons, several options are available.
You can put your profile in Snooze mode to pause it temporarily, use a GPS changer such as MockGo or install a VPN to hide your location and protect your privacy, or block the app's location access on your device.
By following these steps, you can use Bumble with greater control and flexibility while ensuring your privacy and security. Remember to always prioritize your safety and comfort when using any online dating app.