When it comes to playing Pokemon GO in this day and age, location spoofing has become the norm. With Pokemon GO PGSharp, you can easily spoof your location and catch all the Pokemon you want. In this guide, we will:
Learn more about PGSharp's features and prices
Understand how to install, use, and update PGSharp for Pokemon GO
Know an iOS alternative to PGSharp
Let's jump right in!
Does PGSharp Pokémon GO Still Work in 2023?
Yes. You can still spoof Pokémon GO using PGSharp without affecting the other functions of the device.
However, it is important to note that using modded apps such as PGSharp to spoof your location is against Niantic's terms and conditions and you can get suspended or banned if caught.
Especially, with the new updates in the security policy for Pokemon GO, PGSharp has become an unsafe method of spoofing and playing the game. Many people claim that their spoofing is now easily detected even if they wait for the cooldown period.
Similarly, many players on Reddit claimed their accounts were permanently banned as PGSharp, and all other third-party apps are under Niantic's crackdown.
Mind These Tips Before Using PGSharp
When playing the game, there are some things to keep in mind so that you can have a seamless gaming experience. They are:
Location Awareness:
When you first install PGSharp, it defaults to New York City. If you were playing in a different location before, you'd need to either teleport back or wait for a cooldown period (usually 2 hours) before catching Pokémon or spinning stops.
Emulator Use:
PGSharp isn't designed for use on emulators like Bluestacks or Nox. It might be glitchy, and some features may not work. Using emulators is riskier and can lead to quicker warnings or bans.
Buying Coins:
You can't purchase coins through PGSharp. To buy coins, uninstall PGSharp install the Google Play Store version, or if you have a Samsung phone, you can use both PGSharp and the Samsung Galaxy Store version simultaneously.
Play Fair:
It's important to keep things as legitimate as possible. Niantic frowns upon spoofing. Rapidly moving across the map at high speeds or catching Pokémon all over a country too quickly isn't advised.
Key Safety:
Never share your PGSharp key with anyone. If PGSharp support notices abuse, your key could be frozen for key abuse.
PGSharp Pokémon GO Features
If you are still willing to take the risk of getting your account banned, let's continue to know more about its features.
PGSharp has many features that make Pokemon GO much more fun to play. Not only do the features help you catch Pokemon and advance in the game, but they're useful in navigation as well. Here are some of the best features the app offers:
Custom Shortcuts for easy navigation.
Location Spoofing for exploring different places.
Speed Adjustment to control your in-game movement.
Joystick Controls for flexible navigation.
Hide Trainer Name for added privacy.
Inventory IV and Encounter IV for Pokémon stats.
Enhanced Throw for improved catching.
Auto-feed to keep your Pokémon well-nourished.
Quick Sniper for efficient location changes.
Quest Feeds for easy access to in-game tasks.
Cooldown Timer to manage waiting periods.
Quick Catch for faster Pokémon capturing.
Skip Cut Scenes for a streamlined experience.
Block Non-Shiny to focus on shiny Pokémon.
Quick Load Map Spawn Booster for faster map loading.
Instant Beat Team Rocket for efficient encounters.
Gym Battle Assistant for enhanced gym battles.
Is PGSharp Free?
PGSharp provides two versions, free and paid, allowing Android users to enjoy Pokémon Go. The Standard paid plan, priced at $5 per month, unlocks all features, while the free version has limited features.
If you purchase a Standard version (paid version), you will have access to all features, including:
Ability to teleport
Joystick to select locations
Favorites
Enhanced Throw
Encounter/Inventory IV
Caught Preview
Custom GPX
100 IV Feed
Nearby Radar
All Coordinates Feed
Quick Catch
Skip Animations
Block Non-Shiny
Auto Transfer On Catch
How to Install PGsharp?
One of the things that matters most when using PGSharp is installing it correctly and updating it whenever there's an update available. If you're looking to install the app, here's what you need to do:
Step 1. Prepare to Install:
Open the "Play Store" app and search for "Pokemon Go." Uninstall it because PGSharp and the official app can't be installed simultaneously.
Step 2. Download PGSharp:
Visit www.pgsharp.com and scroll down to "Other download links." Download the appropriate version for your device.
If you have a modern device, use "ARMv64" for 64-bit devices.
If you encounter issues, consider "ARMv7," especially if your device is older.
Step 3. Access Downloaded File:
Open your file manager app (Files, My Files, etc.). Navigate to "Internal Storage" and then the "Downloads" folder. Tap on the "pgs#.##.#.apk" file to start the installation process.
Step 4. Allow Unknown Apps:
You may need to allow installations from unknown sources. Follow the on-screen instructions; the steps might vary for different devices. Turn on the toggle for your file manager app to enable the installation.
Step 5. Open Pokemon Go:
Launch the "Pokemon Go" app after the installation is complete. Set your birth year to Jan 1, 1990, or any date that confirms you're over 18 years old.
Note: If you enter an age under 18, you won't be able to use Google or Facebook login.
Follow these steps carefully, and you should be all set to use PGSharp for your Pokemon Go adventures!
How to Use PGSharp for Pokémon Go
If you're a Pokémon Go enthusiast playing on an Android device, PGSharp can be a game-changer, allowing you to enjoy the game smoothly without interruptions.
This app comes with various tools and settings designed to enhance your Pokémon-catching experience. Let's explore how to setup these usage features step by step in a simple and user-friendly way:
Get PGSharp Beta Key
Before getting started, try to get the PGSharp beta key using these simple steps;
Step 1: Go to the PGSharp official website. Scroll down to click on the "Sign Up Now" button. This will allow you to sign up for a free trial.
Step 2: Once you've signed up, wait a few minutes for the beta key. If you see an "out of stock" message, it means that the server is out of service or is closed. In this case, you just need to try again later.
Step 3: If you get the beta key, full in the requested data on the next page and then create a password to log in.
Step 4: Complete the payment which in this case is $0 since it is a free trial and then click on the "Complete Order" button.
Step 5: Enter your log in details in the next page and then copy and paste the key code in the beta key column.
How to Setup PGSharp:
1. Speed Settings:Adjust your speed to 9.3 km when roaming around PokeStops. If you're aiming to hatch eggs, set the speed to 10.5 km.
2. Joystick Navigation:Use the joystick feature to easily navigate from one location to another on the map.
3. Hide Trainer Name:Decide whether to reveal or conceal your trainer's name, depending on your preference.
4. Caught Preview:Capture screenshots effortlessly with the Caught Preview feature.
5. Quick Catch:Enable this feature to catch Pokémon instantly without waiting for the usual shaking animation.
6. Remember Pokéball:For those who want to recall the last Pokéball used, turn on this option.
Different players have unique gaming styles, utilizing various controls and actions based on their preferences. To optimize your Pokémon Go experience with PGSharp, follow the suggested settings for a comprehensive gameplay experience.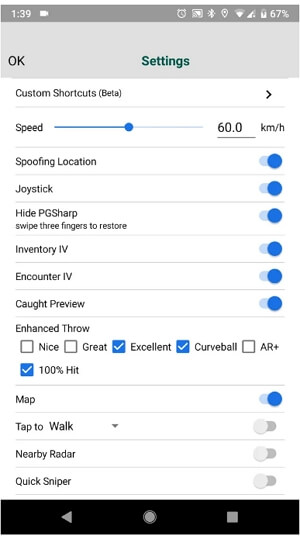 Understading the Map of PGSharp:
PGSharp's main screen offers a lot of features to explore the Pokémon Go world conveniently. Follow these steps:
Open the Map feature, you will then get a map view.
Tap the Search button and enter a real-world location or coordinates to teleport or auto-walk.
Use the map to locate Pokémon, zoom in and out of PokeStops, or navigate raids.
The map has buttons to display Gyms, Raid Battles, and PokeStops, making your exploration more efficient.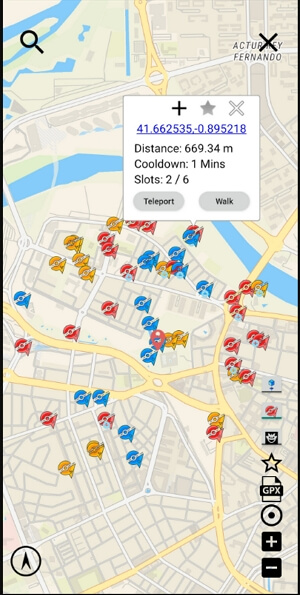 Teleporting with PGSharp:
Have you ever wished to teleport anywhere in the Pokémon Go world? PGSharp makes this virtual dream a reality with its automatic teleporting option. Here's how to enable it:
In the settings menu, tap the Teleport button.
Toggle on the button to teleport to your desired location in Pokémon Go instantly.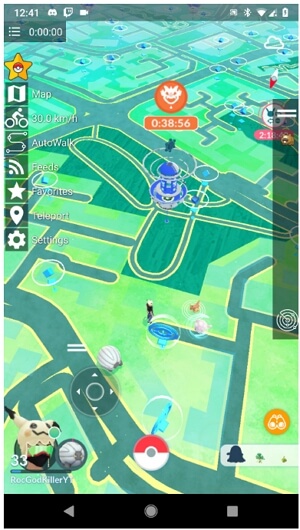 Nearby Radar in PGSharp:
PGSharp includes a Nearby Radar feature, allowing you to view Pokémon near your current location. Follow these steps:
Go to the Settings menu.
Scroll down and tap on the Nearby Radar option.
Turn on options like Load Shiny on Map, Scan Shiny, and Only Show Shiny for a customized experience.
Enable Push Notifications to receive alerts about nearby shiny Pokémon.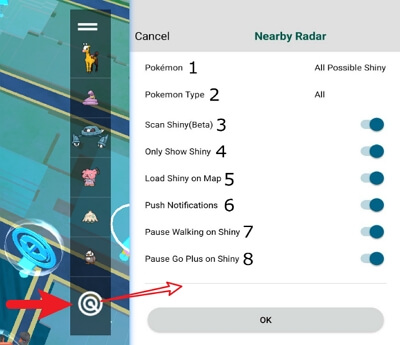 How to Update Your PGSharp App
Ensuring your PGSharp app is regularly updated is crucial to avoid errors and bugs while also unlocking new features and options. Follow these simple steps to keep your app current:
Open the PGSharp app on your device.
A prompt will appear, asking if you want to update to continue. Click "OK."
The app will then load PGSharp's official website, where you can download the latest version. Simply click on the "Download" button.
Once the files are downloaded, locate them in your File Manager under the "Downloads" section.
Tap on the downloaded files to initiate the installation of the latest PGSharp version.
Is There an iOS Version of PGSharp?
No, PGSharp is only compatible with Android devices. But you can use MockGo as PGsharp iOS alternative to spoof Pokémon GO for iOS devices. It is a useful, reliable and safe desktop iOS GPS spoofer and you don't need to reinstall Pokémon GO to use it.
The following are the main features that make MockGo and ideal solution for spoofing GPS location on iOS devices;
You can teleport your device to anywhere in the world, allowing you to catch rare Pokémon not available in your area
It allows you to simulate GPS movement along a specified route or two spots
The GPS joystick makes the movement appear more natural and easier to control
It is compatible with all versions of iOS including the latest iPhone 15 and iOS 17
To use MockGo to spoof GPS location on your iOS device, download and install the MockGo on to your computer, open it and then connect the iOS device to the computer. Click "Start" from the main page and then do the following;
Option 1. Teleport the GPS
With the device connected, you should see a map on the screen. To change the current location of the device to a new location, select "Teleport mode" icon on the top left corner and then choose the location you want to use.
Once the location has been selected, click on "Move Here" to teleport the device to the new location.
Option 2. Simulate GPS Movement
To simulate GPS movement, you can either choose the "One-stop" mode or the "Multi-stop mode" depending on the number of stops that you would like to make.
Specify the stops on the map and click "Move Here" to begin the simulated movement. You can use the speed slider at the bottom to select the speed that you would like to use.
Final Words
That's all there was for our PGSharp review. Although the features of the app may look impressive and might even make you feel like you can get past Niantic security updates, that's simply not the case. Any 3rd party app for the game is not recommended since those are the easiest to detect. You'd be much better off with a good location spoofer that allows you to play on the original Pokemon GO app!