Some people prefer buying second-hand mobile phones over brand-new ones since it's more budget-friendly and practical.
However, opting for a thrifty second-hand phone may also cost you some problems, especially if the previous owner forgot to remove his Google account.
Even if you did a factory reset on your device, you'd end up stuck on the Google account verification page because of Google's new Factory Reset Protection (FRP) feature.
Fortunately, software developers have created apps that can bypass Google's FRP. One of the latest releases is Dr.Fone's Screen Unlock (Android) app.
This article will discuss how this app works and how it bypasses FRP.
What is Dr.Fone Screen Unlock (Android)?
Dr.Fone Screen Unlock (Android) is a downloadable software program that can bypass various security features like screen locks, pattern locks, and Google FRP.
What's good about this program is that it's user-friendly, meaning you can use it by simply following few easy steps. You can download Dr.Fone Screen Unlock and enjoy amazing features such as:
Bypass FRP on Samsung device
Unlock your device without needing a password
Easy-to-follow steps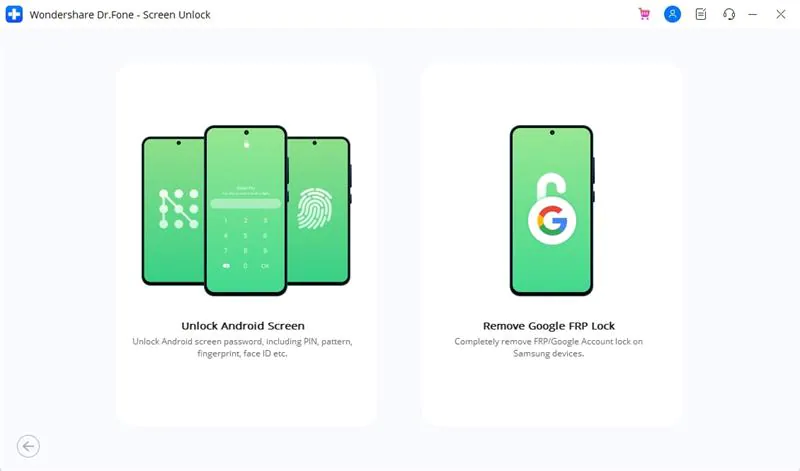 There are many software programs out there that provide the same service as Dr.Fone Screen Unlock (Android). For newbies, you might wonder if Dr.Fone Screen Unlock is the right app for your bypassing needs.
To help you weigh down your options, we provided a list of pros and cons of Dr.Fone Screen Unlock.
Pros
It can bypass security features including pins, pattern passwords, and fingerprints
It has a user-friendly interface
It can remove Google FRP lock for Samsung devices
It can unlock your device within minutes and without needing a password
It's compatible with both Windows and Mac devices
It can bypass security in thousands of iOS and Android device models
Cons
It may not support some iOS and Android device models, especially older ones
It has limited customer support service
It doesn't support Android 11 and 12 FRP bypass
How to Use Dr.Fone to Bypass FRP
If you want to bypass Google's FRP on your Samsung device, Dr.Fone Screen Unlock can help you do it quickly and easily.
In this section, we will share the step-by-step process of removing Google FRP using Dr.Fone Screen Unlock.
Note: Dr.Fone doesn't support bypassing FRP on Samsung devices running Android 11 and Android 12. If you are looking for an alternative, jump to the next part.
The first step is downloading Dr.Fone Screen Unlock (Android) on your PC or laptop.
Once installed, launch the app and connect your device to your PC or laptop.
You will be shown a variety of options. Select the Screen Unlock option to continue.
On the next screen, select the Unlock Android Screen/FRP option.
Next is to tap, Remove Google FRP Lock.
On the next page, you will be asked to select your phone's Android version. If you're not sure about your phone's Android version, click the Don't Know The Version option. Then, you will be shown a series of instructions on rebooting your device.
After choosing the correct Android version, tap the Start button.
A prompt will appear asking for confirmation. Click OK to continue.
You will be shown instructions to bypass Google FRP. Simply follow the instructions given to you throughout the process.
Once instructions are completed, Google FRP should finally be removed from your device. You can now use your device and sign in or create a new Google account.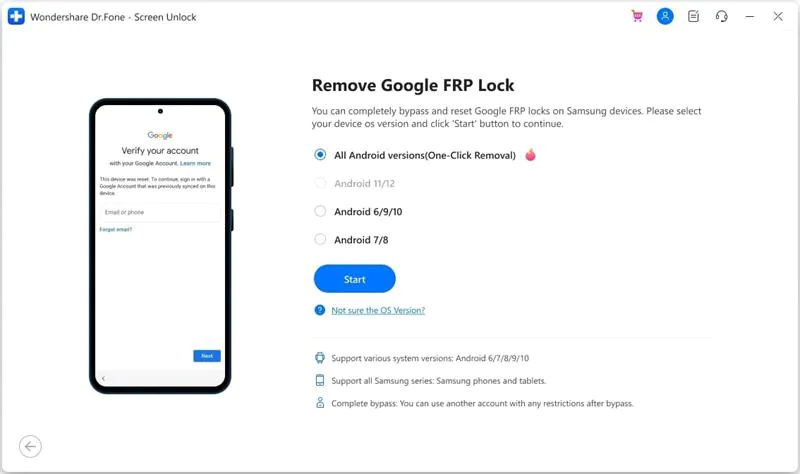 Dr.Fone FRP Bypass Alternative: Unlockit Android
Dr.Fone Screen Unlock did not work for FRP bypass? Don't worry because you can also use Unlockit Android, which is an effective alternative tool to bypass Google FRP.
With this app, you can enjoy amazing features like:
Bypass FRP in Android versions five to twelve
Remove FRP with just a few steps
User-friendly interface
Compatible with over 2000 Samsung mobile phone and tablet models
Support Android 6, 7, 8, 9, 10, 11, 12
Follow the step-by-step process below to remove Google FRP using Unlockit Android:
Step 1. The first step is to install Unlockit Android on your PC or laptop.
Step 2. Once installed, Launch Unlockit Android. And connect your device to your PC or laptop using a USB cable.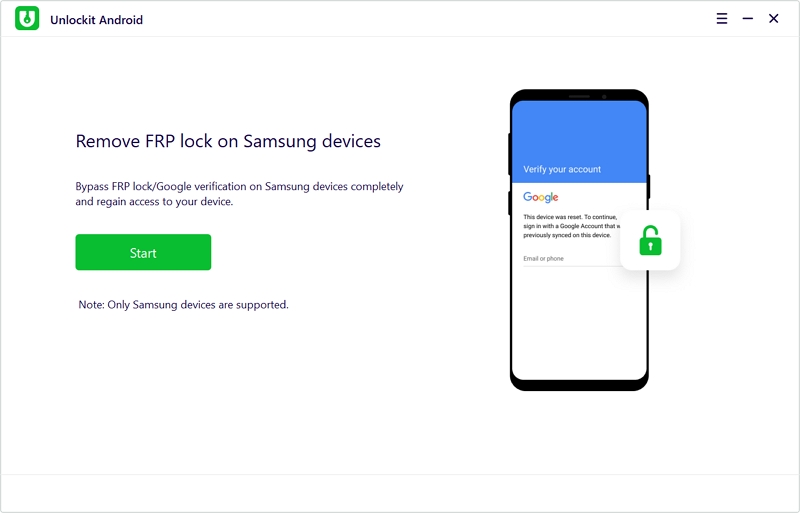 Step 3. On the next page, you'll be asked to choose the correct Android version of your device. We recommend choosing All Android Versions for a quicker and easier process.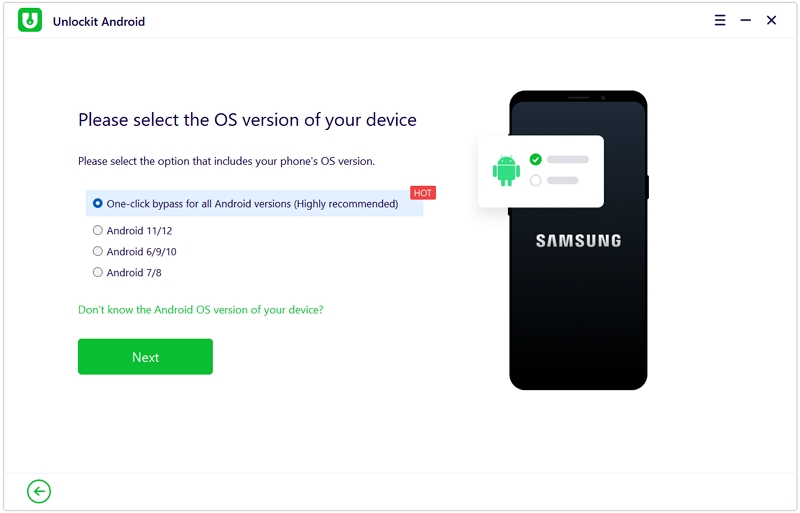 Step 4. Unlockit Android will start working. It will ask you to enter test mode and activate USB debugging on your device. Just follow the instructions along the way.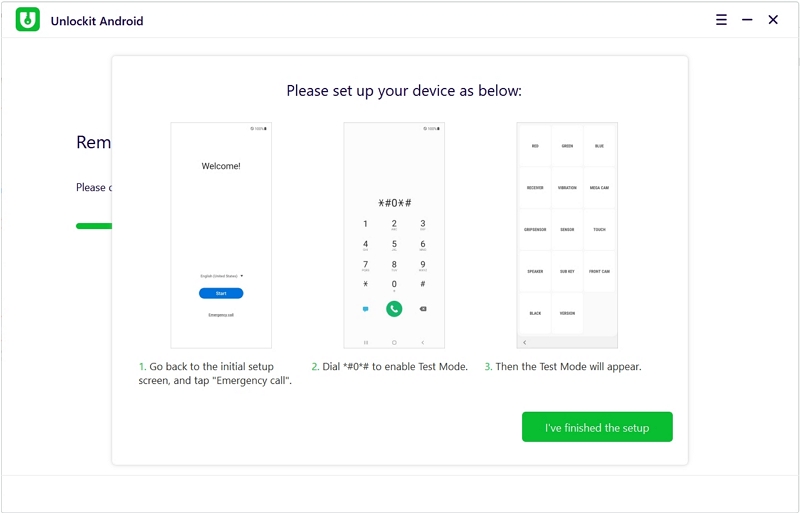 After going through the instructions, your phone will automatically reboot. And a prompt will appear saying that bypassing is successful. Click Done to finish.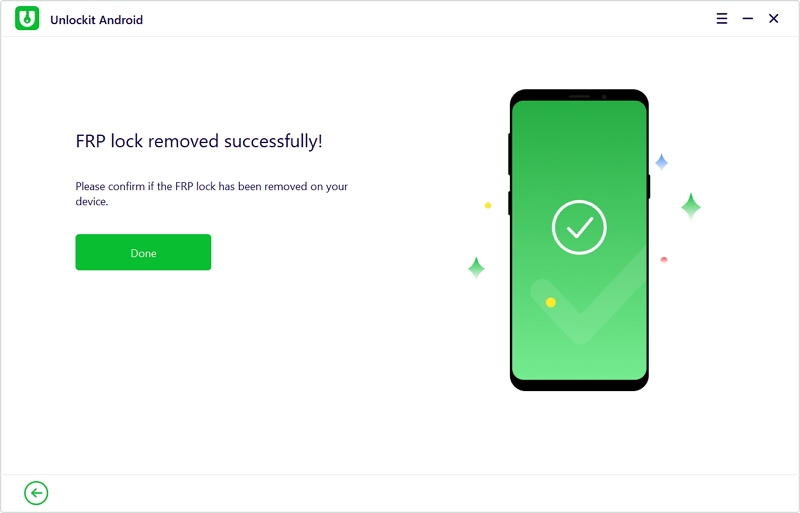 Now, you can use your phone and sign in to your personal Google account.
Wrap Up
Dr.Fone Screen Unlock is a good bypassing tool for both Android and iOS devices. However, it also comes with a few disadvantages. Because some older device models cannot support Dr.Fone Screen Unlock, thus cannot help you bypass Google FRP.
Fortunately, there is an alternative tool you can rely on, which is Unlockit Android. This app can support Android versions six to twelve. It is also very easy to use since you only have to do simple and quick steps to bypass Google FRP.
We hope this article helped you find ways to bypass Google FRP on your phone. Have any questions and comments? Make sure to jot them down in the comments section below.