Since Android introduced the Factory Reset Protection (FRP) function, several users have been looking for ways to go around it. This article will discuss bypassing FRP on your Samsung tablet running on any Android version.
But before we get started on bypassing the FRP, let's first talk about what an FRP is.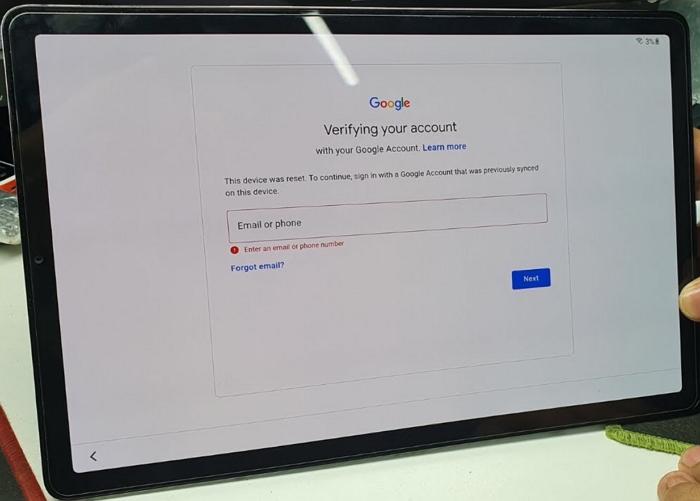 What is FRP?
Factory Reset Protection, also known as FRP lock, is a safety measure to prevent a stranger or thief from doing a factory reset on a lost or stolen device.
If a factory reset is attempted, the FRP lock will be activated, disabling the device's access. When the FRP lock is activated in your Samsung tablet, you won't be able to boot into the device's operating system at all.
Your Samsung tablet will request the device's most recent Google account information. If you still have access to it, you can easily unlock your tablet by simply inputting it.
However, if you don't have the account information or have forgotten it, you will be restricted by the FRP lock.
So, if you own a Samsung tablet and it got FRP-locked, read on below to learn the different ways how to bypass it.
One-Click Samsung Tablet FRP Bypass
Do you want a fast, safe and easy way to bypass the FRP lock on your Samsung tablet? Then we give you one of the most highly recommended FRP bypass tools available on the market.
Unlockit Android is a powerful Android lock screen removal tool that can bypass Samsung tablet FRP locks. Even beginners won't have trouble using this tool because it is secure and straightforward.
See its main features:
No technical knowledge is required.
Support for the latest One-click FRP bypass technique
Sign in with a new Google account after unlocking
Compatible with all Samsung devices and Android OS 6 or later
Website support and regular software upgrades
Safe and secure to use
To unlock your Samsung tablet using Unlockit Android, follow the steps below:
Step 1. To begin, download Unlockit Android and install it on your computer.
Step 2. After the installation, open the program, connect your Samsung tablet to your PC using a working USB cable. Click on Start to proceed.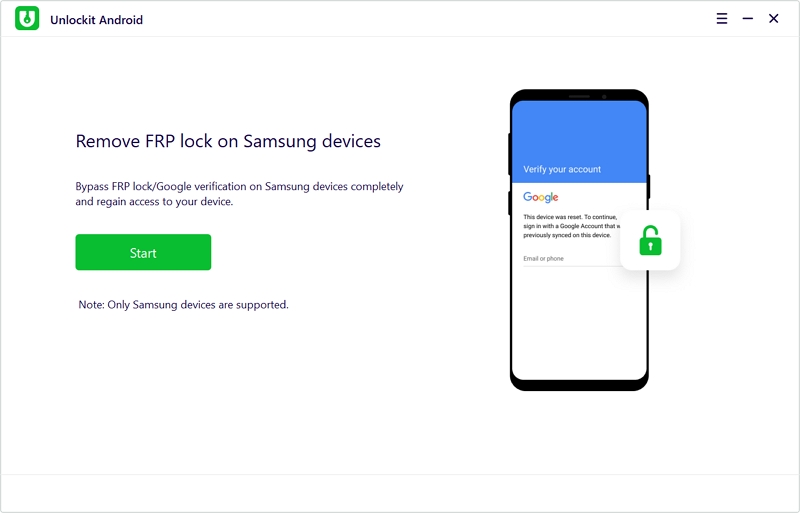 Step 3. Next, select the OS version of your Samsung tablet. Select All Android versions if you're not sure what your OS version is. Then click on the Next button to continue.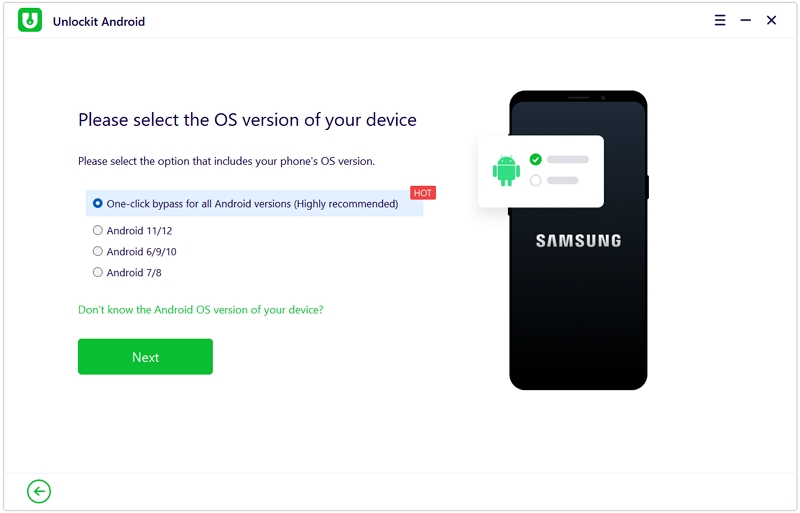 Step 4. After that, your Samsung tablet will receive a notification from Unlockit Android asking you to enable test mode and allow USB debugging. Follow the on-screen instructions to set it up and click Next proceed.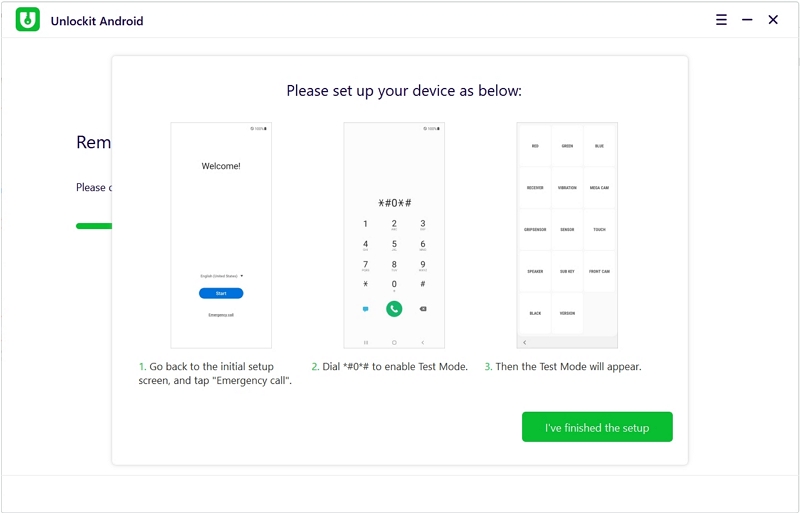 Give the process a few seconds when it's finished, and your device will restart automatically. There you have it. The FRP lock on your Samsung Tablet has been successfully removed with just a few easy steps.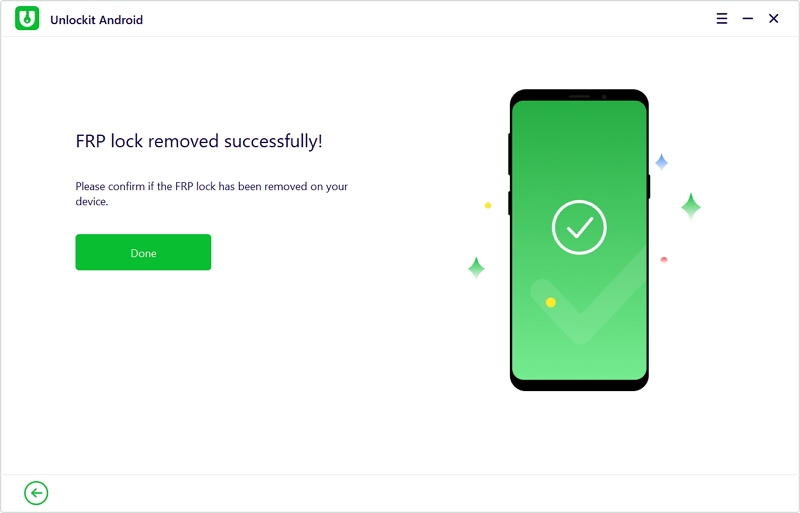 After reboot, you can adjust your settings to your liking and use your phone without the FRP Lock.
Samsung Tablet FRP Bypass Without PC
There is also a solution for those who don't have a PC but still want to get around the FRP on their Samsung Tablet. This is known as the Talkback Method. Make sure your battery level is at least 50%-60% before doing this method.
Now, carefully follow and perform the steps below:
First, press the Power + Volume Up buttons to turn on Talkback.
A confirmation will appear. Tap Use to proceed.
Then, press the Power + Volume Up buttons again to go to the Talkback screen.
Now, draw the Reverse L "⅃" on your screen and select Allow.
A message will appear, tap Use voice commands.
Now, you can command your Tablet with your voice. Clearly say "Open Google Assistant".
Then say, "Open YouTube".
After Youtube opens, you can now turn off Talkback. Press the Power + Volume Up buttons for the last time to do this.
On YouTube, tap the User icon > Settings.
Go to About > Google Privacy Policy > Accept & continue > No, thanks.
Google Chrome browser will open. Type in ictfix.net or simply click on the link to proceed.
On the website, tap on the "≡" icon in the upper right corner of the screen and tap on APK FRP & APK Files.
Find and tap on Open Alliance Shield Download (direct Samsung Store).
This will redirect you to the Galaxy Store. Tap Continue > Install to install the Alliance Shield app.
After installation, launch the app and tap SKIP.
Sign in with your Alliance Shield X account. If you don't have one, simply tap Register to create a new one.
Tap on Device Admin > Activate. This will give you admin access.
Now, tap on Knox > I have read and agree to all terms and conditions above > Agree > Next > Finish.
Now, on the Alliance Shield X main menu, tap App Manager.
Tap the search icon in the upper right section and type in "Android Setup". Tap on Android Setup to go to App Details.
On the Android Setup App Details, go to the Actions tab at the top and tap FORCE STOP > WIPE APP DATA > OK.
Now, tap on "<" in the bottom left corner to go back.
Then, search for "Samsung setup wizard" and click it.
Same with the Android setup, go to the Actions tab and tap FORCE STOP > WIPE APP DATA > OK.
Again, tap on "<" to go back.
Now, search for "Google Play services" and tap on it.
Go to the Actions tab and click FORCE STOP > WIPE APP DATA > OK.
Then, tap on "<" to go back for the last time.
Lastly, search again for "Samsung setup wizard" and tap on it.
Then, go to the Activities tab > com.sec.android.app.SecSetupWizard.SecSetupWizardActivity > Open.
Finally, tap on Next > "<" icon > Finish.
There you have it. After waiting for a few seconds, you can now use your FRP-lock-free Samsung tablet.
Unlockit Android vs Talkback Method
As the information above suggests, using Unlockit Android to bypass FRP on your Samsung tablet is much simpler and faster compared to the complex and lengthy method of those without a PC.
However, Unlockit Android is not a free software. The free version only lets you check for device compatibility. You need to have the premium edition of Unlockit Android to use all of its incredible features. Unlockit Android offers $29.95, $39.95, and $49.95 per year, month, and lifetime plans, respectively.
Why pay to remove FRP when you may do so for free may be a question on your mind. The main reason is most of the free ways may contain virus that could harm your device or steal your privacy, which will bring more losses.
Unlockit Android is a worthy investment because it is among the best Android unlocking tools and can solve several Android lock issues. In just a few minutes, you can unlock your Samsung Tablet. The user interface is clear and straightforward, and Unlockit Android supports various Android devices.
Wrapping Up
There are several ways to bypass the FRP lock. However, using Unlockit Android is our recommended solution. Unlockit Android is a quick, safe, and user-friendly way to unlock your tablet if it got FRP-locked.
We hope the information provided here has helped you successfully bypass your tablet after FRP has locked it. If you have any thoughts, feel free to share them in the comments section below.