Tired of seeing the same 'Enter Apple ID and Password' prompt on your iCloud but not having the faintest clue about the previous owner's credentials? I've been there. While it may not be the worst thing to happen to an iPhone user, it's still very frustrating to deal with. The iCloud activation lock continues to traumatize us in new ways.
But when it comes to unique names for iCloud unlocking related services, iHaxDNS iCloud unlock definitely makes the list. But apart from its unique name, this tool is beloved by many on the internet and has quite a reputation. If you haven't used it yet and are wondering if it works or not, yours truly is here to help. So, let's get started.
What is iHaxDNS iCloud Unlock?
iHaxDNS is only one of the applications provided in the DNS bypass menu and it helps conduct a DNS bypass on your iCloud activation lock to make it easier for you to use it. It self doesn't necessarily disable the activation lock.
Traditionally, the activation lock prohibits you from getting access to the device and using certain apps, but if you can change the IP settings of your WiFi, it becomes easier to bypass the iCloud lock. Then you can enjoy most of the features of your phone without causing any permanent changes.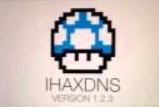 How To Unlock iCloud Using iHaxDNS
Unlocking your phone using iHaxDNS is fairly easy. Here are the steps you need to follow to ensure a smooth follow-through:
Turn your iPhone on and choose country and language from the main menu.
Tap on the 'Proceed' button to access the Wi-Fi settings. You'll see an 'i' in a circle symbol near the Wi-Fi tab, and you need to tap on it.
Now, you'll need to add an IP address that will bypass the initial iCloud activation lock. Depending on your location, use one of the following IP addresses:
USA: 104.154.51.7
Europe: 104.155.28.90
Asia: 104.155.220.58
Australia and Oceania: 35.189.47.23
South America: 35.199.88.219
Other regions: 78.100.17.60
Go back to the previous screen and punch in your Wi-Fi details. Be careful not to click on the 'Next Page' button.
Instead, go back to the iCloud activation bypass screen and scroll all the way down to the end.
Locate the 'Menu' and install your desired apps.
In applications, look for iHaxDNS and tap on it. Within a few seconds, the logo will appear, and your phone will be unlocked.
When you look at the steps closely, they're the same as a regular DNS bypass, and the phone is technically unlocked at the point you pick iHaxDNS from the menu.
This is why iHaxDNS is more of an option in the DNS bypass menu that helps you manage your phone easily.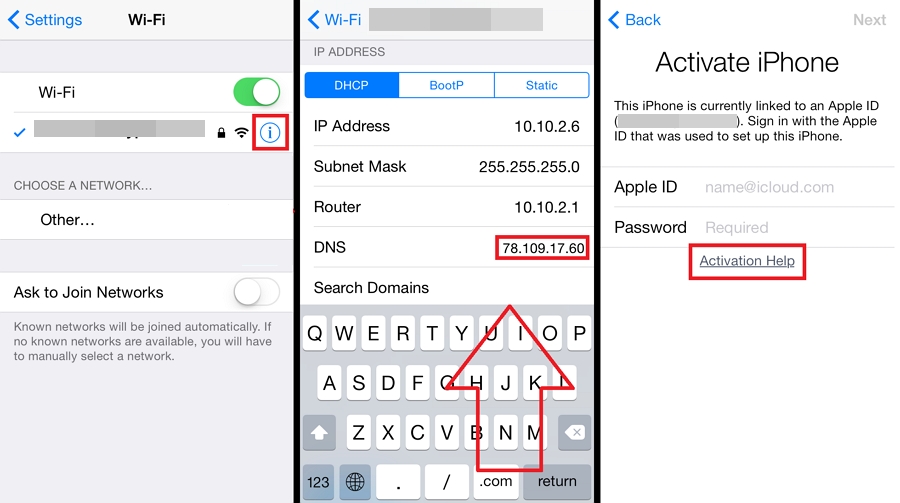 Review of iHaxDNS iCloud Unlock
Although DNS bypass is often hailed as a fool-proof method of getting past the iCloud activation lock, there are some limitations to the method as well. When I was testing it out, I found out these small things:
There is no guarantee that the bypass will be successful.
You can only access some of your iCloud features after the bypass.
It is usually most effective for iOS 8-10 and is incompatible with many latest versions of iOS, such as iOS 15, iOS 17.
Once you have bypassed your iCloud activation lock, you can only access some of the features, not all of them.
This is just a hack to get past the iCloud lock temporarily; it's not a complete unlock.
When you restart your phone, you'll have to go over the process again.
These limitations make you question whether or not it's worth it in the long run. Personally, I'd prefer a method that would at least ensure a long-term solution so I don't have to keep bypassing iCloud whenever I restart my phone.
iHaxDNS iCloud Unlock Not Working? Try Unlockit iCloud Remover
Let me guess, you tried bypassing the iCloud activation through the DNS method, and it didn't work? Same! That's why its better to use services with guaranteed success rates and an authentic method for unlocking your phone.
There are a lot of websites on the internet that claim they can do so for free, but often times they either require your Apple ID credentials or simply have fake download links full of viruses. When it comes to your iPhone, always go for a secure service instead of some shady one online.
Introducing Unlockit iCloud remover, an iCloud bypass software that not only cares for your phone but makes the activation lock removal as easy as possible. You're gonna thank me for this later!
Features of Unlockit iCloud Remover
Here's what sets Unlockit apart from the rest of the options available to you:
Establishes a secure method to bypass iCloud activation lock and iPhone or iPad locked to owner.
Does not damage your data and phone software during the process.
Lets you set up a new iCloud account in the Apple Store or iTunes store.
Disables the previous owner from being able to track your phone.
Has an easy-to-use interface that lets new users unlock their iCloud too.
Compatible with iPhone devices from iPhone 5S to iPhone X, a wide range of iPad models running from iOS 12 to iOS 16.
How To Use Unlockit iCloud Remover
Now to make sure that things are as easy as they can be for you, let me present you with a step-by-step guide on how to install and run Unlockit. So without further ado, let's jump into it:
Step 1. Once you've downloaded the tool on your macOS computer, go ahead and get it running.
Step 2. Now launch the tool and it is time to connect your iPhone device to the computer with the help of a USB cable.
Step 3. After that, you can continue through the initial steps by clicking "Start" and agreeing to the agreement.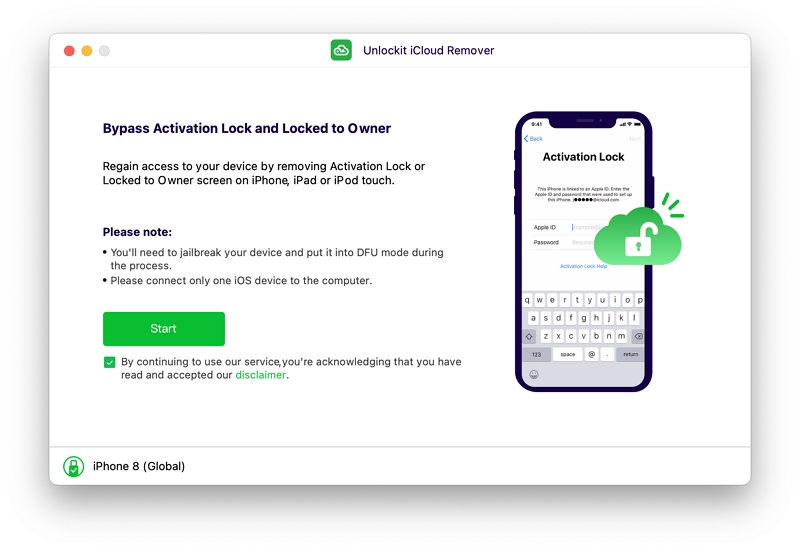 Step 4. For the tool to work properly, the device needs to be jailbroken. However, don't worry as the tool with scour the internet and download the most suitable package for your device.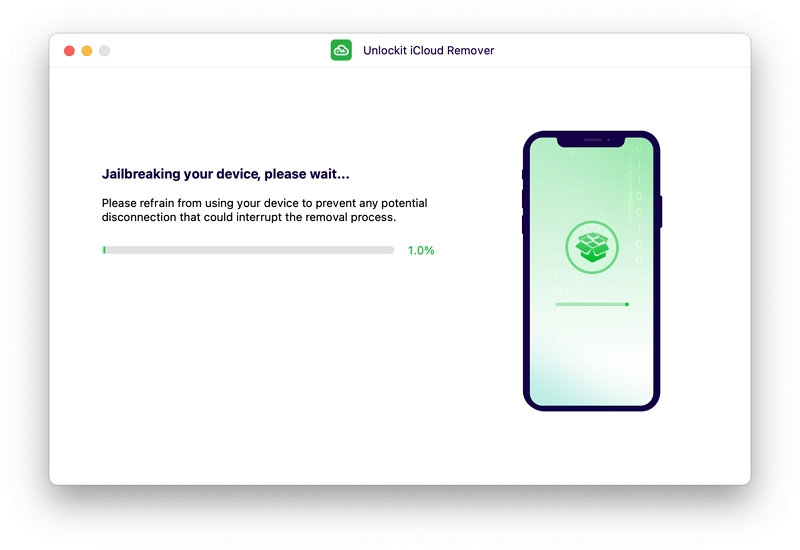 Step 5. Once the jailbreak is complete, click "Start to Remove" to remove the Activation lock.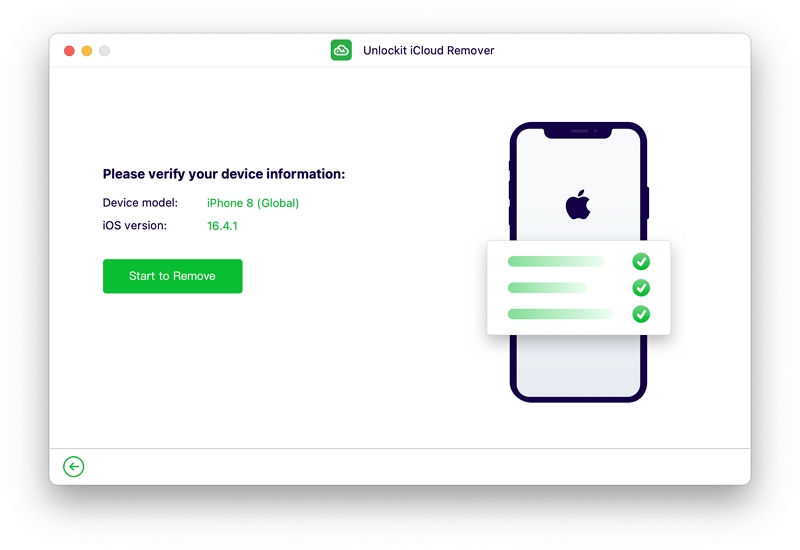 Unlockit will notify once the removal is finished.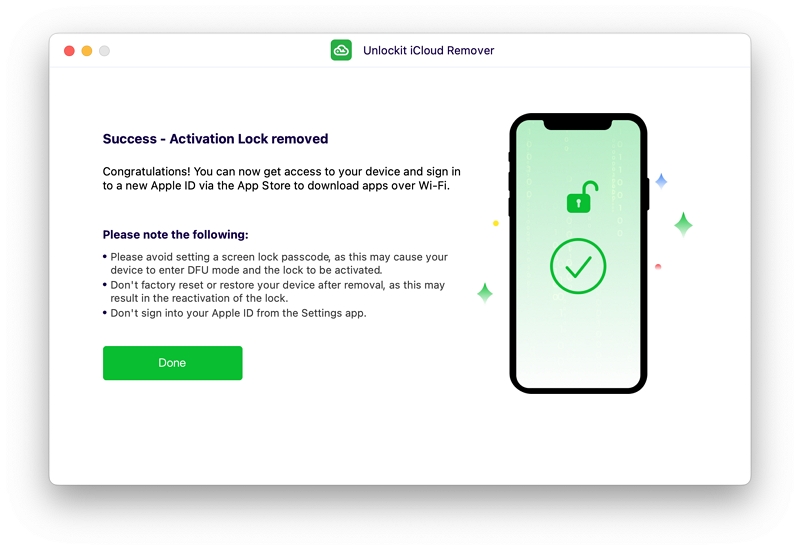 Along with these amazing features, there are a lot of positive reviews on the internet about the Unlockit. So even if you don't take my word for it, there are so many others out there to back up my claim. With all this to offer and more, why not try it out?
Final Words
Well, when it comes to iCloud activation lock removers, there's a dime a dozen on the internet. However, most of them are scams, and some simply don't work very effectively. It's better to focus on a service with actual potential and guaranteed results so you don't end up wasting your time. The Unlockit iCloud Remover is a much better option as compared to the iHaxDNS due to its ease of use and higher success rate. I know which one I'd pick, do you?