Are you tired of getting locked out of your iPhone because of the iCloud activation lock? I mean, I understand this wouldn't happen if we had access to the Apple ID and password, but like sometimes you just forget or you get a second-hand device.
If you're going through this stressful experience, you may have heard of another program: Activation ID Extractor. Let's check it out to see if it truly works to extract the Apple ID and password!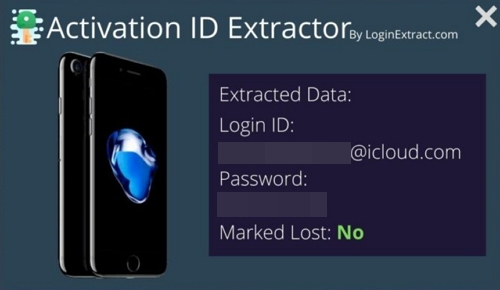 What is Activation ID Extractor
Unlike most bypassing software on the internet, the Activation ID Extractor is a tool that extracts the login information from your device, mainly the Apple ID and password, allowing you to clear the iCloud activation lock.
You simply enter the credentials provided by the program, and you're good to go. Not only does it claim to make logging in easier, but it also helps you access all of features on the device, including iCloud account settings, SIM card related functions, etc. If you're wondering what conditions to use it under, here are a few to help you out:
You just bought an iPhone from a previous owner and either forgot the credentials to their iCloud or don't have them at all.
Your iPhone isn't letting you log out of the existing owner's iCloud and sign into yours.
Your jailbroken phone was reset or updated, and now you need to get past the iCloud activation again.
Features of Activation ID Extractor
It does not need to jailbreak your phone.
You can get past the iCloud activation in a matter of minutes.
The interface is easy to use for beginners.
It is compatible with many computers.
There is no limitation on the usage of the program.
How Much Does Activation ID Extractor Cost
With so many features, one must think this is a one-time use service or at least a program that costs a lot. But no, this program is actually completely free. Just download it, run it on your computer with your iPhone connected, and watch the magic happen. It's almost too good to be true!
Where To Download Activation ID Extractor
Now here's the tricky part. Although reviews for this program exist on the internet, along with many tutorials, there is actually no authentic site to download it from.
You cannot find the download link for free anywhere on the internet. There are some third-party websites that claim to have the software and give you access once you download it through them.
However, these sites require you to make an account and almost always charge you money. In my opinion, that really defeats the purpose of making the tool free in the first place.
Since I can't direct you to a link to download this program, the one advice I can give is that you take the necessary precautions and protect yourself from viruses or malware. And remember, never pay a third-party website for a tool that is claimed to be free to download.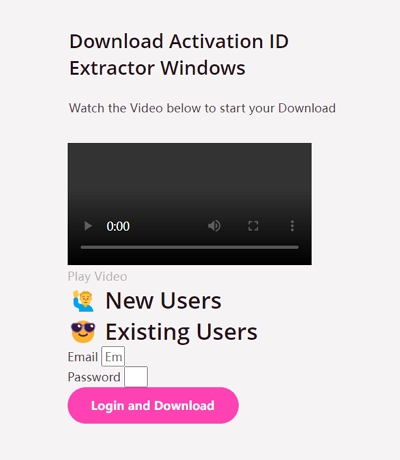 Review of Activation ID Extractor
Up until now, I've only explained what is generally said about the program, but if you were to ask me for an honest review? Even though, in theory, the iCloud bypass tool seems great, there are enough bad reviews on the internet to make me suspicious. After trying it out for myself, I was convinced that something was wrong. Here's what set me off:
No Official Website
The first red flag was that the tool has no authentic website of its own. Instead, it was mostly distributed via third-party cities making most of their pay-to-download tactics. This was already alarming, considering you never know what you've downloaded until you actually run it and check it out.
Outdated Software Version
Secondly, I believe the software versions for this program are outdated. Not only does it have compatibility issues with newer model iPhones, but it also tends to lag and run slow on updated computers. This causes the estimated time of bypassing the iCloud lock to increase by a lot.
Security Risks
And finally, there are just way too many security risks involved. From downloading suspicious software from unknown sites to the various accesses the program requires when being installed, I was already fearing for the safety of my data. To add to this, like many people, I couldn't recover all of the iCloud functions once the bypass was done. After a month or so of use, I noticed the deteriorated quality of my phone and finally had it checked by a professional.
Alternative That Really Works to Remove iCloud Lock
If you would rather not risk your device, you can try Unlockit iCloud Remover. This desktop solution is widely available with an official website and official download links. It is also a safe and effective solution, easily unlocking devices from iPhone 5S to iPhone X, running from iOS 12.0 to iOS 16.
The following are the advantages of choosing Unlockit iCloud Remover;
It is a very easy-to-use solution. You can unlock your device in a matter of minutes even if you have never used similar software before.
It is also a professional tool developed by a reputable software company. Customer support is always accessible to all users.
It is safe and will not affect any of the personal data on your computer or device.
Follow these steps to use Unlockit iCloud Remover to bypass iCloud Activation Lock:
Step 1: Download and install Unlockit iCloud Remover on your macOS computer.
Step 2: Open it and connect the iOS device to the computer. You should also make sure that the computer is connected to the internet.
Step 3: In the main window, click the Start button to proceed.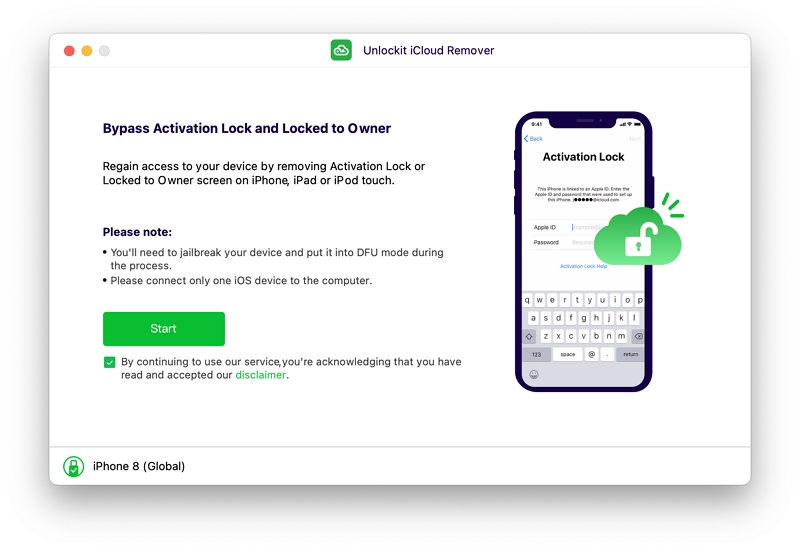 Step 4: Then just follow the on-screen instructions to jailbreak your device.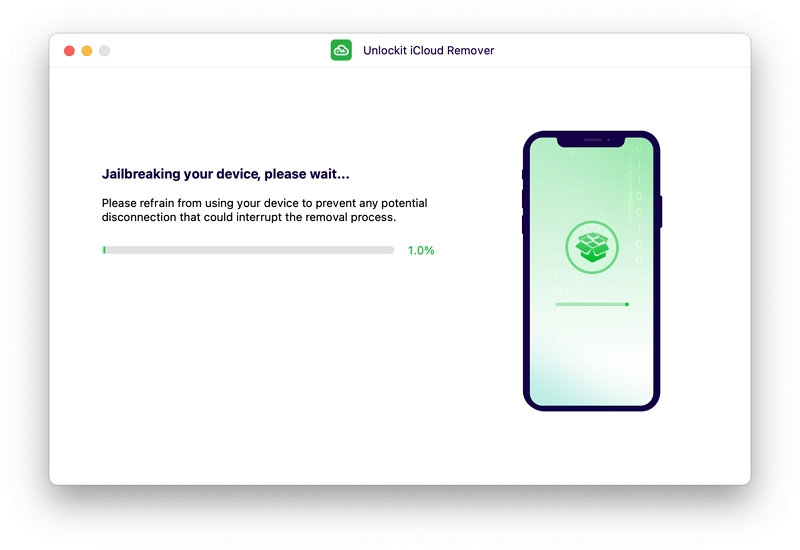 Step 5: Next, Unlockit will start to remove the Activation lock on your device. In just 5 minutes, you should be able to set up and use your device.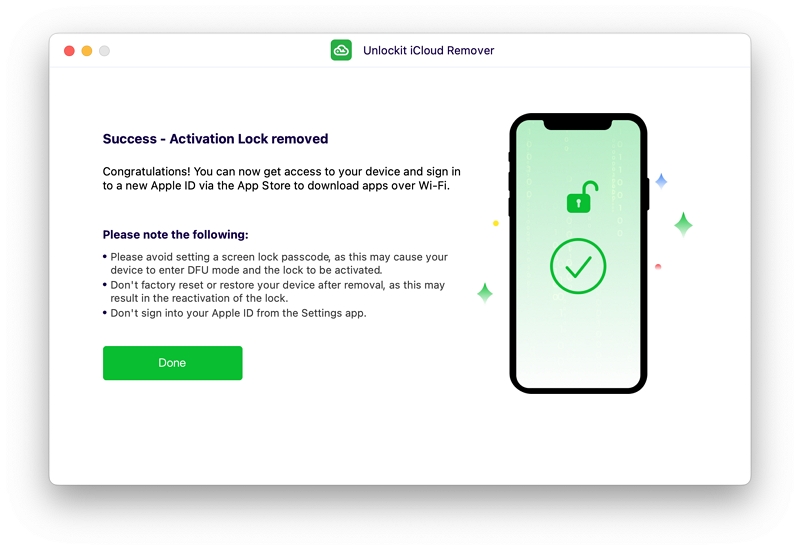 In Conclusion
Removing iCloud Activation Lock on any device is a delicate process and not every tool will be able to do it effectively. Some tools may even prove to be dangerous for your device. But once you find a reliable solution like Unlockit iCloud Remover, the process is easy.