Companies have found a great way to remotely control the employees' devices by enrolling MDM profiles on their devices. However, the MDM restrictions could be annoying if you purchased a used iPad and found that it is supervised with an MDM profile or it is locked in the remote management screen.
Fortunately, there are a couple of effective ways to remove the MDM lock from iPad. Let's get right to it.
Why Bypassing MDM on iPad?
MDM, or Mobile Device Management, is frequently used by organizations to manage and protect their numerous mobile devices, such as iPads.
Nevertheless, a device can also have an MDM even if they are not part of an organization.
There are a number of reasons why someone would wish to remove the MDM lock from their device, such as:
Unable to use the iPad: Users are unable to access your iPad due to the MDM lock that was activated during the setup process.
Personal privacy. The MDM profile may be keeping track of personal information, and the user may want to take back control of their device and personal data.
No longer a member of the organization. The MDM profile is no longer required if the user has left the company or is not using the device for work-related activities.
Performance issues. The MDM profile can potentially cause device performance issues such as slowdowns, crashes, or battery drain.
Restrictions. The MDM profile may restrict some features or applications that the user wants to use.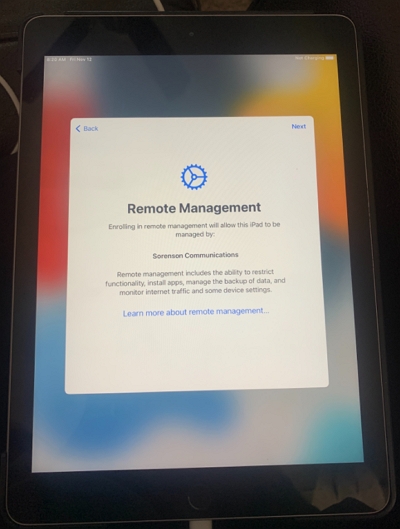 Picture source: discussions.apple.com
Via Administrator's Help
The first try to remove the MDM lock is to ask help from the administrators who control the device and have them delete it for you.
Or if the MDM profile is set to removable, you might be lucky to delete the profile from iPad settings on your own using the following steps:
Go to Settings > General > Device Management. (Go here to initially check if there is an MDM profile present on the iPad)
Now, tap on the MDM profile you want to remove.
You can check the information about the MDM profile here. Tap on Remove Management to proceed.
Finally, the device will ask for the MDM profile password. Input the password, and the MDM profile will be removed after a short while.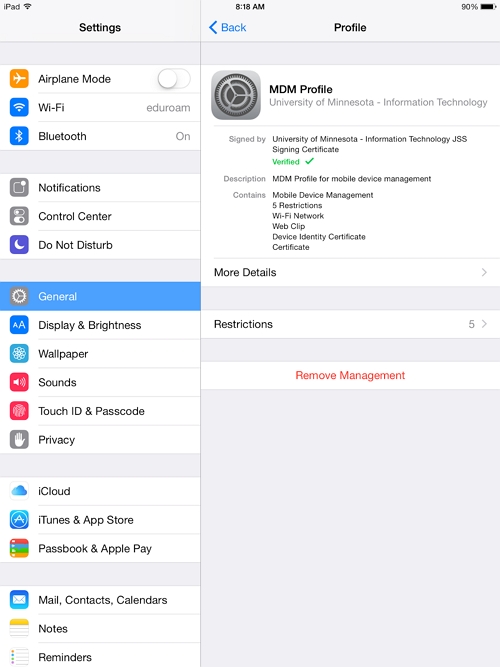 If this method didn't work for you despite inputting the correct login credentials, then you can try the next effective unlocking method.
Remove MDM in 1 Click Via Unlocking Tool
If you are unable to contact the administrator to get the login infos, Unlockit MDM bypass tool should be your first choice. It is an advanced program that can bypass MDM on your iPad without password in just 30 minutes. It's easy to follow, making it suitable for both techies and non-techies.
Why Choosing Unlockit iPhone
Remove various MDM profiles, such as Jamf or Filewave MDM profiles.
Remove MDM without username and password.
No restrictions to using the iPad after bypassing MDM.
Compatible with all iPad models and iPadOS versions.
Here are the steps on how to use the app:
Step 1. First off, download and install Unlockit onto your computer.
Step 2. After installing, launch the app and click on Bypass MDM Lock.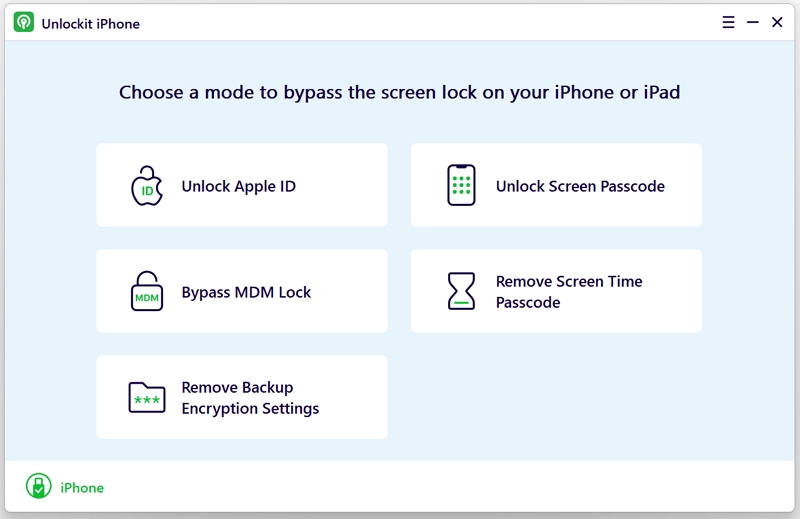 Step 3. Next, connect your iPad to your PC through a cable.
Step 4. Finally, click on Start to start the bypassing process.
After waiting for a couple of minutes, the MDM profile on your iPad should be removed. Simple, right?
Via Jailbreak
The jailbreak method is another option for you if you want to remove the MDM on your iPad as it is 100% guaranteed to work.
This method can also be considered the hardest, due to the fact that even the slightest mistake could result in your device failing or, in the worst case, bricking it.
So, in this step-by-step tutorial, we included one of the simplest methods to remove MDM via jailbreak.
First, you need to Jailbreak your iPad. You can proceed to step number two if your device is already Jailbroken. If not, here's how:

Open your browser and go to tweakboxapp.com.
Tap Install Now > Allow > Close.
Go to Settings > Profile Downloaded > Install > Install > Done. Now, you will have the TweakBox app on your device.
Launch TweakBox > I Accept > Apps > Tweakbox Apps.
Scroll to find and tap on unc0ver Jailbreak > Install > Install. Wait for the app to finish installing.
When you try to launch the app, your device will not allow you since it has an Untrusted Enterprise Developer. To fix this, go to Settings > General > Profiles & Device Management > Enterprise Developer > Trust "Enterprise Developer" > Trust. After that, unc0ver Jailbreak will now run.
Before you start to jailbreak, make sure your iPad is in Airplane mode. Once it is done, launch unc0ver Jailbreak and tap on Jailbreak. Wait for your device to finish jailbreaking.
When it is done, tap on Ok. Your iPad will restart, and your device is now jailbroken. To check if your device is indeed jailbroken, the Cydia app will be automatically installed and can be found and opened on the home page.
Note: The app has the tendency to state that the jailbreak is completed, when in fact it's not. When this happens, just open the app and tap on Jailbreak to try again.
Make sure to turn the device into Airplane mode every time you restart the process. The device will eventually be Jailbroken, and you can confirm it if Cydia is present on the home page.
Next, download and install Filza.
Then, launch the app and go to "/var/containers/Shared/systemgroup.com.apple.configurationprofiles/Library/ConfigurationProfiles/"
Finally, select and delete the MDM files you want to remove.
Note: Be very careful in removing files. Removing any other files may cause failure or data loss. Make sure you only remove your desired MDM files.
There you have it. Once you delete the MDM files, the MDM profiles will be removed as well.
If you're not confident enough to jailbreak your iPad, or you are hesitant to remove files in your iPad's system, it's best to consult with an experienced jailbreaker or seek out professional assistance.
Additionally, it's important to be aware that jailbreaking an iPad, especially with the intention of removing an MDM profile, may be illegal in some nations and jurisdictions.
You should familiarize yourself with local laws and regulations before attempting to jailbreak your device.
Cons of Jailbreaking Your iPad
Jailbreaking an iPad involves eliminating Apple's limitations and enabling the user to install and run unauthorized applications.
Jailbreaking has several benefits, such as more customization and flexibility. However, it also comes with some disadvantages.
Security risks. The iPad may become more susceptible to malware and security risks after being jailbroken. Unauthorized software could contain malware or other harmful code that endangers the device's and users' personal data security.
Warranty void. Jailbreaking an iPad can void its warranty, which means that Apple won't offer support or repair services if the device is damaged or suffers a technical problem.
Compatibility issues. Jailbreaking the iPad may result in problems with future software upgrades and other applications. Additionally, installing unauthorized software might cause system instability, crashes, and other performance problems.
Legal issues. It's possible that jailbreaking an iPad is prohibited in some nations and judicial systems. Apple could take legal action against people or groups participating in jailbreaking operations.
Performance reduction. Installing unauthorized software and meddling with the device's settings might reduce performance and battery life.
In general, only experienced users who are aware and willing to take risks and restrictions associated should jailbreak an iPad. It is advised not to jailbreak your iPad if you're uncomfortable with these dangers.
Conclusion
It's disappointing when you don't get to use your device fully because of the restrictions placed on it by an MDM profile.
Thankfully, there are a couple of ways to remove it yourself. One quick way is to use an external software such as Unlockit iPhone screen unlocker.
The process is quick and easy to use, and you can even use it for other functions such as bypassing iPhone and iPad locks as well. The only downside is you'll have to pay to use it.
If you'd rather pinch pennies, then other ways are to jailbreak your device or simply remove the MDM profile through the Device Management section of your iPad's Settings.
This can only be done, however, if you have the password to the MDM profile enrolled on your device. Good luck with that!
If you have any more questions about removing MDM on your iPad, feel free to comment down below.