Mobile Device Management tends to get in the way of you using your device fully.
It restricts certain features, and closes down a bunch of others on your iPhone or iPad such as app downloads. Don't worry, because you can remove it using external software.
Some of them are free to use. One such software is 3uTools and in this article, we'll talk about its features, and how you can use 3uTools to remove the MDM on your iPhone.
Let's begin.
What is 3uTools?
3uTools is a Swiss army knife kind of software that can do multiple things for all iOS devices.
Along with jailbreaking your iPhone, 3utool makes it possible to manage its data and can serve as a means to get around MDM locks, backups, and activation locks.
It can help you view and manage your data files while also offering you professional flashing and jailbreaking functions.
It does not only configure your device's operating system, but it can also help backup and restore data on your iOS devices for those looking to recover lost files.
Basically, 3uTools can do a lot for your device, but for now, we'll focus on its ability to bypass MDM locks.
How to Use 3uTools to Remove MDM
Before you start using 3uTools to bypass MDM locks on your phone, you will need to hard reset your device.
Be warned that doing this will delete all of your files, so be sure to create backups before proceeding.
Once your device has been reset, follow the procedure below to ensure that your device is ready for bypassing:
Reboot your phone.
Once your phone reboots, select your preferred language.
Now, select your country or region.
Here, you should opt to manually set up your device.
After that, it will ask you to select a Wi-Fi network. Please do so.
After doing the mentioned steps, you can now proceed to use 3uTools. You first have to download the app on their website and install it into your computer.
The installation process is pretty quick so you can get right to it. Once installed, do these steps to remove MDM from your device:
Step 1. First, launch the 3uTools app and connect your phone to your PC.
Step 2. Wait for some time while 3uTools recognizes your device. The app will show your device's details on its interface, such as device name and model, once it is connected.
Step 3. Once it's connected, click on Toolbox.

Step 4. Select 'Skip MDM Lock'.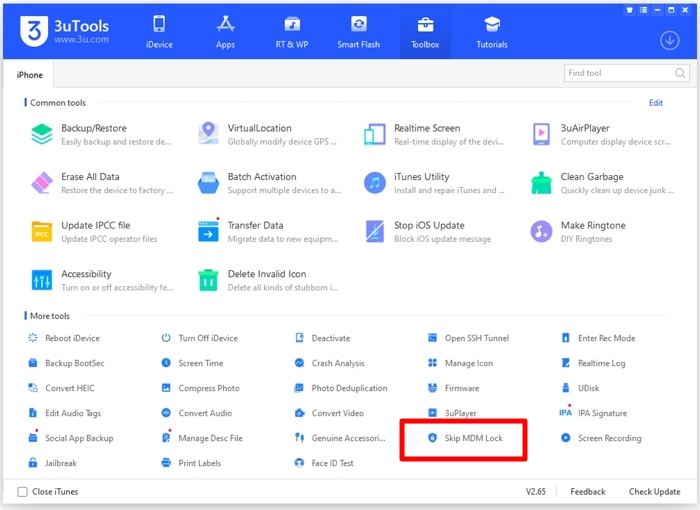 Step 5. A window should pop-up wherein you should click on 'Skip Now'.
Finally, another confirmation window will pop-up. Click on 'Deactivate' to start the process.
For device running iOS 14 and later, you will get a error message as below.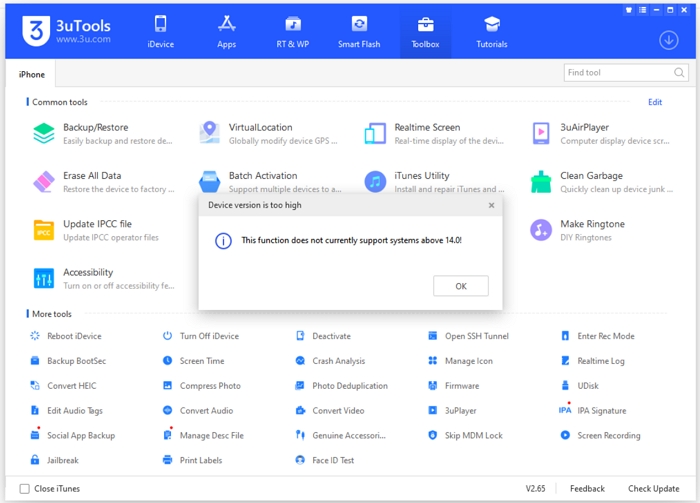 All you have to do after that is wait for a couple of minutes for the app to do its magic. Once it's done, you can enjoy using your device without any restrictions or monitoring.
Drawbacks of Using 3uTools to Remove MDM
Every software has certain drawbacks and 3uTools is no exception. Here are a few that 3uTools has:
It doesn't support systems above iOS 14.0.
For now, the app is only compatible for devices with iOS 4 to 13.0. The Skip MDM feature doesn't support the newer iOS versions such as iOS 14, 15 and 16.
If you have a device with a newer iOS version, you might have to wait for the next 3uTools update, or you could look for alternatives.
It doesn't have a macOS version.
Unfortunately, 3uTools is exclusively for Apple devices only. For now, it does not offer services for Android or any macOS device.
So if you are an Android user, you might want to look for another software to use.
It doesn't completely remove the MDM setup.
Bypassing and removing are two completely different features. 3uTools offers to bypass the MDM lock but not actually remove it.
This means you can encounter the MDM lock again if you ever have to reset your device in the future.
Effective 3uTools Alternative to Remove MDM
As mentioned, 3uTools isn't the only software that offers the bypassing of MDM locks. Some software even offer the complete removal of MDM locks.
One of the best alternative tools is Unlockit iPhone. It's user-friendly and doesn't require professional knowledge to delete the MDM, allowing you to access all features on your iPhone immediately.
The best features of the Unlockit iPhone tool:
Easily bypass remote management lock for both iPhone and iPad.
Remove Apple ID without passwode.
Remove iTunes backup encryption.
Remove screen lock passcode.
Here are the steps to use Unlockit:
Step 1. First, download and install Unlockit onto your computer. Once installed, launch the app.
Step 2. Now, connect the device to your PC and click on Bypass MDM Lock.
Step 3. Here, you should wait for the app to recognize your device.
A prompt should appear asking you to 'Trust This Computer?' on your device. Tap on 'Trust'.
After that, your device will ask you to enter your passcode. Kindly do so and the process will start.
Step 4. Once recognized, click on Start.
Step 5. Finally, a pop-up window should appear saying that the process is complete. Click on Done and disconnect your device from your PC.
If you are looking to use the app on a short-term basis, you can avail of their monthly plan that goes for $29.95.
Read reviews about iKey MDM Bypass, iBackupBot Remove MDM, and iActivate MDM Bypass as well.
Conclusion
3uTools is an all-around app that offers a lot of features. Not only can it bypass the MDM lock on your iPhone and iPad, it can also view and manage the data files of your iOS devices, and even provide professional flashing and jailbreaking.
However, the 3uTools does have its fair share of drawbacks. Don't worry, because there are a few alternatives, such as Unlockit, that can provide you with an easy way to remove the MDM lock.
If you have any comments, questions, or queries about 3uTools, feel free to hit us up in the comments section down below.