For anyone who's had the misfortune of dealing with an MDM lock, it's no surprise that the internet almost always turns to free MDM bypass tools to get past it. However, just because the tools are all free doesn't mean they're created the same.
In this guide, we will:
How does MDM Work
4 free MDM bypass tools with pros and cons
4 paid MDM bypass tools
Compare the tools to find the best
With so much going on, let's get right to it!
How Does MDM Work?
MDM, short for Mobile Device Management, is used to remotely monitor the device and control what the user has access to for organizations, schools, workplaces, and even parents.
You can use MDM to set limits on device usage, restrict certain apps, see what the user is doing, and more. However, for the person using the phone, this might be a breach of privacy. That's why so many people are interested in removing the MDM from their devices.
Note:
The 4 free MDM bypass tools we'll look at all have drawbacks; they either don't support the most recent iOS or are extremely complicated to use. We therefore recommend
Unlockit iPhone
if you want a perfect tool to
remove MDM lock
.
1. 3uTools' "Skip MDM Lock" Feature (Free)
One of the most effective tools for bypassing MDM is 3uTools since it gives you full access to company devices with MDM in just a few easy steps.
By downloading this tool and allowing it to work on your company phone, you will get full access to the device without worrying about your company monitoring your every move.
Cons
Only available for Windows computer.
It requires to install iTunes and Apple driver before connecting your device.
It doesn't support iOS 14 and later.
Find my iPhone must be disabled for it to work.
It is a temporary solution as the device will be locked again when you update or reset it.
Steps
You will need to connect the device to the computer to use it, but it is a very simple solution as the steps below show:
Step 1: Go to http://3u.com/ to install the program on to your computer.
Step 2: Connect the iOS device to your computer and then open 3uTools. Once the program detects the device, go to the Toolbox.

Step 3: Click "Skip MDM Lock."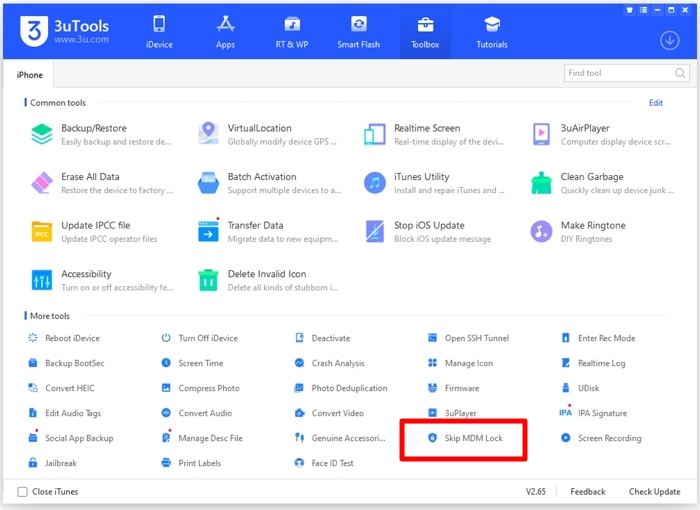 Step 4: Click "Skip Setup Assistant" to confirm and the iOS device will restart with MDM successfully removed.
Since our device is running iOS 14 later, it prompts a failure message.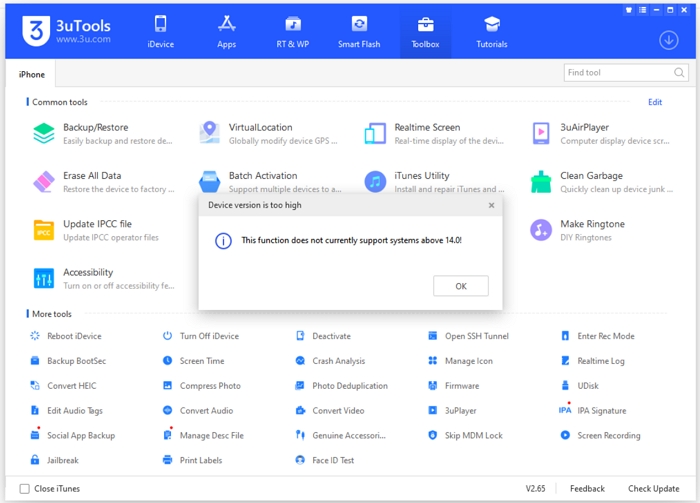 2. Fiddler (Free)
This is another free tool that you can use to bypass MDM profiles on iOS devices. It doesn't have as many additional tools as 3uTools., but it is a useful way to bypass MDM.
Cons
It only works on iOS 11.
It is very complicated to use.
Steps
Here's how it works:
Step 1: To begin, you will need to restore the iPhone in iTunes. Just connect the device to the computer and select "Restore iPhone" in iTunes. Make sure that the device is not connected to Wi-Fi.
Step 2: When the restore is complete, close iTunes and remove the SIM card from the iPhone.
Step 3: Now go to https://www.telerik.com/ to install Fiddler on your computer. Connect the iPhone to the computer again.
Step 4: Open Fiddler and choose "Tools > Telerik Fiddler Options."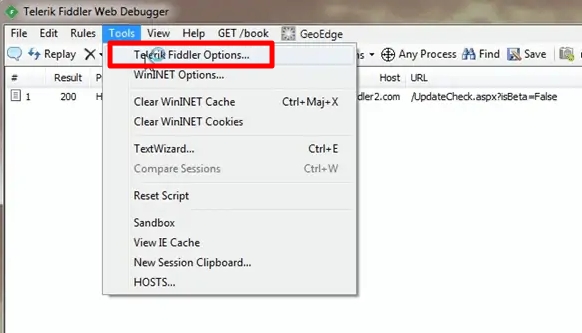 Step 5: Click on the HTTPS tab and then choose "Capture HTTPS CONNECTs." Click "OK."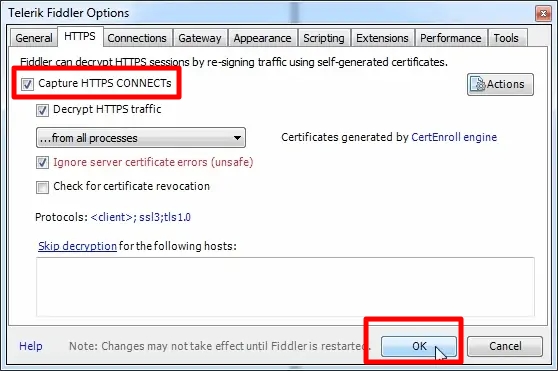 Step 6: Open iTunes and go back to Fiddler. Click "Rules > Automatic Breakpoints > After Responses."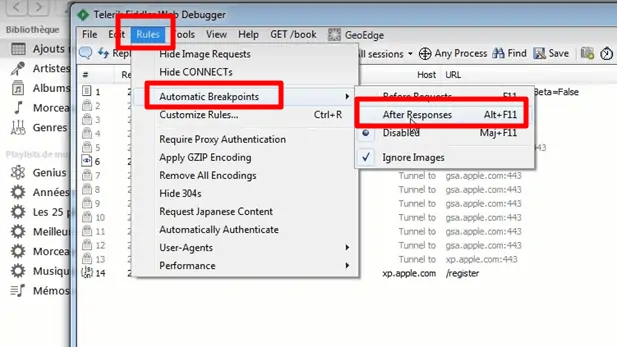 Step 7: Put the SIM card back into the device and select the iPhone icon in iTunes.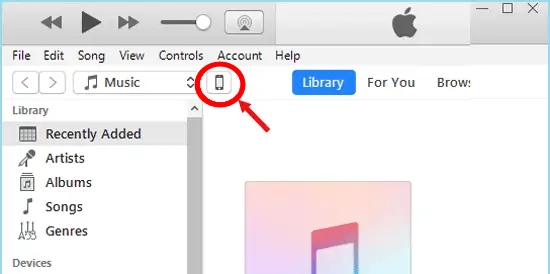 Step 8: In Fiddler, you will be able to see a list of active connections. Find albert.apple.com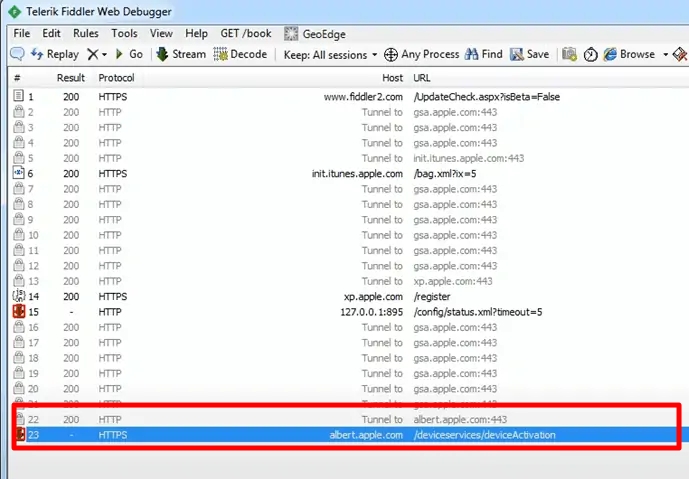 Step 9: Choose this entry and on the right, click "Response Body is Encoded, click to decode."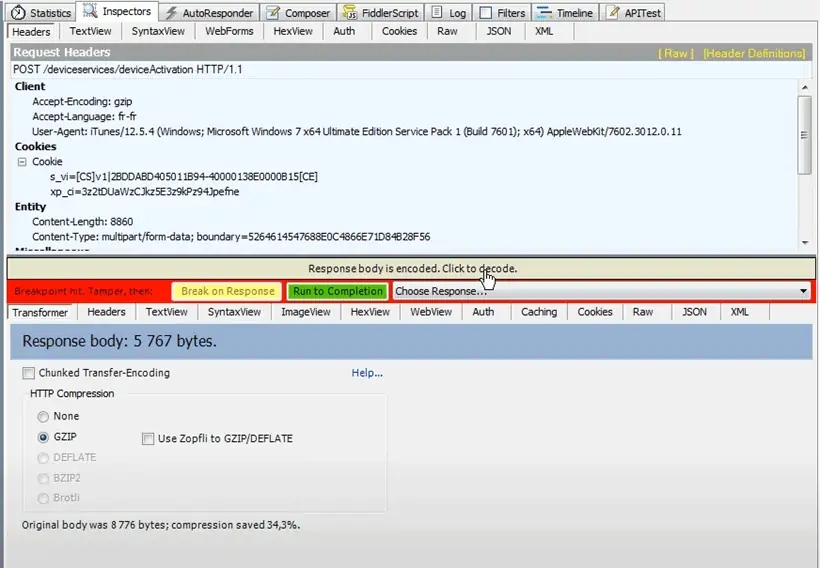 Step 10: Use the Text View window to change "Flag + 1" to "0." Click Run to Completion.
3. Sliver (Free)
Sliver is also a good way to bypass MDM on your device for free.
Cons
You need to jailbreak your device to use it.
It only works with iOS 12.5 to 13.6.
It only works on Mac computer.
Steps
Follow these simple steps to use it:
Step 1: Go to https://www.appletech752.com/downloads.html to download Sliver and install it on your computer.
Step 2: Open Terminal and type in the command "chmod – R 755" but don't press Enter just yet.
Step 3: Open Sliver and drag the resources you find in this folder into the Terminal. Once the folder is copied with the command, hit Enter.
Step 4: Open Sliver and click "More Options > MDM Bypass."
Step 5: Jailbreak your device and then connect it to the computer. In Sliver, click "Bypass MDM."
Your iPhone will restart several times as the MDM lock is removed.
4. Using a Bug (Free)
Bugs are loopholes in programs that you can exploit to bypass certain restrictions or features.
Since no program or system is free from bugs, finding these errors can lead you to discover new avenues you can pass through.
If your company-owned phones run under iOS versions 11-13, you can use a particular loophole to bypass the MDM system of your phone.
Cons
It has a low success rate.
It only works from iOS 11 to 13.
Steps
Follow these steps to fully utilize this method:
Step 1. Ensure your phone uses a 4G network.
Step 2. Remove your sim card and disconnect from the 4G network.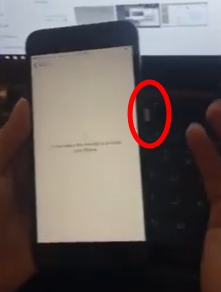 Step 3. Skip security measures like setting up your Apple ID or making new passcodes.
Step 4. Follow the initial setup until you reach the MDM screen. Upon reaching this screen, Press the Back Button 4 times.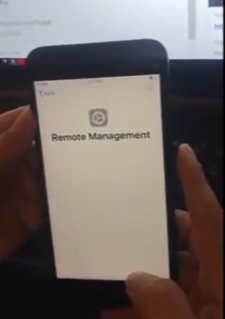 Step 5. Follow the next steps, and refrain from signing in on anything or setting up passcodes. Upon reaching the MDM screen, Press the Back Button 4 times again.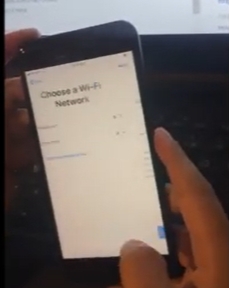 Step 6. Finish the setup and notice the absence of the MDM screen.
This method should be used as a resort if all other methods don't work out since this is only a temporary solution for MDM.
5. Free MDM Bypass Tools Fail to Work? Try Unlockit
The above 4 free solutions all have limitations, such as not supporting the most recent iOS systems, being exactly difficult, or having a low success rate.
As a result, we strongly advise you to use Unlockit iPhone as your ideal option to remove MDM lock. It is a professional iOS unlocking tool that can easily remove all types of locks including MDM Locks.
It will remove the MDM restriction from your device without affecting the data on it and unlike the above free MDM tools, it is compatible with all iOS devices and all versions of iOS, including the latest iOS 17.
It is also so easy to use even if you don't have any technical expertise. The following is a simple guide to show you how you can do that:
Note: Unlockit iPhone is a paid solution, which costs 29.99$ for 1-month subscription.
Step 1: Download and install and open Unlockit on your computer.
Step 2: Choose "Bypass MDM Lock" from the main screen to get started.
Step 3: Next, connect the iOS device to the computer. Tap "Trust" on the device when prompted to trust this computer.
Step 4: Once the program detects the connected device, click on "Start" to begin.
Step 5: Unlockit will begin bypassing MDM on your device. The whole process will take just a few minutes. Ensure that the device remains connected to the computer until the process is complete.
You should see a notification on the screen indicating that the device has been successfully unlocked. You can click "Done" and then disconnect the device from the computer.
Once this is done, you should be able to use your device without any restrictions and since the MDM profiles will be removed, you can configure the settings any way you want.
6. iActivate
Another popular MDM bypass tool that we look into is iActivate. It removes the MDM from your device and is compatible with the latest iOS as well. However, this tool isn't free. It costs around $45 for the license, but in the long run, it does come in handy.
How to Use iActivate
Since the tool is easy to use, there isn't much about the process. Here's what you need to do:
Head over to their website and install the iActivate tool on your computer.
Connect your device to the computer and ensure it is detected by iTunes.
If you get a 'Trust this Computer?' prompt, simply click 'Trust' and move on.
Launch the iActivate tool and confirm the information about your device that pops up.
Click on 'Start MDM Bypass,' and your phone will reboot once the MDM is removed.
7. Dr.Fone - Screen Unlock (iOS)
Another tool is the Dr. Fone - Screen Unlock. It is perfect for iOS and lets you bypass the MDM lock without needing much tech knowledge. Plus, it's super fast as well.
It also bypasses other locks on iOS devices, so it's a handy tool to keep on hand. However, it costs 49.95$ for a year usage, which is more expensive than Unlockit or iActivate.
How to Use Dr.Fone - Screen Unlock
The installation method and usage guide for this tool are fairly simple, so let's jump in:
Download and install Dr. Fone on your computer.
Connect your iOS device via lightning cable and click on 'Screen Unlock.'
Now choose 'Unlock MDM iPhone' and click on 'Bypass MDM.'
Click on the 'Start Bypass' option to verify your choice.
Your device will have its MDM bypassed in a matter of seconds.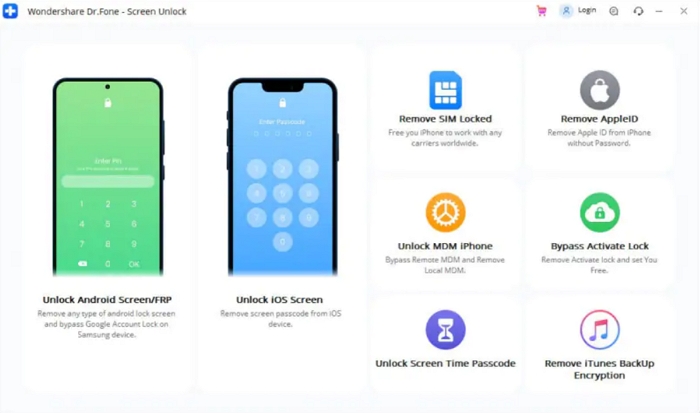 8. AnyUnlock
Lastly, we have AnyUnlock. It can easily bypass the MDM on your device in a single click and works fast as well. It ensures that your phone does not lose data during the process and is protected from external threats. It can also bypass other locks and restrictions on iOS devices. It costs $35.99 for the 3-month subscription.
How to Use AnyUnlock
If you're ready to give this tool a shot, all you need to do is follow these simple steps:
Download AnyUnlock for your computer and install it.
When you run the program, click on the 'Bypass MDM' option in the middle.
Click on 'Bypass MDM' once again and press the 'Start Button.'
Now connect your iOS device with a lightning cable and ensure that it is unlocked.
Click on 'Bypass Now' whilst your phone is on the Remote Management screen.
In a few minutes, you will get a prompt for 'successfully bypassed.'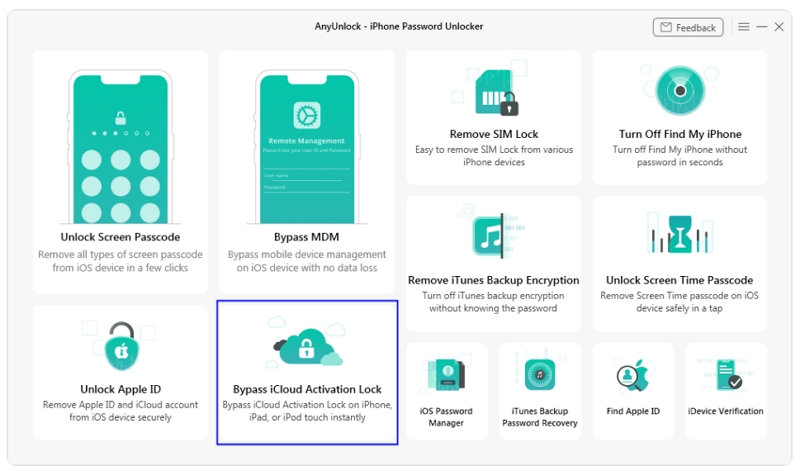 So, Which Tool Works Best?
The free solutions mentioned earlier each have their own limitations. They might not work with the latest iOS systems, be challenging to use, or be unsuccessful. Some even cost too much for the job they're doing.
Because of this, we strongly recommend using Unlockit iPhone as a great option for removing the MDM lock. It is a professional tool to easily remove various types of locks, including MDM Locks.
What's more, it will remove the MDM restriction from your device without harming your data. Unlike the free MDM tools mentioned earlier, Unlockit iPhone works with all iOS devices and versions. The best part? Its price is the most cost-effective among the paid solutions.
FAQs
What is MDM lock?
MDM lock stands for Mobile Device Manager lock. This feature is commonly found on company-owned devices, making it easier for companies to monitor, send updates, and lock these devices from further unnecessary usage.
What can MDM access on my device?
Since this feature is made with security in mind, MDM can access installed programs, the device's operating system, location tracking, and even the ability to lock the phone if it gets lost.
However, the location tracking function isn't turned on all the time and is just activated during emergencies.
What can't MDM access on my device?
Just because MDM is labeled as a monitoring tool doesn't mean it can monitor everything on your phone.
MDMs can't access messages, call logs, emails, photos, and everything personal saved within the phones.
Can I remove the MDM without using bypass tools?
The only way to remove the MDM on your device without using a bypass or removal tool is if you know the passcode and have administrator support. Here's what you need to do:
Open the 'Settings' app on your device and go to 'General Settings.'
Look for the 'Device Management' settings.
Tap on 'Device Management,' and you might see one or more profiles listed under 'Mobile Device Management' or 'Profiles.'
Tap on the profile you're unsure about to see more options. A pop-up will show you the restrictions this profile enforces.
If you remove the management profile, scroll to the bottom of the page and tap 'Remove Management.'
After entering the passcode (if required), tap 'Remove Management' again to confirm your action.
Conclusion
We all have different reasons why we'd want to bypass the MDM lock on our company-issued phones. Perhaps we wish for privacy, or the IT personnel are overstepping their boundaries.
Whatever your reasons are,, there are many MDM bypass tools that claim to get the job done. You need to compare their prices, features, reviews and utility to ensure the one you pick is giving you the best value for money. If you can get your hands on the administrator passcode then simply remove the MDM from settings without any hassle at all.