As one of the most popular Mobile Device Management solutions in the market, Scalefusion is used to manage very many devices by many companies around the world.
Like most MDM solutions, it gives the managing company unprecedented access to the device, allowing them to impose all manner of restrictions on how you can use the iOS device.
If your device is under Scalefusion MDM, then you may find yourself at the receiving end of these restrictions, unable to use your device in any way you want.
It, therefore, makes sense that you are looking for ways to remove these restrictions.
Here, we will show you one of the best ways to remove Scalefusion MDM from your iOS device even if you don't have the password.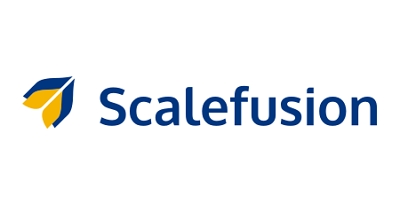 What is Scalefusion?
Mobile Device Management (MDM), is a software business used to secure and manage the fleet of company-owned devices such as iPhones.
It is usually managed by an IT administrator to enforce policies and restrict unnecessary access to the device.
Scalefusion is one of the most popular MDM solutions in the market, which allows companies and other organizations such as schools to control various types of devices including iOS devices.
Most users of this solution find it very useful in that it supports most iOS devices and all versions of iOS.
It also has numerous features that make it easy for an organization to control and monitor a large number of devices at the same time.
What Does Scalefusion Track?
The following are some of the aspects that Scalefusion MDM allows the organization to track on your device:
It can allow for troubleshooting solutions to be applied to multiple devices at once remotely.
Blocking or filtering out inappropriate device use.
Track the location of the device.
Deploy malware protection and anti-virus solutions to all managed devices at once.
Manage the content accessed on the device.
Enroll additional devices to the network and manage expenses for the device.
Remove Scalefusion on iPhone/iPad without Password
Even though MDM offers a simple and secure way to manage devices, there might be times when you want to uninstall it entirely from your iPhone.
You could request that the administrator take your device off the list of monitored devices.
However, if you are unable to do this and have no other options, then Unlockit iPhone could be your smart choice.
This is an iOS unlocking program that will help you bypass Scalefusion MDM even if you don't have the password.
Here are the features of Unlockit iPhone:
Bypass MDM on your device without password and any technical expertise
Unlock screen passcode on iPhone
Compatible with all versions of iOS and all iOS device models
Here's how to use Unlockit iPhone to remove Scalefusion MDM from your device:
Step 1: Download and install Unlockit iPhone on your computer.
Step 2: Once it is installed, open it, and from the four options on the screen, choose "Bypass MDM Lock."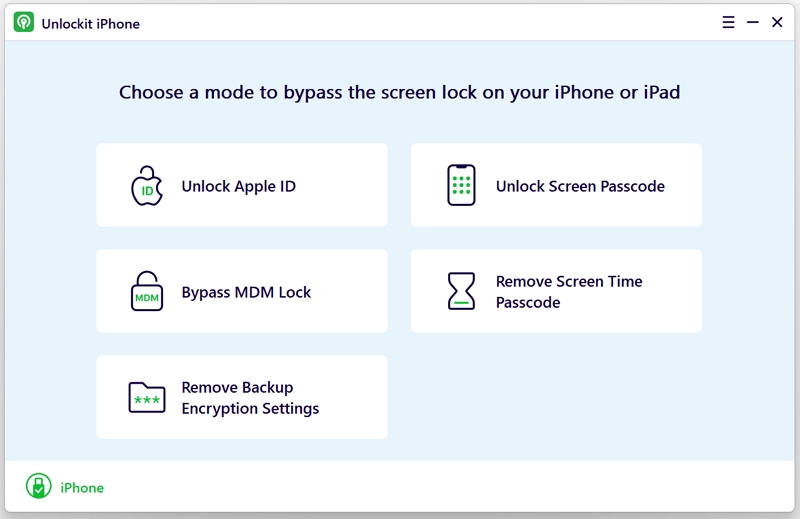 Step 3: Now use a USB cable to connect the iOS device to the computer. Unlock the device to allow the program to detect it.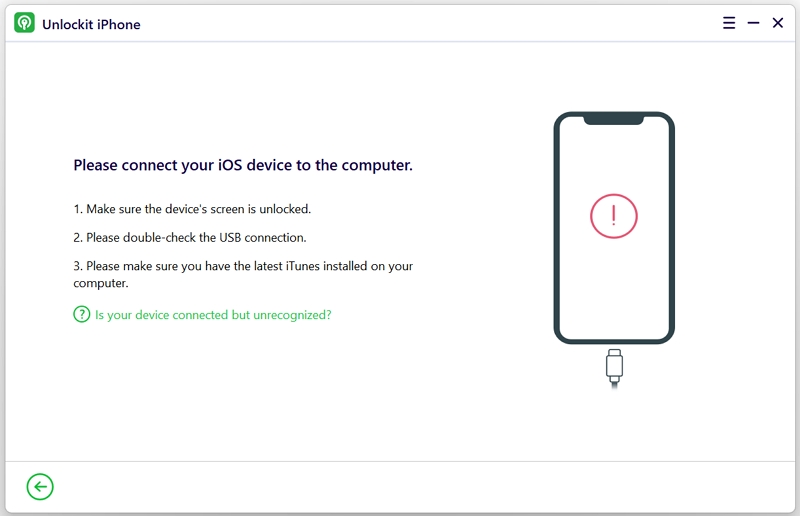 Step 4: Make sure your device is stuck on the MDM screen, and click "Start" to proceed.
In a few minutes, Unlockit iPhone will let you know that the Scalefusion MDM has been removed.
Does a Factory Reset Remove Scalefusion?
No, not at all. A factory reset removes all of your device's settings and data, but it leaves the MDM control unchanged.
The remote management screen will show when you set up your device after a reset and will require the username and password to continue.
You will become stuck on the page if you can't provide credential of Scalefusion. However, you can use Unlockit iPhone to bypass remote management screen and Scalefusion easily.
Can I Permanently Remove Scalefusion from iPhone?
The only way to permanently remove Scalefusion MDM on an iPhone is to contact the IT administrator who signed it up for the MDM service and ask them to deactivate MDM on the device.
You can do this by contacting the IT department directly or using the Scalefusion MDM management platform.
It's important to remember that removing MDM from an iPhone might affect your ability to use specific corporate/organization resources or apps, so you should only do this with the appropriate IT department's permission.
Bypassing or removing MDM without proper authorization could have negative legal or technical repercussions.
To Conclude
MDM solutions like Scalefusion can be very useful to a company or organization that wants to manage many devices.
But to the owner of a device that is managed, it is a hindrance that keeps them from fully utilizing their device. But there are ways that you can remove these restrictions from your iPhone.
Unlockit iPhone is one such solution, and a very useful one if you don't have the password to access Scalefusion directly.