Exhausted all the Pokestops and Gyms in and around your neighborhood? Want to see what treasures and surprises new streets and cities hold? Well then, you're the perfect candidate for the Fake GPS Pokémon GO modification.
In this post, we'll look at the different ways you can fake GPS for Pokémon GO on an iPhone. Keep in mind that Niantic – the game's developer – bars GPS spoofing, so you'll need to proceed with caution to avoid getting your account banned.
As long as you follow the tips below, you should be able to fake iPhone GPS for Pokémon GO without problems.
Methods for Faking GPS on Pokémon GO for iPhone
There are numerous solutions on the market that claim to be able to spoof GPS on Pokémon GO for your iPhone. Some articles recommend iSpoofer, Modified Pokémon GO Apps, and VPN to fake GPS on Pokemon Go.
However, these tools are ineffective or will put your account at risk of being banned. So we've listed the following methods that still work and don't work in short:
Methods that still work:
MockGo. Highly recommended. Simple to use with affordable price.
iTools. Popular tool, but expensive and unsuitable for beginners.
Gfaker. A hardware solution.
Xcode. There are very few options for faking GPS.
Methods that won't work:
VPN. It only modifies your device's IP address, not its GPS location.
iSpoofer. It has already been closed in 2021.
Modified Pokémon GO Apps. These tools can be easily detected by games.
Use MockGo to Fake GPS on Pokémon GO (iOS 17 Compatible)
Tinkering with an iPhone is never an easy job. Often, it requires jailbreaking the device if you want to modify built-in device functionalities and behavior beyond what an iPhone typically allows.
Thankfully, iPhone users do have the luxury of using a desktop program called MockGo iPhone GPS changer. This app allows Pokémon GO players to fake their GPS location for Pokémon GO without needing to jailbreak their device.
It is a convenient solution when you want to play Pokémon GO indoors and aren't in the mood for leaving the house and navigating outdoors.
Features of MockGo:
Teleport the GPS
Fake walking along real roads or customized route
Change the speed randomly during walking
Fake GPS for mulitple devices
Import GPX route
Joystick feature
Favorite list
Historical records
Wide device compatibility, including the latest iOS 17
If you follow the steps below properly, there's very little chance of getting banned from Pokémon GO on suspicion of using location hacks:
Step 1. Download and install MockGo on your Windows PC or Mac.
Step 2. Open MockGo and connect your iPhone to your PC with a USB/lightning cable. A new window will open. Click the "Start" option to start the GPS faking process.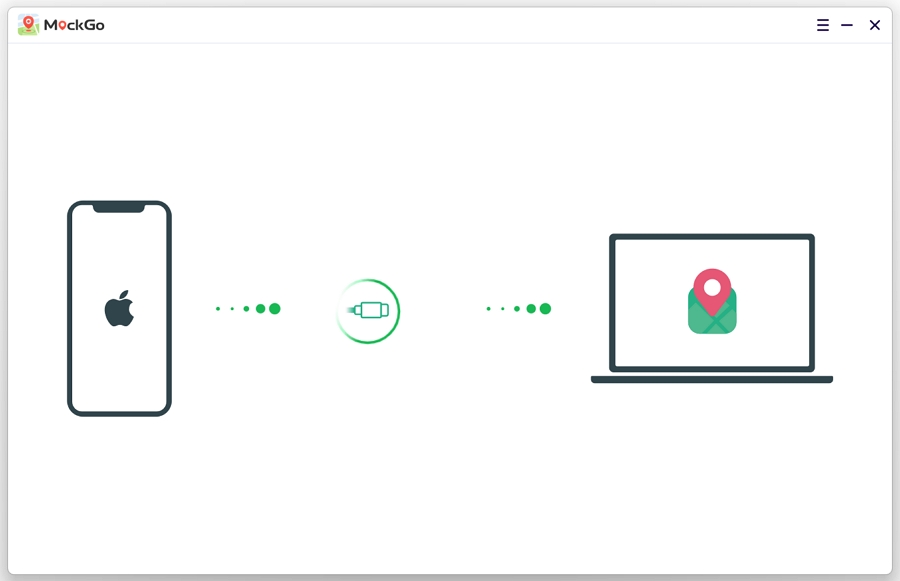 Step 3. In the next window, you will see a map, select the "Teleport Mode" mode by hitting the first icon on the top right of the window.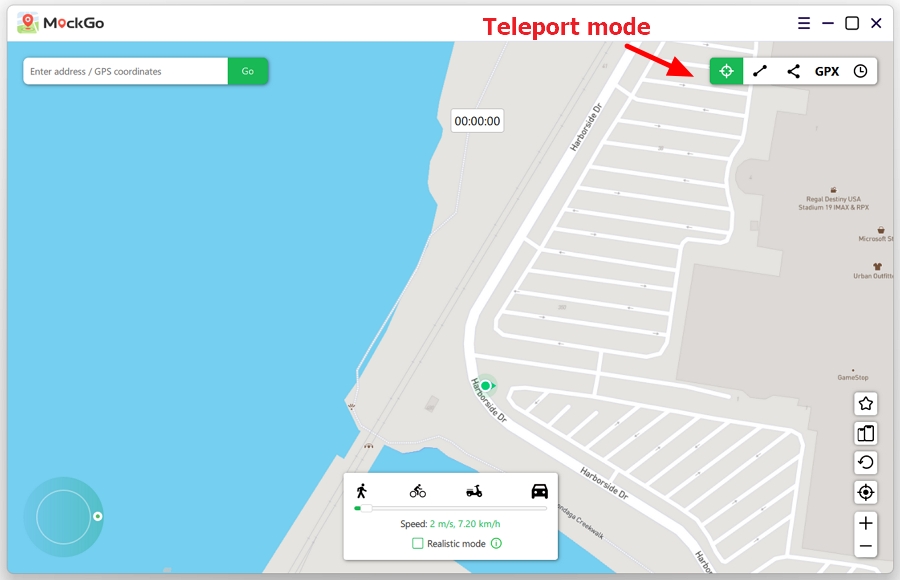 Step 4. Use the search field on the left to search your desired location. And click to "Move Here" to teleport your GPS without delay.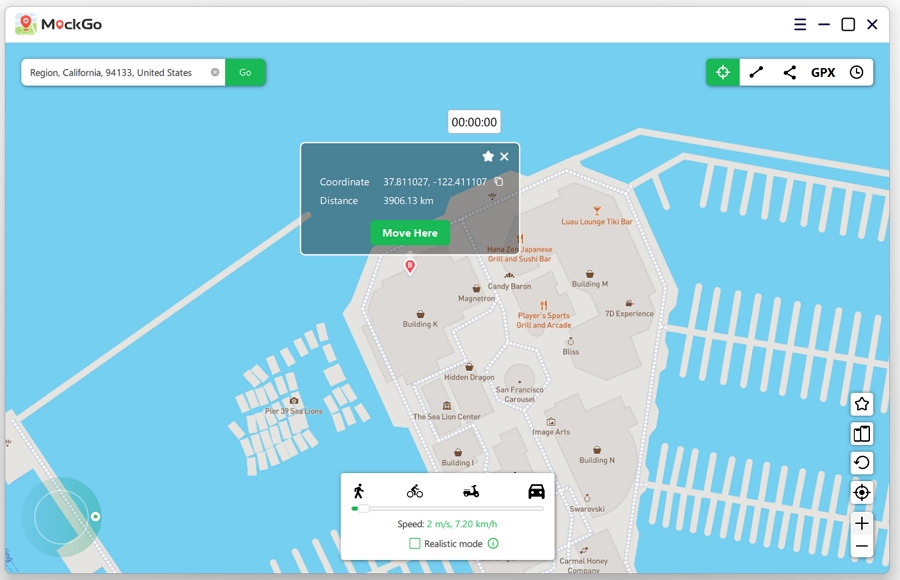 If you open the map or Pokémon GO on your iPhone now, you should see the new virtual location you selected in the previous step as your current location.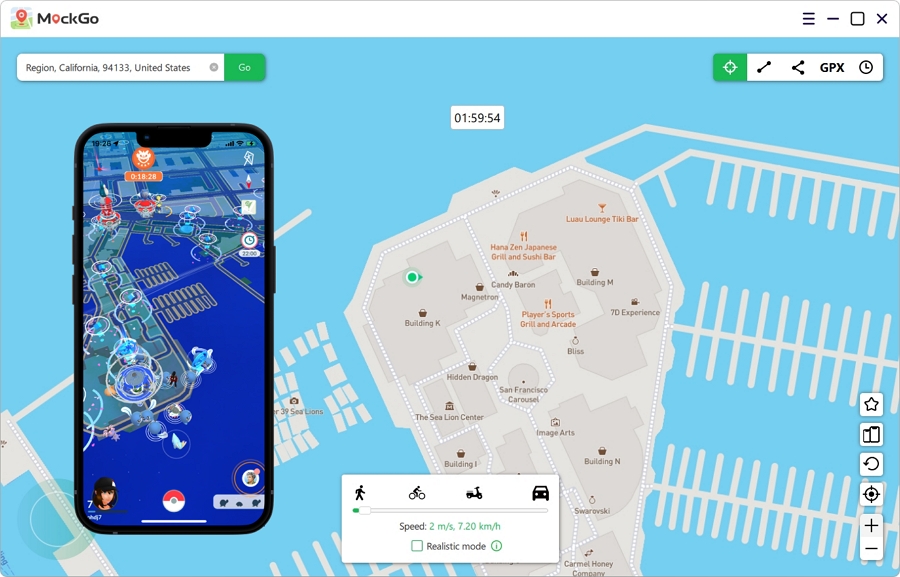 MockGo also allows you to fake movement using one-stop, multi-stop or joystick mode:
For movement between two points, press the second icon on the top right of the window.
Drop pins between two points on the map, select the number of movements and adjust the speed slider as per your preferences.
You can now simulate movement between a two-point path while playing Pokémon GO.
Pros

It is specially developed for changing locations at the most affordable price on the market
It is so easy to use that you can catch Pokémon without having to leave the comfort of your home
You can mimic walking between different locations at a pace that you choose
You don't need to jailbreak your iPhone to use MockGo
Since you don't need to install any apps on your device, It is more secure to use and Pokémon Go is unlikely to detect the spoofing
It works with all versions of iOS and is fully compatible with all iPhone models
Cons

It is not free to use
It doesn't support Android device
Via iTools
iTools is another GPS-spoofing app for iPhone available for iOS 12 and later versions. The app is free to use for 2 hours, but you'll need to purchase it if you wish to continue using it beyond the initial free period.
iTools makes it unnecessary to jailbreak your iPhone, allowing easy GPS-faking functionality for a better Pokémon GO experience.
Here's how you can use iTools to fake Pokémon GO location:
1. Download iTools on your Mac or Windows PC and install it.
2. Once installed, connect your iPhone to your computer and launch the app on your device. Currently, iTools only supports iPhones running iOS 12 or below versions.
3. After iTools detects your iPhone, the app would display info on your screen. Tap "Virtual Location" when you see the option. Also make sure to "trust the connected system" on your phone and grant the necessary permissions to the application.
4. You'll now see a map-like interface that you can navigate with ease. Head to the location you want and drop your pin. Then save the location by tapping the "Move Here" button. It's even possible to remove your iPhone and keep the stimulation active to save the location.
5. Open the Pokémon GO game on your iPhone and you should now be able to access the new location. Want to change to another location? Connect it to the iTools app again. Want to change back to your initial location? Click "Stop Stimulation" on the real-time map and that's it.
Pros

There is no need to jailbreak the iPhone
Support teleporting the GPS
Support simulating walking
A lot of iPhone management features available. You can use it to back up and restore iPhone data
Cons

The free version is limited and only allows you to change the locationin 2 hours
Premium plans start at $34.95 a month, Compared to other location changers on the market, it is a little expensive
The website does not provide an overall user guide for using virtual location feature
Because it is not a tool specifically developed for changing location, it might lack several common features
Doesn't support change location for multiple devices
Use Xcode
Xcode is a tool that Apple developed back in 2013. This tool functions as a location simulator to help Apple test products in different locations without traveling to these places.
This method is a little more involved, as it will require you to go deeper into Apple's settings and configurations to pull it off.
So if technicalities do not daunt you, follow the steps below to fake Pokémon GO location using Xcode:
1. Download and install the Xcode app on your Mac system.
2. After launching Xcode, select "Create a new Xcode project > Single view app".
3. Use a USB cable to connect your Mac to your iPhone.
4. Enter "Product name" and choose "Next."
5. Select a location where you want to create the project.
6. Log in to your Apple ID: Xcode > Preferences > Accounts > + > Apple ID > log into your account.
7. Choose "team" from the drop-down menu and click on ">" .
8. When the building process finishes, select your desired location that you want to fake your GPS to.
Your iPhone's location will now be changed to the location that you selected above.
Enjoy Pokémon GO with a simulated location on your iPhone.
Pros

It is free to use
It supports to change the GPS of your device
Cons

It is not specially developed for changing locations, so it doesn't have features such as faking walking, choosing location from map, etc
It is complicated to use
It is only available for Mac computers
Via Gfaker
Gfaker is a plug-and-play hardware solution that can be useful when you want to change the GPS location of your iPhone to anywhere in the world. To use it, you will need to connect the Gfaker device to the iPhone and choose the location you want to spoof, and then choose a spoof mode from the available options.
GFaker offers two gadgets: the GFaker Pro and the GFaker Phantom. Both of them cost $279 but have a different set of features.
Pros

You can use it to spoof the location even when the device is charging
It can be used to spoof various locations around the world
Jailbreaking the device is not necessary
Cons

The initial cost of purchasing the device can be beyond most people's reach
It doesn't support simulating GPS walking
It doesn't support importing GPX
It doesn't support multiple-device control
Avoid Not Working Methods for Pokémon GO Spoofing
1. Can I Use a VPN to Fake GPS for Pokémon GO?
Unfortunately, you cannot fake GPS for Pokémon GO with a VPN alone. A VPN only changes your IP address. It cannot directly spoof your device's GPS location.
Since Pokémon GO reads your location by determining your device's GPS location signal, simply changing the IP address with a VPN won't fool the game.
However, a VPN can reduce the likelihood of getting banned from Pokémon GO for using location-spoofing tricks.
If you're using a third-party location spoofer, choose a VPN server location that matches the GPS location you've selected in the location spoofing app.
This way, there will be no reason for anyone to suspect that you're using any hacks to play Pokémon GO, keeping you safe from the possibility of a ban.
2. Can I Still Use iSpoofer to Fake GPS?
Unfortunately, iSpoofer is no longer a viable option for faking GPS on Pokémon GO. Despite its outstanding popularity for spoofing GPS location in the game, iSpoofer has been shut down by the developer.
The app shut down after Niantic found many people using iSpoofer to fake their location on Pokémon GO. This led to many accounts getting banned.
Niantic then used iSpoofer against their terms of service, which is why the app is not available for download anymore. If you still have the iSpoofer app, strictly avoid activating it while playing Pokémon GO. Doing so will immediately result in an account suspension.
It is extremely unlikely that iSpoofer will ever work again for Pokémon GO. If you want to fake your GPS location, you should look for apps that aren't already blacklisted, like iSpoofer.
3. How About the Modified Pokémon GO Apps?
Pokémon GO developers are doing their best to put a stop to the use of modified versions to have an advantage when playing Pokémon GO.
With that being said, modified Pokémon GO versions such as iSpoofer and iPoGo are easily detectable.
While they still work, you might get detected much easier so it's only recommended to use a secondary account you don't mind losing if you still decide to play Pokémon GO through a modified game version.
Even jailbroken iOS devices can get detected so it looks like that modified Pokémon GO version spoofing is coming to an end.
Many players thought that the ban wave was over, but unfortunately, it is not over and it won't ever be over.
Developers are fully aware of the ways players take advantage of the game to have more fun or be more successful and they're doing their best to put a stop to it.
Therefore, using modified Pokémon GO versions can get you banned so it's recommended to use the official Pokémon GO app with spoofing tool instead of using the tweaked Pokémon GO apps.
FAQs
1. Why change location in Pokémon Go?
There are some countries and jurisdictions around the world that completely ban or restrict Pokémon Go. Changing the GPS location of their devices can allow people in this country to access and use Pokémon Go on their devices.
There are also players around the world in locations that only have a few Pokémon species. Spoofing their location will allow them to travel to locations with more species and complete their Pokedex much faster.
Some Pokémon species are only available in specific locations. If you are unable to physically travel to these locations, spoofing can help you catch these rare Pokémon from wherever you may be.
2. Is it legal to change your location with Pokémon GO?
It is not illegal to spoof your location, but Niantic considers changing your location to play Pokémon Go cheating and a violation of the rules of the game. You are unlikely to face any legal consequences for spoofing, but Niantic may choose to terminate your account if you use a spoofing app to play Pokémon Go. A good location changing tool can help keep Niantic from detecting your spoofing activities.
3. Any risks of using fake GPS apps?
If you choose to spoof the location on your device, there are some risks that you should be aware of. To begin with, by simply spoofing the GPS location while playing Pokémon Go, you risk getting banned from playing the game in the future. This is a violation that Niantic considers serious and some players have been banned for it. Using the best location spoofing solutions can however reduce the chances that your spoofing activities will be detected.
Final Verdict
Niantic doesn't make it easy for Pokémon GO players to spoof their location without consequences. Still, we're fortunate to have GPS-simulating apps like MockGo that allow us to change our Pokémon GO location in a few simple steps.
As long as you avoid blacklisted apps such as iSpoofer and use proven location-spoofing tools, you should be able to play with peace of mind.
How have the different GPS-faking methods worked for you? Let us know in the comments below.