Pokémon GO has become a sensation worldwide, and many die-hard Pokemon players are taking time to create interactive maps and trackers to help players find Pokestops, PokeGyms, and spawn points.
Many spawn maps have gone offline, but few remain open. These spawn maps are great places for information regarding Pokemon guides, tips, and tricks. Here's what you'll learn in this guide:
The top Pokémon spawn locations
The top Pokémon spawn maps
How to teleport to Pokémon spawn locations
Pokémon Spawn Locations
A spawn location is an area where a specific type of Pokemon is bound to appear. Here are some of the most important spawn locations that you need to know about if you want to catch a specific type of Pokemon.
| | | |
| --- | --- | --- |
| Pokemon Type | Spawn Rate % | High Spawn Rate Location |
| Normal | 34% | Parking lots, cities, school and university campuses, gas stations, suburban areas, grass, lakes, and parks. You can find them anywhere in any climate. |
| Bug | 13% | Typically found near grass, lakes, cities, parks, and in "grassland" or "coastal" climates. |
| Poison | 11% | The highest spawn rate is in industrial areas. |
| Water | 10% | Usually found near the coastlines and beachy areas. Also near rivers, lakes, ponds, docks, wetlands, beaches, or parks with ponds. |
| Grass | 5% | Predominant in grassy areas like golf courses and parks or near beaches. Available in all climates. |
| Ground | 6% | They are mostly found in arid climates, like deserts, but also in parks in the suburbs. |
| Fire | 7% | Common in dry and arid climates, but also at the beach. Mostly found on farmlands and cities. |
| Fighting | 4% | Usually found in the suburbs and in fight-centric areas like parking lots, gyms, stadiums, and sports centers. |
| Rock | 4% | You can easily find them in farmlands and parking lots or suburbs on the West Coast. |
| Fairy | 2% | Mostly found in grassy suburbs and landmarks or monuments. Are believed to spawn more during the evening. |
| Electric | 2% | They have a high spawn rate near local college campuses or universities. |
| Psychic | 2% | Usual psychics can be found in grasslands, but higher-level psychics are near the beach. They can also spawn in hospitals. |
| Ghost | 0.5% | They are often found in parking lots and spawn more during the night. May or may not be found in cemeteries. |
| Dragon | ? | Dragon types are rare but occasionally spawn near river water. They have a higher spawn rate near golf courses or landmarks. |
| Ice | 1% | Usually found near water and ski parks. If you live in a cold climate, they should spawn more frequently. |
Top Pokémon GO Spawn Maps
Here are the top Pokémon GO spawn maps:
A real-time map with most of the available locations of Pokestop and Gyms listed is the collaborative site Go Map. Go Map shows Pokemon spawns in areas nearby.
The site works with Pokémon GO players that can report the Pokemon spawns and locations. Go Map comes with an interactive Pokedex, which has in-depth details and statistics about every Pokemon.
Are you a fan of PVP? Go Map has instructions and guides on how to battle PVP for each Pokemon. The PVP breakdown helps the player to better understand and equip for the next PVP match.
When finding a Pokemon, you can sort it out by choosing the country and city (most major major cities are supported). Otherwise, they have a traditional map that you can use to explore and look for Pokemon.
Moreover, the Go Map site offers a map for the Harry Potter Wizards Unite.
Pokémon GO players can find a comprehensive and detailed map of all Pokestops, Gyms, and Nests on PoGoMap.
The best feature that many players love about PoGoMap is that it can distinguish between a regular Gym and a Gym that allows you to get Ex Raid passes.
Currently, Ex Raid is not happening due to the COVID-19 restrictions. However, once these restrictions are lifted, then this tool will become your greatest asset.
PoGoMap gives out many details and updates regarding the location of Pokemon spawns or close by Nests. It also reports any Pokestop invaded by the Team Go Rocket, Pokestops with research quests, and much more.
But since not many Pokémon GO players are aware of this tool, it's yet to reach its true potential. PoGoMap also has a Harry Potter Wizards Unite map to help you level up quickly in the game.
No top Pokémon GO Spawn Maps list would be complete without The Silph Road. It's the biggest and best-categorized map for Pokémon GO players to collaborate.
Silph Road also has a detailed Pokedex containing information on all the Pokemons. You can also find tips, tricks, and guides on becoming a better player in Pokémon GO.
But most importantly, it has a map listing all the confirmed and rumored Pokemon Nest Spawns. You can also find an unofficial league map that tells the players about Pokémon GO fans and players' meet-up spots in the real world.
We have looked at countless Pokémon GO sites and apps, but the Silph Road takes the spot as the number 1 Pokémon GO map site. The collaborators on this site are located worldwide with extensive knowledge about the game and the lore of Pokemon.
This is the reason why many prefer to use this map when they need any information regarding spawns.
4. Pokémon GO Map Apps
PokeVision (Defunct): PokeVision was a popular map tool that showed the real-time locations of Pokémon in your area. However, it was taken down by Niantic due to concerns about unfair advantages.
PokeHuntr (Defunct): Similar to PokeVision, PokeHuntr showed Pokémon locations in real-time. Like PokeVision, it was also shut down.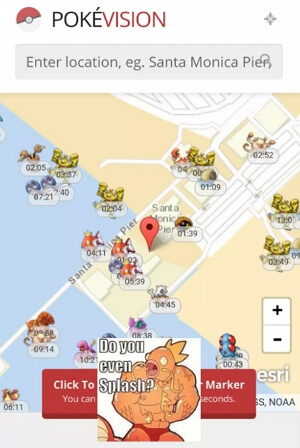 How to Teleport Your GPS to Catch Pokemons from Anywhere
With the help from the above-listed maps, you can find nearby Pokestops, gyms and nest spawns. However, it's nearly impossible to visit all the locations mentioned physically, which is why Pokémon GO GPS spoofing apps were invented.
Pokémon GO players use the spoof method to teleport to these locations. You can find many fake GPS apps for both Apple and Android that are available on Google Play Store and App Store.
iPhone owners can use MockGo to spoof GPS. The tool allows you to teleport the GPS of your device in 1 click and set auto walk with customized movement speed which helps to make sure that Pokémon GO doesn't detect you for using the trick.
Follow the instructions below on how to use MockGo.
1. Connect your iPhone to your PC
Download the MockGo and install it on your PC. Once the toolkit is installed and ready to use, launch it.
Connect the iPhone to the PC by using the lightning cable or USB. The toolkit will automatically detect the iPhone.
If the iPhone is not detected, check whether you have clicked on Trust the Computer prompt on the iPhone and agree to the terms and conditions of the application to begin.
2. Enable the teleport mode
Once the MockGo detects the device, it will display a map on the menu page. To change the location of your iPhone, click on the Teleport Mode icon placed on the top-right corner of the screen.
3. Enter the location you'd like to teleport to
In the search field available, enter the address, coordinates, or the name of the city that you would like to spoof.
Choose the location and it will be loaded on the map screen. Make sure this is the location that you would like to be teleported to, then proceed to the next step.
You can adjust the Map by zooming in and out. You can also move the pin around the Map. Now, click on the Move Here button and the GPS coordinate on your iPhone will be changed with the one you selected.
4. Simulate your device's movement
You can simulate movement of your handset by using the one-stop mode or multi-spot modes. You can find these modes located at the top-right corner of the tool's screen.
Begin by creating a route by dropping the pins on the Map. Then, adjust the walking speed from the speed bar and select the number of times you would like to go around the route.
Bonus: Joystick feature
You use the joystick feature to move more realistically. Pokémon GO players can enable the GPS joystick feature from the bottom of the interface screen.
There are other apps available for iOS location spoofing, but they're untested and may result in Niantic detecting your spoofing activity.
If they do, you are likely to get a soft ban as a first strike, and if you continue to get caught for spoofing, then it can result in a permanent ban.
That's why it's best to stick to apps that are built to avoid red flags that might trigger a ban.
Conclusion
The information you can find on the spawn maps we mentioned can give you an extra advantage over the other Pokémon GO Players.
These tools offer an extra sense of direction and save you time in exploring locations. You can also leverage them for particular Raids, Battles, and Pokemons.
And if you want to expand your Pokemon search beyond borders, we recommend using a location-spoofing app like MockGo for changing your coordinates.
This way, you can add new items to your inventory and show off to your friends.
Let us know in the comments below if you use any of the maps when playing Pokémon GO.