When it comes to unlocking the full potential of Pokémon GO, you need to be able to play the game without walking. Not only does this help you cover more ground, but it also introduces extraordinary new Pokémon from different regions.
You might be wondering, 'Is that possible?'Well, this guide will help you learn the following:
Is it possible to play Pokémon GO without walking
How to play Pokémon GO without walking
Tips for moving in Pokémon GO without getting detected
With so much to cover, let's get right to it.
Is It Possible to Play Pokémon GO without Walking?
To put it simply, yes, you can!
To play Pokemon GO without moving, you simply need a location spoofing app that allows you to teleport your GPS or fake different types of movement, such as movement along a real route, or the movement based on a GPX path, etc.
These location spoofing tools are the perfect solutions for those of you who would rather play Pokémon GO while staying within the walls of your humble abode.
Even though a location-changing tool is all you need, there are some things you have to keep in mind. Location spoofing can be detected by the game servers if you don't use a reliable tool. This has led to many players getting banned, permanently restricting them from being able to play the game.
Choose the Right Tools to Get Started
No gamer would intentionally get their account banned, especially when it comes to Pokémon GO. So, to avoid losing your progress, only play Pokémon GO in a safe manner. Here are some verified apps that can help you spoof safely:
MockGo (iOS) - It is considered one of the best, especially for iOS. It allows you to change the GPS location of your iPhone without compromising your device's security.
Fake GPS Joystick & Routes Go (Android) - It is considered one of the best Pokemon GPS spoofing apps with over 10 thousand installs on Google Play Store.
Play Pokémon GO without Walking for iOS (iOS 17 Supoorted)
When it comes to iOS location spoofing for Pokemon GO, MockGo is one of the best tools to use. Not only it is safe and reliable, but also it is easy to use and compatible with the latest iOS 17.
Here are its top features:
Change location on iOS devices to anywhere with a single click.
Make an auto-walk by choosing two or several spots, or importing GPX file.
Set manual or auto movement with the joystick.
Customize the speed with realistic mode when moving.
Works with all location-based apps including but not limited to Whatsapp, Tinder, and Pokémon GO.
Support the latest iOS devices and versions such as iPhone 15 and iOS 17.
However, it would help if you keep in mind that Pokémon GO developers have a strict policy that restricts players from using any location spoofing software.
It's therefore suggested that you don't change location on the software frequently. Here are the steps on how to use MockGo to teleport your GPS and fake moving:
Step 1. Download MockGo
This app is available for Mac and Windows. So you will need to download and install the software onto your computer first.
Step 2. Connect your iOS device
After installing, launch the application then connect your iPhone to your computer.
Step 3. Choose teleport mode
After that, select the Teleport mode on the upper-right corner of the screen.
Step 4. Choose the location
Next, enter the address of where you want to go on the search bar and click Go. The location you choose will be shown on the map.
Step 5. GPS changed
Click on Move Here, and the GPS location on your device will be changed instantly.
That's it! Though it's best to avoid teleporting too much, especially in small time intervals. There is a huge chance that it will be tagged as suspicious activity, which may result in your account being banned.
How to Fake GPS walking with MockGo
You can also fake GPS movement using MockGo, follow the steps below:
1. Choose the 'One-stop mode'.
2. Set the starting and destination points from the map. Then click 'Move Here' to move to the next stage.
3. Then, set the number of trips and speed you wish to move with. You can also enable the realistic mode from the speed control panel.
4. Click the Start button and the movement will begin immediately.
Play Pokémon GO without Walking for Android Device
For users of Android devices, you can refer to this latest devsjournal guide first. This tutorial introduces the latest and working ways to safely fake GPS on Android devices for Pokémon GO.
Warning: Don't use "Select mock location app"
Note: We noticed that a lot of guides recommend you to fake GPS on Android devices by enabling "Select mock location app" directly in settings. However, it is pretty risky for your account now. Because Niantic will detect spoofing when the mock locations checkbox is selected.
To bypass this, you must downgrade your phone, root your phone, and turn the app into a system app, or you may not need to do anything at all to install the Pokémon GO Android hack App, depending on the Android version of your device.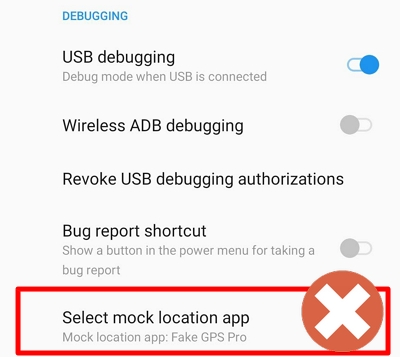 Step 1. Download the original Pokémon GO app
First and foremost, make sure that you downloaded the original Pokémon GO app from the Playstore.
Once that is taken care of, you can refer to these important notes below.
Step 2. Choose a fake GPS app
The location-faking apps basically let you move within the game using virtual control buttons, just like the classic Pokémon game.
This way, you can move in whichever direction you want to go without actually moving in real life.
There are actually free applications similar to the Fake GPS Joystick app that worked back in 2019. These are the Fake GPS app and the FGL Pro app.
Though these methods don't require payment, Niantic will ban you for using these apps when they detect their actions on your device. Weigh the pros and cons and decide if you want to risk it.
One of the trustworthy Android GPS faking apps is Fake GPS Joystick & Routes Go. Like MockGo, this is also a paid software. You can get it for $4.40.
Step 3. Root or downgrade your Android device
If you think they're worth the risk, you will have to either root or downgrade your Android device in order to use the apps.
For you to determine which method you should use, follow this simple guide:
If your device is Android 8 and below, you can downgrade your Google Play Service by using external apps like Odin for Samsung.
If your device is Android 8.1 to 9, you should root your Android using Magisk before you can use the GPS spoofing apps.
If you are using Android 10 and above, use the Smali Patcher.
Ineffective Tools to Avoid
It is easy to find an app that claims to be able to spoof your location on Pokémon GO, but most of them would require a subscription or are just straight-out unreliable.
It's also important to avoid using any other ineffective spoofing apps. We have also listed some of apps that you should steer clear of:
Tutu App - The app seems sketchy as its website has a poor design and the app has a poor rating on the App Store. There have also been some reports asking for sensitive information from its users.
PokeGo++ - The app is not found on App Store or Google Play and can only be downloaded from a site linked to Tutu App. It's believed that the APK file for the app contains malware, making it unsafe to install or download.
Fake GPS GO Location Spoofer Free - This claims to only work on rooted phones and leads users to a site where they have to pay to continue.
Be cautious of apps with bad reviews and ratings that collect personal data or ask for suspicious permissions.
It's best to avoid apps that aren't available on Google Play Store or App Store, are flagged as untrustworthy, or require jailbreak, unless there is no other option.
Tips for Moving in Pokemon GO without Walking in a Safe Manner
Spoofing is relatively safe when you're using the right tools. However, there are still some tips you need to remember if you're gonna trick Niantic's security checks. Here's what you need to know:
Be Mindful of the Soft Ban
Sometimes, using a spoofing tool can lead to a soft ban where you can't use your account for a few hours. This happens when you overuse the tool or change your location multiple times daily. Be mindful of cooldown timings after every location change to avoid a soft ban.
Keep the Walking Speed Limit in Mind
Just like in real life, there's a certain walking speed above which Niantic starts getting suspicious of your activity.
Customize your walking speed to be as natural as possible. The walking speed limit is 8.95 mph because, let's face it, you can't exactly be sprinting and catching Pokemon at the same time. Try and keep your walking movements as natural as possible.
Use the GPS Spoofing Tools Carefully
Use the spoofing app to modify your location before opening Pokémon GO and avoid making sudden and long-distance jumps while playing Pokemon.
Make use of the Cooldown Timer as well. Some Pokémon GO GPS spoofing app comes with a Cooldown Time reminder feature to help reduce the risk of getting banned.
FAQs
1. What Causes Detection?
Pokémon GO doesn't have an anti-cheat that can detect if you are spoofing your location. Instead, the game developers collect GPS data which they analyze to check if there is any unusual behavior in the way the player plays the game.
So if you spoof your location often and if you spoof your location to a lot of further distances without a proper time out afterward, you can get detected by the Pokémon GO developers.
But if you spoof your location carefully and you do your best to play the game without tipping off any unusual behavior that can be read through GPS analysis, you might not get detected.
2. Are 3rd Party App Stores Safe to Use?
There are many 3rd party stores that act just like the official AppStore, yet they give you access to many third-party apps you can install on your iOS device without having to jailbreak it.
The most popular such 3rd party app stores include AppValley, TuTuApp, Builds,and AppCake, among others. While they're very convenient, they're not really safe to use.
These app stores tend to inject ads into your game, and since the original game doesn't feature ads, you can get easily detected by the game developers for "unusual behavior" since you're forced to look at the ads.
Not only are ads annoying, but who knows what else gets injected into the modified game and what else you will have on your phone without even knowing. Lastly, ads are annoying and can ruin the playing experience.
3. Are Modified Pokémon GO Apps Safe to Use?
There are some modified Pokémon GO versions in the market. However, using these tools could result in your account getting banned. The ban "wave" is not over, and it's most likely not going to end since the Pokémon GO developers are fully aware of the modified Pokémon GO versions.
Therefore, you should be careful how you use these modified versions but also ensure that you use a secondary account that you don't mind getting banned.
Conclusion
Now that you know how to play Pokemon GO without walking, you can easily master the game and catch all the Pokemon you come across.
MockGo is the best tool for iPhone to spoof your location since it keeps your account safe and doesn't get detected by Niantic. With so much utility, what more can you ask for?
For Android users, you can downgrade your Android with apps like Magisk and Smali Patcher to root your Android before you can use GPS spoofers.