When you try to register and activate the Foneazy program, you may get error messages saying that the registration is failed. Find the corresponding troubleshooting steps here.
Error 1: Your license is invalid.
Solution:
1. Please check your order confirmation email and make sure you have entered your license key correctly.
2. Unregister the program and try to activate it once again.
3. Delete the files and try again.
For Windows computer: Delete the files in this directory: %homepath%\AppData\Roaming\MockGo\
For Mac computer: Click Go > Go to Folder, then input: ~/Library/Application Support/MockGo/, and delete all the MockGo folders.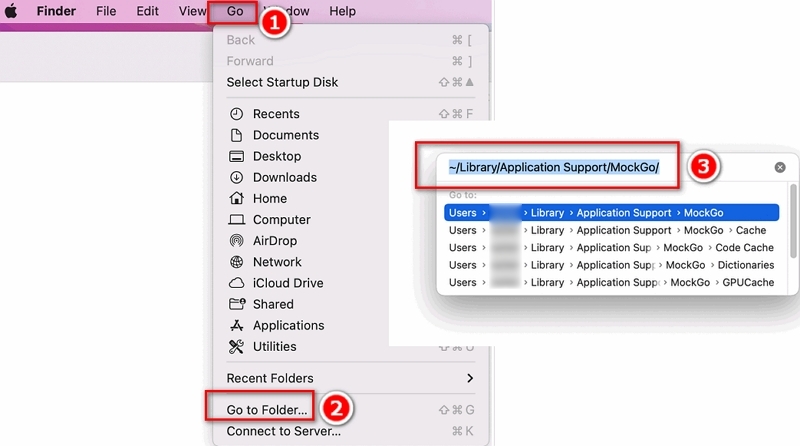 4. Reboot your PC/Mac, relaunch the program, then register again.
If the error persists, please contact our technical support.
Error 2: Your license key has expired.
Cause: Incorrect system date on the computer or the license has expired.
Solution:
If the system date is correctly configured, and you still get that error after a few attempts, the most likely cause is that your license has expired. Renew the license by purchasing a new license key at a discounted price.
Error 3: Your license key has reached its activation limit of the computers.
Cause: You have already activated the program on the maximum number of computers that your license key allows.
Solution:
Please unregister the license on the other computer, then register the license on the computer you are using now.
Or you can purchase a new license key for the computer you want to use.
Error 4: Number of phones exceeded.
Cause: The error occurs if you have used the program on more devices than your license allows.
Solution: Check the number of devices in your license details. According to the results:
If you have exceeded the number of devices allowed, purchase another license or remove one of your devices by contacting our support team.
If you did not exceed the number of devices, please contact our technical support.
Error 5: No internet connection.
Cause: A network connection error may occur when activating our program.
Solution:
Check the network connection on your computer and try again.
Try activating the program again after a short while (e.g. in an hour). The activation server may be temporarily unavailable.
If the error still occurs, please contact our technical support.