In a world full of software to unlock iCloud Activation Lock, it can be very hard to determine which of the numerous tools in the market is reliable. One of the most popular is iCloud Remover 1.0.2. It is recommended by various websites which may point to its effectiveness.
If you are wondering if iCloud Remover 1.0.2 tool is an ideal solution for you, you may want to reserve judgment at least until you've read this review. Here, we will be looking at all aspects of this tool to help you decide if it is the ideal solution for you.
What Is iCloud Remover 1.0.2 Tool
When it comes to programs that help you manage your iOS device and get past the iCloud activation, iCloud Remover 1.0.2 is one of the most popular on the internet.
Trust me: I've seen scam programs that try and infect your computer with viruses or those pay-for-service websites that just take your money and offer no help. The iCloud Remover Crack 1.0.2 claims itself apart by being easy to use and having a high success rate.
One of the major reasons for the popularity of the iCloud Remover 1.0.2. is the plethora of features it offers. The first time I went through them, it almost seemed too good to be true. Here are the main features that it advertises:
It removes the iCloud Activation, Apple ID login, and other locks on your iPhone.
It is compatible with almost every iPhone and iOS device.
There is a free trial option followed by a premium license.
You can reuse the program to manage your iOS device many times.
The program is easy to install and has a user-friendly interface.
How to Use iCloud Remover 1.0.2 Tool
Follow these simple steps to use iCloud Remover 1.0.2 to bypass iCloud Activation Lock from your device:
Step 1: Download and install iCloud Remover 1.0.2 onto your computer.
Step 2: Connect the iOS device to the computer using a USB cable.
Step 3: Start the Web and AES service and wait while iCloud Remover 1.0.2 unlocks the device.
Step 4: Open iTunes and then complete the activation process to begin using your device.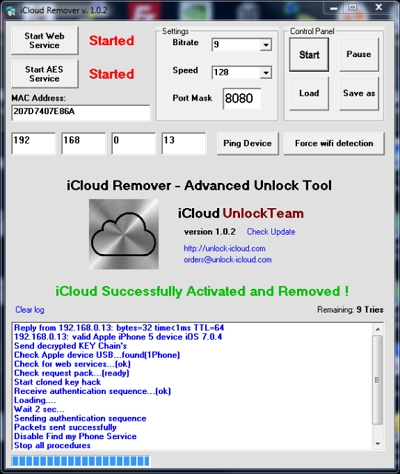 Where to Download iCloud Remover 1.0.2 Tool?
Although many believe the program to be authentic, there is one thing that raises a few eyebrows. The iCloud Remover 1.0.2 does not have any official website where it can be downloaded for.
There is no authentic and reliable source that claims to provide the services and features it is known for. Most of this information comes from users like me who detail their experience in blogs online.
So where can you find it? Well, there are many websites on the internet that claim to have the program and offer download links.
But it's the internet, and you know there's a risk of viruses with such downloads, like how most of these websites will have you complete an "easy offer" to get the file, which is as scammy as it can get. That's why always run an antivirus on the programs you get and make sure to download it from verified sources.
We tried downloading the software from Softpedia as well. However, an error code occurred during the installation process, resulting in the failure to open the program. We also noticed that this package is very outdated, as the last modification date is shown as 2014, which is almost ten years ago.

Price of iCloud Remover 1.0.2 Tool
Although there is a free-trial period, it has an even lower success rate than the paid version of the program. With the free trial, you cannot get the same benefits as the full version. The program costs $30 to download and run, but you can use it many times after this initial payment.
Does iCloud Remover 1.0.2 Full Version Really Work?
Although there's so much hype around the program, there are some mixed reviews online as well. Some people claim that iCloud Remover 1.0.2 doesn't bypass their iCloud activation lock or disable the iPhone lock screen.
Others have claimed that it did more harm than good to their iOS devices, which required them to get professional assistance later. After using the program, there were reports of issues with data loss, network connection issues, and rebooting.
Pros:
Works with many iOS versions
Easy to install and use
Helps with data recovery
Cons:
Has a low success rate
Can cause complications in your device
Couldn't find a valid and safe download link
Nullifies your original iPhone warranty
Effective Alternative in 2023: Unlockit iCloud Remover
Despite its many praises, we were unable to download a reliable and stable version of iCloud Remover 1.0.2. Therefore, it may be necessary to find an alternative tool that is not only easy to find but also a highly effective solution. One of the best alternatives in the market is Unlockit iCloud Remover.
The following are the reasons you should choose Unlockit iCloud Remover:
Easily bypass Activation Lock on your device without the Apple ID or password.
Once the device is unlocked, you will be able to set up a new iCloud account in the App Store and iTunes Store.
It will unlock iPhone models from iPhone 5S to iPhone X running from iOS 12 to 16.
Safe and secure to download.
Provide official support.
The following simple steps show you how to use Unlockit iCloud Remover:
Step 1: Unlockit is a desktop solution, so you need to download and install it on your computer.
Step 2: Open it on your computer, agree to the terms and conditions on the main page and then use a USB cable to connect the iPhone to the computer. After that, click "Start" to continue.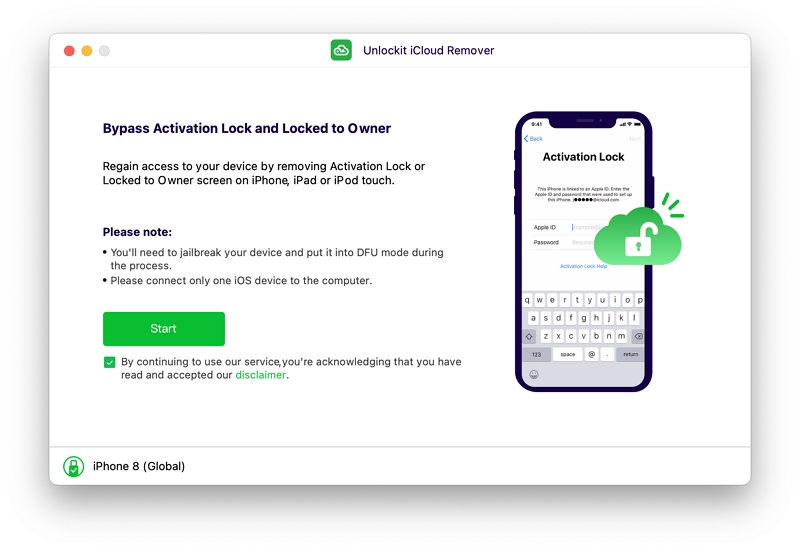 Step 3: Then, Unlockit will begin downloading the jailbreak tool that is needed to jailbreak the device.
Step 4: Follow the on-screen instructions to jailbreak the device.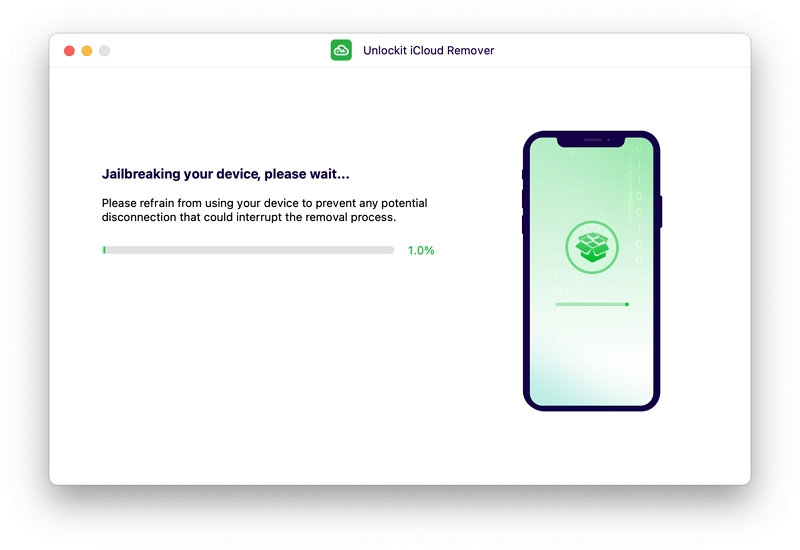 Step 5: When the jailbreak is complete, confirm that the information about your device is accurate and click "Start to Remove" to begin removing iCloud Activation Lock from the device.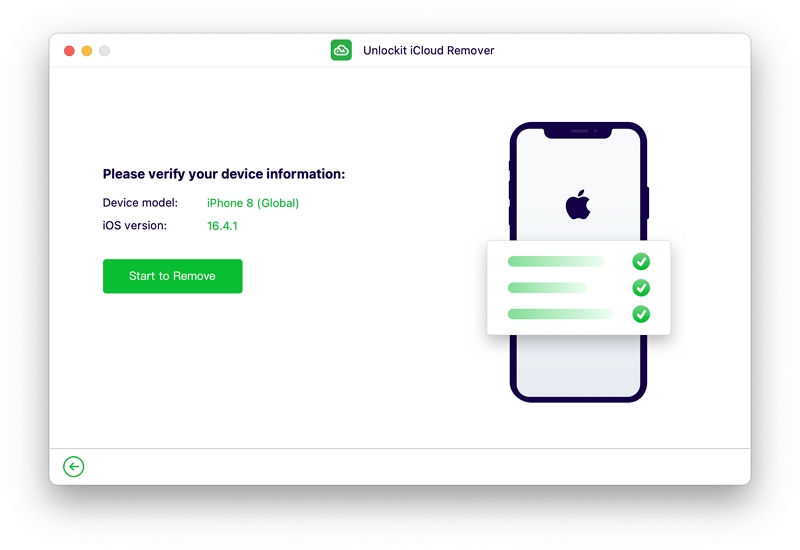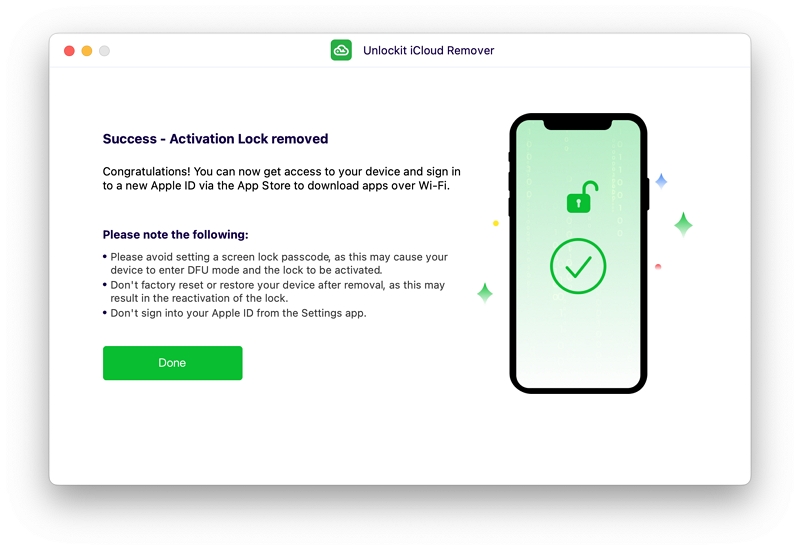 To Conclude
Removing iCloud Activation Lock from your iPhone is a difficult prospect, particularly if you don't have the right solution. With so much risk involved, the only question that arises is, 'is iCloud Remover 1.0.2 really worth it?'
To be honest, it's a gamble, but personally, I would prefer spending my money on a program or service with an actual high success rate so I know my cash didn't go to waste. Compared to iCloud Remover 1.0.2 tool, Unlockit is a reliable, effective, and very easily accessible solution.