One of the most common problems that new iOS device users face is iCloud Activation Lock. This feature is very important because it is designed to keep your device and the data on it safe from unauthorized access.
But if you forget your Apple ID password or you purchase a second-hand iOS device that is still tethered to the previous owner's iCloud account, it can be a huge problem.
In this case, you need a tool that can bypass iCloud Activation Lock and give you access to your device. One such tool like Checkm8 and despite its popularity, many users have questioned its efficiency and usefulness.
This unbiased review of Checkm8 should help you make up your mind if it is the right tool for you.
What is Checkm8?
Checkm8 is an iCloud Bypass Software tool designed to help users bypass the iCloud Activation Lock.
It is only available for macOS and you will need to jailbreak your iOS device to use it successfully.
But it supports a wide range of iOS devices running iOS version 12.3 and above.
Checkm8 Compatibility
Here's a breakdown of the iOS device models that you can unlock using Checkm8:
iPhone: iPhone X, iPhone 8 Plus, iPhone 8, iPhone 7 Plus, iPhone 7, iPhone SE, iPhone 6s Plus, iPhone 6s, iPhone 6 Plus, iPhone 6, iPhone 5s, iPhone 5c, iPhone 5, iPhone 4s
iPad: iPad (7th Generation, 2019), (6th Generation, 2018), (4th Generation), (3rd Generation), (2nd Generation); iPad Mini (1st Generation), iPad Mini 2, iPad Mini 3, iPad mini-4; Pad Air (2013); iPad Pro (9.7 in.), iPad Pro 10.5″ (2017), iPad Pro 12.9″ 2nd Gen (2017)
iPod Touch: iPod Touch 6 and iPod Touch 7
How to Use Checkm8
To use Checkm8 to bypass iCloud Activation Lock on your iOS device, you will first need to jailbreak the device.
Checkm8 doesn't provide any means to jailbreak your device, so you will have to complete this step independently.
Before Getting Started
It is important to note that jailbreaking your device can carry a lot of risks including:
If the jailbreaking process is unsuccessful, there is a chance that your device could become bricked, resulting in you having to spend a lot of time and money trying to repair the device.
Jailbreaking your iOS device can open it to a world of new possibilities, but it will also remove a lot of the in-built security features meant to protect the device from outside threats like malware and viruses.
A jailbroken device will also lose the protections provided by a warranty agreement.
You will also not be able to update the jailbroken iPhone to a newer version of iOS. This is because the jailbreaking software you use has to be adapted to every version of iOS. This means that you will not be able to benefit from new features introduced with every new iOS update.
If you would still like to use Checkm8 despite the risks, follow these steps to jailbreak your device and then use Checkm8 to bypass iCloud Activation Lock:
Step 1. Jailbreak Your iOS Device
Step 1: Go to https://checkra.in/releases/#all-downloads to download and install the jailbreaking tool onto your Mac. Launch it after installation.
Step 2: Connect the iOS device to your computer and wait while Checkra1n checks the device for any compatibility issues. Click "Start" when the verification process is complete.
Step 3: Click "Next" and you will see the instructions you need to put your device in DFU Mode. Follow the instructions on the screen and then click "Start."
Step 4: The jailbreaking process will begin immediately and you can click "Done" when the process is complete.
Step 2. Bypass iCloud Activation Lock
Now that your device has been successfully jailbroken, you can go ahead and bypass iCloud Activation Lock using Checkm8. Here's how to do it:
Step 1: Go to https://checkm8.info/ to download this tool onto your Mac. Open it.
Step 2: Connect the iOS device to the computer using a lightning cable and click "Start Bypass."
Now, just wait for Checkm8 to complete the bypass process. You should see a notification on the screen when the process is complete.
Is Checkm8 Worth Trying?
Checkm8 has long been a popular solution for devices that are stuck on the iCloud Activation Lock screen, but it does have a number of limitations. These include the following:
You have to jailbreak the device before you can unlock it.
Checkm8 has been known to affect the iPhone's call features, leaving some users unable to make phone calls on their devices.
You may also find that FaceTime doesn't work after using Checkm8.
Cellular data connections will also be disabled, leaving Wi-Fi as the only way to connect to the internet.
The unlocked device will not be able to send text messages.
Even though the previous iCloud account will be removed, you will not be able to sign in with your own iCloud Account.
Since you can't sign in to iCloud, all iCloud-related features and functions will be inaccessible to you.
Users have complained that the physical buttons on their devices stopped working after using Checkm8.
Given the fact that you have to jailbreak your iOS device before using Checkm8 and the fact that it doesn't provide a way to safely do that, we wouldn't recommend using this tool to bypass iCloud Activation Lock on your device.
It also doesn't help that you will lose many functions of the iOS device after unlocking.
It is our general opinion that Checkm8 has too many limitations to be an effective solution for those seeking to unlock their iOS device.
We, therefore, advise that you look for other options before trying Checkm8.
Best Checkm8 Alternative in 2023
A better way to bypass iCloud Activation Lock on your iOS device is Unlockit iCloud remover. Unlike Checkm8, it is also an easy solution that doesn't leave the jailbreaking process to chance.
It is available for Mac and operating systems and will easily remove the iCloud account on the device, allowing you to regain access to your device.
What's more, Unlockit is compatible with iPhone 5s through iPhone X, most iPad models, the iPod touch 6, and the iPod touch 7 running from iOS 12.0 to 16.
Here's how to use Unlockit:
Step 1: Download and install Unlockit on to your computer. Start the program when the installation process is complete.
Step 2: Connect the iOS device to the computer. For the best results, we recommend using the device's original lightning cable.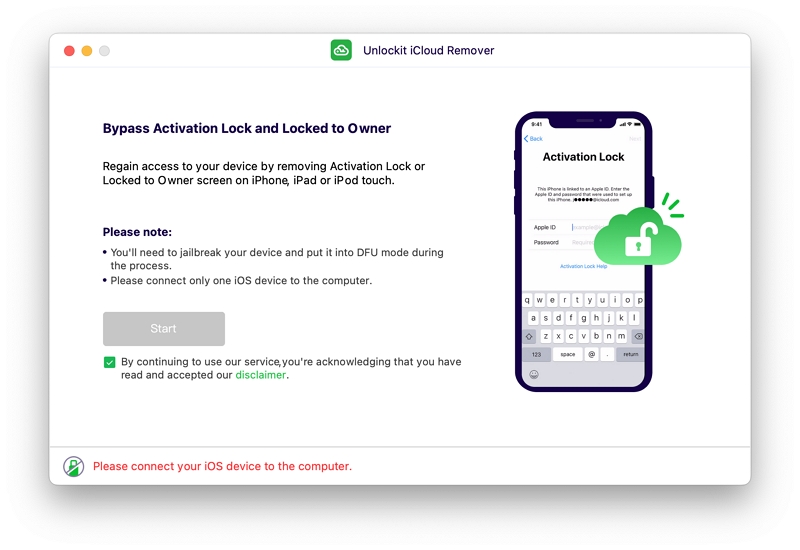 Step 3: Click "Start" from the main window and Unlockit will prompt you to put our device in DFU mode and jailbreak your device.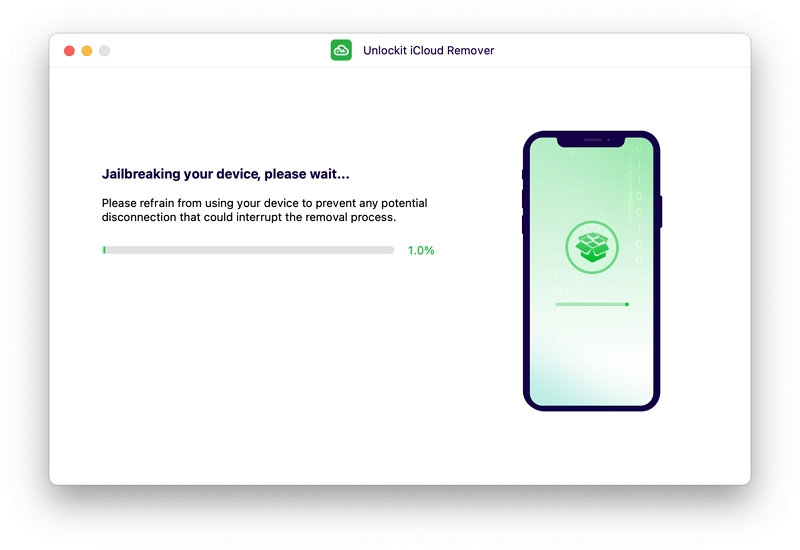 Step 4: When the iOS device has been successfully jailbroken, click on "Start to remove" to begin unlocking the device.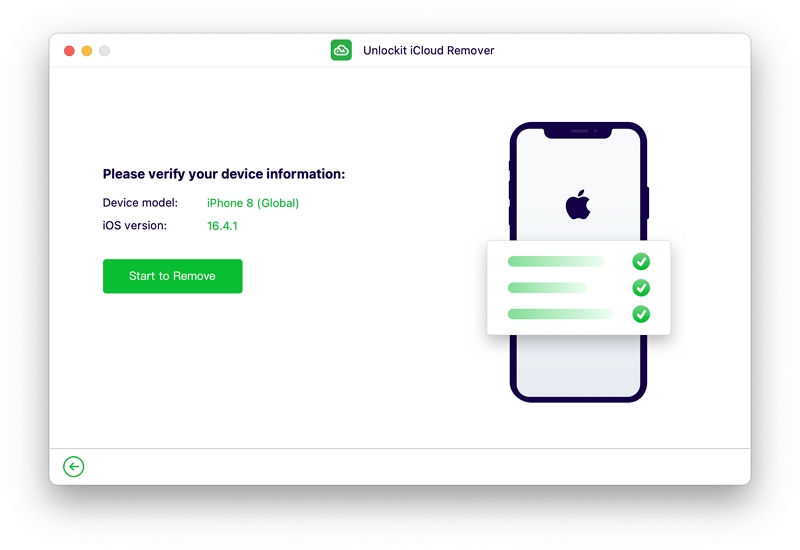 Unlockit will notify you when the device has been successfully unlocked. Click "Done" and disconnect the device.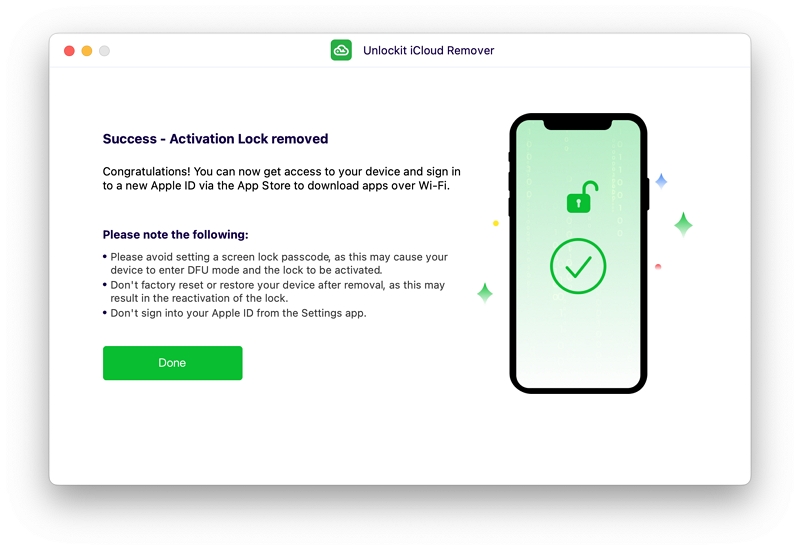 Wrap Up
It can be very frustrating to have an iOS device that you are unable to use as is the case with an iCloud locked device. But there are ways around this problem with tools like Unlockit.
Unlike Checkm8, Unlockit will unlock your device without imposing serious limits on its functionality and without overcomplicating the process, meaning that you can unlock the device in a matter of minutes as opposed to hours.