When looking for a way to bypass iCloud Activation Lock on your iOS device, you may have come across AppleiPhoneUnlock.
This is just one of the many online tools that claim to be very useful when you are unable to reset or activate your device because you don't have the Apple ID and password associated with it.
But does it work? Should you trust this tool? This full review of AppleiPhoneUnlock will attempt to answer these questions as you seek to determine if it's the right tool for you.
What is AppleiPhoneUnlock?
AppleiPhoneUnlock is an online service that can be used to remove an iCloud account from iOS devices and even remove carrier locks. It supports all iPhone models, iPad, iPod Touch, and Apple Watch.
AppleiPhoneUnlock uses the device's IMEI number to unlock the device and will unlock a device in 24-48 hours when other tools often do so in an average of 3 days. You don't need to send them your device or provide any other additional information. It removes the iCloud account by whitelisting the IMEI number on the Apple Activation database.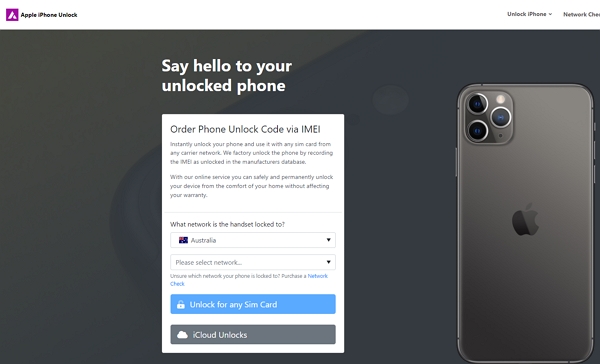 How to Use AppleiPhoneUnlock iCloud Unlock Service?
It is easy to get the process of unlocking your iPhone started using AppleiPhoneUnlock. Here's how to do it
Step 1: Go to https://appleiphoneunlock.uk/ to access this tool and then select your device's model and enter the IMEI/Serial Number.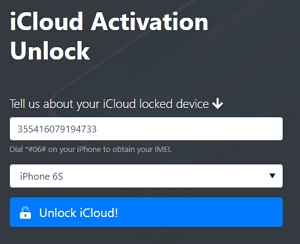 Step 2: Click on "Unlock iCloud" and complete the payment for the service. Now all you have to do is wait and in 24-48 hours your iPhone will be unlocked.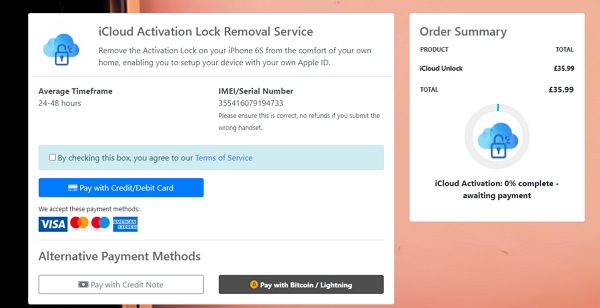 Does AppleiPhoneUnlock Really Work?
With a rating of 2.18 stars on Sitejabber, it is easy to see that many customers who have used this program do not find it useful.
Most of the complaints do not however have anything to do with its effectiveness, but rather most customers complained that the customer support was poor.
It does appear that AppleiPhoneUnlock offers two services to their clients.
They remove iCloud Lock on their devices by whitelisting the IMEI of the device in the Apple Activation Database and offer over-the-air support to help their customers unlock their devices.
But because you don't have any control over how the process works, there is no telling what will happen once you've paid for the service.
Some users said that the service did not unlock their devices even though they had already paid. They were promised a refund, but they never got it.
Best Alternative to AppleiPhoneUnlock in 2023
The only way that you can be sure your device will be unlocked is if you controlled the process yourself and this is only possible with a desktop unlocking tool.
One of best desktop tools that you can use to remove the iCloud Activation lock on your iPhone or iPad is Unlockit iCloud remover.
The following are the main reasons why you should choose to use Unlockit over online tools like AppleiPhoneUnlock
Bypass the Activation lock even without the Apple ID and password
It works well with all iPhone models from iPhone 5S to iPhone X and all versions of iOS from iOS 12 to iOS 16
You will not have to deal with popup ads and the threat of viruses or malware
It is safe, secure, and easily accessible; you can always find the official website
You will have access to 24/7 technical support
Get a full refund if you are unsatisfied
Above all, you don't need to send your device to anyone to unlock it and you will not need to share your details with anyone. It is very easy to use, just connect your device to the computer and the program will unlock it for you.
Here's a step-by-step guide to help you through the process:
Step 1: Start by downloading and installing Unlockit on your computer.
Step 2: Launch the program and then connect the iOS device to the computer. Click "Start".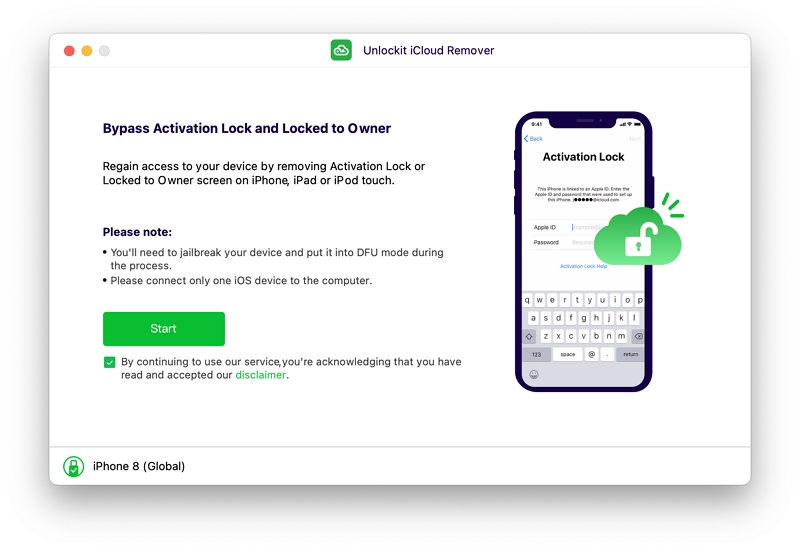 Step 3: Now jailbreak your device before it can be unlocked. But don't worry if you don't know how to do that. Unlockit will provide you with the jailbreak tool to use as well as the instructions on how to use it to jailbreak your device.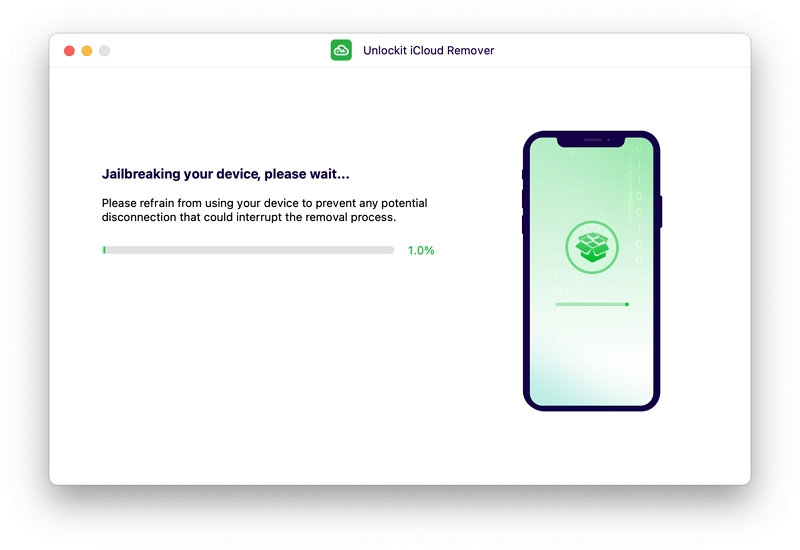 Step 4: When the jailbreak is successful, click on "Start to remove" to start unlocking the device.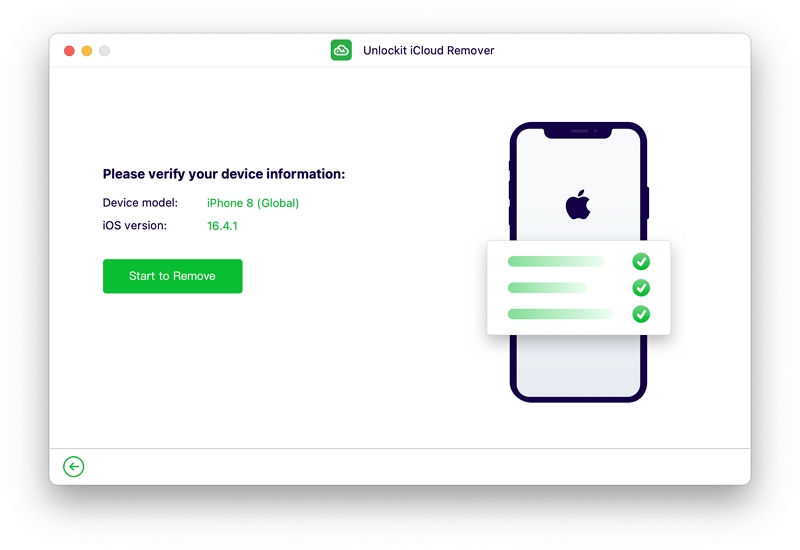 The process will take a few minutes and Unlockit will notify you when the device has been successfully unlocked.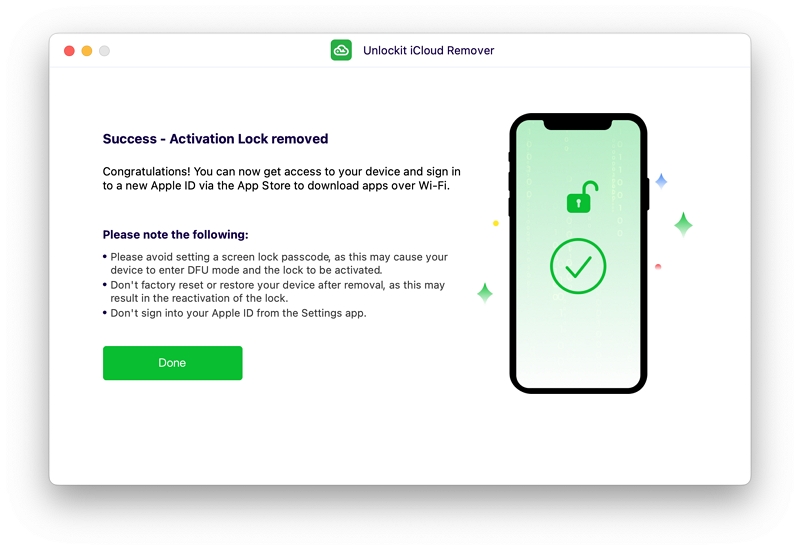 Wrap Up
There are a lot of other online unlocking tools in the market. But they all have one thing in common; they have horrible customer reviews that indicate they either don't work or are only there to scam people of their hard-earned money. Although online tools like AppleiPhoneUnlock can sometimes be useful in a bind, it is clear from the user reviews that this tool doesn't always work.
But if you don't want to fall victim to one of these tools, try using a solution like Unlockit iCloud remover. This one will put the process in your own hands, guaranteeing that you will be able to unlock your device.