iClunlock is a tool that allows iOS users to unlock their devices in a variety of conditions. You can use the tool to unlock your device's iCloud activation lock and network carrier lock.
We'll go over a full iClunlock review in this article so you can decide whether it's a good option for removing the iCloud lock or not.
Let's get started.
What is iClunlock?
iClunlock is an iCloud unlocking service provider that also helps people solve their iPhone's iCloud Activation locking and Sim locking problem. It does not matter which part of the world you are residing in, because iClunlock provides a global service for all iPhone users with a locked iCloud. As of this writing, iClunlock has successfully unlocked 3,481 sims and 8,097 iCloud-locked devices.
Be it iPads, iPhones, Apple Watches, or even your iPod touch, the iClunlock service will work on all of them. All you need are your IMEI and Serial Number to instantly remove the Apple ID or iCloud account from any activated iOS device..
Which Devices Does It Work?
iClunlock provides its cheap and hassle-free service to the following Apple devices and iOS versions:
iPhone 12
iPhone 11, iPhone 11 Pro, and iPhone 11 Pro Max
iPhone X, iPhone XR, iPhone XS, and iPhoneXS Max
iPhone 8 and iPhone 8 Plus
iPhone 7 and iPhone 7 Plus
iPhone 6, iPhone 6S, iPhone 6 Plus, and iPhone 6S Plus
iPhone 5, iPhone 5S, and iPhone 5C
iPhone 4, iPhone 4S
iPhone 3G and iPhone 3GS
All models of iPad
How To Use iClunlock to Unlock iCloud?
iClunlock provides you with an iCloud unlocking service through its website, so you won't need to download anything to use it.
However, it is important to note that the process takes up to 24 hours to complete, and seven more days until you get your desired result.
If you're pressed for time, you might want to skip this section and proceed to the next.
If you aren't, then give this easy and convenient unlocking service a try by following the steps below:
First, go to iClunlock's official website.
Select your device's model, then input your IMEI or Serial Number in the appropriate sections.
Click Buy Now and make the necessary payments at the checkout. The service will cost you a little less than $35.
Once the site verifies that payment has been made, it will initiate the unlocking process. You will receive a live tracking log in.
After seven days, you will receive a confirmation email, telling you that they have completed the unlocking of your iPhone or Apple device.
Which Mode Of Payments Does iClunlock Accept?
It can accept payments through the following secured payment methods:
MasterCard
PayPal
Visa
Bitcoin
Does iClunlock Really Work?
There are two sides to each story. Similarly, there can be mixed reviews about any product as one customer's satisfaction could easily be another's dissatisfaction.
It is your responsibility to check and review the site to see if what they have to offer works for you. To help you decide, we've taken the liberty of listing down a few pros and cons of using iClunlock:
Pros
Your Apple warranty will not be affected.
The website's SSL certificate is valid, according to the Xolphin SSL.
Your IMEI will be whitelisted on the Apple Activation Database during the unlocking process, making it a valid and legal service.
The website and its domain are old. It has been years since it was registered, ensuring that it is free of scams.
It is relied on by Trend Micro.
It uses secured payment methods with a money-back guarantee.
Cons
There is no contact information on the website nor any information on who the owner is, which some people might find suspicious.
The website does not link to other websites. This is another reason why we cannot consider it an authority website.
The number of visitors to this website is low.
People have mixed reviews about this site.
Working Alternative to Bypass iCloud Lock
If you can't find iClunlock or if you were able to find it but it didn't work, we recommend using Unlockit iCloud remover instead. This is a highly effective and easy-to-use desktop tool that will work every time. Unlike iClunlock it is also very easy to find; you can easily download it from the program's main website.
Unlockit iCloud Bypass Tool Features
Unlockit's bypassing tool can help you bypass activation lock without previous owner if your second-hand iPhone is still linked to the original owner's Apple ID, if you forgot the Apple ID and password initially logged in on your device, or if your iPhone is suffering hostile activation lock attacks.
The following features of the app might convince you to trust its usability and credibility.
Your old Apple ID will no longer exist.
The previous user can no longer trace you using their old ID.
Supports devices from iPhone 5S to X, lots of iPad models and iPod touch running from iOS 12 to iOS 16.
It is available for download on Mac computer.
How to Bypass the iCloud Activation Lock with Unlockit
It is important to note that the process will require you to jailbreak your device. This means the phone call, cellular and iCloud functions of your new Apple ID will be disabled as a result.
If you're alright with these terms, then proceed to bypassing your activation lock by doing the following steps:
Step 1. First, download the Unlockit app onto your computer. Follow the prompts to install the app. Once it is installed, the app will automatically launch.
Step 2. Then, connect the device with the activation lock to your computer via a USB cable. Agree to the terms of use and click Start.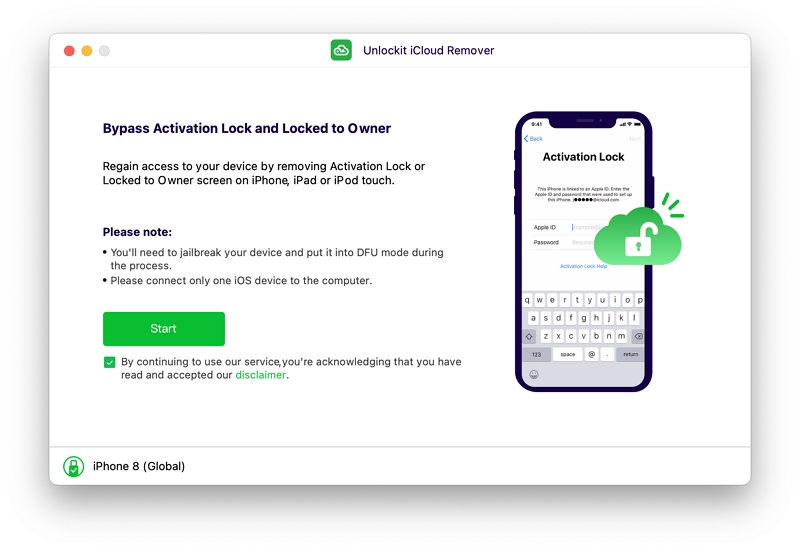 Step 3. Now, you'll need to jailbreak your device.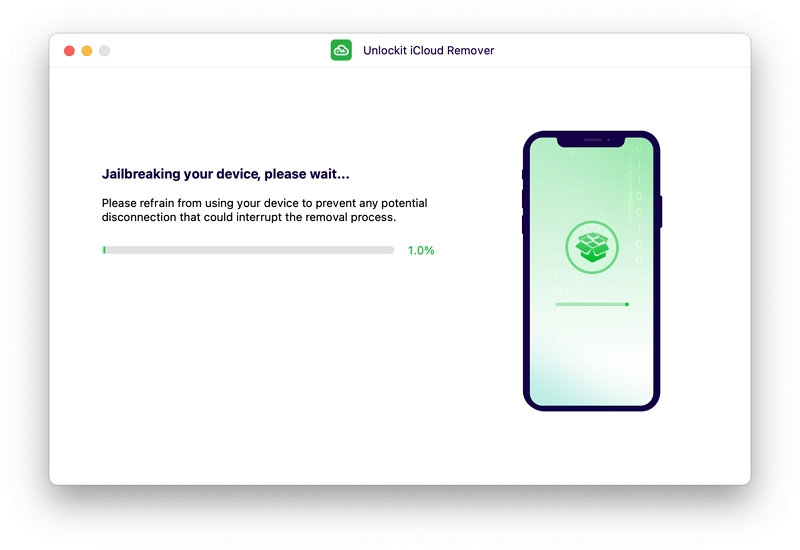 Step 4. After that, tap on Start to remove to remove the activation lock screen. Then, wait for a few minutes until the action is completed.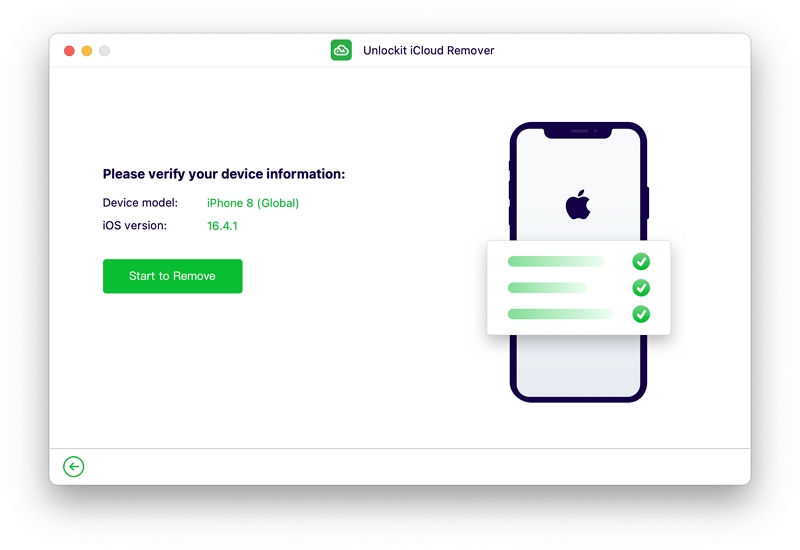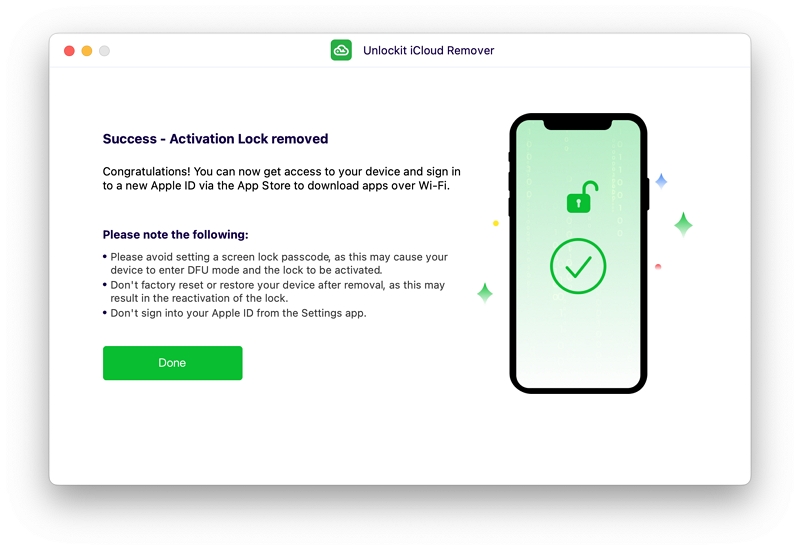 Verdict
Cyber threats and thefts are not new concepts in today's technological world. Be they scams, hacks, or thievery, we must protect ourselves against them.
But if in case your phone does get stolen, or should an unauthorized person try to unlock your iCloud to view your files, you can secure your data quickly by seeking aid from a trusted iCloud unlocking service such as Unlockit.