Having an iOS device that is stuck on iCloud Activation Lock can be a nightmare. Not only are you unable to set up the device, but you also will not even be able to access the most basic of features. It essentially renders your device useless.
For this reason, there are a lot of tools online that claim to be able to unlock iCloud lock using IMEI number. DirectUnlocks is one such tool. It is a paid online solution that offers iOS iCloud unlocking services. In this detailed review of this unlocking tool, we examine whether or not it will work for you to remove iCloud lock.

DirectUnlocks Features
DirectUnlocks is an online service that provides iOS unlocking services. It is IMEI based, meaning that you provide your device's IMEI number and DirectUnlocks attempts to remove the iCloud Activation lock from the device.
There's a lot that DirectUnlocks can do, and I'm here to explain it to you. Here is everything that this program is suitable for:
iCloud Bypass
The first and most crucial feature of DirectUnlocks is that it is an efficient tool to bypass your iCloud activation without remembering the Apple ID login. In only a matter of minutes, your phone's activation lock is bypassed, giving you access to all of iCloud's features.
Sim Unlocking
For those of you who bought a pre-owned iPhone, you'd be aware of the horror of having a carrier lock on your phone and not knowing about it. When your sim is locked, you can't use a carrier of any other network on the phone until the previous owner disables it. But with DirectUnlocks, you can easily do it from the comfort of your home.
IMEI Check
One of the lesser-known functions of this service is its IMEI check. You can easily find out the status of your device to verify whether it's been reported stolen or not. Along with this, you can also find your device number, model, purchase date, and more.
Compatibility
Okay, this bit is impressive - the DirectUnlocks program is compatible with both Apple and Android phones. So if ever in the future you change phones or simply carry them both, you can easily manage its apps and unlock them with one single software. Now that's innovative!
Is DirectUnlocks iCloud Unlock Legit?
The main problem with the function of DirectUnlocks is that you have to pay in advance and then wait for them to unlock your device. But some users have claimed that their device was not unlocked after 24 hours and they didn't get any refunds from DirectUnlocks or even an explanation.
There are a lot of complaints of a similar nature in many online review forums. It is also a very expensive service and given that you have to pay in advance with no guarantee that the device will be unlocked, it is very hard for us to recommend DirectUnlocks to anyone.
How to Use DirectUnlocks to Bypass iCloud Lock
However, unlocking the iCloud activation lock is easy with the DirectUnlocks software. Simply follow these steps and sit back whilst the magic happens:
Find the IMEI number or model number of the device you wish to unlock.
Go to the DirectUnlocks website to request the unlock initiation.
For iPhones and cellular iPads, enter the IMEI number in the box. For remaining Apple products, enter the serial number in the box.
Click on the device from the popup list. Make sure it matches the one you're trying to unlock.
Now press on Unlock iCloud! And you'll be shown the order receipt for the service you selected.
Enter your email, and make sure to read and approve the terms and conditions while you do so.
Pick the payment method most suitable for you and pay the pre-order fee shown on your screen.
Grab a cold drink and watch as your phone's iCloud activation lock is unlocked in a matter of minutes.
One of the things that makes DirectUnlocks so popular is its ease of usage. I found that as long as you prepare the initial requirements like IMEI and model number before starting, the process hardly takes a few minutes at max.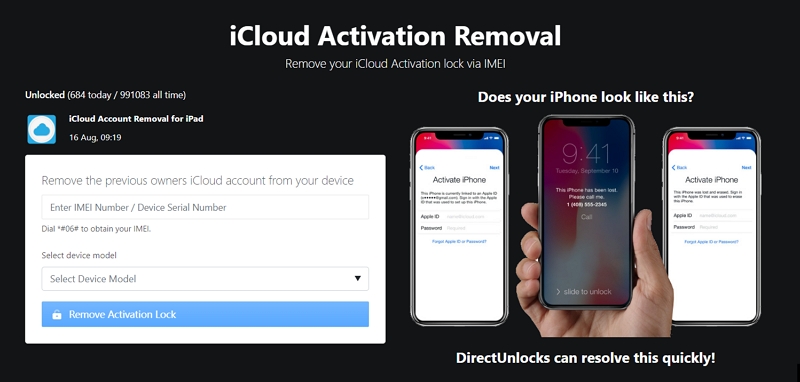 DirectUnlocks iCloud Unlock Pricing
Up till this point, the service seems like a dream. Let's put its pricing and authenticity to the test. From trying out the service firsthand, I realized that depending on your model, the average cost of unlocking your iCloud activation lock is around $35.
It is this standard price across most English-speaking countries. However, I also noted that for other parts of the world, the price initially shown is a prepayment and is much lower than the standard $35. But, once you move towards the end of the process, that money is charged elsewhere, making it around the same $35.
Although it's the same amount of money, the dual payment calculation methods ring some alarms. But, since I already mentioned that I tried this service firsthand, I can safely say that it does get the job done without almost any complications.
In some cases, people have asked for a refund, but if you did not verify your device's compatibility with the requirements mentioned for the surface, then you are not eligible for a refund.
Review of DirectUnlocks iCloud Unlock
Surprisingly, there are a lot of reviews about DirectUnlocks not being an authentic app. People have claimed their money was deducted, but no response was given anywhere from 3 days to 3 months. Others said the service was very slow and did not work with their iPhones even though it deducted the money.
No matter how you look at it, this program still took the internet by storm. If you are considering choosing this service, do so at your own risk. Just keep in mind that there are many options available hence weigh in what you have before deciding on something permanent.
Best Alternative to Bypass iCloud Lock: Unlockit
Desktop solutions like Unlockit iCloud Bypasser are better than online tools primarily because they put the whole process under your control.
There is no risk that you will lose your money because you will get the registration code instantly when you make the payment and then you can unlock your device accrording to the tutorial by yourself, that takes only a few minutes.
Unlockit is particularly useful because it is very easy to use. Just follow these simple steps to unlock your device using Unlockit;
Step 1: Install Unlockit on your computer (the program is available for Mac).
Step 2: When the installation is complete, open it and then use the device's USB cable to connect the device to the computer. Click "Start" to begin.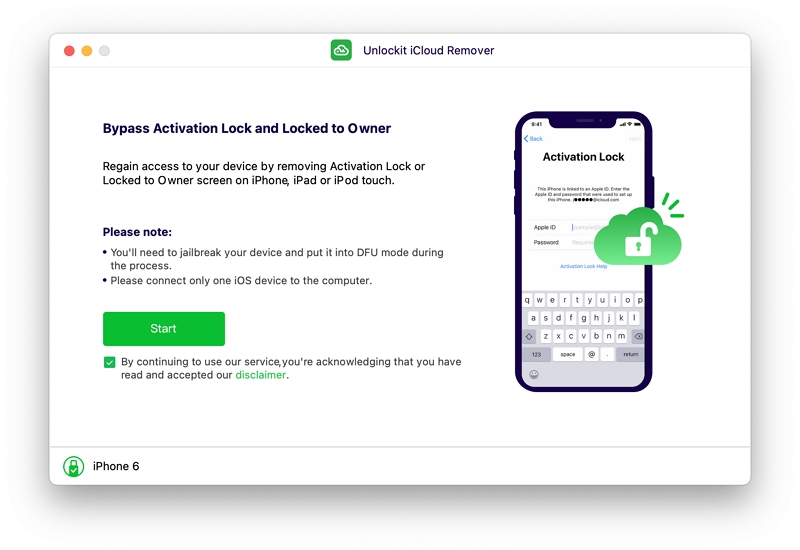 Step 3: To unlock the device, you will need to jailbreak it. The program will immediately begin downloading the jailbreak package that you need to jailbreak the device.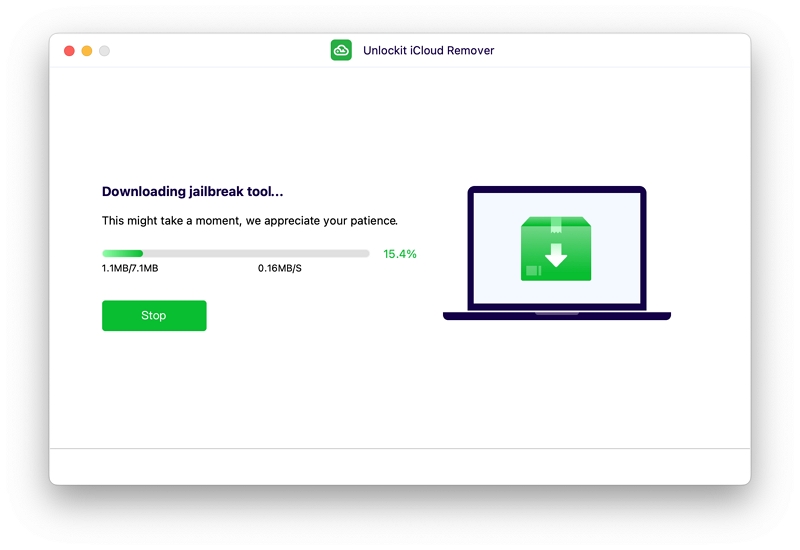 Step 4: When the download is complete, click "Jailbreak" to begin jailbreaking the device.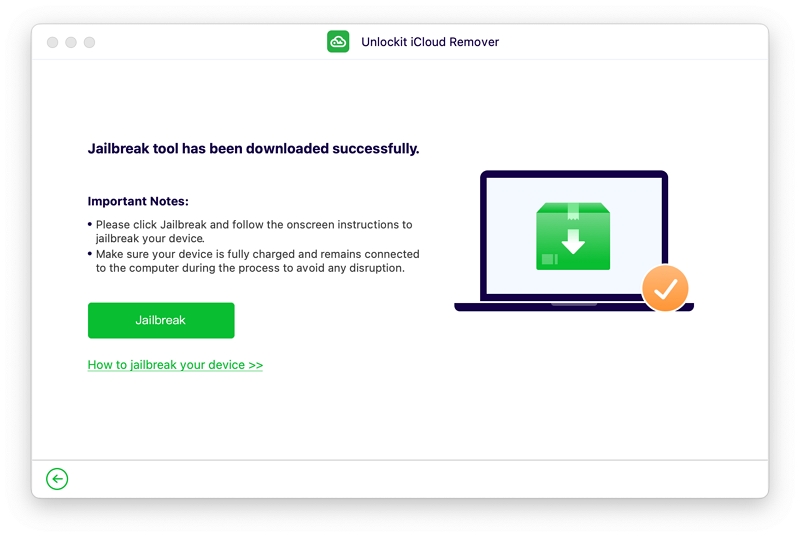 Step 5: Once the device has been successfully jailbroken, click on "Start to Remove" to begin unlocking the device.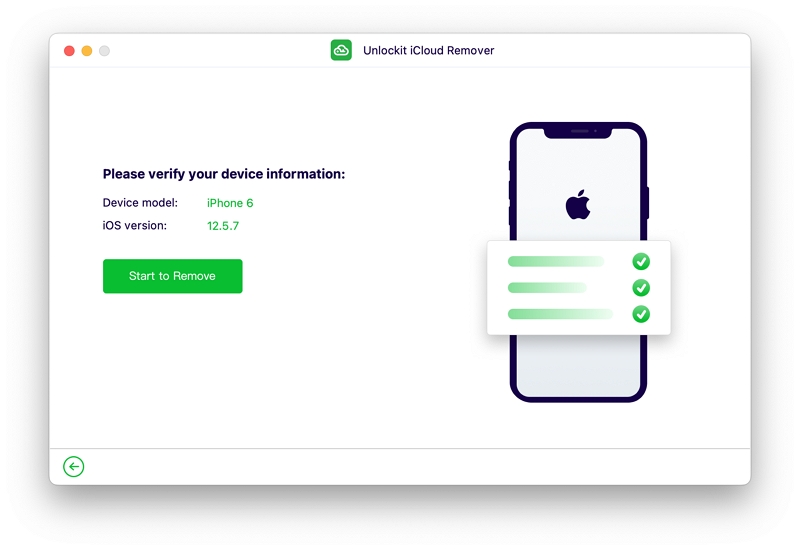 The whole process will take only a few minutes and you should have access to your device.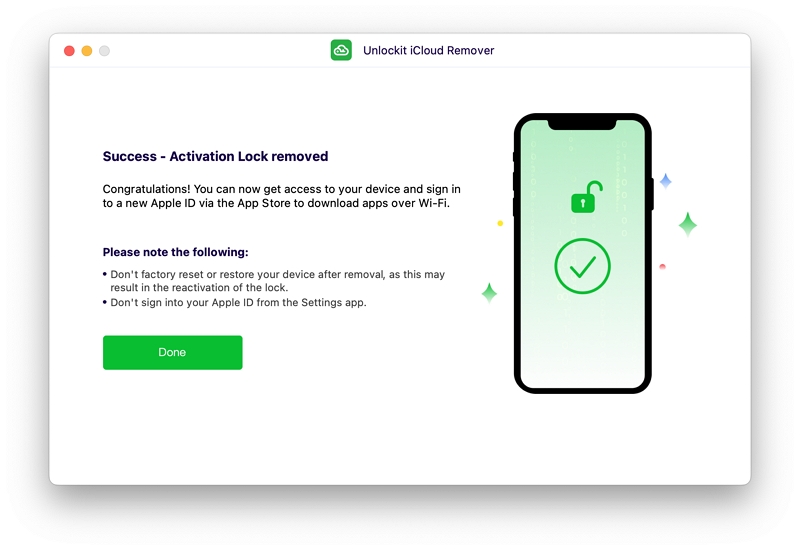 Conclusion
Online iCloud unlock service like DirectUnlocks are widely available online, but very few of them seem effective and you put your money and privacy information at risk by choosing them. Instead, consider Unlockit, a safe and reliable option that will unlock your device quickly and easily.