Did you buy an iPhone from a previous owner that is currently compromised by an iPhone activation lock? Honestly, what started off as a security measure against the resale of lost or stolen iPhones has now turned into the biggest inconvenience of all time.
With the situation at hand, your only options are to (i) ask the owner for credentials, (ii) take the iPhone to Apple Care, or (iii) find an iCloud activation tool. So, if you want to use Exodus Super Unlock to bypass the iCloud activation lock, read this review before you try it.
What is Exodus Super Unlock?
Exodus Super Unlock is a popular tool that you can use to unlock your iCloud-locked device and permanently remove the activation lock. It's got many features that make it a hit amongst users online, but its reliability is still questionable. However, we'll test it out ourselves to give you an authentic opinion.
Some of the main features of this tool include:
It unlocks the iCloud Activation Lock on your iPhone.
Once the activation lock is dealt with, it is permanently removed.
The software works with many old and new iPhone models.
I mean, that's just about what you wanted to use it for, right? If the tool really does what it claims, it would be a perfect fit for many iPhone users out there. Let's hope for the best.
How to Download Exodus Super Unlock
Here's where it gets tricky. The tool has no official website to hold its download link and boast about its features. Instead, there are many links available on the internet that claim to have the tool download.
One Google search, and you are presented with a plethora of options to choose from. But, how do you know which one has the actual link?
If you're old enough to be searching for how to bypass your iCloud Activation Lock, then you must also be familiar with the various viruses and cyber threats present on the internet. Playing Russian Roulette with fishy download links just isn't the way to go!
Here's a breakdown of what you encounter when you try and download the link:
Some sites ask you to fill out surveys that will collect your personal information
You have to sign up and make an account on a third-party website
You can accidentally download faulty links and viruses
The version of the tool you install is not updated
Does Exodus Super Unlock Still Work?
After tireless searching on the internet, I found versions 2.5 and 2.7 of the Exodus Super Unlock. I downloaded both and ran them on my computer with two different iPhone models that were locked.
Much to my surprise, it didn't work on either of them. So, I decided to test both versions on each phone - the result? Still nothing.
As soon as I looked up reviews on the internet, it was more than clear that this tool doesn't work for a lot of people. The reviews that claim it worked are vague and honestly seem bot-generated.
But the ones that call it and scam and complain about the issues faced by it actually go into detail of what went wrong.
Imagine spending so much time on the internet just to find download links to a tool that doesn't work. Many people claimed that it's because the links were to a version of the tool that wasn't updated.
But my question is: if I can't even find the updated version, how am I supposed to test it out?
Risks of Exodus Super Unlock
Tools like these do more harm than good. It's good that you had a helpful guide to make you understand the threat such scams pose. However, here's a quick breakdown of the risks of using the Exodus Super Unlock:
Scam tools like these can lead to viruses on your computer
You might end up damaging your phone's OS by running these tools
There is no official website to authenticate this tool
Even if you find a link to download it, the tool itself won't work
It's a waste of time and energy
Honestly? The thing that I'm most annoyed about it the amount of time a tool like this wastes. If one had opted for an authentic tool, their iPhone would have been unlocked by now, and they'd be enjoying it.
Exodus Super Unlock Alternative
The best alternative that you should choose if Exodus Super Unlock doesn't work is Unlockit iCloud Remover. It is one of the best ways to remove activation lock without password and unlike Exodus Super Unlock, it is updated on a regular basis to ensure it remains relevant.
The following is what to expect when you choose Unlockit:
Easily remove activation lock without the Apple ID and password
Bypass iPhone or iPad locked to owner without any kind of help from the previous owner
Once unlocked, the previous owner cannot lock, track or erase the device remotely
It is easy to use: you can unlock your iOS device yourself in 30 minutes
Here's how to use Unlockit iCloud Remover:
Step 1: Download and install Unlockit iCloud Remover from the the following button. Open it after installation and click "Start."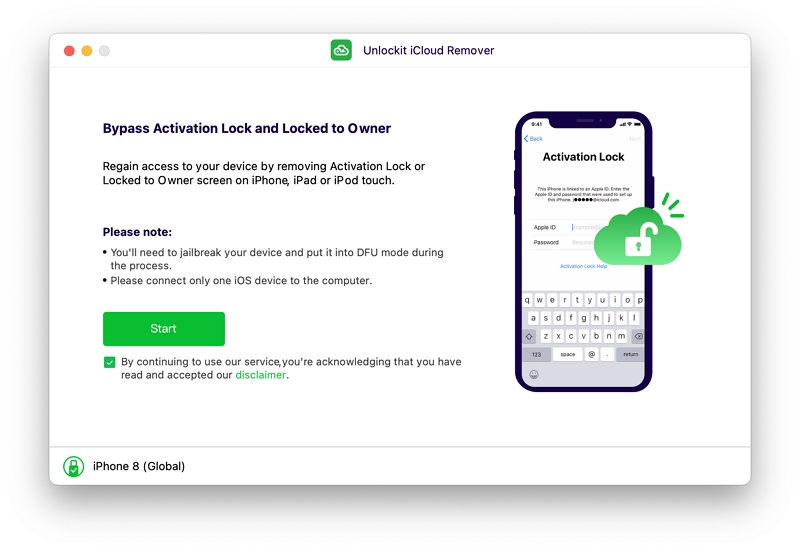 Step 2: Connect the iOS device to the computer and as soon as it detects the connected device, Unlockit Activation Unlocker will ask you to put your device in DFU mode manually.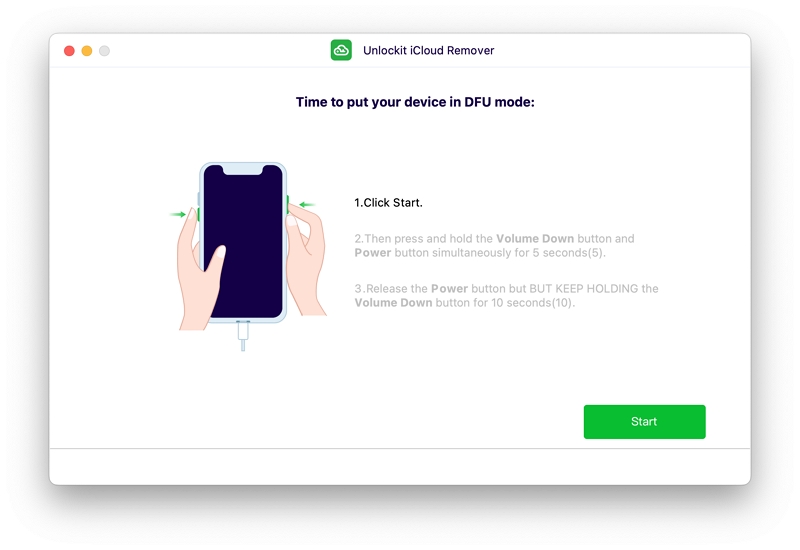 Step 3: Once your device is in DFU mode, it will start to jailbreak your device.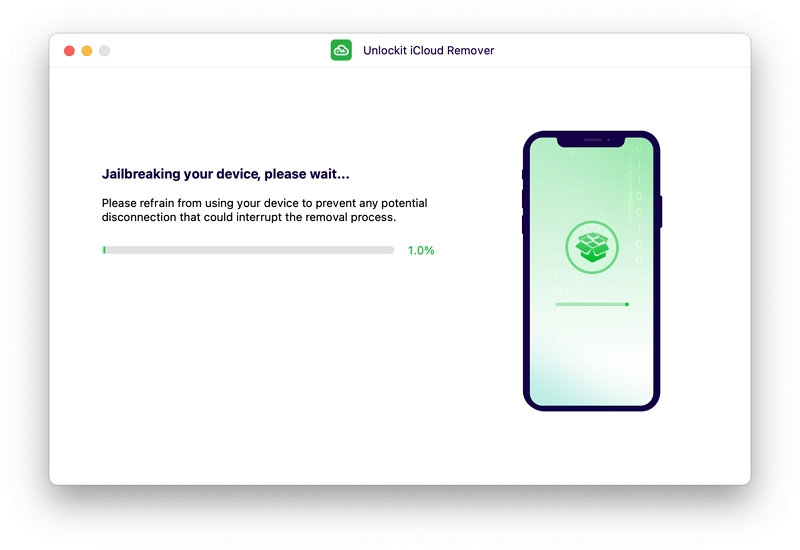 Step 4: After that, confirm the detail on the next page and click "Start to Remove." Unlockit Activation Unlocker will start removing iCloud Activation Lock.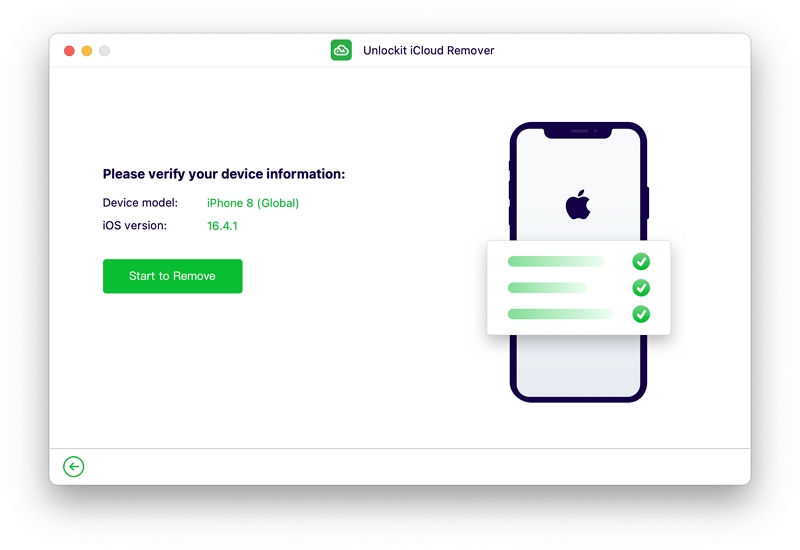 When you see a notification that the process is complete, click "Done" and the Activation lock on your device will be bypassed.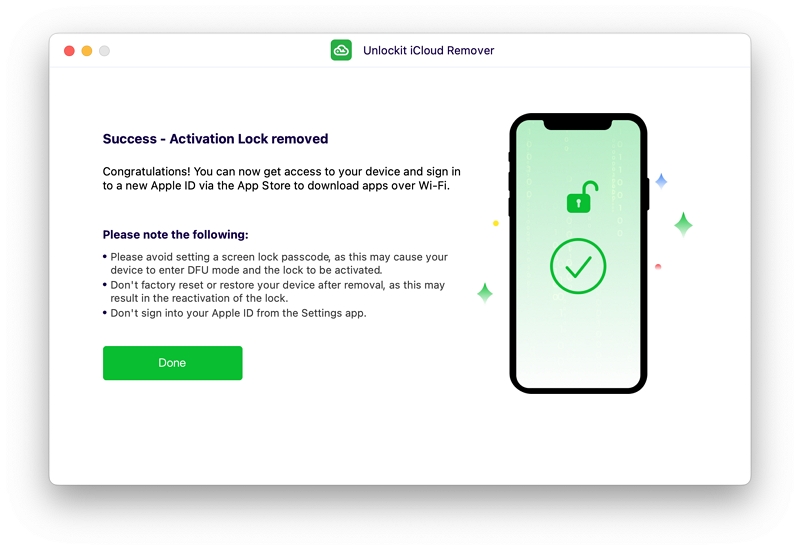 Pay Attention to Free iCloud Activation Lock Removals
There are many free tools on the internet that claim to bypass your iCloud Activation Lock and fix other iPhone-related issues.
Just as I've warned you about free websites that ask for your Apple ID credentials, take my word for these free tools as well. They don't work, and they surely do you more harm.
Instead, consider using authentic tools with official websites that can actually live up to their claims. Sure, these tools might cost you a bit, but at least they work. They don't steal your private information, and your phone isn't at risk of being damaged.
In the long run, it's smarter to go through the proper channels for unlocking your locked iPhone. Once you see how easy and effortless it can be with authentic tools, you'll never go back. Always remember to use tools that won't pose a risk to your phone.
Tools like Exodus Super Unlock were once very useful solutions to bypass Apple's security restrictions. But they quickly became irrelevant as iOS evolved, making them less than ideal solutions, particularly for new iPhone models.
For an easy solution that guarantees you will unlock your device every time, consider using Unlockit iCloud Unlocker. If for nothing else this program is constantly updated and will therefore never fail.