If there's one thing that's worse than being stuck with an iPhone with the iCloud Activation Lock, it's the inability to find an effective tool to get rid of this stubborn lock. Being surrounded by scams left, right, and center doesn't make it any easier, either.
What one really needs is a tool that can do it all without the added hassle and wait. The iCloud Bypasser 7,3 was one of the most popular iCloud unlocking tools on the internet.
Let's see if iCloud Bypasser 7.3 lives up to the hype.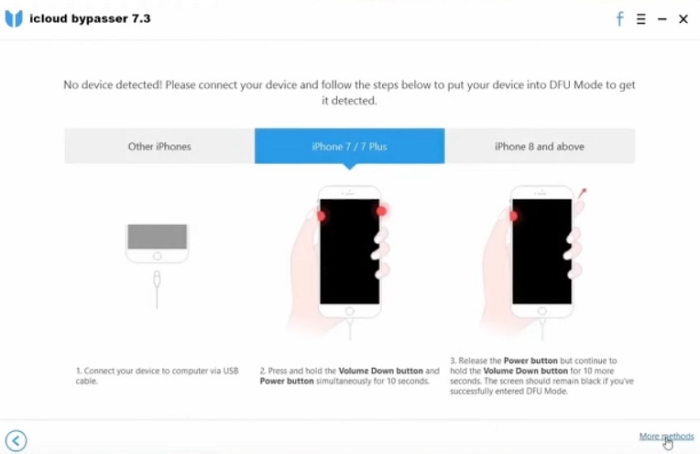 What is iCloud Bypasser 7.3?
The iCloud Bypasser 7.3 is a downloadable tool that removes the iCloud Activation Lock on your device without the need for any credentials. It removes the trouble of having to contact the previous owner and makes the setup process simpler for anyone involved.
It claims to unlock the iOS device in a matter of minutes without causing any permanent harm. These features are what make it so popular on the internet. However, there are always two dies in the story.
Here are some of its main features:
Runs with the latest iOS models
Has an easy-to-use interface
Step-by-step instructions are provided for jailbreak
You can download it on a Windows and Mac PC
It does not charge you any money for its services
How to Use iCloud Bypasser 7.3
Before you can get to use this tool to unlock your iPhone, it is essential that you turn off any anti-virus on your computer since it will interfere with the installation. Now that you've taken care of that let's proceed:
Download the tool package onto your computer and make sure to install it properly. Once installed, run it on the PC.
Now attach your device via lightning cable. Make sure the device has a stable connection that won't move in the middle of unlocking.
Choose which of the given categories your device is in, and then proceed from there. It will begin to download the jailbreak package.
Once the package is downloaded, follow the on-screen instructions to jailbreak your phone. Be aware that this may negate its warranty.
After the jailbreak is complete, it will automatically start unlocking your phone. As soon as it's done, your screens should light up with the setup page.
Like any other tool of its kind, it's a simple process that doesn't take much time. The only issue is finding a proper download link that isn't infected.
Review of iCloud Bypasser 7.3
One of the main reasons users on the internet are so weary of this tool is because it has been proven to be a copy of the TenorShare 4uKey. The interface of software is exactly the same as TenorShare 4uKey, except this doesn't work as well as the original.
Moreover, there is no official website for the tool, which makes it increasingly hard to find the download link. Many people have accidentally downloaded malware or obsolete versions of the tool instead.
Even though this guide was supposed to determine the effectiveness of the tool, I noticed there aren't any guides on it on the internet. So, with so much ambiguity surrounding the iCloud Bypasser 7.3, it's always better to pick a safer option.
Best Alternative to Remove iCloud Lock: Unlockit
As explained before, there are many authentic tools that can get rid of the iCloud Activation Lock whilst maintaining an impressively high success rate. One of these tools is Unlockit iCloud Remover. It has a unique way of approaching the issue, making it faster than almost any other tool of its kind.
The Unlockit is an iCloud bypasser that does not require an IMEI to get bypass the Activation Lock. It is perfectly compatible with iPhone 5s to iPhone X and can support iOS 12.0 - 16.6. Some of its most popular features are:
Bypass Activation Lock without password
Does not require IMEI for the bypass
Does not damage the internal systems of your phone
Support the latest OS including the latest iOS 16 and iPadOS 16
Provide official guide, download and support, which is more secure
How to Use Unlockit
So much talk about its features had me hooked. Well, now that we're back on track, let's get to cracking the iCloud bypass with Unlockit. Here's what you need to do:
Step 1. Download and install the program onto your computer and run it to show the main screen page.
Step 2. Connect your iOS device to the computer with a USB cable and make sure the connection is secure. Press start on the main page.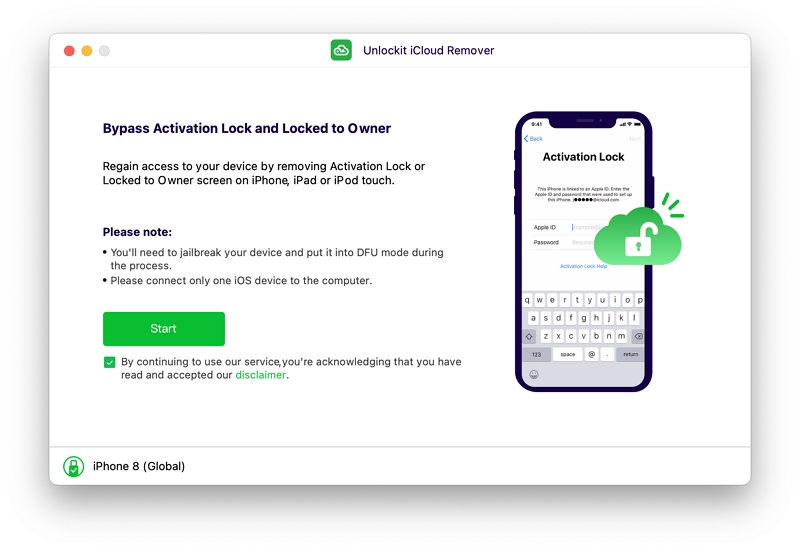 Step 3. The program will start to jailbreak the device. Just follow the instructions to put your iOS device in DFU mode first or download the jailbreak tool.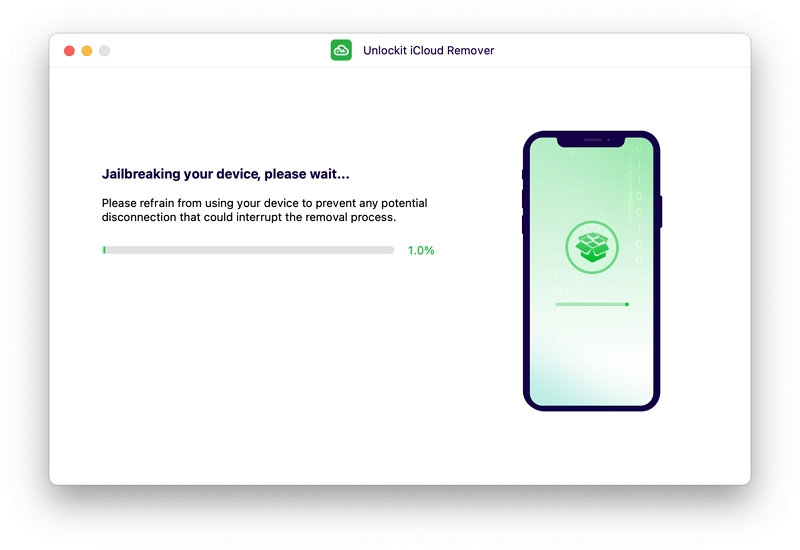 Step 4. Now that your device is jailbroken, click 'Start to Remove,'and the Activation Lock will be removed from your device.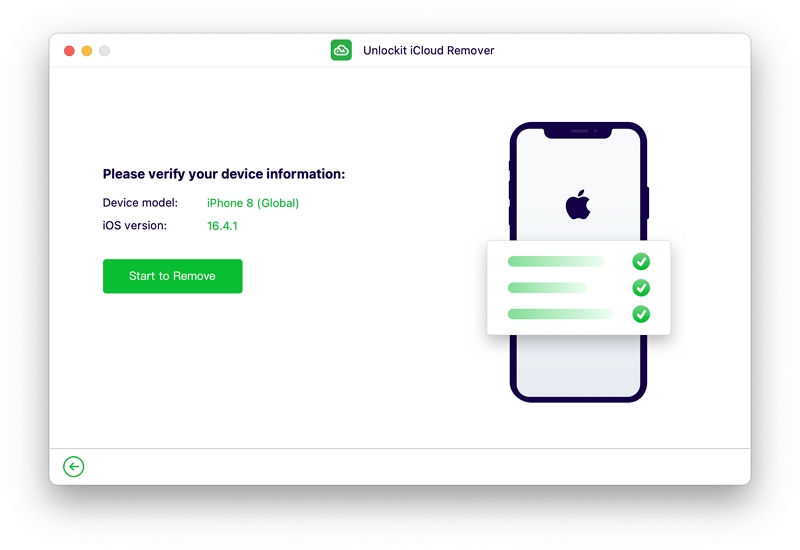 Since the lock has been removed, set up your phone and enjoy it fully! Wasn't this just the easiest method ever? No hassle, no wait - just fast and efficient results.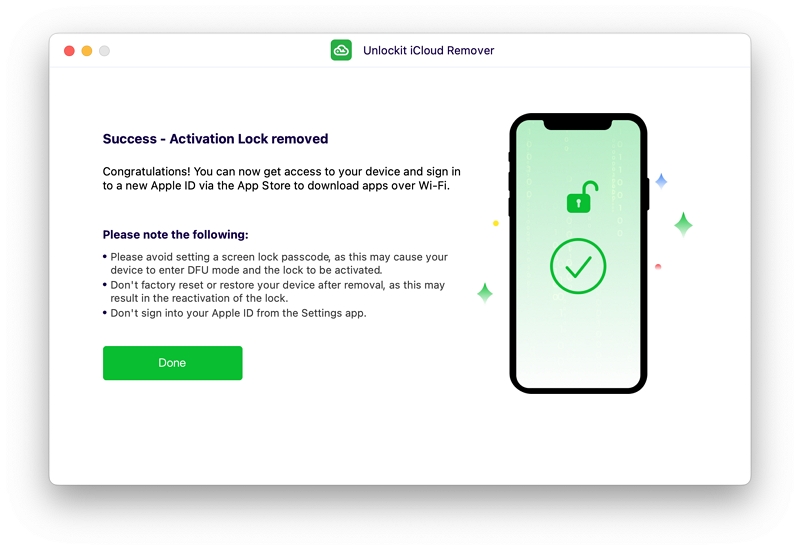 Conclusion
One of the most common parts of reviewing unlocking tools on the internet is that no matter how popular a tool may be, if it's no good, then it will always have a low success rate. Many businesses try to cover up the genuine reviews online where users show dissatisfaction with the tools they use. However, you wouldn't get any of that with Unlockit iCloud bypass tool.
This tool is used and adored by many people across the globe. Not only does it have a high success rate, but it also ensures your iCloud lock is removed in a matter of minutes. On top of that, it also protects your data and privacy. I've personally tried it for all my latest iOS devices, and I don't regret it even a single bit. I know I'd be using this tool in the future, would you?