If you find that you are unable to get past the Activation Lock screen because the device is requesting the previous owner's Apple ID and password, you may be at a loss for what to do.
In this case, your best solution would be to contact the previous owner and ask them to provide you with the Apple ID and password needed to unlock the device. But in most cases, this is not possible.
If you are unable to reach the previous owner, or you have no way of contacting them, keep reading for 4 options you have to remove the Activation lock without previous owner.
Why You Are Locked Out of the Activation Lock
When Find My iPhone is enabled on an iOS device, Activation Lock is automatically enabled and the device becomes permanently connected to the Apple ID and password used to set it up. Activation Lock is a security feature that prevents the device and the data on it from unauthorized individuals if the device is lost or stolen.
The problem is, that some people sell their old devices without first removing the connection to their Apple account and if you are unlucky enough to purchase one of these devices, you end up stuck on the Activation Lock screen.
Fortunately, there are some methods you can use to get rid of this problem and gain access to your device. The following are the most effective ways that you can remove Activation Lock if you cannot contact the previous owner: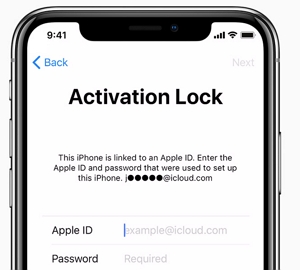 Fastest Way: Remove Activation Lock via iCloud Bypass Tool
If you have no way of finding the Apple ID and password used to access the device, the best option you have is to use Unlockit iCloud bypass tool.
It is very easy to use and highly effective, allowing you to bypass Activation lock and iPhone or iPad locked to owner screen in a few simple clicks even if you don't have the password or can't get in touch with the previous owner.
Unlockit iCloud bypass tool has numerous features that all work together to help you unlock your device, including the following:
Once the device is unlocked, the old Apple ID cannot be used to erase or track the device.
It supports iPhone 5s through iPhone X, most iPad models, the iPod touch 6, and the iPod touch 7 running versions from iOS 12 to iOS 16.
It is a safe and secure solution.
You can use these simple steps to unlock your device using this tool:
Step 1: Connect your device
Install this tool onto your computer and open it. Connect the iPhone to the computer using USB cables and click "Start" to begin.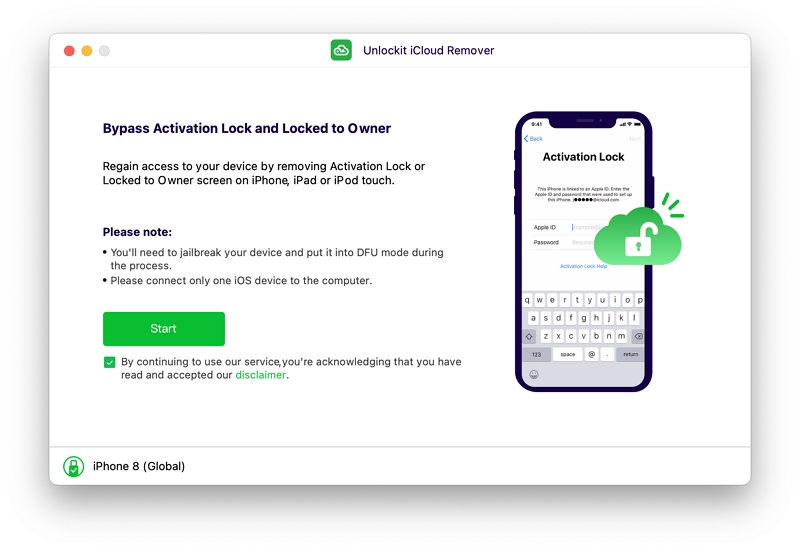 Step 2: Jailbreak your device
The program will then ask you put your device in DFU mode and then jailbreak your device. Follow the instructions to proceed.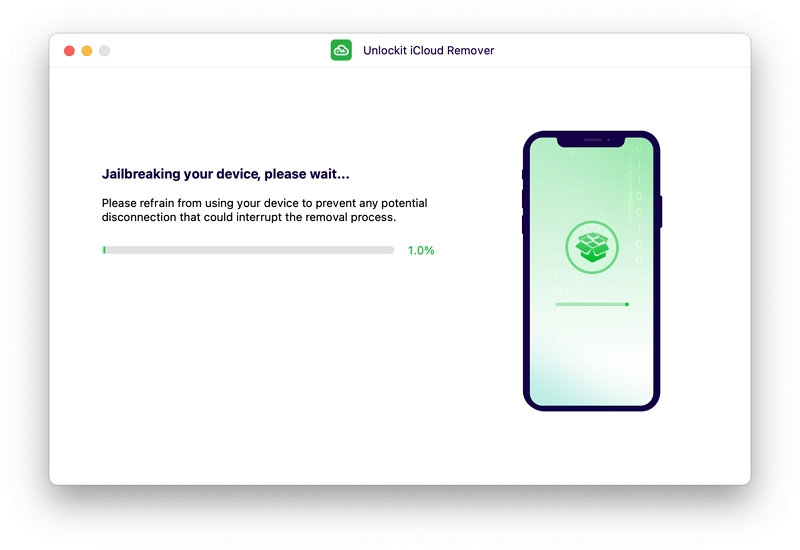 Step 3: Removing the Activation lock
Once the device has been successfully jailbroken, confirm the device information on the screen and then click "Start to remove" to allow the program to begin unlocking the device.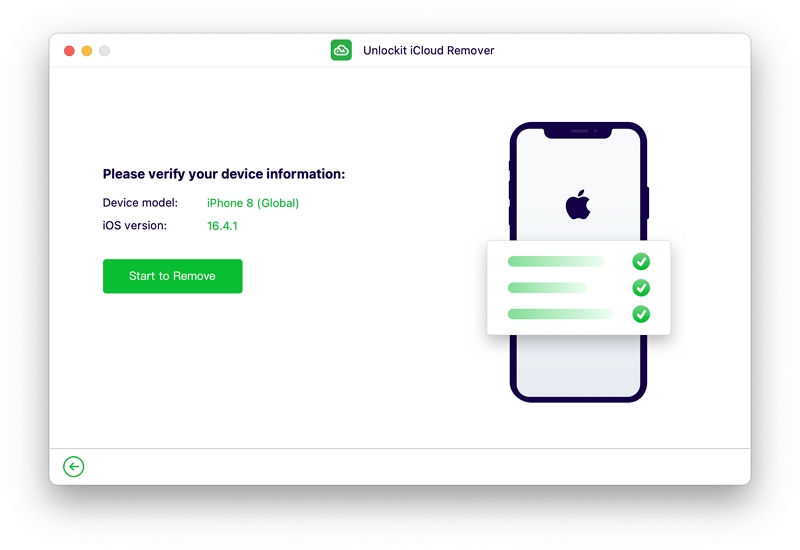 In a few minutes, your iPhone will be unlocked and you can continue with the setup process.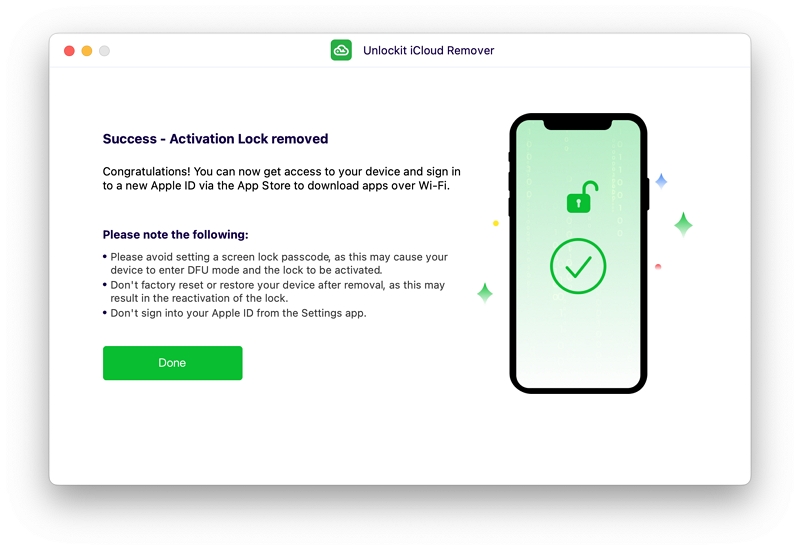 Remove Activation Lock via DNS
You can also remove Activation Lock using the iCloud DNS bypass method. Follow these steps to try it:
Note: This solution is however only proven to work on some devices and won't work on devices running iOS 10 and above. You may have to try it several times to get it to work for you.
Step 1: In the set-up screen, select the country and language.
Step 2: In the Wi-Fi settings screen, tap on the "I" icon.
Step 3: Enter a new DNS server IP address based on your location in the world.
USA: 104.154.51.7
Europe: 104.155.28.90
Asia: 104.155.220.58
Australia and Oceania: 35.189.47.23
South America: 35.199.88.219
Other areas: 78.100.17.60
Step 4: Then Go back to the previous page, enter the Wi-Fi password to connect to the network.
Step 5: Do not click on the Next button and tap the Back button instead.
Step 6: Scroll to the menu and you should now be able to access the features and apps on your device.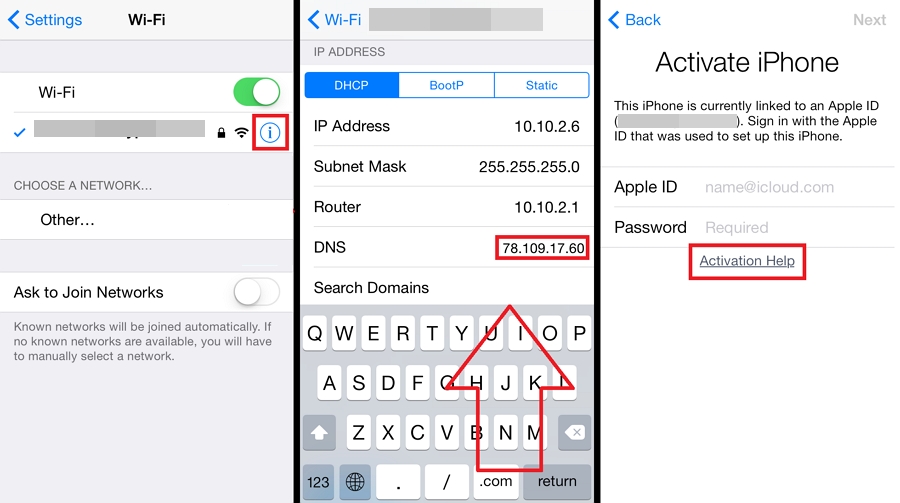 Contact Apple Support
If you have proof of purchase such as a receipt, you can ask Apple to help you remove the Activation Lock for you.
You can choose to bring the device and the proof of purchase to an Apple Store near you or you can use these steps to get help remotely:
Step 1: Go to https://getsupport.apple.com/ and click on "See all products."
Step 2: Click "Apple ID" on the next page.
Step 3: Then choose Activation Lock from the list
Step 4: Follow the onscreen guide and provide the correct information to proceed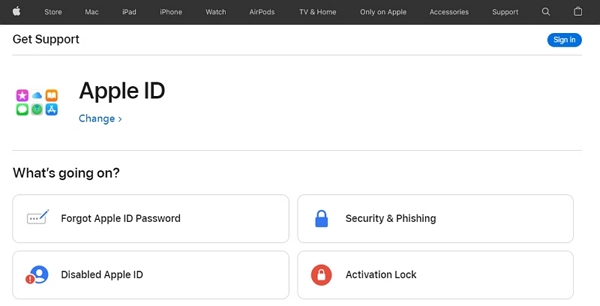 Please note however that Apple will only be able to help you if the device linked to an Apple ID that you're familiar with or you can provide valid and verifiable proof that the device belongs to you.
If not, it will suggest you contact the previous owner. Ask them to turn off Activation Lock and remove your device from their Apple ID account.
Check If This Is a Stolen Device
If you have don't have any proof of purchase, thhere is the likelihood that the device is stolen. Luckily, there are databases that allow you to check if the device you have is stolen.
If you are in the United States, you can go to https://stolenphonechecker.org/spc/consumer to check the status of the device. You will just need to enter the IMEI number of the device and get the information you need.
For other countries, you can use the https://www.imei.info/ website to check if the device is stolen. This is an extensive database that supports 880 mobile networks in over 200 countries.
Apple will not assist if your iOS device is stolen. You could try to apply a refund if you made your payment with a card or PayPal. If you still want to get past the iCloud Activation Lock screen, try Unlockit icloud bypass tool.
To Conclude
Even if you are unable to reach the previous owner to get them to unlock the device for you, there are still a variety of options for you to try.
The most effective of these is Unlockit iCloud bypass tool as it guarantees that you will unlock the device immediately and gain access to the device and its features, preventing the device from being able to be tracked or erased by other one.