In a world of growing security risks, it's no wonder that some of iPhones are sold locked. However, where does that leave you, who has to unlock them and deal with contacting previous owners, Apple Support, and so many other places?
That's where iUnlocker iCloud removal comes in, an online tool that many swear by. But how well does it work, can it really remove iCloud? Let's get right into it.
What is iUnlocker?
iUnlocker is an online unlocking service that claims to be able to unlock any iPhone or iPad with just a few simple steps. It actually works with all versions of iOS and the most popular carriers, including AT&T, Sprint, Verizon, T-Mobile, and more.
The website is easy to navigate, so no one gets confused or lost. It's perfect for people who aren't tech-savvy, reducing the chances of you banging your head against the wall.
To sum it all up, here are the features of iUnlocker compiled for your convenience:
It helps you in getting rid of the iCloud lock from most of your iOS devices.
It also provides a detailed overview of your phone's summary with the help of its IMEI or serial number.
And possibly the best feature of them all, it helps you find out if the model of iPhone you're using is blacklisted in a specific country or not.
How Does iUnlocker iCloud Removal Work?
iUnlocker iCloud removal works by usig the IMEI of your iOS device to bypass the iCloud activation lock. This IMEI number is then used to access and verify information on a global database for iOS users. The verification methods let iUnlocker unlock your phone without having any physical access to your device.
After verification, iUnlocker will provide you with a code that can be used to unlock the iCloud activation lock on any iPhone or iPad. Here's how to do it:
Step 1. The first thing you need is your IMEI number, so dial *666* on your device to find that out.
Step 2. Go to the iUnlocker website, click "Paid Service", and search for the tab that says 'iCloud/Apple ID Removal' on the menu.
Step 3. Click "Details", and you will be redirected to a new page.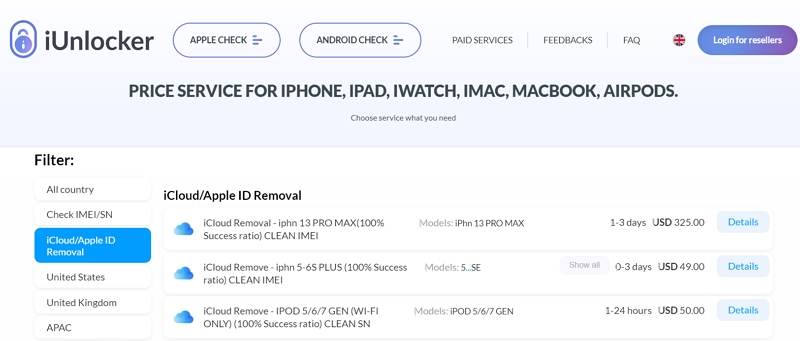 Step 4. Read the content and rules on the order carefully.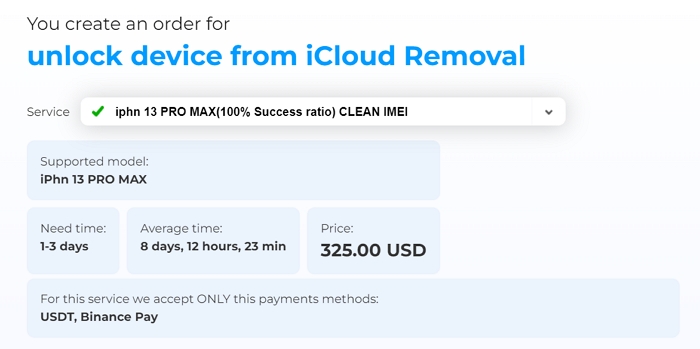 Step 5. At the bottom of the page, enter your IMEI number and make sure you don't make any errors.
Step 6. Add your credit card or payment details to pay for the service, and wait for your estimated time period.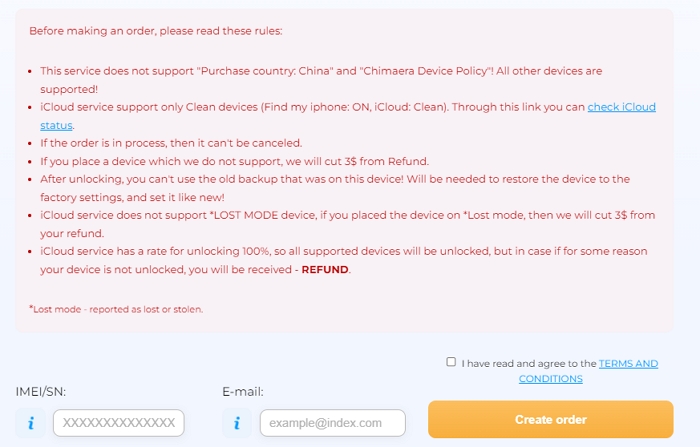 iUnlocker Pricing
iUnlocker is not a free website to use; it has different costs associated with different services. Here's a breakdown of all the costs:
iCloud Check: $1.99 to $3.99
Blacklist Check: $1.60 to $3.99
iCloud Removal : $9.99 to $325.00
Make sure you are on the right website, and double-check before entering your payment details. As stated above, it is not an entirely accurate service hence there is always a chance it won't work out at all.
Does iUnlocker Really Work to Remove iCloud?
Contrary to how sophisticated the process seems, iUnlocker actually has mixed reviews online. This made me and many others believe that maybe it's just not consistent in its services.
For services like checking the IMEI of your device or seeing whether it's blacklisted or not, it's the perfect tool. However, when it comes to bypassing iCloud activation, it had a substandard success rate.
Many trusted websites claim this feature to be a failure and a scam, warning users against using it. Similarly, removing the iCloud activation, it can take anywhere from 5-25 days which is far too long for someone as impatient as me.
Some other reasons why iUnlocker has such a low success score include the following:
It is relatively costly compared to other tools offering the same service.
You can only use its services in limited countries.
In case you have enabled Lost Mode on your phone, it might not be able to help.
Best Alternative to iUnlocker: Unlockit iCloud Remover
So, it is no secret that iUnlocker has many shortcomings, and there is a risk of you losing your hard-earned money. So why take that risk? Why not move to a tool that actually gets the job dont without any risks involved?
Introducing Unlockit iCloud Remover, an iCloud bypass software that lives up to its claims and has a high success rate. Here are some of the reasons why it's such a hit:
It has a simple interface that anyone can use.
You can get your iCloud unlocked almost in 30 minutes.
The tool supports iPhone 5S to iPhone X running from iOS 12 to iOS 16.
You can use it from any country and get authentic results.
The terms and conditions do not collect your information.
By this point, I'm sure you're hooked on the idea of giving this tool a shot. So, I'll teach you how to do it. Here's what you need to do:
Step 1. Download and install the Unlockit iCloud Remover software onto your computer and give it the access it needs to run.
Step 2. Launch the software, and once it is started, read the Disclaimer carefully.
Step 3. Connect your phone to the computer using the intended cable, and make sure the connection is secure, then click 'Start' to move forward.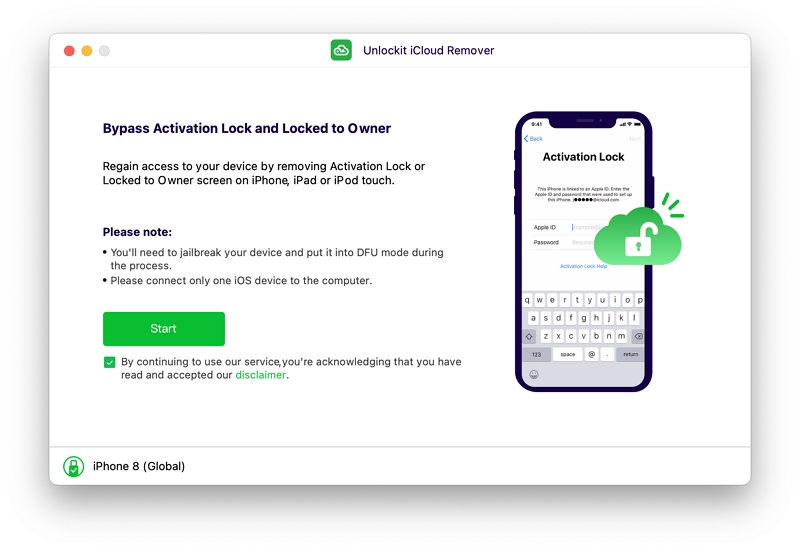 Step 4. Next, you will need to put your device in DFU mode and jailbreak your phone. Just follow the instructions on the screen to proceed.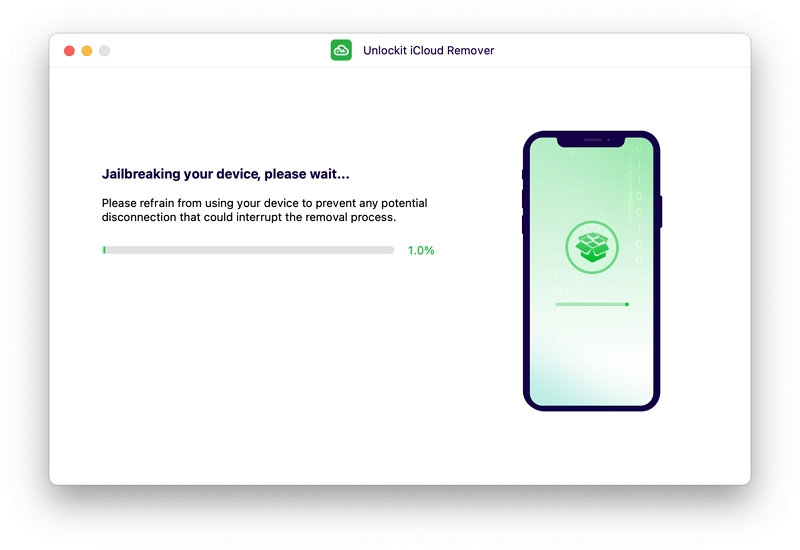 Step 5. Now confirm your device information and click 'Start to remove' to remove the iCloud activation lock.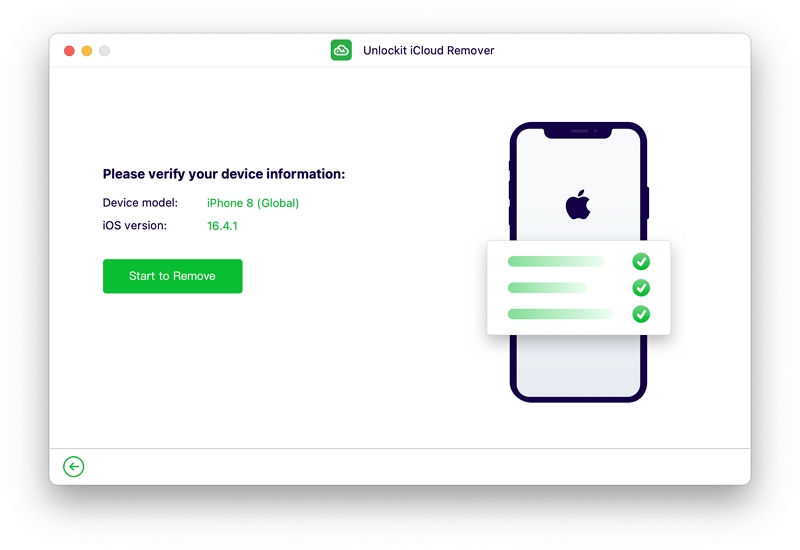 All you have to do now is sit back and enjoy as your phone becomes accessible in a matter of minutes. It's as simple as that; you didn't even have to break a sweat. The best part? It all happens so fast that there is virtually zero wait.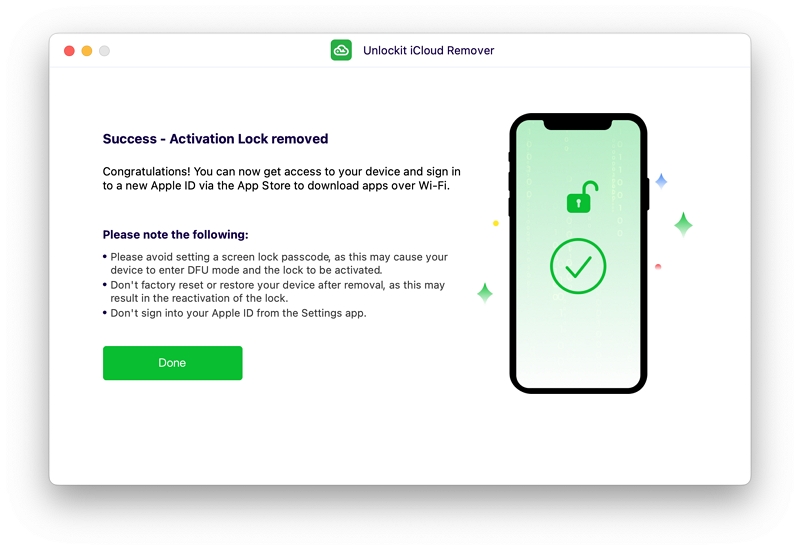 Conclusion
Removing the iCloud activation lock on your phone can be testing, but if you have the right tools, it is as easy as 1,2,3. For those of you that still choose to try iUnlocker, what more can I say apart from 'best of luck?'.
But, for the ones that decided to go with Unlockit iCloud Remover, I hope you find something fun to do with all that free time you have now that you don't have to wait for your phone to unlock!