Have you ever been around for an app to get really popular, but when you use it, it's too late? The same happened to me with 3uTools just a year ago. Everyone around me had an iPhone and was using the tool to jailbreak their phones and bypass the iCloud lock.
When I bought my iPhone 11 a year ago, I couldn't get past the activation lock. Like many others, I also tried to use this tool, but the activation lock gods did not look kindly upon me. So, this guide is here to help you understand all you need about the Activation Lock bypass with 3uTools and if it actually works.
What Is 3uTools?
3uTools is a free tool on the internet that lets you view and manage the data and files on your iOS devices. It additionally comes with a professional flashing and jailbreaking function, which allows you to flash and jailbreak your iOS device.
You can also use this tool to manage apps, videos, photos, and various media files, backup and restore the data files of your iOS devices, but it isn't a reliable way to do an iCloud bypass.
Is It Possible to Bypass Activation Lock Using 3uTools?
NO, although the internet is filled with many reviews about how people used the 3uTools iCloud Bypass method, in reality, no such thing exists.
To make sure you're not led on, I tried it out myself, and it's true the tool cannot bypass the iCloud activation lock.
However, it does have other uses that come in handy. You can easily flash your device to change the iOS through readily available firmware, and you can also use it to jailbreak your device when needed.
You might be wondering, how come? Well, you can only use 3uTools to jailbreak your device. but not to bypass the iCloud lock. To use the jailbreak function, you'd still need to have access to the home screen, which isn't possible on a iCloud locked device.
This is because the tool simply doesn't bypass iCloud lock, hence the phone remains locked, and further functions can't be performed on it. Similarly, flashed devices need the Apple ID and password to work since the activation lock isn't removed or bypassed.
Truth About the 3uTools Activation Lock Guide
Although there is an iCloud Bypass guide on the 3uTools website, it won't work anymore since the download link of the iCloud bypass tool: iCloudBypass tool has been deleted from the 3u forum.
Now it's impossible for anyone to download the tool and make use of it. This is why I previously mentioned that there used to be a time when people did indeed bypass their iCloud with the tool, but it can't be done anymore.

Review of 3uTools iCloud Bypass
Pros:
It has an easy-to-use interface that doesn't confuse the user.
It's great for the general management of an iOS device.
The software is free and has amazing features.
You can flash and jailbreak most iOS devices with it.
It doesn't steal your data or cause any privacy concerns.
Cons:
The download link for the iCloud bypass tool is no longer available.
It doesn't bypass the activation lock after a flash, only disables it before it is iCloud locked.
The device data is almost entirely wiped out in the process.
It has a lower success rate than many other iCloud bypass tools.
There is a chance that the tool won't be compatible with your device.
Best Way to Remove Activation Lock: Unlockit iCloud Remover
There are many things in life that don't go our way, and believe yours truly when I say that the 3uTools iCloud bypass was just one of them. But you don't have to worry since I have the best tool that can actually bypass the activation lock or iPhone/iPad locked to owner and keep your data protected.
Introducing Unlockit iCloud Remover, the most authentic and trustworthy Activation lock removal app.
Features of Unlockit iCloud Remover
The best thing about this app are its features. Some of which are:
Simple Interface
The app's simple interface is perfect for beginners and those who aren't as tech-savvy. You simply follow the steps and watch the magic happen.
Quick Processing
Unlike Apple Support or many online services that claim to help you bypass the activation lock, this app only takes up to 30 minutes at max to unlock your iCloud. No more waiting for days and contemplating whether you made the right choice or not.
Great Compatibility
Not only is the app compatible with MAC computers, but it is also compatible with a variety of iPhone, iPad, and iPod touch models and iOS versions. This range starts from iPhone 5s to iPhone X running up to iOS 16.
Steps to Bypass Activation Lock with Unlockit iCloud Remover
Yikes, kind of lost track of time explaining how amazing the app is. Well, now that we're back on track, let's get to cracking the iCloud bypass with Unlockit iCloud Remover. Here's what you need to do:
Step 1. Download and install the program onto your computer and run it to show the main screen page.
Step 2. Connect your iOS device to the computer with a USB cable and make sure the connection is secure. Then press Start from the main page.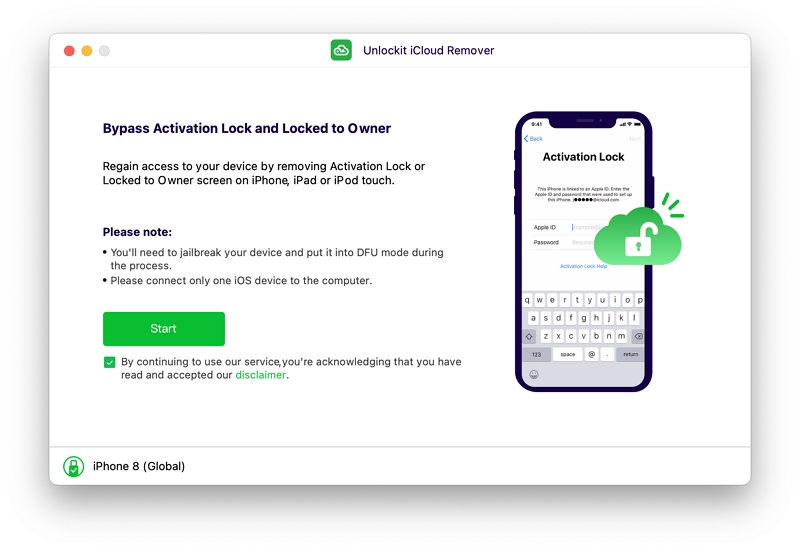 Step 3. The program will require you to put your iOS device in DFU mode. After that, it will start to jailbreak your device.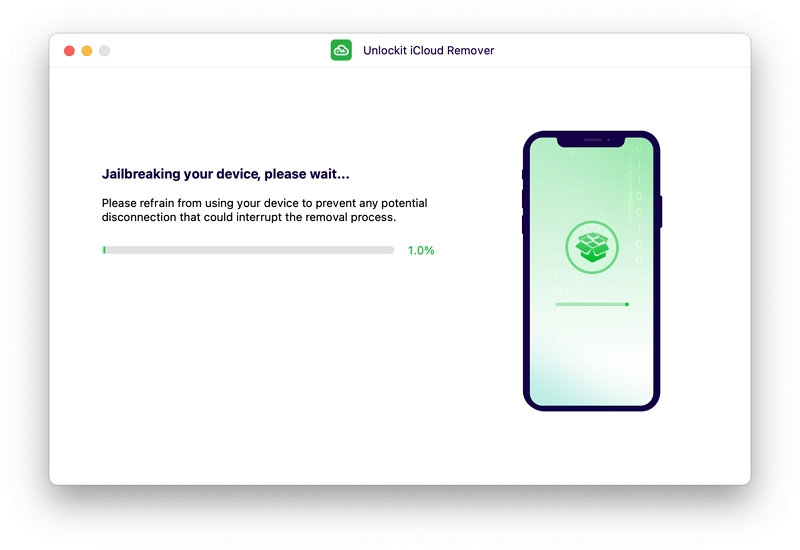 Step 4. Now that your device is in the required mode click on 'Start to remove' and the activation lock will be removed from your phone.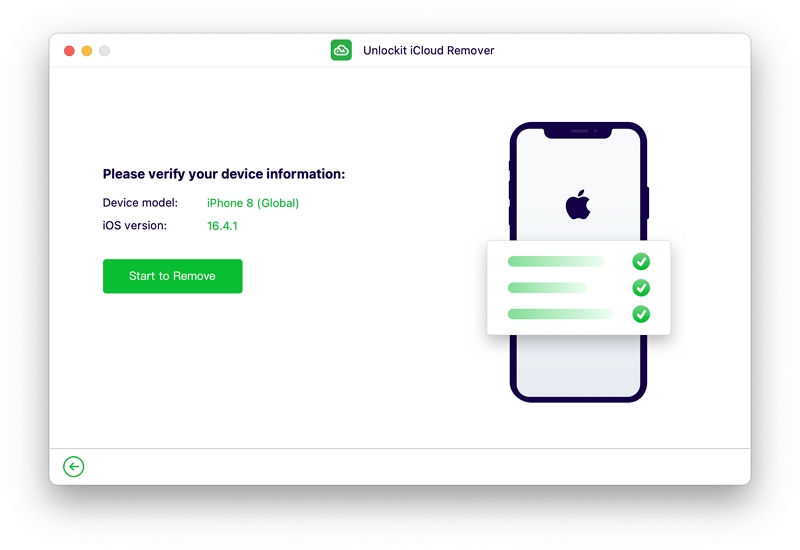 Since the lock has been removed, set up your phone and enjoy it to its fullest! Wasn't this just the easiest method ever? No hassle, no wait - just fast and efficient results.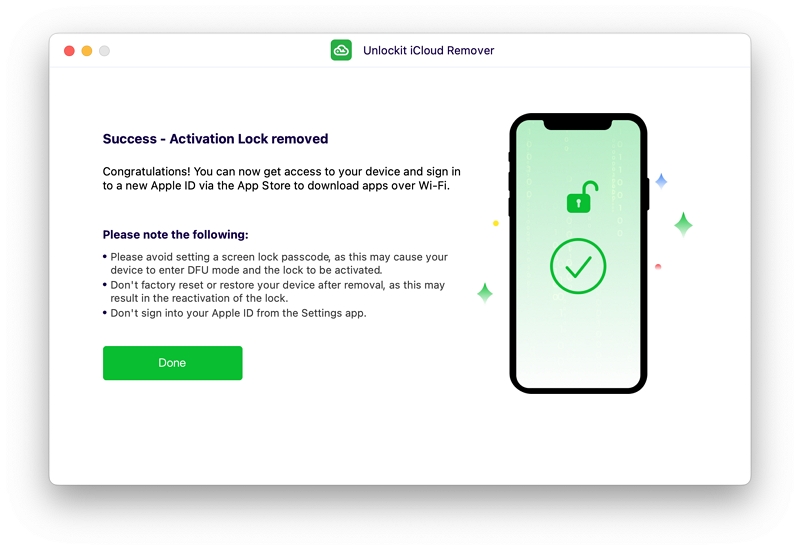 Conclusion
Sometimes it's important to say goodbye to the old and let in the new. Since 3uTools is no longer an active tool for iCloud Activation lock bypass, why not stick to the tried and trusted Unlockit iCloud Remover?
With this program, you can easily manage your iOS devices and save yourself from long waiting times, online scams, and so much more. You won't even have to worry about your data since the tool is secure and has a high success rate compared to other online options!