"My iPhone is asking for a passcode I have never set before, and now I am unable to access my device. What should I do? Is there a default passcode that I need to enter to get out of this mess?"
You're casually trying to access your iPhone when, out of the blue, it demands a passcode you never set!
This article will unravel this confusing mystery, diving into possible explanations and offering solutions to regain control.
Continue reading as we'll explore deeply to adventure to save your precious iPhone from the clutches of a phantom passcode!
Why iPhone Asking for Passcode I Never Set
If you suddenly find yourself unable to access the device and your own passcode isn't working, it could mean that someone with knowledge of your screen passcode has infiltrated the iPhone and changed the passcode without your knowledge and permission.
This is a clear breach of trust, and we suggest not handing your device to anyone randomly.
In addition, there isn't any default passcodes for iPhone.
This sounds a bit absurd and a bit inconvenient! Why would Apple set a default passcode for their iOS devices when most definitely the users would set up their own once they use the device.
So, the only passcode on the iPhone is the one you have set yourself.
Be more cautious about your data and privacy.
Unlock the Unknown Passcode with Unlockit iPhone
So, you accidentally entered the wrong passcode on your iPhone, and now you are locked out of your iPhone permanently.
This is a severe issue, but do not worry; we have the best solution for you: Unlockit iPhone.
This software can help you unlock the iPhone with an unknown passcode without entering the Apple ID in just three simple steps.
It doesn't matter if the passcode is 4-digit passcode, 6-digit, Touch ID, or Face ID, as Unlockit iPhone can bypass them without hassle. Moreover, it can unlock the MDM lock, Screen Time Passcode and lets you remove Apple ID without password as well.
It is compatible with the latest iOS 17 and downloadable on a Windows PC or Mac computer.
Check out the steps below to understand how to bypass the unknown passcode on your iPhone:
Step 1: Run Unlockit iPhone
Start by connecting the iPhone to your computer and running the software on your compuer.
Next, click on "Unlock Screen Passcode" and tap on Start.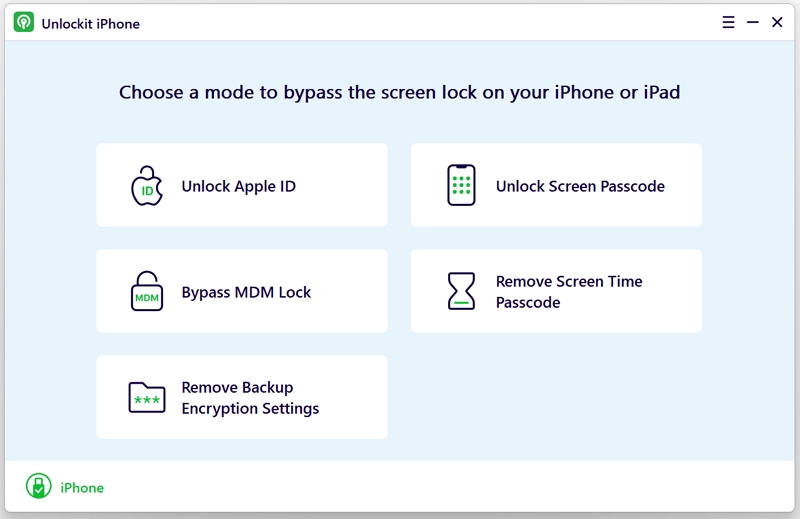 Step 2: Download the Firmware
The program will detect the connected iPhone prompts you to download the corresponding firmware. Click on the Download button to proceed.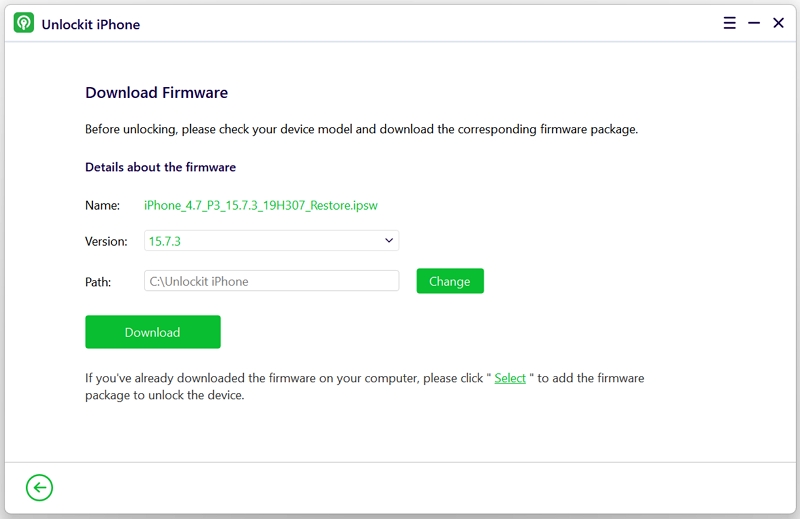 Step 3: Unlock the iPhone
Once the firmware is downloaded, click Remove to fix the issue. Unlockit iPhone will notify you as soon as the process finishes.
That's it!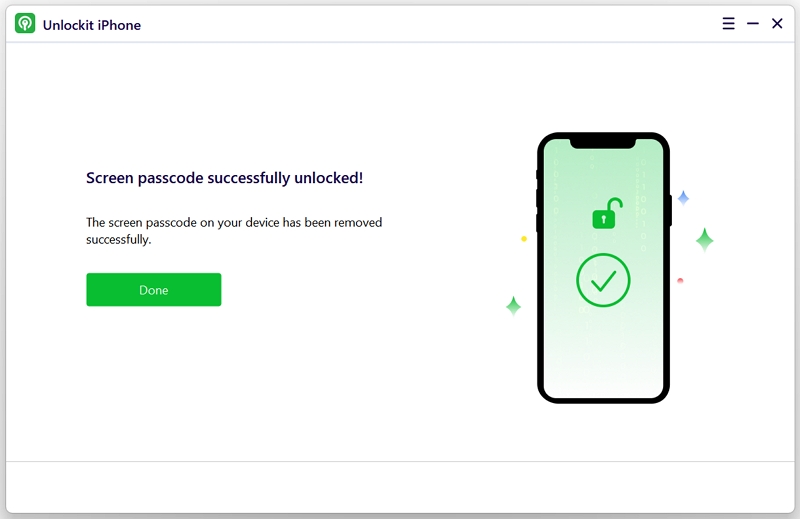 Unlock Unknown Passcode on iPhone Via iTunes
Users with limited technical know-how may get a bit stressed out on learning that they may have to enter the iPhone into Recovery Mode using iTunes to restore the device to its former glory.
However, by following these steps, you can easily learn the process; trust us, it isn't so complicated.
Though we still recommend opting for Unlockit iPhone, learning a few alternatives(especially the official solutions) is not harmful.
Here are the steps:
Step 1. Open iTunes or Finder on your computer(depending on your system).
Note: Launch iTunes if Windows PC or Mac with macOS Mojave/older. Otherwise, access Finder.
Step 2. Next, connect the locked iPhone to the computer.
Step 3. The software will detect the device if it has been synced with it. In that case, tap the Restore iPhone option to complete the activity.
Step 4. However, if the computer hasn't detected the iPhone, then you may enter the device into Recovery Mode, and here's how:
iPhone 8 or later: Hold and release the Volume Up button, the Volume Down, and then finally, the Side button until you can see the Recovery Mode screen.
iPhone 7/7 Plus: Keep holding the Volume Down and Side buttons together until the Recovery Mode screen shows up.
iPhone 6 or older: Keep pressing the Home and Side buttons simultaneously until the Recovery Mode screen appears.
Step 5. Finally, click on Restore and follow the on-screen instructions to complete the restoring process.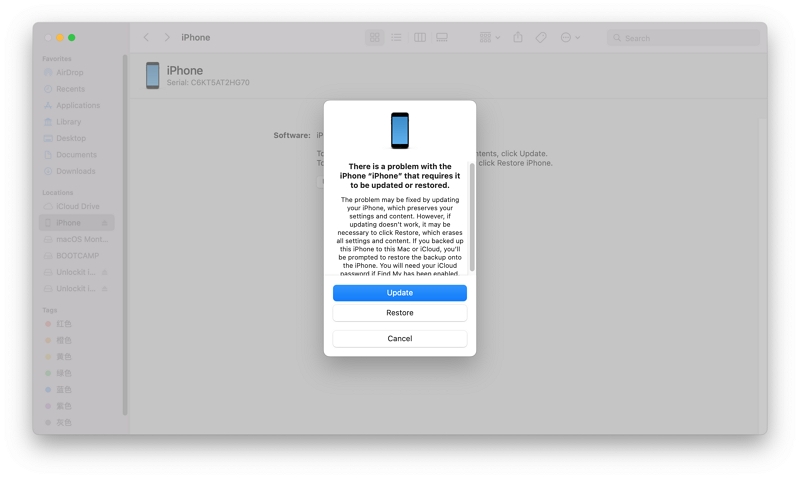 Congratulations! Your iPhone passcode is now removed.
Unlock the Locked iPhone Via iCloud
If you know your Apple ID/Password but do not have iTunes or even a computer, and the Find My is turned on on your locked device, for that matter, then simply access iCloud's website using any device to unlock the unknown iPhone passcode.
Sounds a bit time-consuming?
It isn't, especially if you follow the steps below:
First, ensure the device is connected to a network and Find My iPhone is enabled.
Next, use any device's browser to open this link.
Enter your Apple ID and password before clicking on All Devices.
From the drop-down menu, select your iPhone, and click on Erase iPhone option.
Tap Erase again, and provide the Apple ID password to finish the process.
Now, you can access the iPhone.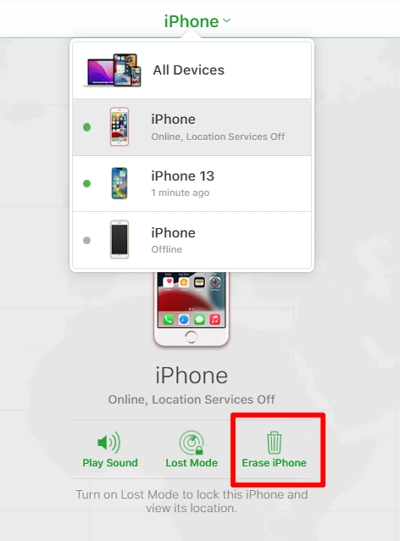 To Conclude
We understand how frustrating and disheartening it is when iPhone asks you to provide a passcode you have never set and you are locked out of the iPhone, even if it is not your fault.
Still, the good thing is there are ways to quickly unlock the iOS device. Just apply any of the solutions listed in this guide, such as Unlockit iPhone unlocking tool, and regain access to your device.