Apple goes to great lengths to protect your iOS device and the data it holds. From your Apple ID and password to the different types of passcodes that you can use to lock the device's screen, your iOS device is pretty secure. But like all passwords, it is possible to forget the passcode that you chose to secure the device.
The problem is, forgetting the passcode to unlock the device can cause the iOS device to be disabled.
The good news is there is a tool that can help you gain access to your iOS device if you have forgotten you iPhone passcode. This tool is known as Tenorshare 4uKey for iPhone and this review will help you determine if it is an ideal solution for you to unlock your iPhone.
What is Tenorshare 4uKey for iPhone?
Tenorshare 4uKey is a third-party program that is designed to remove all types of locks including passcode/screen locks, activation locks, and MDM restrictions in iOS devices.
It is one of the tools that can help you out if you forgot your passcode or Apple ID password, allowing you to unlock the device in minutes.
There are several ways that 4uKey can be useful to you, including the following: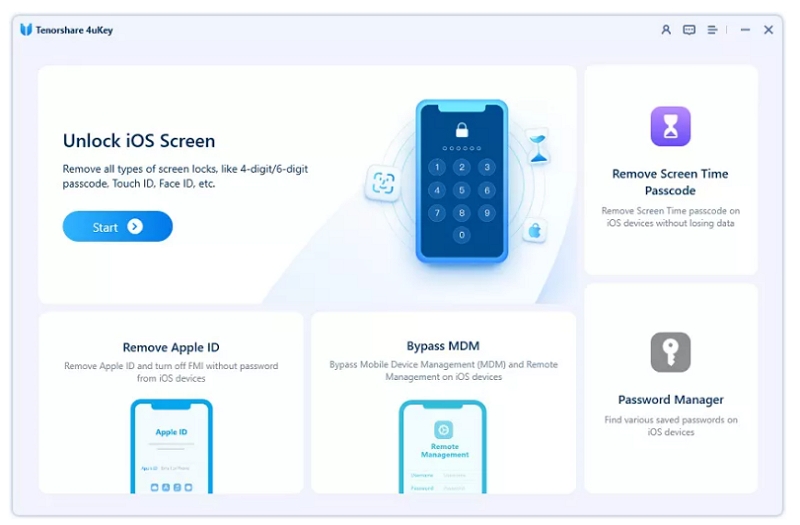 Unlock Screen Passcode
If you have forgotten the screen lock passcode for your iPhone or iPad, 4uKey can help you unlock the device easily and quickly. It is also a good solution if you enter the wrong passcode too many times as it can easily fix a disabled iPhone or iPad. It can unlock all types of screen passcodes including the 4-digit/6-digit code, PIN, and Touch/Face ID.
Remove Apple ID
This is also an ideal solution if you simply want to remove Apple ID from your device without password. For instance, you may forget your Apple ID password when you try to sign out the iCloud account on your device. In this situation, 4uKey can help you remove your Apple ID, allowing you to set up a new Apple ID.
Bypass MDM
If your device is being managed by an organization or school then it may be restricted under the Mobile Device Management (MDM) settings. The way to lift any restrictions that MDM may impose on the device is to bypass MDM.
Usually, you would need the permission of the institution that owns the device to do this. But sometimes, you can purchase a secondhand device that is being managed this way without knowing. In this case, 4uKey can help you easily bypass MDM and lift all restrictions.
Bypass Screen Time Passcode
4uKey can also just as easily bypass screen time passcode that may be on the device. This feature is designed to limit screen time on the device, effective when you want to control the amount of time kids spend on the device.
But when you forget the passcode that you used to set it up, it can be quite restrictive. 4uKey can bypass this passcode without needing to reset the device.
Factory Reset the Device
Apple requires that you enter your Apple ID and password of you want to reset the iOS device. If you have forgotten the password for that Apple ID, you will find it very difficult to reset the device. 4uKey can however reset the device for you even if you don't have the password. All you have to do is connect the device to the computer.
How Much Does 4uKey for iPhone Cost?
You can get 4uKey for $35.95 to $69.95 depending on the duration of the license that you purchase and the operating system you're using. Here are the different pricing tiers to choose from:
| | | | |
| --- | --- | --- | --- |
| License Duration | Price (PC) | Price (macOS) | Number of Supported Devices |
| 1 month | $35.95 | $39.95 | 1 Computer, 5 iOS devices |
| 1 year | $55.95 | $59.95 | 1 Computer, 5 iOS devices |
| Lifetime | $65.95 | $69.95 | 1 Computer, 5 iOS devices |
| Additional Options | From $59.95 | From $69.95 | 1 Computer, 10 or more iOS Devices |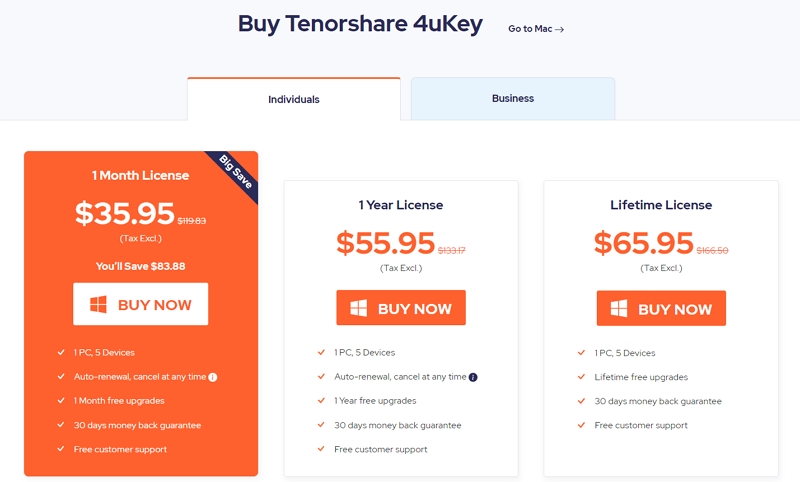 How to Use 4uKey
One of the key benefits of choosing 4uKey over other types of unlocking tools is that it is very easy to use. These simple steps show you how to use it to unlock an iPhone's screen:
Step 1: Download and install the program on your PC/Mac. Open it after installation and then click "Start" on the main screen.
Step 2: Now, use a USB/lightning cable to connect the iPhone to the computer. When 4uKey detects the connected iPhone, click "Next."
Step 3: The program will indicate that you need to download the latest firmware for the device. Just click "Download" to begin downloading the program.
Step 4: Then finally, click "Start Remove" and 4uKey will begin to remove the passcode, allowing you to access the locked iPhone.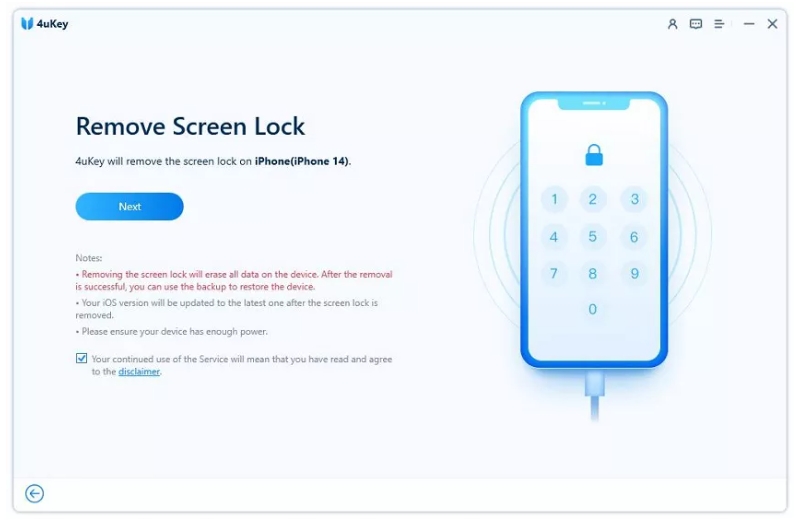 Reviews of 4uKey iPhone Unlocker
By all accounts, 4uKey is a reliable solution that can be used to unlock iOS devices in the situations above. When used correctly, 4uKey can bypass passcodes on your device effectively, but it does have a few disadvantages that may make it a less-than-ideal solution for all users.
A breakdown of its pros and cons should help you decide:
Pros
It easily removes all types of passcodes
You can use it to remove Apple ID from the device even without the password
It can bypass MDM and screen time passcodes without data loss
You can factory reset a disabled iOS device
It supports most iPhone, iPad, and iPod models and the latest versions of iOS
Cons
4uKey will not recognize the device unless iTunes is installed on the device
It will automatically install the latest version of iOS on your device
It is quite expensive, compared to its alternatives
Tenorshare 4uKey Alternative
Another reliable tool that you can use to unlock your iOS device is Unlockit iPhone. It comes highly recommended with numerous favorable user reviews.
It is easy to use, supports numerous iOS devices, and will bypass all types of screen passcodes, MDM lock, screen time passcode and Apple ID.
What's more, it is more cost-effective (1-Month Plan: 29.95$, 1-Year Plan: 39.95$, Lifetime Plan: 49.95$), if the pricing of Tenorshare 4uKey (1-Month Plan: 35.95$, 1-Year Plan: 55.95$, Lifetime Plan: 65.95$) is beyond your budget.
The following are the reasons you should choose Unlockit iPhone:
This is a well-developed, professional, and easy-to-use solution. it is reliable and will unlock the device in just a few minutes
It is one of the most effective unlocking tools when it comes to the removal of ccreen passcode, Touch ID and Face ID
It will bypass Screen Time passcodes and MDM within seconds and without data loss
It can also help you bypass Apple ID without password
You can also use it to fix all disabled iOS devices without iCloud or iTunes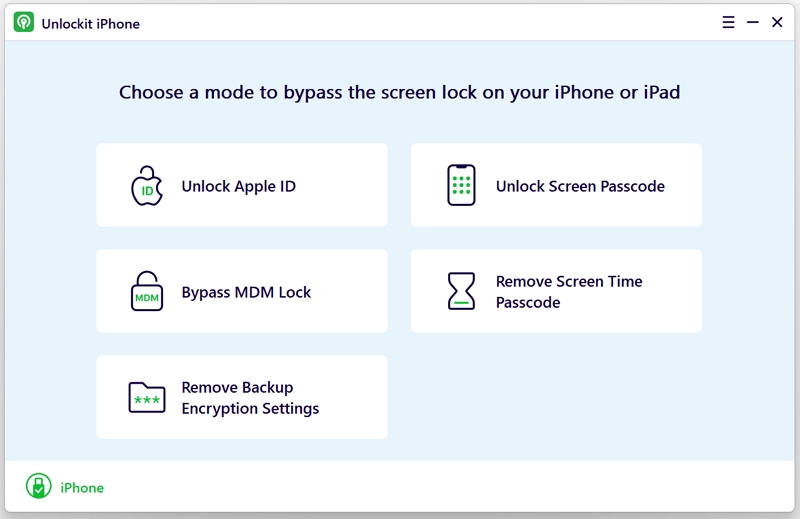 Conclusion
Getting locked out of your device can be quite problematic especially when you don't know what to do to regain access and you are afraid of losing data. Tools like 4uKey and Unlockit iPhone eliminate the worry by making the process of bypassing any iOS locks easy and quick. Unlockit iPhone in particular will help you bypass screen locks very quickly.