LockWiper is a tool that does it all, or so it claims! But are there any alternatives that do it just as good, or maybe even better? Let's find out as we go through 8 best LockWiper alternatives present on the internet, and see if there's a diamond in the rough that has yet be to found!
What is iMyFone LockWiper
iMyFone LockWiper is a software tool designed to help users unlock and bypass various types of locks and passwords on iOS devices, including iPhones and iPads. It is primarily used when users have forgotten their device passcodes or have been locked out due to multiple failed attempts.
However, unlocking your device with LockWiper comes with the risk of data loss. In some cases, using the tool might result in the erasure of all data on your device. This is a significant drawback, especially if you haven't backed up your important photos, contacts, and files.
Additionally, The effectiveness of iMyFone LockWiper can be quite unpredictable. It may work flawlessly on some devices and iOS versions, while on others, it may not deliver the desired results. The success of unlocking depends on numerous factors, including the device's specific circumstances and the iOS version it's running.
Instead of relying on potentially questionable software like LockWiper, there are better alternatives available. Let's have a look at a few of them!
Best LockWiper Alternative: Unlockit iPhone
The first alternative, and possibly the best one, in my opinion, is the Unlockit iPhone! This tool is an amazing set of features jampacked in a package with a much smaller price tag than LockWiper. Let's take a look at some of the key features offered by Unlockit:
Key Features
The tool is extremely easy to use, and you can just get it to work with a few clicks here and there.
It is extremely affordable, starting at only $29.95 per month.
The functionality it provides is amazing as it can get rid of almost of the locks you can ever encounter, such as screen lock, screen time passcode, or Apple ID and MDM lock.
Works wonders within a few seconds.
Compatible with almost all iPhone and iPad devices.
Steps to Use Unlockit
Well, I did say it was easy to use; now to prove it with a quick step-by-step guide!
Step 1. Begin downloading and installing the program onto your computer.
Step 2. Then connect your iPhone to your PC or Mac using a lightning or USB cable. Then, open the software and choose the option to "Unlock Screen Passcode."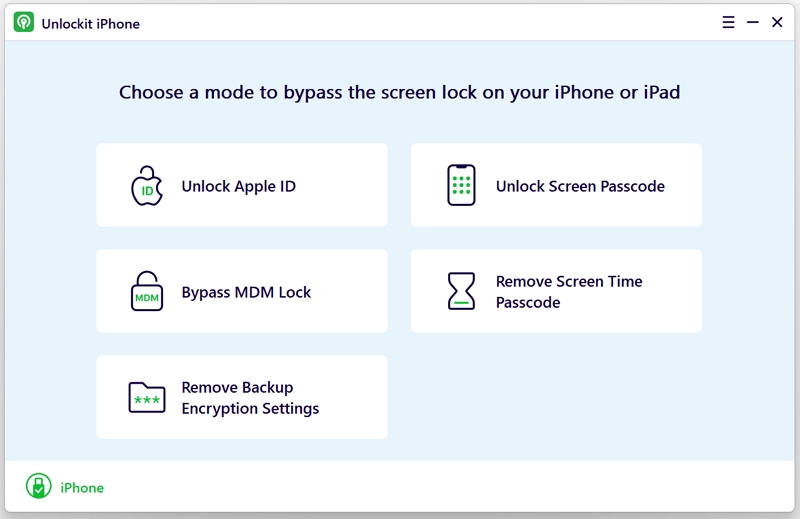 Step 3. Next, simply click on the "Start" button. The Unlockit iPhone tool will automatically put your device into Recovery mode for you.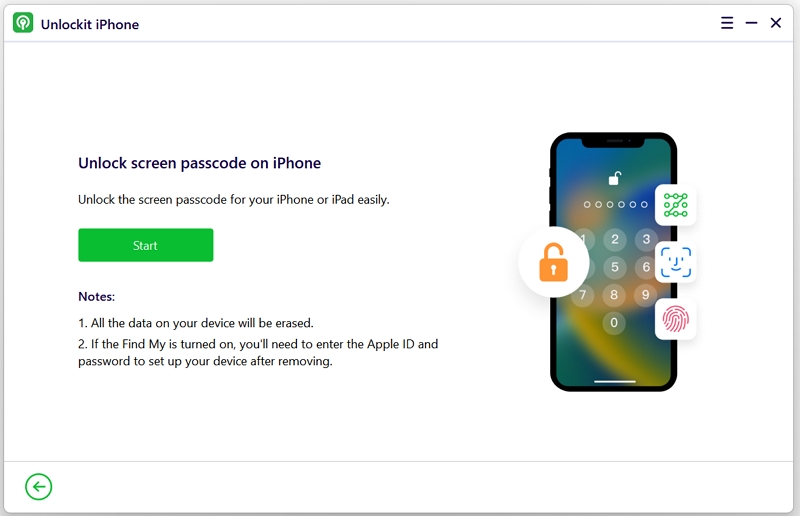 Step 4. Unlockit iPhone will prompt you to download the necessary firmware for your device. Just click on the "Download" button to proceed with the process.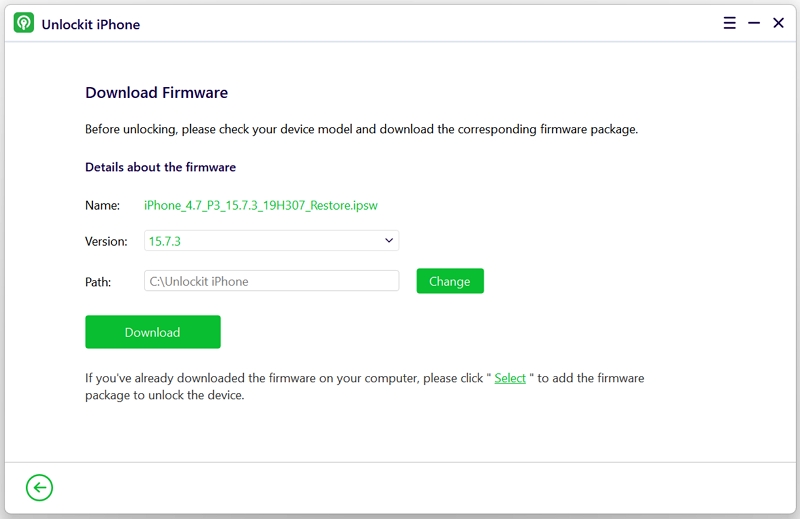 Step 5. Once the firmware download is finished, click on "Remove" to start bypassing the passcode.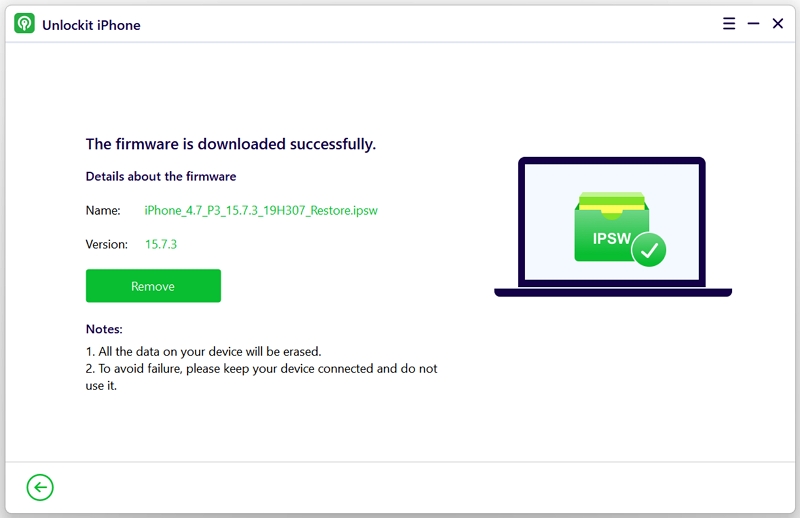 Congratulations! You're almost done. Now, disconnect your iPhone from the computer, power it on, and follow the setup instructions to get your device up and running again. It's that easy!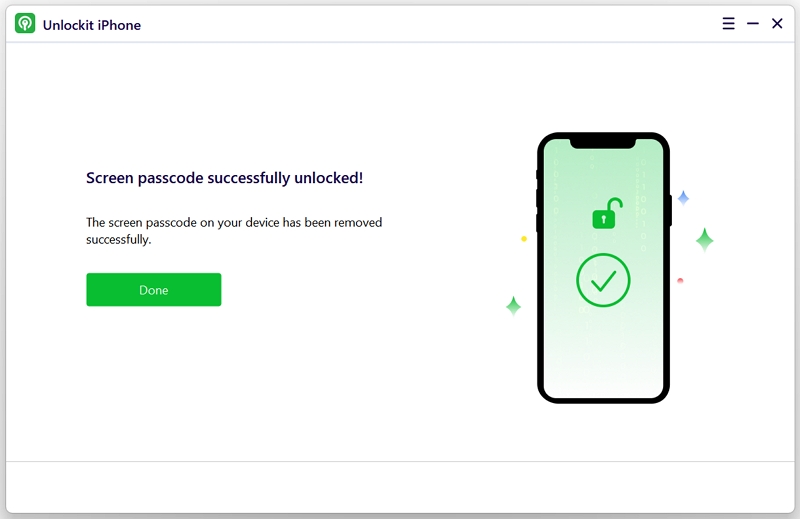 Tenorshare 4uKey for iPhone
Tenorshare 4uKey is a software developed by Tenorshare, a company specializing in iOS device management solutions. 4uKey is designed to help users unlock various types of locks on iOS devices, including passcodes, Touch ID, Face ID, and more.
Like LockWiper, Tenorshare 4uKey is known for its user-friendly interface. It provides step-by-step guidance, making it accessible even for users who may not be tech-savvy.
Additionally, reputable software developers like Tenorshare often provide regular updates and support for their products, ensuring they stay compatible with the latest iOS versions and devices.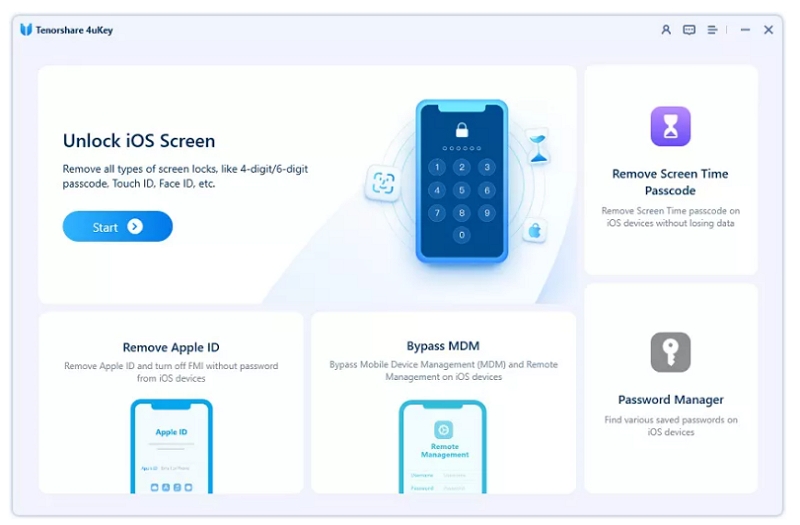 Pros:
Tenorshare 4uKey is known for its straightforward and easy-to-use interface, making it accessible to users with varying technical expertise.
Users often report that 4uKey can unlock iOS devices relatively quickly and efficiently, saving time and frustration.
Tenorshare typically provides customer support and regular software updates, ensuring that the tool remains effective and up to date.
Cons:
Unlocking an iOS device using 4uKey can sometimes lead to data loss, especially if you're not careful.
As iOS updates are released, compatibility with older versions of unlocking software may become limited.
While Tenorshare 4uKey is generally effective, there are no guarantees that it will work in every situation, especially with the latest iOS updates.
Dr.Fone – Screen Unlock (iOS)
Another tool that has taken the iOS world by surprise is the Dr. Fone iOS Unlocker. This tool is a straightforward one that just does what it promises, and that is to remove most of the lock screens that might interfere with your life as an iOS user. Here are a few things that make the tool a good alternative for LockWiper: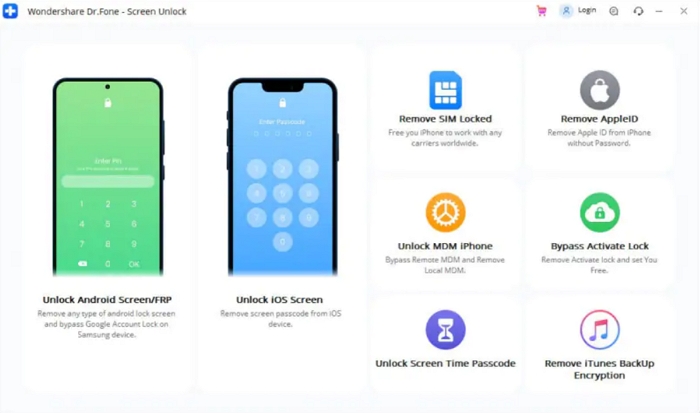 Pros
Remove your screen lock within minutes, even if you've forgotten your passcode.
Quickly bypass the iCloud lock on your iPhone in just a few seconds.
No need for technical expertise—anyone can use it, regardless of their tech skills.
It is Compatible with Windows and Mac operating systems and works on various computers.
Cons
You can only unlock your Apple ID on iPhones running iOS 11.4 or earlier versions.
Please be aware that data on your iPhone will be deleted as a part of the unlocking process.
iMobie AnyUnlock
If it was just a few weeks back and I hadn't come across Unlockit, this might have been a strong contender for first place; however, the tool seems to not keep up with its competitors and has started lacking in a few aspects. But that doesn't change the fact that it is still one of the most effective and efficient tools you can find online.
From unlocking an MDM profile to getting rid of the iCloud Activation lock, this tool does it all, and it does so in style. Let's look at why it is a good alternative to LockWiper: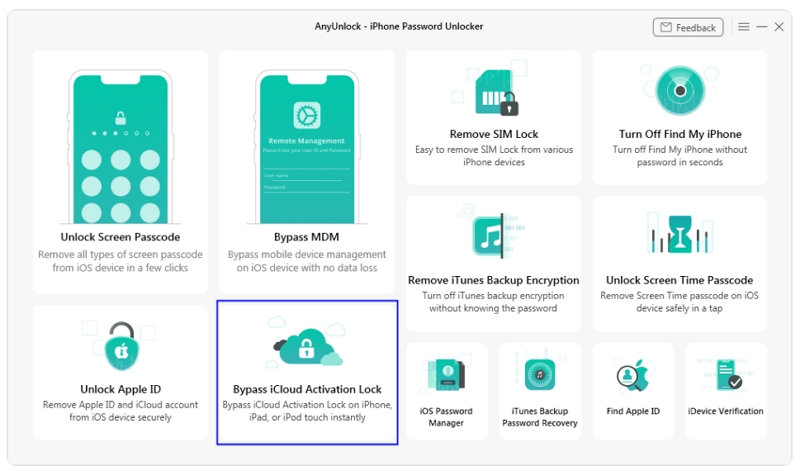 Pros
This tool is a comprehensive iPhone/iPad password unlocker.
You can enjoy your iPhone/iPad without concerns about being locked or remotely wiped.
It can remove various types of locks, including 4-digit or 6-digit numeric codes, custom numeric codes, custom alphanumeric codes, Touch ID, or Face ID.
The software is fully compatible with both Windows and Mac operating systems.
Cons
When the screen passcode is successfully removed from your iOS device, all the data will be erased during unlocking.
If Find My iPhone/iPad is enabled on your device, you must log into your iCloud account to set up the device again after it's been unlocked.
BuhoUnlocker
BuhoUnlocker is a user-friendly tool for unlocking iPhones created by Dr. Buho. This clever tool is made to help you with various passcode-related issues on your iPhone, iPad, and iPod touch.
Whether you've forgotten your iPhone's passcode or you need to remove MDM profile files, BuhoUnlocker has got you covered. It's designed to make these tasks easy and accessible for anyone who needs them.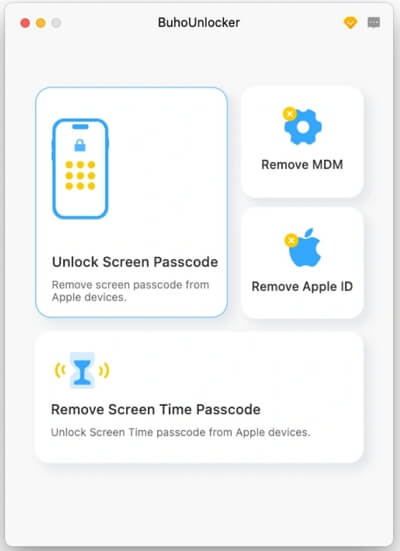 Pros
Easy-to-use, user-friendly interface.
Really simple to operate.
No need for any technical know-how.
It works on both Windows and macOS.
Can unlock screen passcodes, screen time passcodes, Apple ID passwords, and MDM files.
Cons
No support for Android devices
Deletes data after the unlocking process is completed
EaseUS MobiUnlock
Introducing MobiUnlock, a user-friendly yet highly capable iPhone Passcode Unlock software brought to you by EaseUS. This software is designed to simplify unlocking your iPhone when you connect it to your Windows PC or Mac computer. Its smart approach sets MobiUnlock apart from other options in the crowded market.
When you connect your iPhone, MobiUnlock springs into action by putting your device into recovery mode. It then identifies your iPhone's specific model and its current iOS version. After this, MobiUnlock goes the extra mile by downloading the latest firmware to bypass the screen lock. And here's why I think it's a good alternative to LockWiper: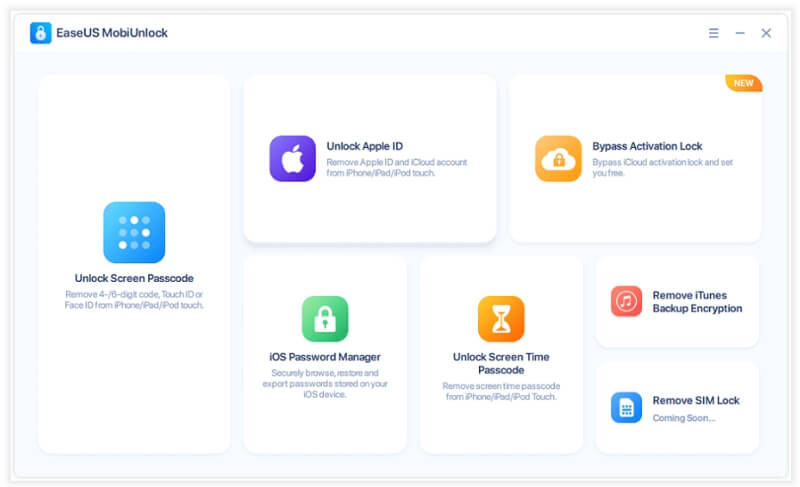 Pros
Can get rid of an Apple ID without needing a passcode
Removes screen time passcode from most iOS devices
iTunes backup encryption can also be removed with a single click
Cons
Has too many upsell ads when using the application
Does not keep your data after unlocking your device
TunesKit iPhone Unlocker
And last but certainly not least, we have TunesKit iPhone Unlocker, a perfect tool if you have a device that isn't working on FaceID. This tool has been designed specifically to get rid of the more peskier locks, such as the Face ID and Touch ID. However, it does come at a premium price point.
For most second-hand owners, this tool will be able to fix most of the issues you may find with a pre-loved device and can be quite a strong companion, making it a good alternative to LockWiper.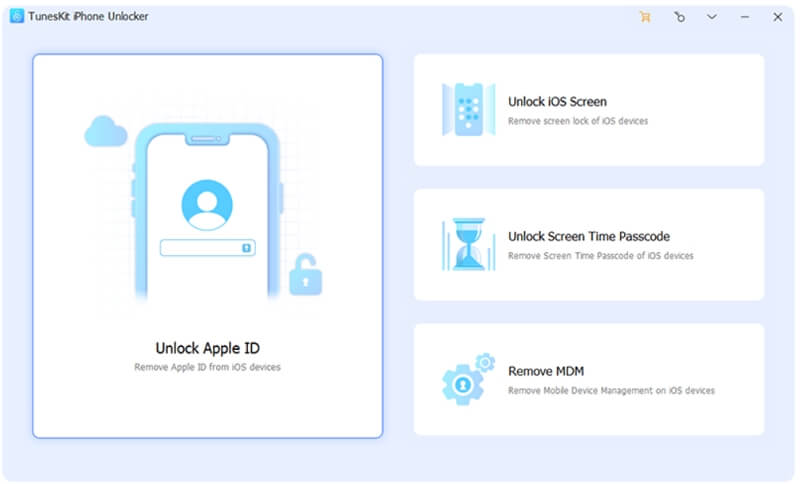 Pros
Reset Apple ID in case of a forgotten passcode
Bypass screen time on iOS devices
Bypass screen passcode
Bypass MDM lock
Cons
Comes at a premium price point
The MDM bypass feature fails to work sometimes
ApowerUnlock
Now, although this tool is a good alternative to LockWiper, it is under very strict circumstances as it does not provide the entire deck of functionalities as LockWiper or some of the other tools on this list. However, if you are stuck with a device that has Apple ID disabled, ApowerUnlock can be your saving grace!
This tool has been designed specifically to remove lock screens and fix disabled devices, and it is pretty good at its job, though it does require a little more work if you want to use it on the newer iOS versions.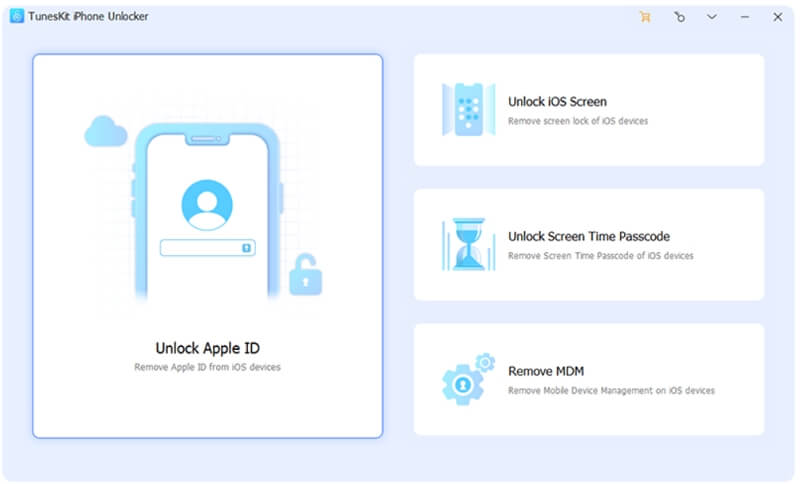 Pros
The tool is extremely easy to use, with a streamlined interface
It does not require a jailbroken device to operate
It can be run on both Windows and Mac
Cons
To make ApowerUnlock work, you need to install iTunes first.
Needs a lot of extra steps if running on a newer iOS
Erases the data on your device
To Conclude
And there you have it! Some of the most impressive alternatives to LockWiper are currently available over the internet. These tools, especially Unlockit, have been one-upping LockWiper for quite a while, and it's about time we get an upgrade.
For people going through some of the problems listed above, I would personally suggest going for Unlockit, as it has one of the best price tags on this list without compromising on functionality. So what are you waiting for?