Apple takes pleasure in the privacy and security features it has incorporated into the iOS operating system and the iPhone hardware.
However, some stories claim anyone can locate and use a global "secret passcode" to unlock any iPhone, with or without the original owner's consent.
So, is there a "secret passcode"? That is something we will cover in this brief iPhone manual post and demonstrate if you can perform this magic on your iPhone.
Does The "Secret Passcode" Exist To Unlock Any iPhone?
First and foremost, there is the matter of whether a "secret passcode" may be used to unlock any iPhone. The short response is NO.
Finding a secret yet universal passcode to perform the hack is not feasible, regardless of whether you want to unlock an iOS or iPadOS device completely or bypass the passcode of another person's iPhone.
The good news is that you can recover access to your lockdown iPhone using either third-party expert tools or Apple-recommended ways.
To learn the 5 effective ways that can work as your "secret passcode" to unlock any iPhone, continue reading this post.
Use Unlocking Tool
Using a proficient iPhone Passcode Unlocker utility software is the best and most widely used "secret passcode" to unlock any security-locked iPhone.
The top app of its kind, Unlockit iPhone, can unlock your iPhone passcode without using iTunes or iCloud.
You can access your iPhone with only a few clicks thanks to its simple and safe iOS passcode unlocker engine.
Steps:
Here's how to do that:
Step 1. Download and launch Unlockit iPhone on your computer.
Step 2. Next step is to click Unlock Screen Passcode, and then Start.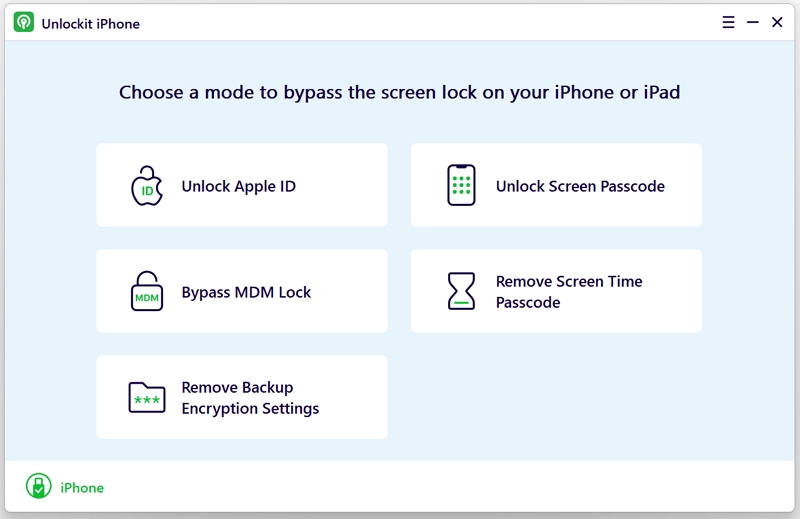 Step 3. Using a USB cable, connect your iPhone to your computer and the program will put it into recovery mode automatically.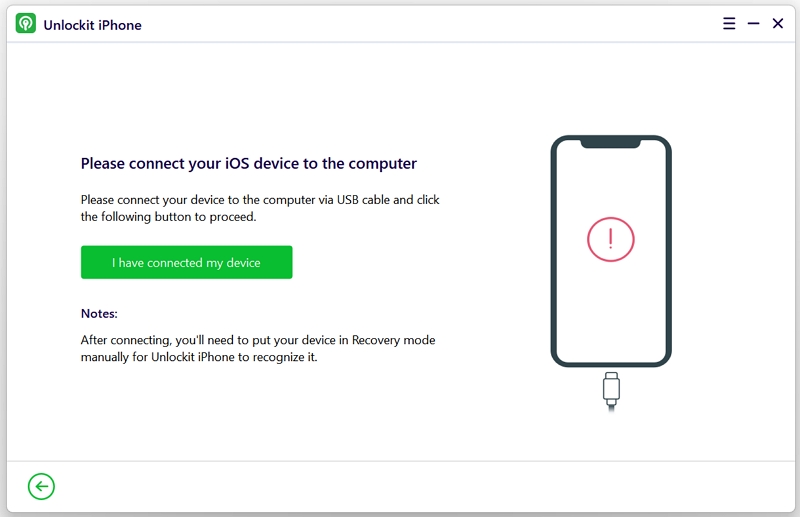 Step 4. A pop-up will appear to download the firmware your iPhone needs. After downloading the firmware, click on Remove, and wait for the unlocking process to complete.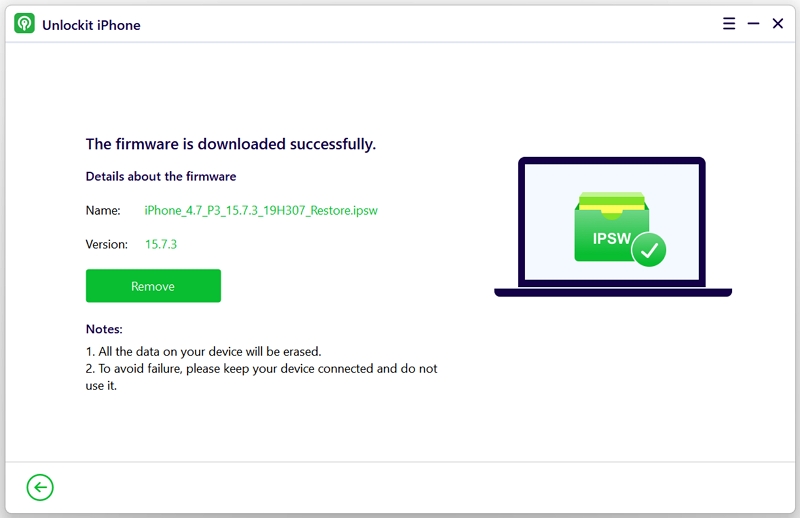 You can set up just as usual when you see the familiar Hello screen on your iPhone.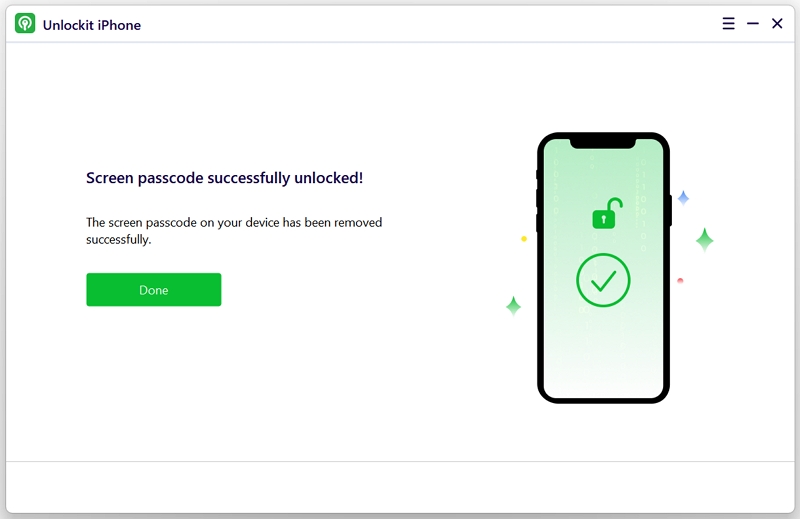 Via the "Erase iPhone" Feature After iOS 15.2
If you have forgotten your passcode, this is the simplest way to unlock your iPhone.
Since iOS 15.2, Apple has made it possible to reset a locked iPhone without a computer using the new "Erase iPhone" option. All you need is your Apple ID and password.
Requirements:
To unlock your iPhone using the "Erase iPhone" option on the Security Lockout screen, you must first fulfill the following requirements:
The locked iPhone is running on iOS 15.2 or later.
Your locked iPhone must be connected to the internet using cellular data or WiFi.
You should know your Apple ID and password.
Your Apple ID should have been signed in before you forgot your passcode. Otherwise, the Erase iPhone option won't be visible.
Steps:
To proceed, follow these steps:
Make a minimum of seven incorrect password entries. At this point, you will see the Erase iPhone option in the bottom right corner of the screen as well as the iPhone Unavailable/Security Lockout. Try again in 15 minutes.
Select Erase iPhone.
If the screen reads Erase All Content & Settings. Tap the Erase iPhone option once more down below.
To log out and delete your iPhone, you must enter your Apple ID password.
Once you see a white progress bar and the Apple icon, your phone starts the Factory Reset.
You can then set it up as usual.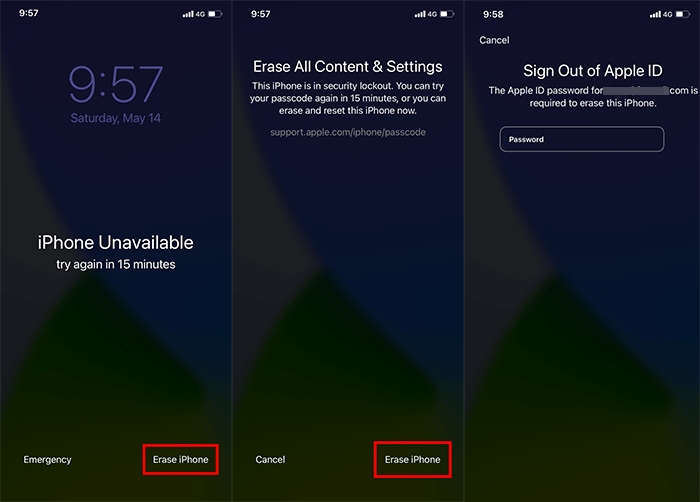 Pros:
It is a fairly easy method to do.
It does not require any other device aside from your locked iPhone
Cons:
It wipes your iPhone clean, and you have to restart from the beginning.
It only works for device running iOS 15.2 and later.
You need to have a connection for it to work.
Using Find My Feature
The purpose of Find My iPhone is to locate lost iPhones and, in the event that it cannot, delete their data.
When you use this function to remove data from your iPhone, it also deletes the password.
Steps:
Here's how to use this method to unlock an iPhone:
Go to the iCloud website on a PC's web browser and log in to the Apple account associated with your iPhone.
Once you've logged in, the webpage will display the iCloud web applications. Find iPhone is the one you should open.
Choose which iPhone password you want to update by selecting All Devices from the menu at the top of the new window.
On the following screen, you can perform a variety of iPhone-related tasks. You should select the Erase iPhone option. Everything on the phone, including the password you lost, will be deleted if you take this move.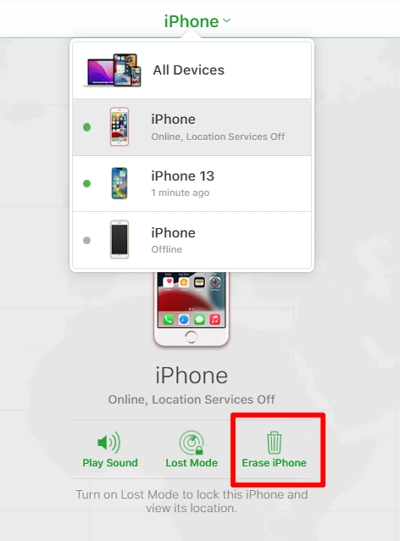 This method also comes with the following pros and cons:
Pros:
The method is very easy to manage without professional assistance.
Cons:
iPhone's settings and data will be deleted.
You need to be familiar with your iPhone's iCloud ID and password.
This method will not work if you do not have access to the internet or WiFi, and if you have turned off mobile data.
Your iPhone must first be set to allow Find My iPhone.
By Recovery Mode Restore
The Recovery Mode feature of an iPhone can also bypass the passcode.
Steps:
Here's how to do it:
Install iTunes on your PC or Finder on your Mac.
Using side and volume buttons, put your iPhone into recovery mode. Once it's in recovery mode, connect it to the computer.
Launch iTunes or Finder and select your device.
This will then ask you to Restore or Update the iPhone. Click Restore.
After that, your iPhone will download and install iOS using iTunes or Finder. Any biometric or passcode locks on the iPhone will be removed after this procedure.
Here are the pros and cons of using this method to unlock an iPhone:
Pros:
This approach is advised by Apple, and it is also used by Apple care professionals to fix iPhones with locked passcodes.
Cons:
It is a little complicated to use.
The iPhone will be completely cleared of all data and settings but If you have a backup in iTunes or iCloud, you can restore them later.
Even after the iPhone has been reset, using it requires logging into iCloud. If you don't know the password, the iPhone won't work.
Using iTunes Restore
If you have synced your iPhone with iTunes on a computer, you can use that computer and iTunes to remove the passcode from your iPhone. The process is as follows:
Steps:
Ensure that you have already linked the device to a computer.
Connect the device to the computer and launch iTunes.
Go to the Summary tab by clicking on the device icon.
Tap Restore iPhone.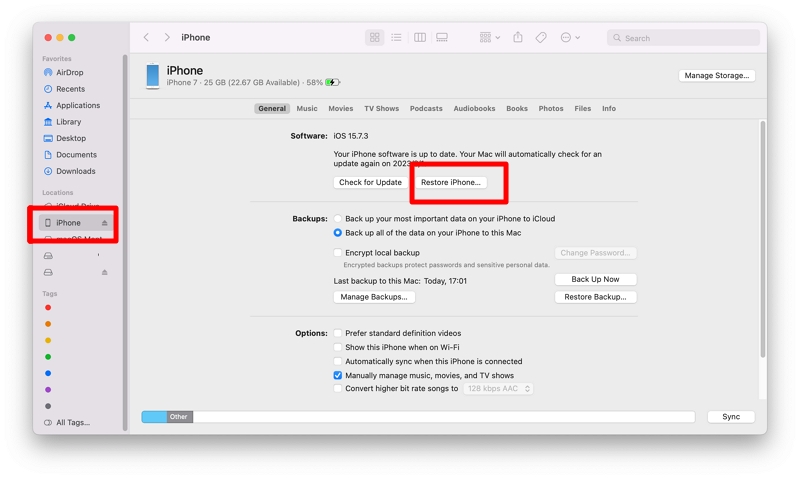 This will then restore the iPhone to its original condition. Here are the pros and cons of using this method:
Pros:
It doesn't require any complicated procedure.
Cons:
It only works if you have synced your iPhone with iTunes before.
You will lose all your previous settings and data.
To Conclude
Our phones are an integral part of our lives. Forgetting the password of your iPhone is even worse than losing it. Therefore, we listed five methods proven to unlock an iPhone.
Among the methods, Unlockit iPhone is the most hassle-free solution to your passcode issues.
It is the best solution to such a situation as it is easy to execute, safe, and secure.
If you have any further inquiries, don't hesitate to comment them down below.