Tired of being locked out of your iPhone due to the MDM lock? Just remove it and have your device the way you want it. You're probably wondering if it would be hard to bypass MDM lock without the credentials from your administrator. Well, I've got just the hack for you.
In this guide, you can expect to learn:
What is MDM lock and how to check if your iPhone has an MDM lock
How to bypass MDM from your iPhone without password
Remove the MDM lock for free
Remove the MDM lock without a computer
If you're on board, then let's get right to it!
What is MDM Lock and Why Remove It
MDM, short for mobile device management, is a feature that lets a company or organization lock a device and administer it remotely. They can use it to factory reset your device, install or remove apps, and monitor its usage.
This leaves no room for privacy or customization, and if you were allowed to keep an old work phone, you need to remove the MDM lock to use it freely.
Below are the common reasons why you would want to remove MDM lock on an iPhone:
When you get an outdated MDM locked device from last school
Your workplace environment required MDM and you've left it
You've gotten a secondhand phone that has an MDM lock on it
You've simply forgotten the MDM password to your mobile device
How to Know if Your iPhone Is Locked by MDM
It's pretty easy to check if your iPhone has an active MDM lock. Just follow either of these steps:
Through Settings
The easiest way is to go to your phone's settings and check if there is an active MDM profile. Here's what you need:
Go to Settings and make your way to the General Menu.
Now tap on VPN and Device Management.
If your device has an MDM profile, it will be displayed here.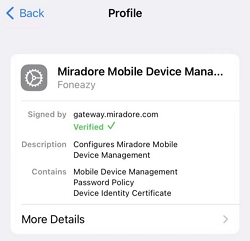 Through Remote Management Screen
This method is only for someone who has been given a new company device that they suspect has an MDM lock on it.
When you start the phone, you will see the Remote Management screen that will ask for you a username and password. If you see this screen, your iPhone has an MDM lock on it.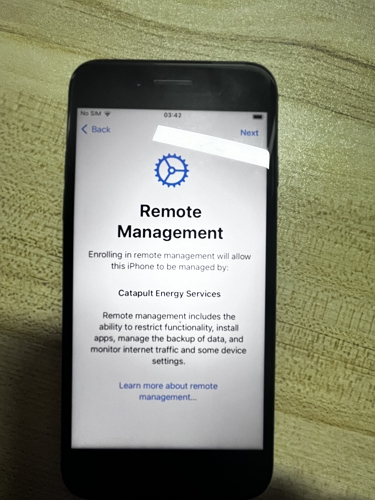 If any of the situation applies to you, the following tools can help you to bypass MDM lock on iPhone.
(Quick Solution) Bypass MDM Lock without Password via Unlockit
IT departments in companies are usually the ones who have access to the MDM central server as they are the ones in charge of installing MDM profiles in the first place.
If you are unable to get the credentials from the administrator, Unlockit iPhone will be the finest solution to help you bypass MDM on your iPhone or iPad without password.
It is proven to remove MDM for all major Apple devices running iOS 9 to iOS 17. And, the whole process takes just the blink of an eye, which is far easier than any other solution you're likely to use.
Pros:
Steps:
To use Unlockit iPhone, just follow these simple steps:
Step 1. First, download and install Unlockit on your computer.
Step 2. After installing, run the app and select the Bypass MDM Lock mode on the main interface.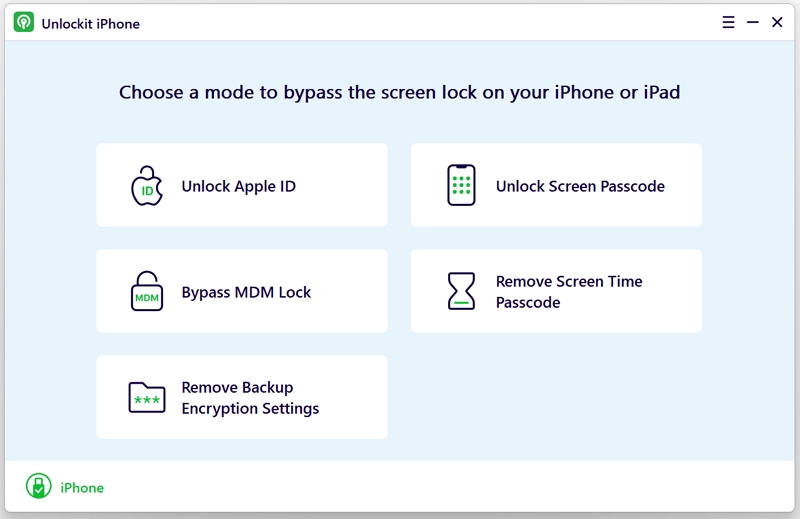 Step 3. Before proceeding, connect your device to the PC.
Step 4. Once this is done, you can start the bypassing process by clicking Start from Unlockit.
All you have to do is to wait for the software to finish the process and start using your device.
Bypass MDM from iPhone for Free
If you are looking for free solutions to remove MDM lock, the following will be helpful for you. However, we must tell you that the free options all come with limitations; they either do not support the latest iOS or are exceedingly difficult to use. If you need a fast solution, we still recommend Unlockit iPhone.
Via 3uTool
The first free app that can help you bypass MDM lock is 3uTool. It is a software that is considered a multi-functional tool for Apple devices.
It can be used for data management, jailbreaking and flashing. One of its many functions includes bypassing MDM locks.
Limits:
3uTools doesn't support to skip MDM lock for devices running on 14.0 and above currently.
It is not available for macOS computer.
Similar to Unlockit, it has an easy to use interface. All you have to do is to follow these simple steps:
Steps:
First and foremost, make sure your iPhone has been reset and is in the set-up screen.
Next, select your preferred language and the country you are in.
After that, click on Set Up Manually and choose a Wi-Fi network.
Make sure that your phone is in the Remote Management lock screen.
Now, boot up your PC and install 3uTools from their website.
After installing, launch the app and connect your iPhone to your PC.
Once connected, wait for the app to recognize your device.
As soon as the device is recognized, the details will appear on your screen. Double check them before moving on.
Now, click on the Toolbox found at the top portion of the screen and select Skip MDM Lock.
Finally, a confirmation window will pop-up wherein you should select Skip Set-up Assistant.
After following these steps, another pop-up window will appear confirming its success. Once you see this, your iPhone should restart to normal.
However, take note that if you ever have to reset your iPhone again, then you'll have to repeat this process.
Via Fiddler
Fiddler is another free tool on our list. It is a web debugging tool that is free to use.
Limits:
It is much complicated to use compared to the other software.
It only supports iOS 11 versions and is not compatible with the latest versions such as iOS 15.
It may cause problems with iTunes, as iTunes may fail to activate the iOS device.
But if you're desperate and stingy, and think it's worth a try anyway, then here are the steps on how to use Fiddler to bypass MDM locks:
Steps:
First, install Fiddler on your PC via their website.
While waiting, connect your iPhone to iTunes on your PC.
Next, open iTunes and click on Restore to restore your iPhone to its factory settings.
Once installed, launch the Fiddler app.
Now, click on Tools located at the top portion of the screen.
After that, a drop-down list should appear. Find and select Options.
Next, click on the HTTPS tab and check the "Capture HTTPS Connect" option and the other available options then click on OK.
This time, look for "albert.apple.com" in the list found in the WinConfig log on the left side of the screen.
Then, click on it. A yellow button should appear on the right side of your screen saying "Response body is encoded. Click to decode.". Click this as well.
After that, look for TextView at the bottom portion of your screen, search for the line "Flag = 1". Change this into "Flag=0." by typing it.
Once that is done, click on the green button that says "Run to Completion".
With this, you can now bypass MDM locks on your iPhone.
Via iBackupbot
iBackupbot is a backup management tool for iOS, macOS, and iPadOS users. You can rely on iBackupbot to back up your data like messages, notes, contacts, audio, call history, widget settings, and so on, or to bypass your iPhone's passcode.
The app can also be used to transfer images from your iOS smartphone to a PC or laptop without the use of iTunes. Similarly, you may remove MDM restrictions on your iPad or iPhone using iBackupbot.
Limits:
The steps are difficult to follow.
You will have to restore your device, which will take time and may cause failure.
Only available for Windows computers.
Steps:
You need to complete one task before installing the software since using the iBackupbot will allow you to circumvent the MDM profile.
You must connect your iPad or iPhone to the pc via USB to reset the settings on the device. After connecting, go to Settings > General > Reset > Reset All Settings after connecting.
After resetting, follow the instructions below:
Download and install iBackupbot on your PC.
Launch the app and look for the Backup Now button to prevent any data loss on your iPhone.
Next, go to System Files on your laptop and find the Configuration Profiles.
Find the one with MDM restrictions activated. You can identify which has restrictions by specific true/false instructions on certain commands. Once found, right-click on your mouse and select Delete.
After you have deleted the restrictions, restore your data, and you'll be good to use your iPhone like it's new.
Remove MDM from iPhone without Computer
Although it's hard to remove the MDM lock without a computer, it's definitely not impossible. Here are two ways:
From Settings
The first way you can try to remove MDM without a computer is if you have access to the administrator. They will give you a username and password that you can enter directly on your device, and then the MDM lock will go away.
Limits:
Only works when you can reach out the administrator.
Steps:
Step 1. Go to Settings on your phone, then open Device Management from the General menu.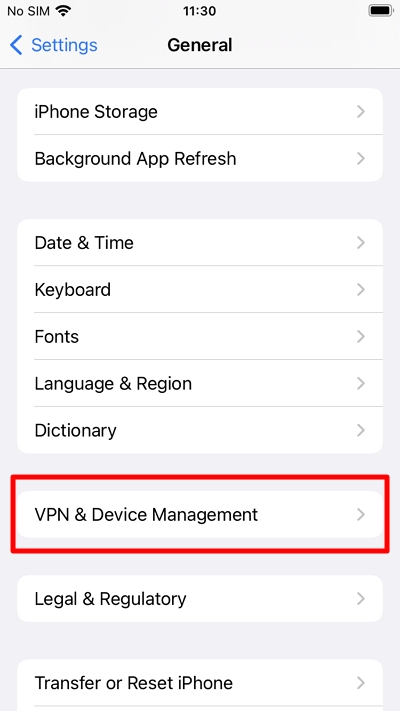 Step 2. Click on the MDM profile that is showing.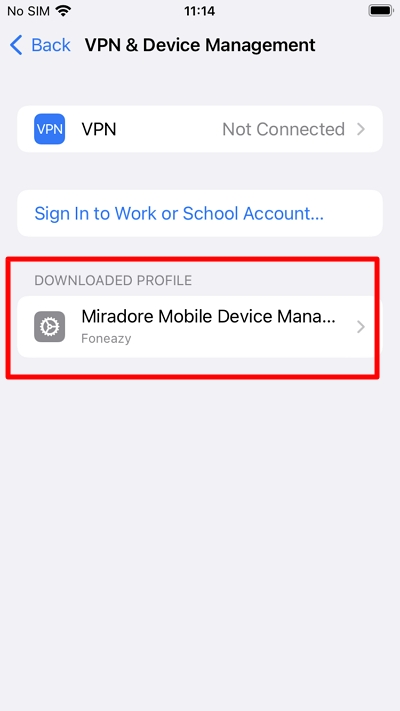 Step 3. Go to Remote Management and enter the password you were given.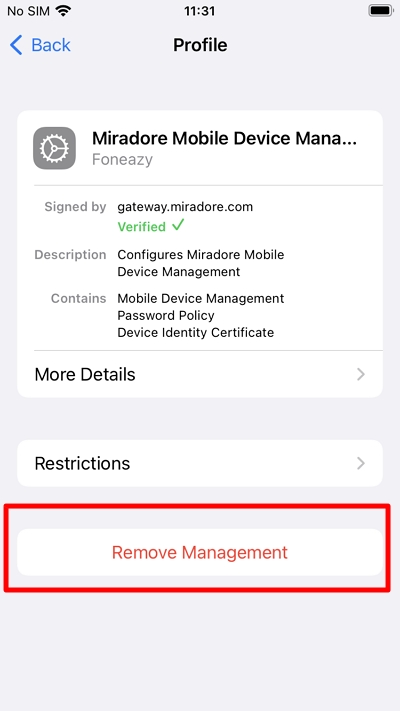 Via Jailbreaking
Another way to remove the MDM lock from your iPhone is to jailbreak your device. Although it's typically done with a computer, it can be done without one as well.
Limits:
Since the tweaks are always running, they consume a lot of battery
There is no check on the third-party apps downloaded, so there is a risk of viruses
Accidentally deleting critical files might compromise your entire phone
Steps:
Download Filza and jailbreak your phone according to the instructions on the screen.
Now run the app and navigate to /var/containers/Shared/systemgroup.com.apple.configurationprofiles/Library/ConfigurationProfiles/.
In the directory mentioned above, you'll find all the MDM files on your phone. Delete the files once you find them.
Now restart your phone and see if the Remote Management lock pops up or not.
Frequently Asked Questions
What's the difference between MDM profiles and remote management?
MDM configuration profiles are in-charge of modifying the settings and features of an iOS-enabled device. This includes its passcode, applications, and many more.
MDM remote management on the other hand focuses on preventing you from accessing devices without the usename and password during the setup of the device.
Is It Possible to Remove MDM from iPhone Permanently
The sole method to fully remove the MDM lock (Mobile Device Management) is by using the credentials or PIN code given by the administrators. If these administrators decline assistance, then you can use bypass tools like Unlockit to rid your iPhone of MDM. Bypass tools help you get around the MDM and regain control over your device.
Once you have successfully bypassed the MDM lock on your phone, please avoid to factory reset your phone or install any updates. If you go through with any of these actions, your phone might restore the MDM lock. Overall, there isn't any permanent way to remove the MDM from your iPhone without administrator help.
Some actions and websites are restricted on Apple devices. When you jailbreak your device, it can install and remove apps without being limited by iOS.
This approach, however, removes all restrictions, including MDM locks. Therefore, yes, jailbreaking your cell phone can assist in avoiding MDM, but it is not a secure or advised method because it leaves your device extremely open to malware.
Conclusion
That's all there was to remove the MDM lock from your iPhone. MDM lock can be useful in certain circumstances, but considering how much they can limit the functionality of the device, it may be necessary to remove it.
The best option is to use a bypass tool like Unlockit that ensures you don't have to alter your phone just to access it. However, if you can get access to the administrator and get credentials, then always go for that!
For other questions and comments about how one can bypass MDM locks on an iPhone, don't hesitate to hit us up in the comments down below.