Tired of your device being restricted by an MDM profile? Well, if you don't work for the organization anymore or bought it from someone who did, it's time to get rid of MDM profile and use your device to the fullest.
An MDM profile blocks you from even downloading games that you like, and honestly, who wants to live like that? As long as the device isn't acquired through illegal means, you're well within your rights to use it however you please. In this guide, you can expect to learn:
Why there is no option to remove MDM profile
How to make the MDM profile non-removable
How to remove MDM profile if there is no option from settings
Let's get to it so you can start your device the way you want to!
Why There is No Option to Remove MDM Profile
There are a few reasons why you might not be able to find the option to remove MDM profile from settings on your device:
Administrator's Control: Sometimes, the person or organization that sets up the device management profile retains control over it. This means you'll need their permission to delete it, usually in the form of a password or account access.
iCloud Backup: If the device management profile is included in your iCloud backup, resetting your iPhone or iPad won't permanently remove it. The profile may reappear when you restore your data from an iCloud backup.
Wrong Location of Removal Option: You may be having trouble finding the option to remove the MDM profile because you're looking in the wrong place. It should be under Settings > General > VPN & Device Management.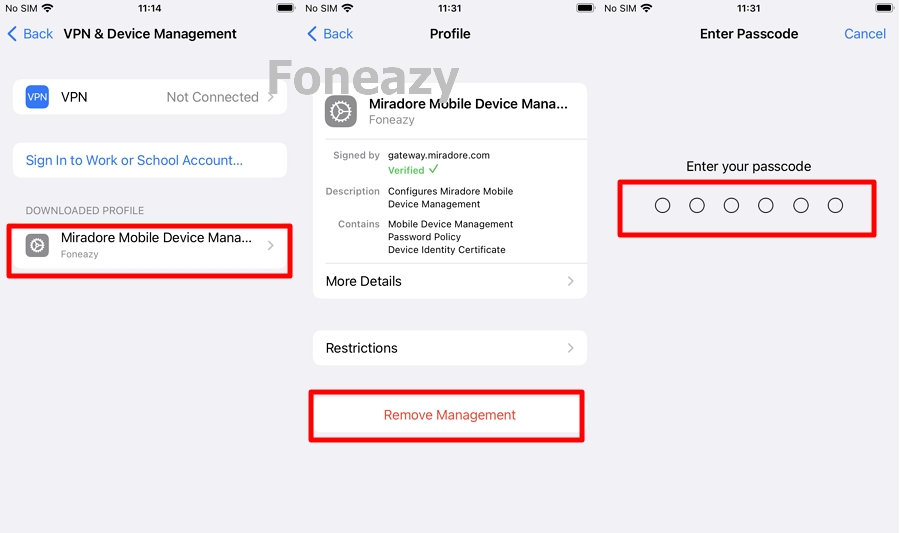 How to Make the MDM Profile Non-Removable
Apple allows you to make an MDM (Mobile Device Management) profile non-removable on iOS devices, but certain conditions must be met:
Device Enrollment: The device should be enrolled through the Apple Device Enrollment Program (DEP) or added to DEP using Apple Configurator.

Note: The iOS devices need to be supervised for the MDM profile to become non-removable.

Provisional Period: If the device was added to DEP via Apple Configurator, there's a 30-day provisional period during which users can still remove the MDM profile.
To configure a non-removable MDM profile using Apple DEP:
Log in to the MDM portal.
Navigate to Admin > Apple Business/School Manager > Apple DEP.
Select DEP Configuration Profiles.
Click on the Default DEP profile or Configure DEP profile to create a new one.
Uncheck the option that says "Allow MDM profile removal," and then click Save.
Once the configuration profile is saved, you should associate it with the enrolled iOS devices:
Navigate to Admin > Apple Business/School Manager > Apple DEP.
Select DEP Devices, and choose the device(s) you want to associate with the DEP profile.
Click the Associate DEP Profile button at the top.
Search for the configuration profile you just created and click on Assign.
What happens on the device's end?
The option to remove MDM profiles from the device can usually be found under Settings > General > VPN & Device Management. To delete a profile, users typically click on the profile and select Remove Management.
However, when you apply this configuration, the option to remove the profile will no longer be available to the user.
One Click to Remove MDM Profile via Unlockit iPhone
Unlockit iPhone is a highly recommended solution for addressing the issue of no option to remove an MDM (Mobile Device Management) profile.
This tool not only allows you to bypass MDM profile without needing a passcode but also enables you to bypass the Remote Management from your iPhone and iPad. It's fully compatible with the latest iOS version, even iOS 17.
Here are the steps to use Unlockit iPhone to solve the MDM profile problem:
Step 1. Install Unlockit iPhone on Your Computer
Make sure you have successfully installed Unlockit iPhone on your computer.Run the program and then click on the "Bypass MDM Lock" option.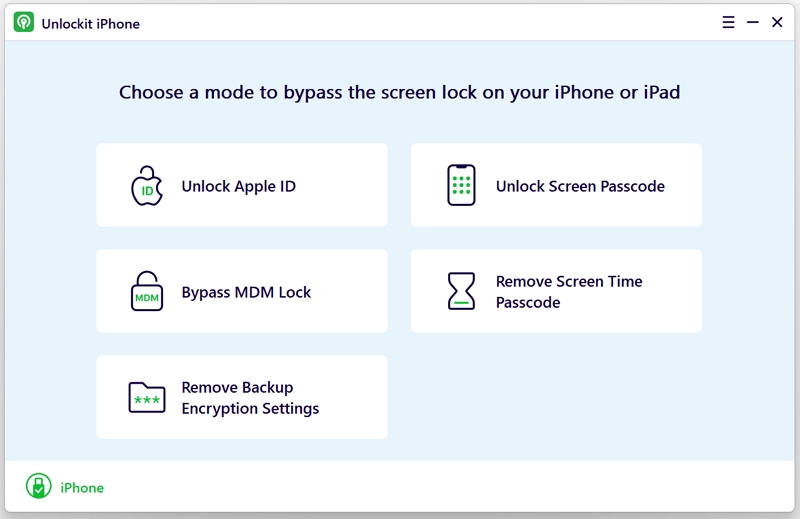 Step 2. Connect Your iPhone
Connect your iPhone to your computer via a USB cable..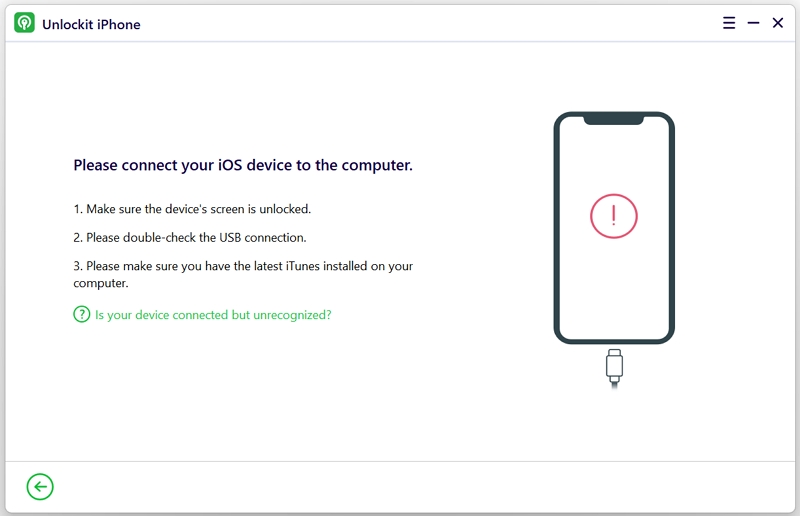 Step 3. MDM Bypass Process
Once Unlockit iPhone detects your iPhone, click on the "Start" button. The program will start bypassing the MDM lock. Please be patient and allow the software to complete its work.
Step 4. Successful Removal
Once you see a screen confirming the successful removal of the MDM profile, it means the task is complete.
Unlockit iPhone offers an effective way to resolve MDM profile issues on your iOS device, ensuring that you can manage your device more freely.
Pros:
Whether you are locked out of the Remote Management screen or your device is supervised by the MDM profle, Unlockit is ready to help you get around it.
Remove numerous iPhone screen locks, including screen time, passcode lock, and bypassing Apple ID on iPhone/iPad.
It is compatible with all iOS versions and iPhone models.
It is easy to use.
Cons:
Remove MDM from iPhone via Jailbreaking
Jailbreaking is a procedure that involves lifting the software limitations set by Apple on iOS devices. It allows users to delve into the device's file system and install third-party applications not typically found on the App Store.
You can bypass MDM and regain access to your iPhone or iPad by jailbreaking your device. Here are the steps:
Step 1. Install "Filza" and Jailbreak Your iPhone:
First, install a " Filza " app and perform the jailbreaking process on your iPhone.
Step 2. Use "Filza" to Navigate to a Specific Directory:
Inside "Filza," navigate to this directory: /var/containers/Shared/systemgroup.com.apple.configurationprofiles/Library/ConfigurationProfiles/
Step 3. Locate and Delete "MDM" Files:
Find and delete the "MDM" files in the directory mentioned above. Be cautious not to delete any other crucial system files.
Step 4. Restart Your iPhone or iPad:
After deleting the MDM files, restart your iPhone or iPad to ensure that the changes take effect.
Pros:
Jailbreaking lets you eliminate any restrictions enforced by MDM, providing you with full control over your iPhone or iPad.
You can enjoy a wide range of applications and customizations not available through the official App Store, expanding the capabilities of your device.
Cons:
Some jailbroken apps and tweaks might run continuously in the background, potentially consuming more battery power than usual.
Jailbreaking permits the installation of unverified third-party apps that may pose risks to your data and privacy.
Errors during jailbreaking or accidental deletion of critical files can result in data loss or render your device inoperable.
Jailbreaking offers greater freedom but comes with certain risks and trade-offs that users should be aware of before proceeding.
Contact the IT Department
Another dependable method for removing the MDM profile from your iPhone involves reaching out to the IT department of the organization that enrolled your device in the MDM program.
They can assist in removing the profile. However, if this isn't possible for any reason, you can follow the steps below:
Sign in to the Endpoint Manager admin center.
Navigate to Devices > All Devices and select the specific device you want to address.
Choose the option to Remove device.
After completing these steps, you'll be able to remove the MDM profile.

Pros:
It is free to use.
It can help you remove the MDM profile permanently.
Cons:
It only works if you're able to obtain assistance from the IT department.
FAQs
Will I lose previous data If I remove MDM?
No need to worry! Removing the MDM (Mobile Device Management) profile via the device's Settings only removes the profile itself, so there won't be any data loss. Similarly, using Unlockit iPhone to remove the MDM profile should also keep your data intact as much as possible.
However, if you want to ensure the safest possible process, it's a good idea to back up your iPhone before proceeding with the removal. This backup can provide extra protection for your data in case anything unexpected happens during the MDM removal process.
Does "Erase All Content and Settings" remove an MDM profile?
Actually, the 'Settings > General > Reset > Erase All Content and Settings' option simply resets your phone to its factory settings, erasing all your data and settings. It will not help you with the MDM profile removal.
To eliminate the MDM restriction, you can follow the method mentioned earlier Unlockit iPhone. It's just one of the steps you should take before bypassing the MDM solution. The good news is that you can remove MDM without losing your data.
To Conclude
Although there may be a lot of ways to remove the MDM profile from your device, we can agree that using a professional tool like Unlockit iPhone is the best option. First, it doesn't require you to rely on the administration or IT department.
Similarly, you don't have to jailbreak your device and expose it to external threats. With a professional bypass tool, you can easily get rid of the MDM profile whilst protecting your device and its data. I would choose Unlockit iPhone, would you?